Volunteer Review Camilla Farrell in La Ceiba, Honduras volunteering at La Clinica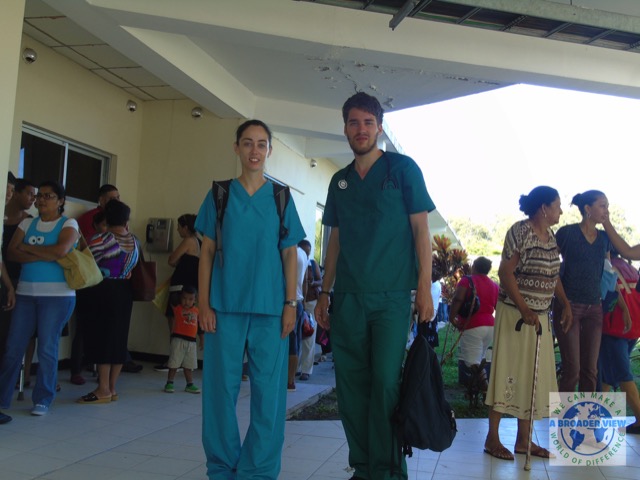 1.-How was the local ABV Coordinator and the support provided in-country?
Excellent. Rafael was a wonderful coordinator, always willing to help with any question I had. He was very attentive and always looking out for my well-being.
2- What was the most surprising thing you experienced?
At the program: I knew going into this that the healthcare would be at a lower standard than in the US, but I don´t think I could have possibly prepared myself for what it is actually like. The clinic is located in a very old and worn-down building, and very unsanitary. It is very dark in certain places and just overall the funding is not enough to keep things maintained.
At the accommodation: Having a constant wi-fi connection! I was prepared for limited wi-fi opportunities here and there but it was nice to be able to always keep in contact with my family and friends and especially for them to know I was safe.
Another pleasant surprise for me was lack of bugs! After reading many previous reviews, I´ll be honest, bugs were probably my biggest fear! There were definitely flying insects all around (including mosquitos) so bug spray is crucial, but they weren´t as bad as I had expected. However in my actual bedroom, there were rarely any even though windows were partially open to the outside. Do keep in mind that it may fluctuate with time of year.
About the country: The fact that there were many chain fast-food places! (Burger King, Dunkin Donuts, Little Caesars) and a Mall.
3- What was most difficult to experience?
At the program: I came here as a pharmacist and so I spent the majority of time in the pharmacy. I quickly realized that the prescriptions do not include key information that I am used to in the US in order to ensure it is safe and effective. For example, they do not include the dose (rather just say # of tabs), drug allergies, age, and weight (if a child). It is assumed that the doctor is always correct and the pharmacy staff does not double-check the appropriateness of the dose. This was difficult for me to see, in particular for the children because it is so easy to give an incorrect dose that may be toxic or ineffective. During my time here, I was able to gather needed information for each patient to ensure appropriateness of these prescriptions and adjust as needed, but knowing that this is usually not the case is hard to see.
At the accommodation: Honestly the accommodation was pretty wonderful. There were things to get used to such as power or water outages and cold water showers, but all were things that you can adapt to. And the cold water would actually feel great because of the heat here! The one thing though that I personally had the most trouble with was the heat. I was born and raised in Massachusetts, and am used to cooler weather, but the heat and humidity here is intense and makes it hard to sleep. After a month here, I honestly still haven´t really adjusted, but I luckily had a fan in my room which did help make it more tolerable.
The country: The poverty in general. While just driving or walking around, I´ve seen so many houses that are just scraps of metal and/or wood nailed together. Children everywhere selling different fruits or handmade items just to make a little money for their family. Many buildings in general are not maintained and you see garbage left everywhere.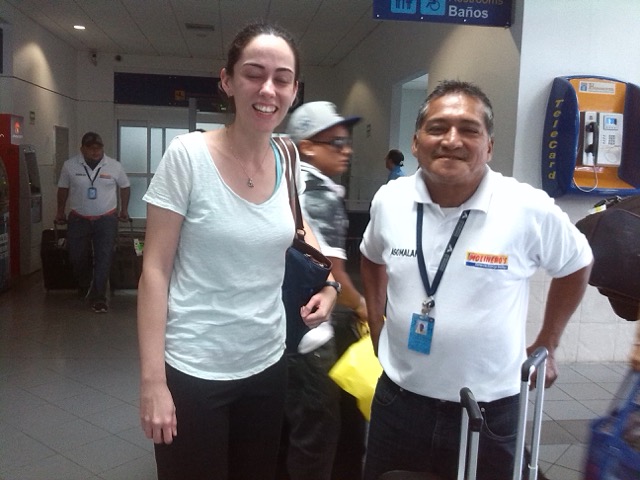 4- Any tips for future volunteers…
Clothing: Enough to last for at least a week (we´ve been doing laundry once a week at a laundromat). 6-7 pairs of scrubs. You must change into new, clean scrubs to go into labor and delivery areas or the OR. Light clothing (both material and color). Watershoes can be useful if you´re doing a water activity such as rafting because you walk through some wooded areas and I didn´t want to walk barefoot. A couple of towels…for shower and beach.
Donations: Anything and everything. Stuff your suitcase to the max (but beware of airline weight limits so you don´t get charged). And then buy locally. Medication needs will vary, but they are constantly running out and sending patients away. If it's not available at the clinic pharmacy (where they pay a flat fee to get in and then the meds are included) there is a good chance they won't have the money to go out and buy it elsewhere. Ibuprofen 400mg, acetaminophen 500mg, baby aspirin (81mg in US, or 100mg in some other countries), prenatal vitamins, amoxicillin 500mg. Also, gauze, gloves, blood pressure cuff, stethoscope, caps/booties/masks for the OR/L&D.
Weather: It is super super hot and humid (varies during the year). I have sweat more here than I ever have in my life! Be prepared for this by wearing light clothing and most importantly constantly drink water throughout the day. Bring refillable water bottles as some places have purified water sources that you can use to refill (Rafael´s house for example has 1, but I´m not sure about other houses). Otherwise, you can buy bottled water at multiple places nearby.
4.1-Other things volunteers should know:
a.- The local currency here is the lempira (currently the conversion is about 22 lemp per 1 US dollar). If you can exchange some money ahead of time, this is ideal. However, since you probably don´t want to travel with huge sums of cash, you can withdraw money from ATMs, especially if you´re going to be here for several weeks. Be aware of the fees associated with each withdrawal (I have been charged about $10 for each transaction).
b.- Set a travel alert with your bank for your credit and debit cards. The last thing you would want to deal with is your bank putting a hold on your card because they suspect fraud. (read your Orientation guide in the Abv account)
c.- Come here with an open mind. Many many things will likely be very different than you may be used to and it´s very important that you respect the culture and adapt as best as you can.
d.- Bring toilet paper and hand sanitizer/wipes with you everywhere. Many places (including the clinic) don´t have toilet paper in their bathrooms! Also, realize that pretty much everywhere you must throw the toilet paper into the garbage as it is not good for the plumbing system.
e.- Learn as much Spanish as you can before you come. Very few people speak fluent English, and some speak only a little bit. The lessons I took while here were very grammatically based and I had wished I had spent more time before coming on reviewing vocabulary and basic phrases in order to get the most out of the lessons.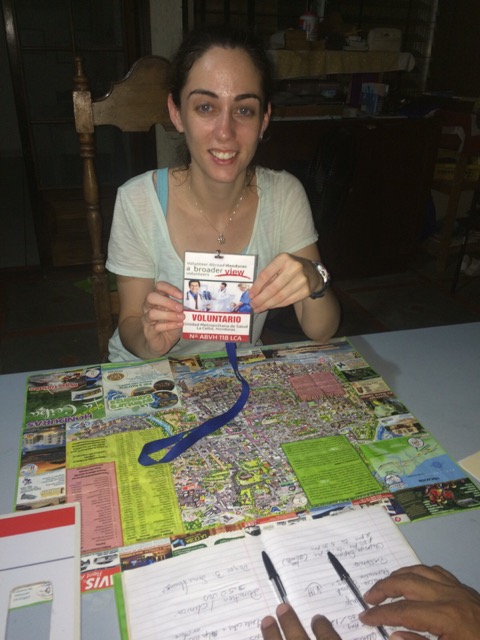 5- Personal Paragraph (ABV Program Testimonial), don't leave blank:
This has been one of the most incredible, yet most heart-breaking experiences of my life. The people here are so welcoming and appreciative of anything at all you can provide them and they love to share their culture. People can tell you all they want about what conditions are like in countries like these, but you will never truly understand until you´ve seen and experienced it yourself. If you are a student, this is a wonderful opportunity to learn while helping at the same time. If you are a practicing professional, this is a wonderful opportunity to lend your expertise while also likely learning some new things (such as how to do more with less). I would highly recommend this program for anyone with a passion to help, but also willing to experience new things (both good and bad) that they never have before.
6- How would you describe your accommodation, meals and security:
Everything was great. The accommodation was very comfortable, I even had my own bathroom as I was the only female volunteer at the time. Meals were delicious. We are provided breakfast, lunch, and dinner. I was always full after each meal to the point I never even needed to snack like I usually do at home! Definitely a lot of rice and beans, egg, avocado, and plantains. As for security, I never once felt that I was in an unsafe area. Rafael warned me of areas of to avoid. That being said, always remember common sense. I never walked alone and avoided walking around after dark. Don´t flash your money or any expensive items.
7- What was your favorite memory of this trip?
Program: Once I found my groove in the pharmacy and how I could make a difference in providing the correct dose for the children in particular who are sick. Also, I really enjoyed getting to know the pharmacy staff. Even with the language barrier, I feel like I´ve had a lot of fun with them and shared many laughs.
Country: All of my excursions (Sambo Creek, Corazol, Cayos Cochinos, white-water rafting, Pico Bonito). The country is absolutely gorgeous. Mountains, and jungle, and ocean, and gorgeous sunsets. No matter where you are, look around you, it is beautiful.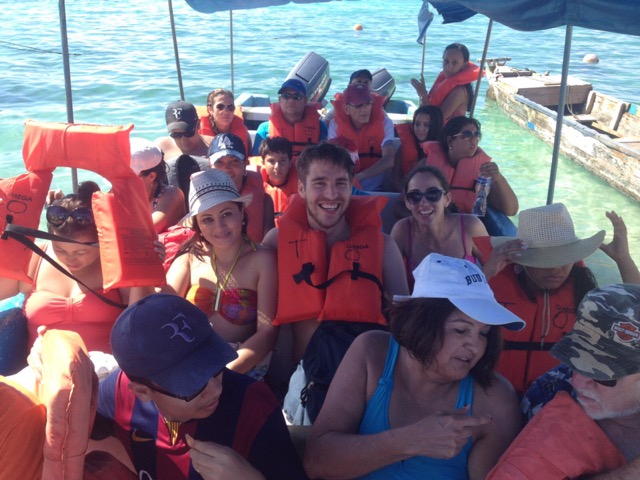 8.- How was the ABV USA support prior traveling?
Communication (Phone/emails/Online chat)': Excellent. Always very prompt. Within hours, sometimes within minutes!
Website Information: Very good
9 – Are you willing to speak to other potential ABV volunteers?
Yes, absolutely!

10 – Can you tell us how did you find or know about A Broader View?
I was looking for some kind of medical volunteer trip and a friend (Maggie) had just returned from her experience with ABV and highly recommended it.