Have you looked at volunteering abroad programs but you're just not sure if they're meant for you? Maybe you've seen the host of long trips and programs and you're not so sure that it's really a good idea. After all, you don't have months to take off of work as high school students can over the summer.
The good news is, you don't have to do it. You don't have to spend an entire month or several months in another country to make the most out of the opportunity. You don't have to spend any specific length of time. Rather, you can have an amazing experience and make a difference in very little time at all.
Trip Length Doesn't Mean A Thing
So many people think that the only way they can make a difference is to spend months at something. We're all convinced that we need to do something huge in order for it to be important. We have to volunteering for months. We have to donate thousands. We have to be perfect. But the truth is that none of those things are true. Sure, those things are great (although being perfect is impossible and would probably be boring on top of it).
The truth is that you can absolutely make a huge difference with only a week. Or with $10. Or by doing a few little things to help others. You don't have to go all in just to be a success or to be helpful. You can absolutely be a success with whatever you have available. And that's why A Broader View is so happy to have so many opportunities for anyone and everyone to get involved with volunteering trips. And you can do it without having to spend everything you have.
Other Best Volunteering Programs:
What Really Matters
The most important thing about a volunteering abroad program or a mission trip is that you go. You just need to pick out a place and actually get there. Then, you have to make sure that you're giving it your all. Put your time and effort and heart and soul into the project and the people who are there are definitely going to notice. Not only are they going to notice but they're going to appreciate it and you're going to make a difference in their lives. That's really all it takes.
When you choose to volunteering and you choose to spend your time and money (whether it's a little or a lot) you're telling the people that you help that they matter to you. You're telling them that they matter in general and you're definitely telling them that they deserve to be helped and to get support and to have a community that's there for them. All of these things are amazing and they happen with just time, without even donating money. And they happen with just a single week or two weeks of your time as well.
Booking a Volunteering Trip
If you've been thinking about taking a mission trip or joining a volunteering abroad program but you haven't because you think it's going to be too short don't second-guess yourself. Short term volunteering programs and short term mission trips are absolutely available and they're absolutely worth it. You'll be amazed at just how much you're going to accomplish in a very short amount of time and you'll be amazed at just how much you actually love it. Getting to help others is the type of experience that you can't match with anything else. So what are you waiting for?
Booking short term volunteering programs are actually easier than you might think. A Broader View is an organization that specializes in these types of trips. We know that you have a whole lot going on in your life. We understand that you have work and family and other obligations and you just can't get away for a full month, no matter how much you might want to. So, we have programs available for people who want to give what they can, whether that's two weeks, one week or any length of time at all.
All you need to do is decide where you want to go and what you want to do when you get there. If you have specialized training you can get involved in medical programs. If you just have a strong interest and desire to help others you can absolutely make a huge difference, in any program that you might want to join. That's because we have over 225 different programs available in 25 different countries. That gives you a whole lot of freedom to select just what works for you and to make sure that you're making the most out of your time.
Choosing the Right Program
The one and two-week programs that we offer are available in anything you want. So you can choose short term mission trips for medical students or options for environmental conservation. No matter what you love the most you can find a program that will help you to check it out. Want to work with sea turtles in Costa Rica? Absolutely! Want to help children on the streets of Vietnam? We could really use your help! It's all about finding your passion because that's where you're really going to make the biggest difference.
Once you know the type of program that you want to get involved in you can check out the different countries that offer that program. At A Broader View, we actually have the option for you to select the type of project and then look at a list. From there, you'll see the countries and you can make a decision about which one you want to go to. Find one that you love? Great, check it out to get more information and to find out how you can go through the process of signing up. If you don't find something then you can check out our full list of countries and start your search that way.
You can check out a country that you'd like to visit and then look at the different programs that are available. Each country has several different program options, so you might find something that you're willing to try out just because you want to go to a specific country. There's definitely nothing wrong with that and you're going to be helping out with a great cause at the same time. So, why not take the opportunity to explore a country that you've always wanted to go to?
Make sure that when you consider a program you take a look at the requirements. Some programs are designed for volunteers of certain ages (generally the only restriction is some programs must be 18 or older). Some are designed for groups or schools rather than families or individuals (or vice versa). Some you will find with requirements for the type of work that you're going to be doing, so you can be fully prepared and make sure that you're capable of that type of work. No matter what you're planning, you're definitely going to love the opportunity to choose the entire process for yourself.
What is Short Term Volunteering Programs All About
Our programs are all about you having a great time and giving back to a community that really needs your help. That's it. That's the whole reason that we do what we do. So, if you've been struggling to tryto figure out how to spend your time in the most beneficial way possible you want to check out short term mission trips with A Broader View. We're going to help you really immerse yourself in a totally new place, without the long-term commitment that you might be concerned about.
A short term volunteering program lets you learn more about what these types of volunteering programs are really about. If you've never done something like this before you might be a little apprehensive. That's especially true if you've never even traveled to a new country before. So, taking on short term volunteer programs feels less scary than jumping in with both feet and taking off for a full month. If you get to a country and find you don't like the program you're involved with you only have a week or two. And then you can head back home and try something new the next time. So, these short term trips make it easier to try something new.
Another benefit is that they're easier to fit into your vacation time. Not a lot of businesses offer their employees more than two weeks of vacation time. And often they don't like it when you take even those two weeks at the same time. That's why short term mission trips are such a great idea. They easily fit into the vacation time that your company is willing to give you, and before you know it you're turning those vacation days into more than just another trip to the beach for you. You're turning them into a time when you can really get the feeling of giving back.
Next, you're making a difference. So many people just can't commit to volunteering for extended periods. When you can see that there are opportunities for the short term it makes you more likely to join. For these countries that need your help, having you for a week and then someone else for a week is definitely going to be so much better than no one coming at all because they can't commit for a full month. You're going to make a difference, one week at a time. And you're encouraging other people to do the same.
Finally, you're going to learn an entirely new culture when you travel to these countries. You're going to have the opportunity to immerse yourself in their world. You'll learn about their traditions, their food, their community, their people and their language. You're going to learn what it takes for them to have a healthy and happy life that we all want for them. And you'll likely find out that it takes a whole lot less than you might have imagined. You can actually achieve some amazing things just from making a volunteering trip.
Where Can You Go?
So, just where could you be going on these short term volunteer abroad programs? You could be going just about anywhere you want. Remember, we have a total of 25 different countries with 225 different programs available. That means you're going to have all the options you could possibly need for your short term volunteer programs. It's all about making the most of the opportunity and really stretching your wings a little.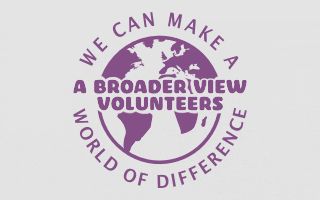 Volunteering Belize Orphanage program Review Riley Ullery
These are all some of the amazing countries around the world that you could be traveling to. We have countries in Africa, Asia, South America, and Central America, giving you the opportunity to really see the world and experience an entirely new culture. And that's really what it's all about, right? Getting to know the people of a new place and learning even more about them even as they're able to learn more about you.
When it comes down to it, your short term volunteering abroad programs could be even better than a long term program. All you need to do is take a look at what we have available with A Broader View. Find out where you want to go. Discover the type of program that you want to help with and definitely expand your horizons. There are so many amazing things out there around the world and you're going to miss all of them if you find yourself too caught up in the details, like not being able to take an entire month off to go on a mission trip. You don't need months. You just need to care.
You can Check Volunteer Reviews Here