Have you ever thought of volunteering in South Africa? If you haven't then you absolutely should because this beautiful country has a great deal to offer. It's full of amazing experiences and some of the most beautiful sights that you will ever see. It's a naturally beautiful place that doesn't need anything else to make it spectacular. But there's more to this country than just the beautiful views. In fact, the views are probably something that you haven't even heard of, though they are most definitely amazing.
What you've likely heard about South Africa is that there is a great deal of struggle still happening in this amazing country. A large number of people are extremely marginalized and there are far more people still suffering from poverty and poor treatment than you might think. There are a number of children who are suffering especially and there's so much that you and other volunteers could do for them. But are you ready to travel to South Africa and see what you can do? Are you ready to make a big difference in the lives of children and adults who are in desperate need of it?
In South Africa you'll have the opportunity to stay for as little as one week or as long as one month. Then, you can get involved in an of several different programs that are designed to improve the lives of those throughout the country. These programs are focused on improving the community, helping the children and more. And you could make a lot of difference even if you don't feel like it. Whether you've ever volunteered before or not, you can greatly impact the people who live in this country and help them to recognize the changes in their lives.
While you're working with these individuals and helping them to improve the world as they know it, you're also going to be able to meet many new people. You're going to get to know people who are entirely different from you and who have completely different cultures, but that's where part of the fun will be. You'll be able to learn about an entirely different way of life and you're also going to have the opportunity to explore the country while you're there. You'll make new friends and get to know people in ways you may never have imagined before.
By volunteering in South Africa with this non-profit organization, you're going to be contributing toward making the world a better place. You're going to starting small but making a big impact and you're going to be having a great time while you're doing it. What could be better than that? Are you ready to dive right in and start on your next volunteer trip? Whether you're traveling on your own or you're ready to take a whole group of your friends and family along with you, it's going to be the trip of a lifetime. And it's going to be one that you'll want to repeat.
Overview
Project Length: From 1 week to 4 weeks (** Mondays Arrival Only **)
Arrival Airport: Port Elizabeth (Code: PLZ)
Work Schedule: Monday to Friday 5-7 hours per day
Requirements: Flexible Starting dates
Age Limits: Minimum 17yrs or older for solo travelers.
Minimum Age: 12 to 16 yrs if traveling with parents.
Airlines: South African Airlines, Virgin, Delta, British Air, Emirates, KLM
Vaccinations: Hep A, Typhoid wwwnc.cdc.gov
Volunteering Projects in South Africa Port Elizabeth
Country Info
South Africa Introduction
Are you ready to help people in need, immerse yourself in the sights, sounds and culture of a new country and have the experience of a lifetime? With poverty, disease and a lack of skilled providers putting a strain on important services such as health and childcare in developing countries across the globe, there are many corners of the world which rely on the help of volunteer travelers like yourself.
Volunteer in South Africa with A Broader View Volunteers a top rated non-profit charity organization, which works tirelessly to support our wonderful volunteers and serve the local communities where our volunteer programs are located. Placements in South Africa are based in the city of Port Elizabeth. Program placements are tailored to the volunteers different interests and skill sets, but still allow volunteers time to explore the African local culture and activities during their free time.
The type of programs in South Africa vary widely, offering everything from education to health care. Volunteers can choose between 2 program opportunities in the orphanage. International volunteer help is not only appreciated by the local community, it is severely needed by the millions of South Africans living below the poverty line. With thousands of children living and working on the streets, as is so often the case in developing countries like South Africa, our volunteer programs are designed to support the needs of local teens and children in desperate need of assistance.
Many of our volunteer abroad programs cater to underprivileged women and children's care, education and health requirements. Our extensive range of social programs near Port Elizabeth, South Africa programs include: Orphanage Care, Community development and many more.
Volunteering in South Africa is an incredibly rewarding experience. We welcome volunteers of all ages and from all backgrounds to join us. Whether you're seeking volunteer abroad programs for college students or voluntary work for over 60s, as a trusted non-profit organization which prioritizes the safety of our volunteers, we are the go-to for volunteers across the globe. We also offer customized programs with flexible arrival dates to best suit the needs of the remarkable volunteers we depend on to help us make the world a better place.
If you'd like to volunteer, South Africa is just one of the countries we've taken under our wing, supplying a steady flow of volunteers and providing year-round financial support to local projects in near South Africa. Wherever you decide to volunteer, A Broader View give you the opportunity to participate in meaningful community service work, learn a foreign language, make lifelong friends and discover that one person really can make a difference. Your search for the best volunteer abroad programs ends here – volunteer in South Africa with us and gain A Broader View of the world.
Coordinator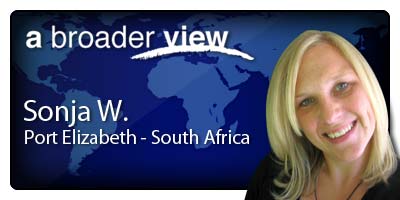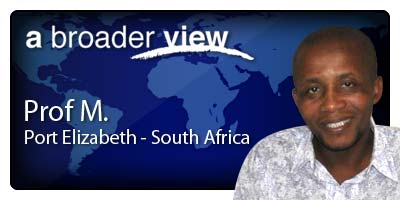 Welcome to South Africa! 🇿🇦. Our Names are Sonja and Prof and we are your ABV coordinators while you are staying in South Africa. Our country has 3 big cities, Pretoria, Cape Town and Bloemfontein. But you will be working in Port Elizabeth. We will be ready for support 24/7 in case you need to contact us urgently. We will introduce you to your volunteer location and staff. You are most welcome to seek our assistance and don't hesitate to ask us questions while in country.
You are most welcome to seek our assistance and don't hesitate to ask us questions while in country.
Safety and Security
The safety of our volunteers is paramount for A Broader View Volunteers. The majority of ABV Volunteers travel and serve without major incident.  However, programs are based in some of the least developed countries and in some of the most remote areas in the world, health, safety, and security risks are an unavoidable part of life and international service. To address these concerns and to safeguard the well-being of our program participants, A Broader View has safety protocols and security procedures for all programs: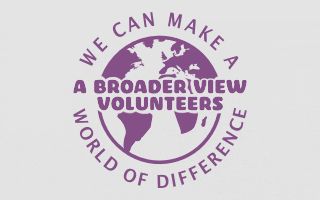 Security: All project sites, local in-country staff and accommodation sites have gone through a rigorous filter and have been hand selected. ABV has spent almost 11 years cultivating and strengthening of our local partnerships & host family relationships. In-country staff visits, daily research of local conditions, as well as weekly checkup of our host families and accommodations are conducted. Site selection is based on criteria including; access to medical, banking, postal, and other essential services; access to communication, transportation, and local markets; availability of adequate housing and living arrangements.
Pre-Departure Guide: Your ABV account will have a detailed volunteer guide. Volunteers are provided country information, packing lists, customs and language information, and much more. ABV also provides information about visa requirements, vaccinations, climate, weather, and safety and security issues specific to the country.
Volunteer Summary: A full month before traveling volunteers are provided a detailed account of their volunteer project (including supply/donation list), arrival procedures, emergency contact information, accommodation details and the full name, phone and email of their local ABV Coordinator.
Overseas Staff and communication:  Our local staff support is immeasurable in their professionalism and dedication to the volunteers under their charge. The majority of ABV staff coordinators have been involved since the very start (over 11 years) and are well experienced handling the unexpected such as situations where volunteer students become ill, suffer accidents, are the victims of pick pockets. ABV staff is trained to react in a responsible and levelheaded way when emergencies do arise. They will do whatever is necessary to assure this, whether this means obtaining prompt and appropriate medical attention, embassy intervention or local authorities.
Host Families and accommodations: Our local volunteer guesthouses, onsite project dorms and host families have been hand-picked. A Broader View accommodation have specific standards for the hygiene, cleanliness, location and comfortable living conditions for our volunteers. Telephone access is available 24/7 and most sites have internet access. Volunteers have to follow the curfew of the host accommodation.
Arrival Meeting/Orientation: ABV programs provide a customized arrival plan.  We can arrange your arrival/pick up at the airport, bus station or local hotel.   Start your program with peace of mind, having the local ABV staff meeting you when you arrive in-country.  Volunteers are provided orientation before starting their program.  Orientation schedules vary from country to country but will include acclimation tours of the local town/city, accommodation neighborhood, geolocation map description, program location, main interesting points in the city or area. Emergency and medical protocols will be discussed and also address safety and security issues specific to the community volunteers live and work in.
Every staff member of A Broader View is committed to providing volunteers with the support they need to successfully meet the challenges they will face to have a safe, healthy, and productive service. The success of each ABV volunteer is our prime goal. We rely on volunteers to exercise personal responsibility and demonstrate both a keen awareness of the world around them and a willingness to adjust their behavior in a manner that will enhance their safety and well-being. In the end, your efforts will be rewarded with an incredible, unique experience.
The emergency lines are staffed by an A Broader View:
Communicate late/missed/flight connections during travel days
Notify a Volunteer of an emergency (e.g. critical illness or death of a family member)
Respond to family questions about a Volunteer's status (if problem occurring in-country)
Weather
What's the best time to go to Port Elizabeth in South Africa? Here are some annual weather facts we collected from our historical climate data:
On average, the warmest month is January.
On average, the coolest month is July.
August is the wettest month. This month should be avoided if you don't like too much rain.
December is the driest month.

Reviews & Multimedia
Reviews
My experience with this program was very good. I enjoyed spending time with the family discussing politics and other social issues. In addition, I felt as if I bonded with the family in a special way because they truly made me feel as if I was a part of their family.
I had a life changing experience in Port Elizabeth, I learned that poverty truly is only a state of mind and that even the poorest individuals can be rich in life. I would highly recommend any and everyone to experience Port Elizabeth
Volunteering in Rwanda further augmented the love that I have for Africa. Teaching at the Primary School was a great experience- teaching english, reading, and writing presented its challenges, but there's nothing more gratifying than your P2 kids finally grasping the concept of comparative adjectives.
Prices for Rwanda
Program Fees
Since A Broader View Volunteers is a 501c(3) charitable organization, You can fundraise (optional) for the expenses of the trip after you get confirmed in our programs. Prices are per person and in US dollars (US$).
| Length of program | Program Fee $USD |
| --- | --- |
| 1 week | $890 |
| 2 weeks | $1190 |
| 3 weeks | $1490 |
| 4 weeks | $1750 |
Inclusions
Accommodation: Home Stay or volunteer house
Meals: Breakfast, lunch and dinner daily
Arrival: Airport meet and greet by ABV Staff
Orientation: Project Overview and Nairobi Orientation
Support: Pre-trip written guide, In-country ABV staff available 24/7
Departure: ABV Staff Escorted Airport Transfer
Extra costs: Flights to South Africa. Entry Visa. Vaccinations. Local Transportation. Travel & Health Insurance. Laundry and Internet


Start Dates
Most of our programs run year round, you can start any volunteer/internship program on any day. When you apply you will lets know your start and end dates. Our programs run year round and have volunteers arriving almost every day from many different countries.
Since our programs sometimes depend on the local holiday calendar, there are brief occasions when normal programs work is suspended. For example, schools/daycares often close for long winter/summer vacations. During these times, we arrange for alternative work programs that are similar in substance to our ongoing programs, but address the short-term, direct needs of the local communities.
If you would like to arrange your start and end dates around the local holidays, please call us at 1.866.423.3258 or email us at [email protected].
Money Matters
A Broader View Volunteers work tirelessly year round to support our volunteers, and also to serve the local communities where ABV projects are based. As a tax-exempt 501 c(3) organization A Broader View receive 100% of our funding from volunteer contributions. Through your program fee contribution our non-profit charity organization can operate beneficial humanitarian aid programs which are successful and continuous supported year round.
Local, professional full-time coordinators, placement logistics, airport pick up and departure transportation, arrival orientation, food & local accommodations, are a major part of providing a safe, meaningful volunteer experience. When you join A Broader View, you will receive pre-trip visa and vaccination support, assistance with flights, fundraising planning, through our interactive online volunteer portal. Our local partners not only benefit from volunteers valuable contributions at the project, they benefit financially with year-round monetary support from A Broader View. In the last decade A Broader View has donated over 4.5 million dollars in international aid.
By joining A Broader View you are not only helping to make a difference during your own trip, your impact will last even after you go home.