Laos is a small, landlocked country in Southeast Asia but that doesn't mean that you won't find spectacular things to do while you're there. When you take those missionary trips in Laos you're going to have the opportunity to see the spectacular Mekong River, the Luang Prabang Range and the Annamite Range of mountains. You'll be able to see paddy fields that seem reminiscent of an older time. But this beautiful country is untouched by many of the modern, western ways and that's something that is definitely okay with everyone who visits.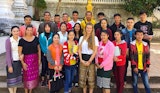 In Laos you're going to have the opportunity to work with the locals to help with teaching English. The reason? Well, this country isn't really at the top of any tourist lists and that's a shame. It's a beautiful country and one that can absolutely do great things. It's a country that more people should be able to experience, though you definitely won't want them to change the ways of the people and the culture here. When you get the opportunity to travel on your overseas adventure travel you're definitely going to see why this country should stay as it is.
The culture here is definitely varied. There are many ethnic groups and religions throughout the land and yet the people live in peace and they have some truly amazing things to share with the world. When you take your missionary trips in Laos you're going to have the opportunity to explore the country for yourself. And you'll be able to immerse yourself in the culture. You'll get to know the people and you'll definitely get to enjoy everything that you see. It's going to be the most amazing opportunity and one that you're going to want to repeat.
Overseas adventure travel can be something that really makes a difference in your life and when you combine your trip to Laos with your trip to Vietnam or Cambodia, it's going to be an even better opportunity for you. All you need to do is take a moment to let us know just when you'd like to travel and for how long. We can make sure that your trip is arranged and ready for you. That way, there's nothing for you to worry about and you get to enjoy the country and the opportunity to give back as well.
Meeting the locals is going to give you the opportunity to make new friendships that you're going to keep for the rest of your life. The people here and the students you will interact with are eager to learn, and they're definitely some of the most respectful students you'll find anywhere. It's going to be the trip of a lifetime for you and you'll definitely be interested in taking missionary trips in Laos and other countries again as soon as you finish this one. All you need to do is schedule the experience and you'll be more than happy with the end results. It's as simple as that.
Overview
Project length: From 1 week to 12 weeks.
Project Date: Year-round
Arrival airport: Luang Prabang International Airport (Code: LPQ)
Arrivals: Saturday & Sundays (no exceptions)
Accommodation: Shared guesthouse (A/C and hot water provided)
Meals: Breakfast, Lunch (2 meals) Monday to Friday.
Work Schedule: Monday to Friday, 4 to 8 hours per day.
Requirements: Police Check/Clearance report.
Visa: 30-day tourist visa available on arrival. More information
Vaccinations: Hepatitis A, Typhoid, Malarial Medication
Volunteer Opportunities in Laos
Teaching English
Without a doubt, teaching English abroad is one of the most popular ways for recent college grads, as well as recent retirees to live overseas and check off most of their travel goals. Teaching abroad allows volunteers to travel and see the world, learn a new language, experience a unique culture and gain international work experience.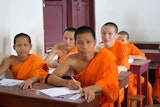 In our Laos program we need English speaking volunteers to assist with, and lead classroom instruction themselves. Volunteers work alongside the local teachers in the classrooms. Volunteers assist them with pronunciation and providing context for foreign/western concepts presented in the teaching materials. Volunteers are very welcome, they bring invaluable knowledge and exposure, allowing the local students to experience and appreciate different cultures outside of their own. The local students range from primary school, secondary school and with local adults. Volunteers normally spend 6-7 hours per day, Monday to Friday, supporting the teachers and students during the different classes. Volunteers are encouraged to engage in the conversation sessions or participate in fun learning games with our students.
Volunteer Schedule:
Volunteer work is Monday to Friday for about 6-7 hours daily. Weekends are free to explore this amazing country. While we ask all volunteers to be flexible, a typical daily schedule is likely to go something like this:
7:30am Breakfast
8:30am-12pm Morning classes
Break for lunch
1:30pm - 4pm Afternoon classes
Break for dinner
5pm-730pm Evening classes
Evenings: free time
Country Info
Country Details
The People's Democratic Republic of Laos is located in the center of Indochina. It shares a border with China, Myanmar, Thailand, Cambodia and Vietnam to the east. About 7 million people live in its 18 provinces, with most people – 68 percent – still living in rural areas. The population consists of 49 ethnic groups.
There are several traditional arts and crafts that represent their way of life. Lao has a rich cultural heritage with religious art and architecture forming the cornerstone of artistic traditions.
The country is largely mountainous, with the most fertile land found along the Mekong plains. The Mekong River is the main geographical feature in the west. The river forms a natural border with Thailand in some areas and flows through nearly 1,900 kilometers of Lao territory and shapes much of the lifestyle of the people of Laos.
Luang Prabang
Luang Prabang is classified as a UNESCO World Heritage Site. Situated in the center of northern Laos, the city is known for its cultural, architectural and historical value. Once named the capital of Laos, before changing to Vientiane, Luang Prabang remains the country's spiritual and religious center. Most visitors are charmed by the friendly atmosphere of this small town.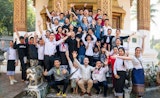 Luang Prabang has preserved Buddhist temples, museums and a variety of Lao, Tai-Lue, Burmese, Chinese and Taui architecture throughout the marketplaces. Luang Prabang sell a large variety of traditional goods. The town is famous for its unique textiles and beautiful mulberry paper. Every morning, visitors are welcome to see a sacred religious ceremony practiced by the local monks, the act of giving alms which is know as "Binthabat" in Laos.
Volunteer in Luang Prabang are part of a local effort to expand English education to the local community. Volunteers will work with novice monks, children from local villages, as well as teens and adults seeking to learn English. This is a wonderful opportunity to make a difference in the lives of the students you will meet!
Coordinator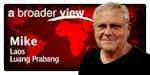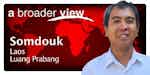 Hi! We are Mike and Somdouk we are the local ABV Coordinators in Laos 🇱🇦 - Luang Prabang. We hope to make your Luang Prabang program meaningful, valuable, memorable, and enjoyable. We are available 24/7 in case you need to contact us urgently. We look forward to meeting you in Laos!
Weather
What's the best time to go to Laos? Here are some annual weather facts we collected from our historical climate data:
The best time to visit Laos is between November and February.
The hot season from March to May is very dry and certain river trips are not possible.
The rainy season from June to October and river trips are possible.

Reviews & Multimedia
Reviews
Personally, I found this program to be very worthwhile as this trip turned out to be one the best experiences of my life. It was very eye-opening and gave me a boost of motivation to continue my studies and inspiration for my future career.
This trip was incredible and I don't regret coming for a second. Our trip was a month long and I think that is a perfect amount of time for first time travelers. Changing sheets, cleaning the bed frames, and washing patients will most likely take up all your time.
This trip was incredible and I don't regret coming for a second. Our trip was a month long and I think that is a perfect amount of time for first time travelers. Changing sheets, cleaning the bed frames, and washing patients will most likely take up all your time.
Prices for Laos
Program Fees
Since A Broader View Volunteers is a 501c(3) charitable organization, You can fundraise (optional) for the expenses of the trip after you get confirmed in our programs. Prices are per person and in US dollars (US$).
| Length of program | Program Fee $USD |
| --- | --- |
| 1 week | $860 |
| 2 weeks | $990 |
| 3 weeks | $1120 |
| 4 weeks | $1280 |
| 5 weeks | $1410 |
| 6 weeks | $1495 |
| 7 weeks | $1650 |
| 8 weeks | $1760 |
| 9 weeks | $1895 |
| 10 weeks | $2195 |
| 11 weeks | $2340 |
| 12 weeks | $2540 |
Inclusions
Airport pick-up & drop off in Luang Prabang
Support from long term experienced staff
Welcome meeting/orientation
All necessary project training by experienced staff
All necessary project equipment and materials
24-hour in-country support
Accommodations in private room with air-condition.
Orientation & full safety briefing
Donation to project
Two Meals: Breakfast and Lunch (Monday to Friday only)
Program Schedule
Starts and ends in Luang Prabang
Airport transportation is included
Week-day work schedule
Typical shift work: 7 hours per day
Support - Local staff support 24/7 during placement
Departure transfer at the end of the program
Extra Cost: Flights, Medical and travel insurance, Visa costs, Personal items, Additional drinks and gratuities, Extra local excursions (trekking, tours, etc), International and domestic airport taxes, Transportation to your project location, Laundry and Internet, no dinner.
Extras
Tour and Weekend Trips
Your ABV local coordinator will provide information about safe, reliable optional tours, cultural activities/classes which you pay for locally.
Pak Ou Mekong Cruise
Take a short walk to the boat pier. We board the boat and begin our cruise along the amazing Mekong which takes us past idyllic scenes of rural riverside life and spectacular scenery until reaching the beautiful Pak Ou Caves which sit amongst the limestone cliffs where the Mekong and Nam Ou rivers meet. The caves are spilt in two, one named Tham Ting and the other Tham Theung. They are both filled with thousands of Buddha images and statues which have been deposited here over centuries.
A short distance away from Pak Ou Caves we visit the village of Ban Xang Hai which has for centuries made the clay jars which are used to ferment Lao wine. Nowadays the tradition continues however the village now also specializes in producing a wide range of 'Lau Lao' Lao whisky and 'Lau Hai' Lao wine. Be sure to try just a little before we head of back down river to Luang Prabang in the late afternoon.
Approximately: 3.5 hours boat ride & 2 hours walking
Luang Prabang Hill Tribe Villages Tour
We depart in Luang Prabang at 9am and drive north east. Along the way we stop at Hath Hient Village to experience how villagers make iron knifes using traditional techniques which this village is famous for. After spending some time at the village we head onwards to Ban Pickngai which is home to people of the Yuan ethnicity. We then carry on through rice paddy fields until arriving at Ban Na Tan which is home to the Khumu people. After spending some time at the village we continue onwards once again to another Khumu village of Ban Bohei.
After this we then drive up into the surrounding mountains to visit the Hmong village of Ban Long Lan and have lunch at the village. Here we have a whole two hours to discover the organic vegetable and coffee plantations before a local shaman explains to us about the different techniques and ingredients used in traditional Lao medicine. From here we head back towards Luang Prabang taking some time to visit Ban San Xang Khong village along the way and arriving back at around 4:00pm
Approximately: 5 hours transfer & 3 hours walking
Luang Prabang Heritage
We start off with a visit to the former royal palace which was built between 1904 & 1905. Originally built during the French colonial times as a residence for King Sisavang. This fascinating museum features the original royal chambers, paintings depicting traditional Lao life, a throne room, and four of the old royal cars, including an Easel.
Here we take some time to look around this magnificent building before moving onwards to Wat Visoun temple which was built by Visounnarath 500 years ago in 1513! The next stop is Wat Xieng Thong which was built by Sayasettha back in 1565.
We then continue onwards to Ban Xang Khong which is famous for the handmade Mulberry paper and also some beautiful hand woven Lao-Traditional textiles which is produced here. We then head back to Luang Prabang.
Approximately: 30 minutes transfer & 4 hours sightseeing
White Water Challenge
This trip is designed for those of you who are looking for a great paddling adventure! Kayak down the amazing and completely unspoiled Nam Xeung river which is surrounded with a stunning limestone landscape and conveniently located northeast of Luang Prabang. The river includes some truly exciting rapids! Yet suitable for all levels.
Approximately: 2.5 hours driving & 5 hours Kayaking
Relaxing Paddle Experience
For those of you who are looking for a gentle and easy river to enjoy kayaking down whilst taking in the sights a trip on the Nam Khan River is the answer! You will enjoy some amazing views of rural life along side the riverbanks and end the tour at a famous site in close proximity to Luang Prabang.
Approximately: 3 hours kayaking
2 days in Elephant Conservation Center
You are in Luang Prabang, you would like to do an excursion of 2 days in an extraordinary relaxing environment, on the shores of a lake, surrounded by a natural forest and furthermore meet some elephants? This 2 days / 1 night package is for you!
Half Day Elephant Experience
Short but not short on fun! Enjoy the essentials on this, exciting tour. One on One experience with your elephant (be a mahout), Lao long boat rides, the Tad Sae Waterfall and a delicious lunch buffet. We'll have you back to your hotel with plenty of time to enjoy your afternoon plans in Luang Prabang.
JUNGLE TREK TO KUANG SI WATERFALL FROM LONG LAO VILLAGE
Starting from Luang Prabang, we drive to the nearby valley southeast of Luang Prabang. We arrive at the Long Lao Village where we begin our hiking tour. Before trekking we can explore the life and culture of this village where Khamu and Hmong people live. Also see the work of our Fair Trek project, a beautiful clay-built bungalow used for overnight tours to experience local village life and culture.
Continue trekking into the mountainous Lao countryside of Luang Prabang. Hiking along you will pass orchards, rice fields, and vegetable gardens and before reaching the forested mountains with quite wild jungle scenery and some graded climbs.
In the afternoon you will arrive at the crystal clear Kuang Si Waterfall. An exciting forest trail leads you to the end of your trek and your reward - the welcoming and refreshing pools of Kuang Si Waterfall where we will have plenty of time to relax and swim.
While in the Kuang Si Waterfall park, you should visit the Kuang Si Bear Rescue Sanctuary. You can find great information about Asian sun and moon bears and the Free the Bears protection program. You are welcome to support the project with a donation or by buying a real "Free The Bears" T-Shirt.
Experience the new Lao Buffalo dairy that produces cheese and a range of delicious dairy products. The diary provides income and a sustainable future for the Lao people involved. Learn how to milk a Buffalo, cuddle a Buffalo for the perfect selfie and try some incredible ice cream. The Buffalo may be the stars of the show but the playful pigs, chickens and cute rabbits are also plenty of fun for the young and young at heart!
We'll return late afternoon by vehicle. The tour concludes late afternoon in Luang Prabang.
Total trekking distance is 9 km (5.5 mi), approx 3.5 hours of medium difficulty, slippery when wet. The trek is mainly flat. There is a rocky section up and down a small hill approx 20 minutes.
Laos Festivals Events
The majority of Laos festivals are based in the Buddhist faith that dominates the country and hold an important religious significance for Lao people, thus festival dates may be flexible as they are tied to the lunar calendar.
January
Boun Pa Vet
Boun Pha Vet is a commemoration of the Jataka, the life tale of Prince Vestsantara, the Buddha's penultimate life. The story of Lord Buddha as Prince Vestsantara is recited in temples throughout the country. This is considered a particularly auspicious time for ordination as a monk.
There is no fixed date for the festival. Every village set their own dates, but they coordinate with surrounding villages to avoid collision as families and friends in different villages exchange invitation to join in celebration.
February
Wat Phu festival
This religious festival is held at the pre-Angkorian Wat Phu site every year in Champassak province, about 10 hours drive south of Vientiane. It is held on the full moon night of the 3rd month of lunar calendar (in 2018 it falls on 31 January, according to my calculation). A trade fair of products from the southern province of Laos, Thailand, Cambodia and Vietnam is also held 3-5 days prior.
Elephant Festival
The elephant festival is a two-day celebration organized annually (mid-February) in Xayaboury province. Some 100 elephants and their mahouts from around the area gather to demonstrate working techniques and all things elephantine.
The celebration filled with elephant-related activities such as mahout and elephant shows, elephant procession, monks' blessings, a traditional elephant Baci ceremony followed by the election of the Elephant of the Year. Visitors can enjoy documentary films on an outdoor screen or live performances on the main stage. Elephant ride in the nearby forest is also available.
March
LAO WOMEN'S DAY
This is a public holiday to commemorate women's contribution to Lao society. There are many parties at homes and offices.
April
Lao New Year (Pi Mai Lao)
This is the biggest festival of the year all around the country. It is partly a religious festival as it is the time Buddha images are cleansed, but is it also an all-out water festival. For three days be prepared to get wet wherever you go as water is thrown on everyone.
In Luang Prabang there are traditional processions and many other events.
In Vientiane Capital, one of the main roads in central area is closed for vehicles and turned to walking street full of young and old celebrating, drinking, dancing and splashing water to passerby.
May
BOUN VISAKHABOUCHA
Visakhaboucha Day is significant religious festival in Buddhist calendar, falling usually in May on the full moon day of the sixth lunar month. When a year has an extra eighth lunar month-Adhikamasa (13 full moon in the year), Boun Visakhaboucha on the full moon of the seventh lunar month (June or July). Boun Visakhaboucha is a meaningful milestone in Buddhist calendar, because is mark the Lord Buddha's birth, enlightenment and death. Devout Buddhists will rise early to make merit at temples. In some temples, Buddhists will perform Wien Tien (Candlelight procession) in the evening, which includes carrying candles, incense and lotus flowers and walking clockwise for three times around the sim, or main sermon or prayer hall.
July
Boun Khao Phansa
Boun Khao Phansa is held at the beginning of the Buddhist lent. Over the following three month, monks spend most of their time in prayer and meditation and are restricted from spending nights in other temples out of their own. Many devout people often abstain from alcohol during this time. In the early morning of Boun Khao Phansa, people prepare donations of food, especially "Khao Tom" (cooked sticky rice wrapped in banana leave) and necessities like soap, toothpaste, toothbrushes and towels for the monks. Most temples are busy during this time with people making merit and giving their donations. At the end of these merit making activities, the monks will recite the teaching of Buddha and tell the history of the Buddhist Lent to temples-goers. Later in the evening, monks, novices cannot leave their monasteries to become lay-people and traditionally lay-people are not allowed to get married until the end of the Buddhist Lent or Ork Phansa.
August
BOUN KHAO PADABDIN (RICE GROWING FESTIVAL)
Boun Hor Khao Padabdin (the literal translation is decorate (padab) dirt\earth (din))starts in the middle of the rainy season. This festival is held in commemoration of dead ancestors. Over two days, Buddhist devotees flock to the Vats (temples) carrying strays of offerings for monks and deceased ancestor. Music is traditionally performed in the grounds of the Vat while people make their donations. During Boun Khao Phansapadabdin, each household cooks a number of "khao Tom" to give to relatives and friends and some are reserved for giving alms to the monks. In the early morning at 4am to 5am, people place the "khao tom" and other food wrapped in banana leave or lotus leave in the four corners outside one's house, the stairs, the spirit house, the rice storehouse, and on the gate, as well as on the ground so that the sprit can reach them. It is also the time to shoe respect to "Mae Thoranii" (the Earth God).
September
BOUN KHAO SALAK ANCESTOR FESTIVAL
This festival occurs during the 10th full moon of the lunar calendar. The purpose of the festival is to obtain merit by providing offerings to dead ancestors. The offerings to the dead are passed to monks during the morning ceremony at the temple, just after almsgiving. A basket is filled with food and daily amenities such as soap, toothpaste, toothbrushes, toilet paper, cigarettes, etc. along with the names of the dead people the family wish to honor. The monks or novice the basket, then draws the name\s from the basket. In the evening at 7pm to 8pm, it is the for a candlelight procession (Wien Tien). Afterwards, the candles, incense the flowers are placed near the side of the Sim..
October
BOUN ORK PHANSA (END OF BUDDHIST LENT)
Boun Ork Phansa is the last day of Buddhist Lent. It occurs on the 15th day of the 11th month of the lunar calendar. In the morning, donations and offering are made at temples around the country. In the evening candlelight processions are held around the temples while hundreds around of colorful floats decorated with flowers, incense and candles are set adrift down and rivers giving thanks to the river spirit (Lai Heua Fai). They are said to pay respect to the Buddha and to thank the mother of rivers for providing water for our lives as well as to ask for blessing and to float the bad luck for the past year away, enabling the good luck to flow in. Villagers who live far from rivers set up model boat made of banana stems and decorated with flowers and candlelight, while other simply light up some candles in front of their houses and do their prayer, wishing for good luck. This colorful ritual has been carried on by Lao people for thousands of years.
November
BOUN THAT LUANG FESTIVAL OF THE GRAND STUPA
Boun Pha That Luang is the most meaningful festival in Vientiane Capital as well as in the Lao PDR. It is held over three to seven days during the full moon of the twenty-fifth lunar month (November, but sometimes it is at the end of October). The festival starts with a colorful candlelight wax castle (Phasat Pheung) procession which starts the evening before at Vat Simeuang. The procession continues to the next afternoon from Vat Simeuang to Pha That Luang. People carry flowers, candles, incense and wax castles decorated with flowers and bank notes. People wear their best clothes for this procession and there is also a parade of the men and women dressed in various Loa ethnic costumes who dance and play traditional music and songs while approaching the stupa. The s-called wax castles have been a part of Lao lifestyle for many years, and bringing one to Pha that Luang on this occasion is believed to bring considerable merit.
The following morning, a huge crowd assembles at dawn at Pha That Luang to give alms to hundreds of monks who come here from around the country, and to play homage to the stupa. In the afternoon, everyone will gather on the esplanade for the traditional game of Ti Khee, which is played with a ball and long curved stick, resembling a game of hockey. The festival draws to close under a full moon when people from all over Laos will crowd around Pha That Luang for one last candlelight procession. There are also fire work displays to make the end of the celebration. During the Pha That Luang stupa festival, there are trade fairs, concerts and fun fairs held.
December
LAO NATIONAL DAY
This celebrates the 1975 victory of the proletariat over the monarchy with parades, speeches, etc. Lao national and communist hammer and sickle flags are flown all over the country. Celebration is mandatory, hence poorer communities postpone some of the traditional Ok Phansa activities usually practiced roughly a month earlier-until National Day, thus saving themselves considerable expense.
General Information
Meals & Food
Volunteers are usually provided breakfast, lunch at a local restaurant during the week and weekends (read the website for detail description of the meals or ask our staff online). Breakfast typically consists of toast, fruit, eggs, cereal accompanied with milk, tea or coffee. We recommend budgeting between US$5 and US$6 per day to purchase dinner. If you have specific dietary requirements, our local team can customize to you but be flexible as well.
Start Dates
Most of our programs run year round, you can start any volunteer/internship program on any day. When you apply you will lets know your start and end dates. Our programs run year round and have volunteers arriving almost every day from many different countries.
Since our programs sometimes depend on the local holiday calendar, there are brief occasions when normal programs work is suspended. For example, schools/daycares often close for long winter/summer vacations. During these times, we arrange for alternative work programs that are similar in substance to our ongoing programs, but address the short-term, direct needs of the local communities.
If you would like to arrange your start and end dates around the local holidays, please call us at 1.866.423.3258 or email us at [email protected].
Giving Matters
A Broader View Volunteers work tirelessly year round to support our volunteers, and also to serve the local communities where ABV projects are based. As a tax-exempt 501 c(3) organization A Broader View receive 100% of our funding from volunteer contributions. Through your program fee contribution our non-profit charity organization can operate beneficial humanitarian aid programs which are successful and continuous supported year round.
Local, professional full-time coordinators, placement logistics, airport pick up and departure transportation, arrival orientation, food & local accommodations, are a major part of providing a safe, meaningful volunteer experience. When you join A Broader View, you will receive pre-trip visa and vaccination support, assistance with flights, fundraising planning, through our interactive online volunteer portal. Our local partners not only benefit from volunteers valuable contributions at the project, they benefit financially with year-round monetary support from A Broader View. In the last decade A Broader View has donated over 4.5 million dollars in international aid.
By joining A Broader View you are not only helping to make a difference during your own trip, your impact will last even after you go home.