Sé voluntario en A Broader View Volunteers, nuestra organización benéfica sin fines de lucro altamente calificada. Las colocaciones de voluntarios se encuentran en la ciudad Inca de Cusco Perú. El voluntario puede elegir entre 7 opciones de programas disponibles en Cusco Perú.
Aunque en los últimos años Perú se ha beneficiado de un aumento en el turismo que ofrece cierto alivio económico, millones de peruanos viven por debajo del umbral de pobreza. Más de la mitad de la población del país lucha por sobrevivir, cerca de una cuarta parte de la población vive en extrema pobreza.
Los niños son los más afectados con muchos de ellos que viven y trabajan en las calles. Nuestros programas de voluntariado ayudan a apoyar las necesidades de cuidado, educación y salud de estos niños. Ofrecemos en Cusco Perú muchos programas sociales como: Programa Médico, Enseñanza en escuelas primarias y secundarias, pasantías premédicas/pre-enfermeras, voluntariado con orfanatos y guarderías, y puede combinar todos estos programas con Lecciones de Inmersión En Español mientras se ofrece como voluntario.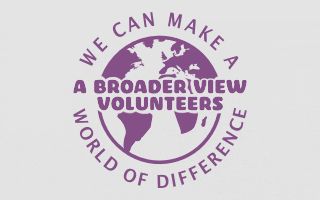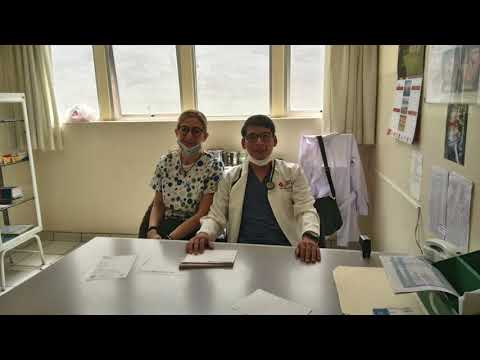 Volunteer Peru Cusco Review Katerina Kokkoris PreMed Student Program
Nuestros programas le permiten participar en un trabajo significativo de servicio comunitario, mientras descubre las personas, las vistas, los sonidos y los gustos de Perú. El voluntariado en Perú es una forma de sumergirse totalmente en la cultura española. Esta es una gran oportunidad para hacer amigos de toda la vida, aprender un idioma extranjero y descubrir que una persona realmente puede hacer una diferencia. Sé voluntario con nosotros y ten una visión más amplia del mundo.
Descripción General
Duración del proyecto: De 1 a 12 semanas
Aeropuerto de llegada: Cusco (CUZ)
Horario de trabajo: De lunes a viernes de 6 a 8 horas por día
Requisitos: Record policial / Reporte de pago.
Opcional: Lecciones de inmersión en el español
Límites de edad: Mínimo 17 años o más para viajar solo.
Edad mínima: De 12 a 16 años si viaja con sus padres.
Aerolíneas: Lan Peru, American, Delta, Spirit, Copa, Taca, Iberia.
Vacunas: Vacuna de rutina, hepatitis A y fiebre tifoidea. wwwnc.cdc.gov
Voluntariado en Cusco
¿Qué podría ser más gratificante que ser voluntario durante la semana y luego visitar Machu Picchu el fin de semana?
Esta es una realidad si decide visitar Cusco/Cuzco Perú. El voluntariado en Cusco le tendrá trabajando con niños en un jardín de infantes, guarderías, orfanatos o centro de necesidades especiales, enseñando inglés en una escuela. Los voluntarios médicos y pre-médicos /pre-enfermeros se colocan en una de las clínicas públicas de las ciudades. Vivirás con una familia de clase media local de forma segura y cerca de los programas.
Todos nuestros programas se pueden combinar con lecciones de español. Cada Programa tiene una descripción de la duración, el costo, lo que está incluido y no está incluido en las tarifas. La mayoría de los programas de voluntarios están disponibles de 1 a 12 semanas, lea la Descripción general para obtener más detalles. Sé voluntario con ABV en Cusco / Perú y ¡Ten una visión más amplia del mundo!
Oportunidades de ser voluntario en Perú
Idioma e Inmersión Cultural
Voluntario Perú Profundizar en un nuevo idioma. Esta es una gran oportunidad para tomar clases de español mientras forma parte de un proyecto comunitario en Cusco/Cuzco. Estar totalmente inmerso en la cultura peruana, aprender español, vivir con una familia anfitriona local, todo el tiempo contribuyendo al proyecto de voluntariado.
Las clases de español son de medio día mientras eres voluntario el otro medio día. Lecciones de 1 a 4 semanas, si necesita más lecciones que puede pagar localmente a nuestro coordinador. Las clases de inmersión en idiomas se pueden combinar con cualquiera de los proyectos de voluntariado basados en Cusco/Cuzco: enseñanza, medicina, apoyo al orfanato, pre-médico. Las clases de idiomas son impartidas por tutores locales. Las lecciones se centran en la práctica de la conversación, la gramática, el vocabulario y se personalizarán en función de sus niveles de español.
Médicos (as) / Enfermeros (as) / Odontólogos (as)
A Broader View Volunteers progresa en los esfuerzos de nuestros voluntarios. Todos los que contribuyen a las necesidades actuales y a las iniciativas sanitarias en curso. Ya sea que esté ayudando a una nueva madre en el hospital, dando educación de salud a los adolescentes, observando la cirugía, su experiencia le permite entender mejor el sistema de salud peruano, así como contribuir a la mejora de la salud en la comunidad de Cusco y las áreas circundantes.
Programa Global de Voluntarios de Salud: Cusco Perú
A Broader View se asocia con directores de hospitales locales y organizaciones de salud locales en Cusco. Hemos construido un modelo basado en la asociación en Cusco Perú para brindar apoyo con programas de alcance comunitario y educación preventiva para la salud. ABV hace contribuciones responsables durante todo el año a nuestros socios locales, y apoya a las comunidades locales mediante el uso de alojamiento en casa particular.
Para maximizar su contribución, ABV adaptará su experiencia en función de las necesidades actuales, sus intereses, niveles españoles, capacitación y cantidad de tiempo que pasa con nosotros in situ en Cusco Perú.
Actividades Clínicas/Educación en Salud/Iniciativas Especiales en Cusco Perú
Turnos con el personal del hospital
Observación de cirugías menores
Atención directa al paciente en centros de atención de ancianos
Exámenes de salud durante los días de participación comunitaria
Educación de salud basada en escuelas locales
Programa de educación en orfanatos (lecciones de salud e higiene)
Aceptamos voluntarios que viajan individualmente, así como grupos de varios tamaños. Se recomienda la competencia en español, pero no es requerida por los Voluntarios de ABV. Sin embargo, los voluntarios pueden encontrar que cualquier nivel de comprensión española mejorará las interacciones con el personal médico, los pacientes y los miembros de la comunidad. Este programa es adecuado para médicos, asistentes médicos, enfermeras con licencia, voluntarios capacitados en servicios de emergencia médica (EMT– Emergency Medical Service)
Enseñanza de inglés como docente
Poder hablar inglés es una gran manera para que los niños en Cusco Perú evadan una vida de pobreza. Con Perú siendo uno de los lugares turísticos más visitados de América del Sur, el creciente comercio turístico trae un montón de oportunidades para los lugareños de habla inglesa. Los programas de enseñanza de inglés de ABV se centran en el barrio Mariscal Gamarra de Cusco. Los voluntarios ayudan en las escuelas que están bajo recursos y carecen de profesores de inglés dedicados
La capacitación de TEFL no es un requisito, y en este programa los voluntarios obtienen experiencia laboral útil enseñando en el extranjero. Ya sea como voluntario durante un año sabático, durante unas vacaciones o como un profesional capacitado, usted tendrá un papel significativo en nuestro proyecto de enseñanza en Cusco Perú.
Las escuelas en Perú cierran durante dos semanas alrededor de finales de julio/principios de agosto para las vacaciones de invierno. Las vacaciones de verano son de mediados de diciembre a principios de marzo. Durante este tiempo, los voluntarios ayudan en el orfanato de la niña, en el centro de niños con necesidades
Programa en jardín de niños
Apoyar un jardín de infantes comunitario local con un grupo de 30 niños entre las edades de 4 a 6 años de edad. Estas escuelas comunitarias enfrentan un enorme desafío para mantener sus clases en funcionamiento, recibiendo muy poco apoyo del estado peruano. Pero recibir voluntarios de ABV para ayudar en el salón de clases ha sido de gran ayuda. Los voluntarios ayudarán con las actividades en el salón de clases y jugar el tiempo con los niños. Dado que a menudo carecen de suficiente espacio para el aula o áreas de juegos infantiles, los suministros de enseñanza, los voluntarios deben ser creativos y venir con ideas.
Programa de Escuela Primaria
Se necesitan voluntarios de habla hispana en una escuela primaria local en Mariscal Gamarra. Los voluntarios son bienvenidos a crear sus propios planes y técnicas de lecciones, y trabajarán bajo la dirección del maestro local. El tamaño del aula oscila entre 25 y 30 estudiantes, y se espera que los voluntarios trabajen al menos 6 horas al día en el programa. Como voluntario, usted participará en:
Apoyar al profesor local con clases de inglés
Crear ideas de lecciones, y juegos de enseñanza para involucrar a los estudiantes
Sé un tutor para los niños que requieren atención individualizada
Pre-médicos / Pre-enfermeros / Pre-odontólogos
Voluntariado en Perú. Muchas de las instalaciones médicas y dentales de Cusco están críticamente insuficientes de personal y menos fondos. Los hospitales están sobrecargados de pacientes, muchos de los cuales tienen enfermedades prevenibles por la higiene básica y prácticas de vida saludables. Los voluntarios médicos internacionales llenan un vacío necesario.
Los estudiantes de pregrado (medial, salud global, enfermería, odontología) son bienvenidos a unirse a nuestros proyectos relacionados con la salud en Cusco Perú. Estos proyectos no solo proporcionan una oportunidad de aprendizaje práctico en las prácticas de atención médica universal, sino que también tendrá un impacto duradero en la comunidad de Cusco.
Los estudiantes pre-odontólogos harán de asistentes en un dentista peruano local y ayudarán al personal con tareas no evasivas. Procedimientos tales como empastes y reparaciones son más comunes, así como los conductos radiculares y extracciones. Las enfermeras premédicas y estudiantiles apoyarán al Centro de Salud, que proporciona atención de emergencia primaria y básica a familias de bajos ingresos. Algunas de las tareas diarias de voluntariado pueden incluir
Ayudar con la consulta y el diagnóstico del paciente
Ayudar en diferentes departamentos, asistiendo los médicos y enfermeros
Trabajando en el área de triage / admisión
Campañas de divulgación: preparación de materiales / e instalación
Nuestro programa está abierto a voluntarios de todas las edades y antecedentes educativos o profesionales. Como nuestros sitios están abiertos durante todo el año, los voluntarios son bienvenidos a viajar en cualquier momento y por cualquier período de tiempo. Los voluntarios en Cusco Perú se alojan a través del programa de alojamiento de ABV. Las casas de familia están con familias locales, en barrios limpios, cómodos y seguros. Todas las casas tienen baños y duchas de estilo occidental. Todos los alojamientos disponen de teléfono y se encuentran a poca distancia a pie de los cibercafés. Se pide a los voluntarios que indiquen todas las preferencias de vivienda, incluidas las solicitudes de comidas y las alergias a mascotas/alimentos en los formularios de solicitud.
Itinerario de muestra - de lunes a viernes
7:30am Desayuno en su casa de tu familia anfitriona
8:00am-12:00pm Rotación hospitalaria/clínica (sombra, asistencia, gráficos)
12:00pm-2:00pm Almuerzo en su casa de tu familia
2:00pm-5:00pm Rotación hospitalaria/clínica o clases de inmersión en el idioma
7:30pm Cena en su casa de familia
Requisitos: Todas las colocaciones clínicas/hospitalarias/médicas incluyen una tarifa administrativa. $100 por un mes, $200 por dos meses, $300 por tres meses.
Cuido Infantil / Orfanato
Voluntariado en Cusco Perú con huérfanos, jóvenes con necesidades especiales y otros niños vulnerables. Vivir y trabajar en Cusco es una experiencia inolvidable. Sea parte de la vida real de los cusqueños, explore sus tradiciones familiares, costumbres y pruebe la auténtica cocina cusqueña en su casa.
Aunque en los últimos años Perú se ha beneficiado de un aumento en el turismo que ofrece cierto alivio económico, millones de peruanos viven por debajo del umbral de pobreza. Más de la mitad de la población del país lucha por sobrevivir, cerca de una cuarta parte de la población vive en extrema pobreza.
Apoyo voluntario en el hogar residencial para niñas huérfanas y abandonadas y adultos jóvenes. La casa es operada por una organización religiosa pero con el ambiente de una gran familia. Hay 50 mujeres residentes en el hogar que van desde los 10 años hasta los 18 años de edad. Los voluntarios apoyan, cuidan y nutren las necesidades emocionales y físicas de los niños. Dado que muchas de estas niñas han venido de comienzos mental y emocionalmente desafiantes, los voluntarios deben ser atentos, de mente abierta y comprensiva.
Los voluntarios en el orfanato / programas de cuidado infantil serán:
Ayudar a proporcionar apoyo en las tareas
Enseñar inglés y lecciones básicas de informática
Organizar actividades extracurriculares como danza, yoga, kickboxing
Proporcionar orientación con formación profesional en repostería, cerámica y otras actividades generadoras de ingresos
Se recomienda conocimiento del idioma español
Programa de donación: US$50 a pagar con las tarifas del programa.
Centro de Atención para Personas Mayores
Voluntariado en Perú El Centro de Cuidado de Ancianos es una organización sin fines de lucro creada para el cuidado y la atención de personas mayores de bajos ingresos que viven en Cusco. La mayoría de los residentes no tienen otras opciones de vida. La mayoría de ellos han sido abandonados por su propia familia. El hogar ofrece un lugar para vivir, comidas, ropa, tratamiento médico y necesidades de terapia.
Los voluntarios ayudarán con actividades recreativas y culturales, ayudarán a preparar alimentos y alimentarán a algunas de las damas y caballeros. Ayúdeles a vestirse, bañarlos o ayudarlos en su higiene personal. Algunos -damas/caballeros- simplemente necesitan que la gente hable con ellos, o leerles durante unas horas o jugar a las cartas o caminar por el centro. Y también necesitamos proveedores de atención médica para ayudar con el cuidado de las personas.
*Este programa se puede combinar con los proyectos médicos, ya que se necesitan voluntarios para proporcionar controles de salud como la comprobación de la presión arterial, los niveles de azúcar, la administración de medicamentos y las necesidades de fisioterapia.
Necesidades Especiales / Apoyo Terapéutico
Los voluntarios en Cusco Perú son necesarios en un centro de necesidades especiales ubicado en Cusco Perú. Todos los residentes, independientemente de su edad, sufren de diversas dolencias físicas y mentales. El hogar es para adultos y niños residentes que provienen de las comunidades más pobres en y alrededor de Cusco. El centro es bastante grande y tiene varias áreas dedicadas, incluyendo edificios separados para mujeres, hombres y niños. Hay una pequeña sala de terapia para niños y grandes áreas al aire libre para sentarse, leer y hablar con los residentes. Como una instalación residencial ropa de cama y alimentos se proporcionan para todos los residentes, y la mayoría de los fondos de la casa provienen de donaciones y apoyo internacional.
Las horas para los voluntarios son: 8 am - 12 pm y 2:30 - 5 pm. Las mañanas se pasan con los niños que no pueden asistir a la escuela haciendo terapia física, jugando, alimentando y cambiando. Por las tardes, los niños que van a la escuela están en el orfanato y usted puede pasar su tiempo trabajando con ellos en la tarea, la alimentación, la preparación de los niños para la cama a las 5 pm y la limpieza.
Requisitos: Tarifa de administración $100 por un mes, $200 por dos meses, $300 por tres meses.
Programa de Empoderamiento de las Mujeres
Voluntariado en Perú, Programa de Apoyo a los Derechos de la Mujer - Cusco tiene una de las tasas más altas de violencia doméstica reportadas en todo el Perú, ya que se estima que alrededor de 80 mil mujeres Cusco se han visto afectadas por algún tipo de violencia. Sé voluntario con una organización local de base en Cusco Perú que ofrece atención ambulatoria y refugio temporal a mujeres y niños que escapan de una vida de abuso. Ayudar a hacer un impacto mediante el voluntariado para el empoderamiento de las mujeres y el derecho de las mujeres en Cusco Perú.
Objetivos específicos del proyecto
Proporcionar asistencia psicológica y jurídica de excelencia a las mujeres que sufren de violencia para ofrecerles una mejor calidad de vida en su entorno familiar y social.
Desarrollar actividades de capacitación, sensibilización y prevención sobre los derechos humanos, los tipos de violencia y abuso, la autoestima y los valores.
El refugio para mujeres proporciona servicios a 40-50 mujeres y niños cada año, y la mayoría se queda de 2 a 3 meses a la vez. La mujer y sus hijos, sobrevivientes de violencia doméstica y abuso sexual, reciben atención médica, servicios de apoyo educativo y psicológico. El refugio tiene un enfoque holístico que ofrece clases y terapia enfocada en la intervención, la prevención, la educación y el empoderamiento. El centro ofrece clases de creche (cuidado infantil) para los niños pequeños que viven en el refugio con sus madres. El enfoque de fortalecimiento corporal y mental tiene voluntarios que ayudan en áreas de talleres de danza, deportes, caminatas recreativas y talleres de cocina. El voluntario también ayuda con los proyectos agrícolas en curso: desbroce y preparación del suelo para el cultivo de verduras, hierbas medicinales, plantas aromáticas, etc.
Información del país
¿Estás listo para ayudar a las personas necesitadas, sumergirte en las vistas, sonidos y cultura de un nuevo país y tener la experiencia de tu vida? Con la pobreza, las enfermedades y la falta de proveedores calificados que ponen una presión sobre servicios importantes como la salud y el cuidado de niños en los países en desarrollo de todo el mundo, hay muchos rincones del mundo que dependen de la ayuda de viajeros voluntarios como usted.
Sé voluntario en Perú con A Broader View Volunteers, una organización benéfica sin fines de lucro de primer nivel, que trabaja incansablemente para apoyar a nuestros maravillosos voluntarios y servir a las comunidades locales donde se encuentran nuestros programas de voluntariado. Las ubicaciones en Perú se encuentran en la ciudad maya de Cusco. Las colocaciones del programa se adaptan a los intereses de los voluntarios y su conjunto de habilidades, pero todavía permiten a los voluntarios tiempo para explorar la cultura y las actividades locales andinas durante su tiempo libre.
El tipo de programas en Perú varían ampliamente, ofreciendo todo, desde educación hasta atención médica. Los voluntarios pueden elegir entre siete opciones en Cusco. La ayuda voluntaria internacional no sólo es apreciada por la comunidad local, es severamente necesaria por los millones de peruanos que viven por debajo del umbral de pobreza. Con miles de niños viviendo y trabajando en las calles, como es tan a menudo en países en desarrollo como Perú, nuestros programas de voluntariado están diseñados para apoyar las necesidades de adolescentes y niños locales que necesitan desesperadamente ayuda.
Muchos de nuestros programas de voluntariado en el extranjero atienden a las mujeres desfavorecidas y los requisitos de cuidado, educación y salud de los niños. Nuestra extensa gama de programas sociales en Cusco, Perú incluye: pasantías médicas, pre-médicos/pre-enfermería, docencia en escuelas primarias y secundarias y voluntariado en orfanatos y guarderías. Para ayudarle a instalarse en su ubicación, también ofrecemos la oportunidad de combinar todos nuestros programas con clases de inmersión en español durante su tiempo en Perú.
El voluntariado en Perú es una experiencia increíblemente gratificante. Damos la bienvenida a voluntarios de todas las edades y de todos los orígenes para unirse a nosotros. Ya sea que esté buscando programas voluntarios en el extranjero para estudiantes universitarios o trabajo voluntario para mayores de 60 años, como una organización sin fines de lucro de confianza que prioriza la seguridad de nuestros voluntarios, somos el lugar de acceso para voluntarios en todo el mundo. También ofrecemos programas personalizados con fechas de llegada flexibles para adaptarse mejor a las necesidades de los notables voluntarios de los que dependemos para ayudarnos a hacer del mundo un lugar mejor.
Si desea ser voluntario, Perú es sólo uno de los países que hemos tomado bajo nuestra ala, proporcionando un flujo constante de voluntarios y proporcionando apoyo financiero durante todo el año a proyectos locales en Cusco. Dondequiera que decida ser voluntario, A Broader View le da la oportunidad de participar en un trabajo de servicio comunitario significativo, aprender un idioma extranjero, hacer amigos de por vida y descubrir que una persona realmente puede hacer una diferencia. Su búsqueda de los mejores programas de voluntariado en el extranjero termina aquí – sé voluntario en Perú con nosotros y obtén una visión más amplia del mundo.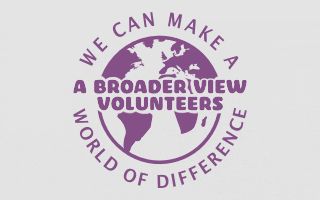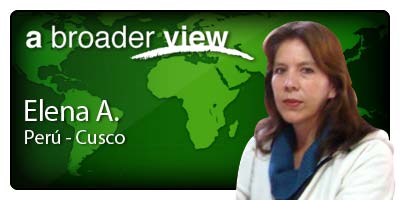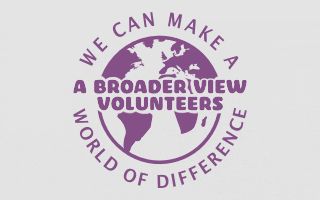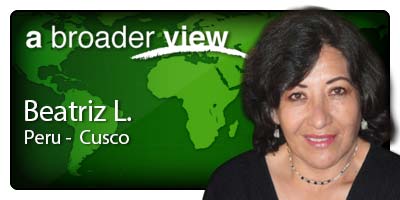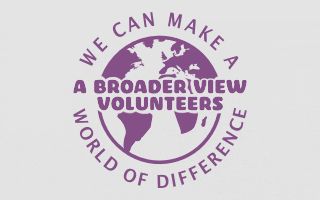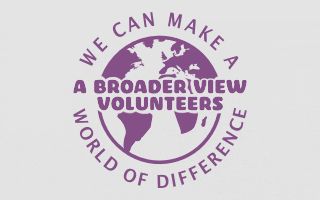 Welcome to Peru 🇵🇪 (Bienvenidos a Peru!). Our Names are Maria Elena and Beatriz and we are your ABV coordinators while you are staying in Peru. Our country has one big city, Lima. But you will be working in Cusco which is a place of 435.000 inhabitants out of over 31 million population. We will be ready for support 24/7 in case you need to contact us urgently. We will introduce you to your volunteer location and staff.
You are most welcome to seek our assistance and don't hesitate to ask us questions while in country.
¿Cuál es el mejor momento para ir a Cusco en Perú? Estos son algunos datos meteorológicos anuales que recopilamos de nuestros datos históricos sobre clima:
Durante los meses de septiembre, octubre, noviembre y diciembre es más probable que experimente un buen tiempo con temperaturas medias agradables.
Las precipitaciones más altas (temporada de lluvias) se ven en enero, febrero, marzo y diciembre.
Cusco tiene períodos secos en mayo, Junio, Julio, Agosto y Septiembre.
En promedio, el mes más cálido es septiembre.
En promedio, el mes más fresco es Julio.
Enero es el mes más húmedo.
Junio es el mes más seco.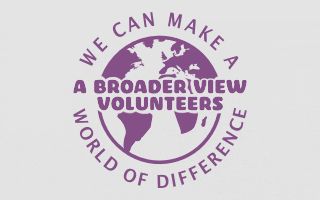 Ciudad: Cusco | Población: 435 000 | Idiomas: Español
Moneda: Sol peruano (PEN) | Zona horaria: UTC-06:00
Reviews & Multimedia
Reviews
I loved when the kids would know my name and get excited to see. It meant to me that I was making them happy and that alone made me incredibly happy to be there. During the weekdays, I would get up at 8 am and go to volunteer. I would come home for lunch at my host mom's.
This experience as a whole has surpassed my expectations as a volunteer. I am taking way more out of this program that I feel I even put in. The growth that you see yourself is something only time can prove. ABV was the more credible program I found online after many weeks of research.
I think this was a great experience/opportunity for me. I worked at the dental hospital and it was great to see how different they treat their patients and the different accommodations they have to make. Living at Maria Elena´s was very nice.
Precios para Perú
Program Fees
Since A Broader View Volunteers is a 501c(3) charitable organization, You can fundraise (optional) for the expenses of the trip after you get confirmed in our programs. Prices are per person and in US dollars (US$).
Peru - Cusco

| Length of program | Program Fee $USD |
| --- | --- |
| 1 week | $910 |
| 2 weeks | $1025 |
| 3 weeks | $1255 |
| 4 weeks | $1255 |
| 5 weeks | $1485 |
| 6 weeks | $1485 |
| 7 weeks | $1760 |
| 8 weeks | $1760 |
| 9 weeks | $1925 |
| 10 weeks | $2090 |
| 11 weeks | $2255 |
| 12 weeks | $2420 |
Peru - Pto. Inca

| Length of program | Program Fee $USD |
| --- | --- |
| 1 week | $890 |
| 2 weeks | $1.110 |
| 3 weeks | $1.260 |
| 4 weeks | $1380 |
| | |
| Country / weeks | 1 | 2 | 3 | 4 |
| --- | --- | --- | --- | --- |
| Peru Cusco - Language Immersion | $1070 | $1375 | $1735 | $1895 |
| Peru Pto Inca - Language Immersion | $1060 | $1450 | $1740 | $1950 |
Inclusions Cusco
Accommodation: Host Family (Cusco)
Meals: Breakfast, lunch and dinner daily
Arrival: Airport meet and greet by ABV Staff
Orientation: Project Overview and Cusco Tour/Orientation
Support: Pre-departure helpdesk, Local Coordinator and 24hr emergency support
Departure: ABV Staff Escorted Airport Transfer
Extra costs: Flights to Peru. Entry Visa (if applicable). Departure taxes. Vaccinations. Local Transportation. Travel & Health Insurance (approx. us$53). Laundry and Internet (us$15 per load & US$10 per week) paid in advance.
Inclusions Pto. Inca
Accommodation: Host Family
Meals: Breakfast, lunch and dinner daily all week.
Arrival: Airport meet and greet by ABV Staff
Airport: Inca Manco Capac Pto. Inca Airport (JUL)
Orientation: Project Overview and Orientation
Support: Pre-departure helpdesk, Local Coordinator and 24hr emergency support
Departure: ABV Staff Escorted Airport Transfer
Extra costs: Flights to Peru and Pto. Inca. Entry Visa (if applicable, US and CA don't need visa). Check www.ivisa.com. Departure taxes if applicable ask airline. Vaccinations. Local Transportation. Travel & Health Insurance (approx. us$53). Laundry and Internet (us$15 per load & US$10 per week) paid in advance to the accommodation.
Extras
Tour and weekend trips
Once in country our local coordinator can help you find the most reliable and safe tour agencies for weekend trips, you can pay in cash or in most locations with a credit card. These tours are not part of the ABV fees.
Machu Picchu Day Trip from Cusco
Spend a day exploring the Inca citadel of Machu Picchu during this all-inclusive day trip leaving from Cusco. Discover this renowned mountaintop Inca site with a guide, learning about its construction, history and what daily life was like for its residents. The trip's relaxed, non-strenuous pace is a great option for first-time visitors, families and solo travelers alike, and features three different train ride options. The trip also includes round-trip hotel transport, transfer from Cusco to Machu Picchu (via train and bus) and the site entrance fee.
Sacred Valley, Pisac and Ollantaytambo
Uncover the fascinating architecture and culture of the ancient Incas during this 8- to 10-hour day trip covering the highlights of Peru's Sacred Valley from Cusco. Check out the market in Pisac, stopping on Sundays to observe its famous mass. You'll also visit the Inca settlement at Ollantaytambo and explore the ruins of its fortress and the Temple of the Sun, a mysterious structure composed of giant 12-foot (3.5-m) stones. Your Sacred Valley tour also includes a guide, lunch, entrance fees and round-trip hotel transport.
Sacsayhuaman Archeological Park and Cusco Sites
Marvel at the architectural and archeological majesty of Cusco on a 4-hour tour of the city's most significant sites. Accompanied by a knowledgeable guide, visit fascinating ruins of Qenco; the sacred temples of Puca Pucara and the ecclesiastical structure of the Cusco Cathedral. Admire exquisite architecture and gain insight into Peru's alluring history on this enriching excursion.
ATV Tour to Moray, Maras and Salt Flat in the Sacred Valley from Cusco
This tour on ATV is designed for families group, friends etc, whose look for adventure visiting Sacred Valley's most interesting sites in Cusco city such as Moray archeological site, Maras village and Salt mines of Maras, Feel the adrenaline of having total control of your Atv.
Rainbow Mountain Full Day Tour from Cusco
Spend a day hiking through Peru's famous candy-striped landscape, Rainbow Mountain, on this guided tour from Cusco. Hike with a guide for 5.5 miles to a viewpoint of the scenic mountainside, and then head down past glacial lagoons and through the dramatic landscape before returning to Cusco.
Humantay Lake Full-Day Hike from Cusco
Get a taste for Peru's high-alpine scenery and ancient Inca customs during this full-day hike to Lake Humantay from Cusco. Ascend to this scenic body of water located at 13,779 feet (4,200 meters), learning about its sacred place in Inca mythology during your climb. An included buffet lunch back at
Festivals and Festivities
"Fiesta de Ollantaytambo" (Ollantaytambo's Feast) - January 6
Ollantaytambo, Feast that celebrates the "Reyes Magos" (Magic Kings), religious processions, great folkloric dances.
"Fiesta de San Sebastián" (San Sebastian's Feast) - January 20
San Sebastian, religious feast of the town's patron, great folkloric dances and invitation of food and fruit.
"Ch'iaraje" - January 20 - Province of Canas, District of Yanaoca (Community of Checa). Cusco
A ritual fight among the people of the communities of Checa and Quehue who struggle against each other in war games to stimulate the fertility of the land. The winning community receives the larger portion of land. The men are armed with slings, leather whips, and sticks and dress in vests decorated with flowers. The women assist by caring for the horses, collecting stones, and cheering for the men with songs.
"Carnavales" (Carnivals) - The festival of Joy - February (variable)
Peruvian carnivals are marked by the festive character of Andean areas, which regularly break with their solemn traditions. Beyond regional variations, a common characteristic of nearly the entire highland chain is the ritual of the yunza, called umisha in the jungle and cortamonte on the coast. It involves artificially planting a tree trunk laden with gifts, around which the guests dance until it is chopped with a machete or an ax. The couple who make the final hack that brings down the tree will then both be in charge of organizing the yunza next year. Peruvians across the country are extremely fond of tossing buckets of water at each other during this festival, so onlookers would be wise to take precautions.
"Toqto Fights" - February 2nd - Province of Chumbivilcas, District of Livitaca (Toctopata) Cusco
These take place in Toqto, a town located between the Districts of Yanaoca and Livitaca. The fights last three days and represent the past when the people fought to receive more land. On the first day, people settle down in the place; the second day, one-on-one fights begin, and later, groups of five to ten men are formed. After eating and drinking, everyone fights on the third day, and when the games end, the wounded are taken care of and the communities perform the qhaswa (a party for both winners and losers)
Lord of the Earthquakes - "Señor de los Temblores" - The Black Christ and the Carmesí flower - 2nd half of March-1st week of April
Ever since 1.650, when the faithful claim that an oil painting of Christ on the Cross held off a devastating earthquake that was rattling the city of Cusco, the locals have been rendering homage to the image of Taitacha Temblores, the Lord of the Earthquakes. The celebration is held on Easter
Monday against the backdrop of Easter Week in the city of Cusco. This celebration is of particular interest because it allows onlookers to get a glimpse of the fusion of Andean religions and Christianity. The Cusco Cathedral, where the image is kept, is built on the foundations of the ancient temple dedicated to the pagan god Apulla Tikse Wiracocha. The image of the Lord of Earthquakes is borne aloft in a procession through the streets of the city just as the Incas used to parade the mummies of their chieftains, high priests and supreme rulers. In the end, the dominating part of the celebration involves the ñucchu flower (salvia esplendes), used as an offering to the ancient gods Kon and Wiracocha. The same flower today is used to weave a crown for the Lord of the Earthquakes. This crimson colored flower, whose petals are scattered by the faithful over the venerated image, symbolizes the blood of Christ. The image used today was donated by King Charles V, and despite centuries of smoke from the candles and incense, no one has dared to restore the blackened painting, that has given the Christ a somber aspect and a dark countenance.
"Qoyllority" - May (variable) - Province of Quispicanchi, District of Ocongate Cusco
A pilgrimage to the summit of MountSinaqara. Along the way, there is a procession, some dancing, musical groups performances, fireworks, and a symbolic alasitas market (works in miniature). This festival unites two traditions – Andean and Catholic – since it celebrates both the image of Christ that appeared on a rock at 4750 masl / 15.584 fasl and the worship of the Apu Ausangate.
"Lord of Torrechayoc" - May (variable) - Province of Urubamba, District of Urubamba Cusco
This festival began in 1860 when an enormous cross was placed in the snow, and the opening of a section of railway (Urubamba-Lares) was celebrated with a mass. Years later, the cross was carried to the city of Urubamba where they began a worship of it. In addition to a mass, the cross is carried in a procession with all its jewels. There are fireworks, parades of dancers, bullfights, and cockfights..
"Cruz Velacuy" - May 2
Religious-pagan feast, takes place in the country during the night, where the crosses in the hills are venerated, during the next morning these crosses are taken to the churches.
"Corpus of Coyllorite" - First week of full moon in June
Religious-pagan festivity, in which the peasant attend with their family and an image of the lord of Coyllorite, joining in a pilgrimage to the snowy mountain "Coyllorite". The men climb to its peak and should return with big pieces of ice blocks over their back in order to receive blessings. Folkloric dances, processions. During the celebration of this feast it is prohibited to drink alcoholic beverages and also to have sexual contact, that is a common characteristic in the festivities of the Andes.
The largest native Indian festival in the Americas. In this mass pilgrimage to the sanctuary of Sinakara, on the day of the Holy Trinity, a group of villagers climbs snow-capped Mount Ausangate (6,362 m.a.s.l.) in search of the Estrella de Nieve (Snow Star) resting in large blocks of ice, that will then be taken by the villagers, on their backs to their communities, to irrigate their land.
"Qoyllur Rit'i" - June / first week"
The largest pilgrimage of all indigenous nations of the Americas. More than 10 thousand people arrive in Sinakara, at the foot of the Ausangate mountain (6362 m.a.s.l. / 20873 f.a.s.l.), to pay homage to a painting of Child Jesus. The ascent of a group of strong Queros to the snow-capped summit to seek the Star of the Snow (Qoyllur Rit'i) in the mountain's heart is full of symbolism. They will take large blocks of ice on their shoulders back to their Quechua communities to water their lands with sacred water..
"Corpus Christi" - June 11
The festival of Corpus Christi has been celebrated all over Peru since colonial times, but reaches a
high point in Cusco. Fifteen saints and virgins from various districts are borne in a procession to the Cathedral where they "greet" the body of Christ embodied in the Sacred Host, kept in a fabulous gold goblet weighing 26 kilos and standing 1,2 meters high. Sixty days after Easter Sunday, the members of each nearby church bear their patron saint in a procession to the chimes of the María Angola, Peru's largest church bell, forged in a copper-gold alloy in the sixteenth century by local artisan Diego Arias de Cerda. At night everyone gathers together, for an overnight vigil, where typical dishes such as chiriuchu (spicy guinea pig), beer, chicha and cornbread are served. At dawn the procession sets off around the main square, bearing the images of five virgins clad in richly embroidered tunics, plus the images of four saints: Sebastian, Blas, Joseph and the Apostle Santiago (Saint James) mounted on a beautiful white horse. Then the saints enter the Cathedral to receive homage, time after which representatives and authorities from various communities of Cusco meet in the main square to discuss local affairs. Finally, the delegations return to the churches amidst hymns and prayers. Participate all the towns and Cusco. Is the most important religious feast, in which all the saints and virgins images are taken from the churches to visit the image of Christ that is in the Cathedral. The processions, the street decorations, the fervor of the citizens are an indescribable show.
"Inti Raymi" - June 24
The most important folkloric expression of Cusco.
"Quillabamba Fests" - July 25th – 29th - Province of La Convencion, District of Santa Ana Cusco
This is the anniversary celebration of the Province of La Convencion whose capital is Quillabamba. Every year, a Coffee Queen or "Miss Quillabamba" is chosen. There are also cockfight tournaments, motocross competitions, and the Cocla Fair, which features a music fest with national and international artists.
"Pachamama Raymi or Earth Mother Day" - August 1st - The entire department. Cusco
On this day, the following festivals takes place: Pachamamaraymi in the District of Ccatca, Wataqallariy in the District of Maras, and Kinturaymi in Huasao in the District of Oropesa. This is an Andean ritual that worships and gives tribute to the Pachamama (Mother Earth) in a special ceremony called "payment to the earth" with offerings of coca leaves, chicha de jora, and huayruro seeds (mystical jungle seeds). The rite marks the beginning of the Andean New Year.
"Lord of Huanca" - September 14th - Province of Calca, District of San Salvador. Cusco
The story of the Lord of Huanca began in 1675 when, it is said, Jesus Christ appeared in a cave to Diego Quispe, an Indian. His vivid story inspired one of the best painters of the time to reproduce the picture on a rock. The worship (recognized in 1779) reaches its climax on 14th September, and believers arrive from all over Peru and Bolivia in search of cures for their physical and spiritual afflictions.
"Feria Tikaranticuy" (Tikaranticuy Fair) - December 23
Cusco, ornamental, medical and wild plants fair a colorful show.
"Feria Santuranticuy" (Santuranticuy Fair) - December 24
A festival dating back to the colonial period, it now ranks as one of the largest handicrafts fairs in Peru. It is held every year in Cusco's Main Square, where the painters of religious images and artisans offer a wide range of Christmas figurines to go with the Nativity scenes found in homes and chapels across Cusco.
Información General
Meals & Food
Volunteers are usually provided breakfast, lunch and dinner at their accommodation during the week and weekends (read the website for detail description of the meals or ask our staff online). Breakfast typically consists of toast, fruit, eggs, cereal accompanied with milk, tea or coffee. Dinner usually includes: meat (cow, chicken), potato, rice, vegetables, spaghetti and a variety of western food. Volunteers can be away from their accommodation mid-day so they take a lunch bag or they go back home. We recommend budgeting between US$5 and US$10 per day to purchase lunch if you don't return to the host family, let the host family know if you change the lunch plans. If you have specific dietary requirements, our local teams and home-stays can customize to you but be flexible as well.
Start Dates
Most of our programs run year round, you can start any volunteer/internship program on any day. When you apply you will lets know your start and end dates. Our programs run year round and have volunteers arriving almost every day from many different countries.
Since our programs sometimes depend on the local holiday calendar, there are brief occasions when normal programs work is suspended. For example, schools/daycares often close for long winter/summer vacations. During these times, we arrange for alternative work programs that are similar in substance to our ongoing programs, but address the short-term, direct needs of the local communities.
If you would like to arrange your start and end dates around the local holidays, please call us at 1.866.423.3258 or email us at [email protected].
Giving Matters
A Broader View Volunteers work tirelessly year round to support our volunteers, and also to serve the local communities where ABV projects are based. As a tax-exempt 501 c(3) organization A Broader View receive 100% of our funding from volunteer contributions. Through your program fee contribution our non-profit charity organization can operate beneficial humanitarian aid programs which are successful and continuous supported year round.
Local, professional full-time coordinators, placement logistics, airport pick up and departure transportation, arrival orientation, food & local accommodations, are a major part of providing a safe, meaningful volunteer experience. When you join A Broader View, you will receive pre-trip visa and vaccination support, assistance with flights, fundraising planning, through our interactive online volunteer portal. Our local partners not only benefit from volunteers valuable contributions at the project, they benefit financially with year-round monetary support from A Broader View. In the last decade A Broader View has donated over 4.5 million dollars in international aid.
By joining A Broader View you are not only helping to make a difference during your own trip, your impact will last even after you go home.