Are you planning to go on vacations to Peru? Perhaps taking a gap year? How about taking a few months off before going to college or starting a new job? If that's your goal, why not enjoy your vacations and make a mission trip Peru at the same time?
Peru is a fascinating country. It has beautiful landscapes, amazing and friendly people, rich gastronomy, and stunning touristic attractions. However, this country has also suffered many economic and politic adversities that have caused high poverty levels.
The ones who have less are the one suffering the most, and despite their government's efforts, they still need an extra hand. That's why A Broader View has developed seven programs to volunteer Peru.
Reasons to Take Humanitarian Trips
People from other countries that haven't experience so many adversities sometimes have a hard time trying to connect with other people's reality. This does not mean you couldn't help the ones who need it the most, in fact, it means you have a golden opportunity in your hands.
If you are one of those people who would like to take a gap year Peru or to make something meaningful out of their life, taking a few weeks off to rest from your regular life, perhaps going abroad to help others is exactly what you need to be doing.
Our programs are all located in Cusco Peru, a beautiful city, and a popular tourist destination. You get to work from Monday to Friday with a community of your choosing, and on the weekends you can explore all the great alternatives this city has to offer.
We work with programs on medical, social, educational, and childcare areas. You can review more details of our programs and choose the one that suits you the most.
All we need from you is to be older than 16 years old, and have a vast willing to help others in need.
If you happen to be younger than 16, or think that a young person could benefit from this experience, we welcome girls and boys from 12 to 15 years old with their parents to any of our programs to volunteer in Peru.
In return, you get a priceless experience that will change your life for good and improve other people's conditions even more.
Helping others on humanitarian trips is a life-changing experience. Since you would be working in Cusco, we have Spanish lessons if you need them, but the language is not a requirement.
If you wish to travel with a group of friends or family, we are open to groups bigger than 5 people. Whether they are coworkers, college friends, or cousins, everybody is welcomed in A Broader View.
Take a closer look at our programs to volunteer overseas, and contact us through email, phone, or chat as soon as you have one in mind. A Broader View is here to guide you on this incredible mission trip to Peru, and to help you help others.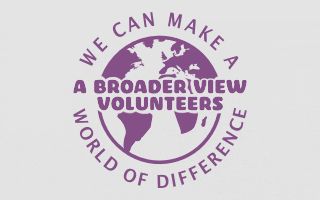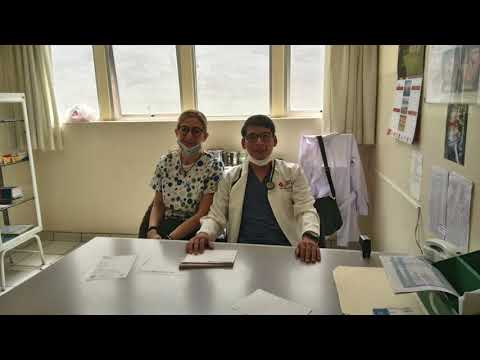 Volunteer Peru Cusco Review Katerina Kokkoris PreMed Student Program
Our programs allow you to take part in meaningful community service work, while discovering the people, sights, sounds, and tastes of Peru. Volunteering in Peru is a way to totally immerse yourself in Spanish culture. This is a great opportunity to make life-long friends, learn a foreign language and discover that one person really can make a difference. Volunteer with us and see A Broader View of the World.
Overview
Project length: From 1 week to 12 weeks
Arrival airport: Cusco (CUZ)
Work schedule: Monday to Friday 6 to 8 hours per day
Requirements: Police Check/Clearance report
Optional: Spanish Immersion Lesson.. read more
Age limits: Minimum 17yrs or older for solo travelers.
Minimum Age: 12 to 16 yrs if traveling with parents.
Airlines: Lan Peru, American, Delta, Spirit, Copa, Taca, Iberia
Vaccinations: Routine Vac, Hep-A and Typhoid wwwnc.cdc.gov
Volunteering in Cusco
What could be more rewarding that volunteering during the week and then visiting Machu Picchu on the weekend? This is a reality if you choose to visit Cusco/Cuzco Peru. Volunteering in Cusco will have you working with children in a kindergarten, day care, orphanage or special needs center, teaching english at a school. Medical and premedical/prenurse volunteers are placed in one of the cities public clinics. You will live with a local middle class host family in safe and close to the programs.
All our programs can be combined with Spanish Lessons. Each Program has a description of the length, the cost, whats included and not included in the fees. Most volunteer programs are available form 1 to 12 weeks, read the Overview for more details. Volunteer with ABV in Cusco/Cuzco and see a broader view of the World!
Volunteer Opportunities in Cusco
Language & Cultural Immersion
Volunteer Peru Delve into a new language. This is a great opportunity to take Spanish lessons while being part of a community project in Cusco/Cuzco. Be fully immersed in Peruvian culture, learn Spanish, live with a local host family, all the while contributing to the volunteer project.
Spanish lessons are half day while you volunteer the other half day. Lessons from 1 to 4 weeks, if you need more lessons you can pay locally to our coordinator. Language Immersion classes can be combined with any of the Cusco/Cuzco based volunteer projects: teaching, medical, orphanage support, pre-medical. Language lessons are given by local tutors. Lessons focus on conversation practice, grammar, vocabulary and will be customized based on your Spanish levels.
Medical / Nurse / Dental
A Broader View Volunteers thrives on the efforts of our volunteers. All of whom contribute to the current needs and ongoing health initiatives. Whether you're assisting a new mother in the hospital, giving health education to teenagers, observing surgery, your experience allows you to better understand the Peruvian healthcare system as well as contribute to the improvement of health in the Cusco community and surrounding areas.
Global Health Volunteer Program: Cusco Peru
A Broader View partners with local hospital directors and local health organizations in Cusco. We have built a partnership-based model in Cusco Peru to provide support with community outreach programs and preventative health education. ABV makes responsible contributions year-round to our local partners, and supports the local communities by using homestay accommodations.
To maximize your contribution, ABV will tailor your experience based on current needs, your interests, Spanish levels, training, and amount of time that you spend with us on-site in Cusco Peru.
Clinical Activities/Health Education/Special Initiatives in Cusco Peru
Rounds with hospital staff
Observing minor surgeries
Direct patient care in elderly care centers
Health screenings during community outreach days
School based health education in local schools
Orphanage education program (health/hygiene lessons)
We accept volunteers traveling individually as well as groups of various sizes. Spanish proficiency is recommended, but not required by ABV Volunteers. However, volunteers may find that any level of Spanish comprehension will enhance interactions with medical staff, patients, and community members. This program is suitable for physicians, physician assistants, licensed nurses, EMT trained volunteers.
Teaching English Education
Being able to speak English is a great way for children in Cusco Peru to evade a life of poverty. With Peru being one of the most visited tourist spots in South America, the growing tourism trade brings a lot of opportunities for English speaking locals. ABV teaching English programs are focused in Cusco's Mariscal Gamarra neighborhood. Volunteers help at schools which are under resourced and lack dedicated English teachers
TEFL training is not a requirement, and in this program volunteers gain useful work experience by teaching abroad. Whether volunteering while on a gap year, over a vacation, or as a trained professional, you will have a significant role in our teaching project in Cusco Peru.
Schools in Peru close for two weeks around the end of July/beginning of August for winter break. Summer vacations are mid-December through early March. During this time volunteers help at the girl's orphanage, at the special needs children's center, or have language immersion lessons.
Kindergarten Program
Support a local community kindergarten with a group of 30 children between the ages of 4 to 6 years old. These community schools face a massive challenge to keep their classes running, receiving very little support from the Peruvian state. But receiving ABV volunteers to assist in the classroom has been a huge help. Volunteers will assist with classroom activities and play time with the children. Since they are often lacking enough classroom space or playground areas, teaching supplies, volunteers need to be creative and come with ideas.
Primary School Program
Spanish speaking volunteers are needed at a local primary school in Mariscal Gamarra. Volunteers are welcome to create their own lessons plans and techniques, and will work under the direction of the local teacher. Classroom size range from 25 to 30 students, and volunteers are expected to work minimum 6 hours per day at the program. As a volunteer you will be involved in:
Supporting the local teacher with English classes
Create lessons ideas, and teaching games to engage the students
Act as a tutor for children which require individualized attention
Premedical / Prenurse / Predental
Volunteer Peru, Many of Cusco's medical and dental facilities are critically understaffed and underfunded. The hospitals are overburdened with patients, many of whom have illnesses preventable by basic hygiene and healthy living practices. International medical volunteers fill a necessary gap.
Undergraduate students (medial, global health, nursing, dental) are welcome to join our health-related projects in Cusco Peru. These projects not only provide a hands-on learning opportunity in universal health care practices, you will also make a lasting impact on the community of Cusco.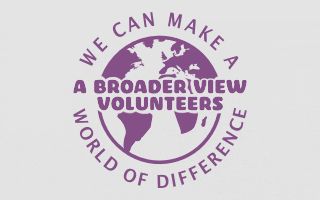 Dental Mission Group Peru Cusco Midwestern University Adil Ali, Howard Tsoi, Shahvar Hussain
Pre-dental students will shadow in a local Peruvian dentist and assist the staff with non-evasive tasks. Procedures such as fillings and repairs are most common, as well as root canals and extractions. Pre-medical and Student nurses will support the Centro de Salud which provides both primary and basic emergency care to low-income families. Some of the daily volunteer task may include
Assist with patient consultation and diagnosis
Assisting in different departments, shadowing the doctors and nurses
Working in the triage/admissions area
Outreach campaigns: preparing materials/and set up
Our program is open to volunteers of all ages and educational or professional backgrounds. As our sites are open year-round, volunteers are welcome to travel at any time and for any length of time. Volunteers in Cusco Peru are housed through ABV's homestay program. Homestays are with local families, in clean, comfortable, safe neighborhoods. All homes have western style toilets and showers. Homestays all have telephone access and are located within walking distance of internet cafes. Volunteers are asked to indicate all housing preferences, including meal requests and pet/food allergies in the application forms.
Sample Itinerary - Monday through Fridays
730am Breakfast at your homestay
800am-1200pm Hospital/clinic rotation (shadowing, assisting, charting)
1200pm-200pm Lunch at your homestay
200pm-500pm Hospital/clinic rotation or Language Immersion lessons
730pm Dinner at your homestay
Requirements: All clinic/hospital/medical placements include a administrative fee. $100 for one month, $200 for two months, $300 for three months.
Child Care / Orphanage
Volunteer in Cusco Peru working with orphans, special needs youth and other vulnerable children. Living and working in Cusco is an unforgettable experience. Be part of the real life of the Cusquenians, explore their family traditions, customs and taste the authentic Cusco cuisine at your homestay.
Although in recent years Peru has benefited from a rise in tourism offer some economic relief, millions of Peruvians live below the poverty line. More than half of the country's people struggle to survive, close to one fourth of the population live in extreme poverty
Volunteer support at residential home for orphaned and abandoned girls and young adults. The home is operated by a religious organization but with the atmosphere of a large family. There are 50 female residents at the home ranging from 10 years to 18 years old. Volunteers support, care for and nurture the children's emotional and physical needs. Since many of these girls have come from mentally and emotionally challenging beginnings, volunteers need to be caring, open minded and understanding.
Volunteers in the orphanage / child care programs will be:
Helping to provide homework support
Teaching English and basic computer lessons
Organizing extracurricular activities like dance, yoga, kickboxing
Provide guidance with vocational training in baking, pottery and other income generating activities
Spanish knowledge is recommended
Program donation: US$50 payable with the program fees.
Senior Care Center
Volunteer Peru The Elderly Care Center is a non-profit organization created for the care and attention of low-income older people living in Cusco. Most of the residents have no other living options. Most of them have been abandoned by their own family. The home provides place to live, meals, clothing, medical treatment and therapy needs.
Volunteers will help with recreational and cultural activities, help to prepare food, and feed some of the ladies and gentlemen. Help them to dress, bathe them or help them in their personal hygiene. Some -ladies/gentlemen- simply need people to talk to them, or read to them for a few hours or play cards or walk around the center. And we also need health care providers to help with the care of the people.
*This program can be combined with the medical projects, as volunteers are needed to provide health checks like checking blood pressures, sugar levels, administering medication and physical therapy needs.
Special Needs / Therapy Support
Volunteer in Cusco Peru are needed at a special needs center located in Cusco Peru. All residents, regardless of their age, suffer from various physical and mental ailments. The home is for adult and child residents who come from the poorest communities in and around Cusco. The center is quite large and has several dedicated areas, including separate buildings for women, men, and children. There is small therapy room for children and large outdoor areas for sitting, reading and talking with the residents. As a residential facility bedding and food are provided for all residents, and most of the home's funding comes from donations and international support.
Hours for volunteers are: 8am-12pm and 230-5pm. The mornings are spent with the children who are unable to attend school doing physical therapy, playing, feeding and changing. In the afternoons the children who go to school are at the orphanage and you may spend your time working with them on homework, feeding, getting children ready for bed by 5pm and cleaning.
Requirements: Admin fee $100 for one month, $200 for two months, $300 for three months.
Women's Empowerment Program
Volunteer in Peru, Women's Rights Support Program - Cusco has one of the highest rates of domestic violence reported throughout Peru, as it is estimated about 80 thousand Cusco women have been affected by some type of violence. Volunteer with a local grassroots organization in Cusco Peru which offers ambulatory care and temporary shelter to women and children escaping a life of abuse. Help make an impact by volunteering for women's empowerment and women's right in Cusco Peru. By spending your time supporting women and girls in need, you can help them towards a better future.
Specific Objectives of the Project
Provide psychological and legal assistance of excellence to women who suffer from violence to offer them better quality of life in their family and social environment.
Develop training, awareness and prevention activities on human rights, types of violence and abuse, self-esteem and values.
The Women's shelter provides services to 40-50 woman and children on a yearly basis, with most staying 2-3 months at a time. Woman and their children, survivors of domestic violence and sexual abuse, receive medical care, educational and psychological support services. The shelter has a holistic approach offering classes and therapy focused on intervention, prevention, education and empowerment. The center provides educational creche classes for the young children living at the shelter with their mothers. Body and mind strengthening focus has volunteers helping in areas of dance workshops, sports, recreational walks, and cooking workshops. Volunteer also help with the ongoing agricultural projects: weeding and soil preparation for growing vegetables, medical herbs, aromatic plants etc.
Volunteer Opportunities in Pto. Inca (Amazon)
Language & Cultural Immersion
Volunteer Peru Delve into a new language. This is a great opportunity to take Spanish lessons while being part of a community project in Pto. Inca. Be fully immersed in Peruvian culture, learn Spanish, live with a local host family, all the while contributing to the volunteer project.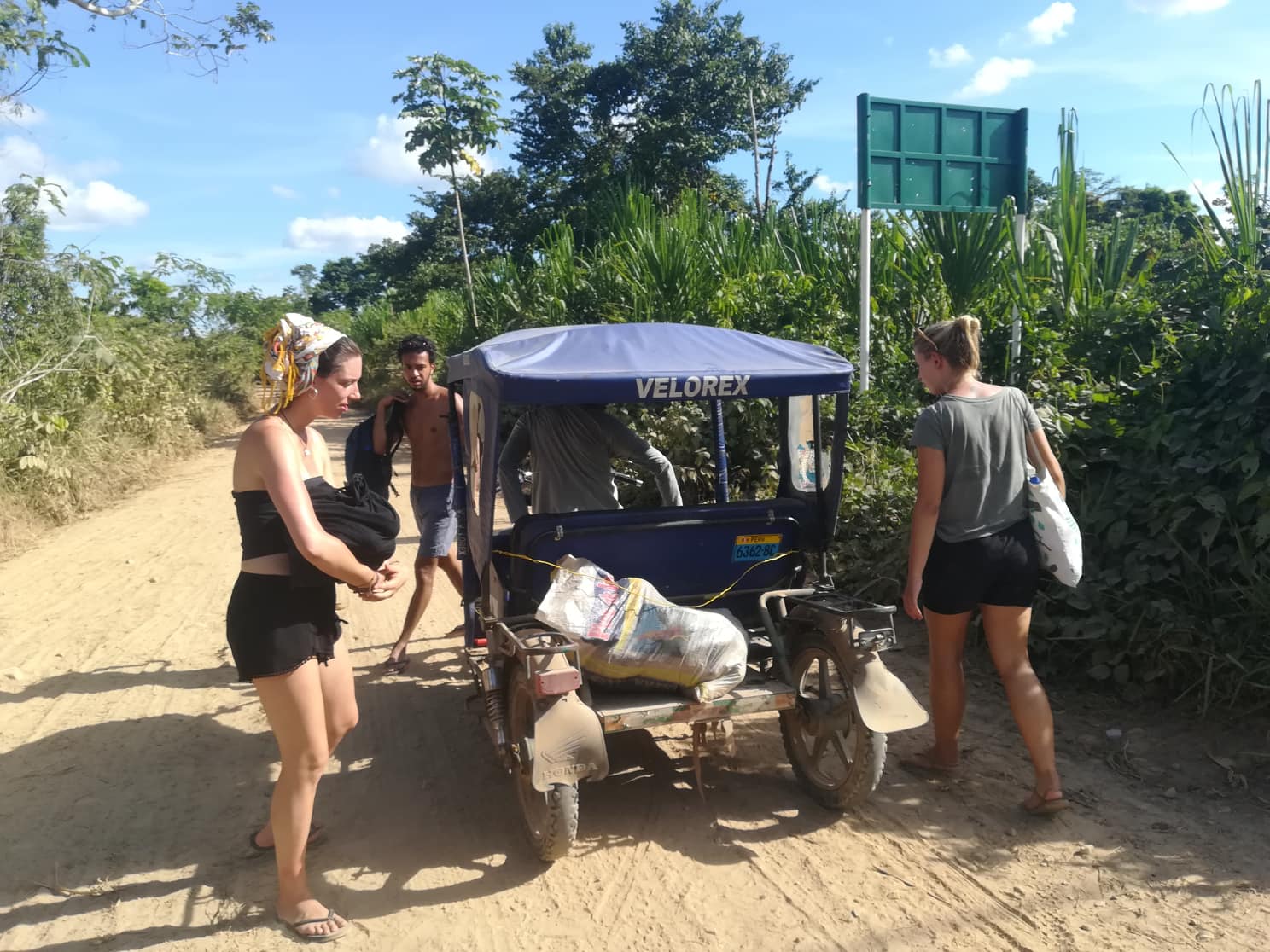 Spanish lessons are half day while you volunteer the other half day (12 hours total per week). Lessons from 1 to 4 weeks, if you need more lessons you can pay locally to our coordinator. Language Immersion classes can be combined with any of the Pto. Inca based volunteer projects: teaching, Conservation Programs. Language lessons are given by local tutors. Lessons focus on conversation practice, grammar, vocabulary and will be customized based on your Spanish levels.
Programs are open from April 15th to December 15th of each year.
Teaching / Education
One of the programs that we are working on is teaching English. We provide free English classes for children, teenagers and adults. Therefore, everybody can participate. We believe that English lessons will provide a valuable opportunity to help local people gain the skills they need to communicate with tourists and also help the younger generations to have better life opportunities. TEFL Certificate is not a requirement but, it is a plus.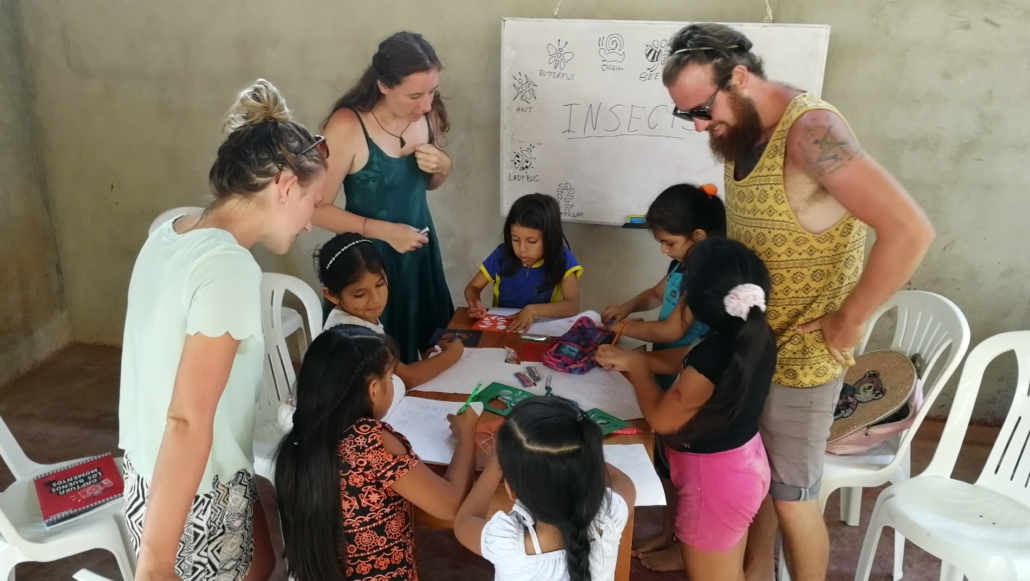 The intercultural exchange experience between volunteers and local people is priceless. This is one of the reasons we bring volunteers from around the world to the Amazonian province of Pto Inca, Peru. Volunteers help teaching up to 4 hours daily 3 days a week from Monday through Friday. You can combine these program with the other programs we offer in Pto. Inca.
Summer vacations are mid-December through early March and also, it is the rainy season in the Amazon of Peru. During this time volunteers help at senior citizen center with educational workshops, or have language immersion lessons and cooking lessons as well (Peruvian Gastronomy).
Programs are open from April 15th to December 15th of each year.
Animal Rescue & Conservationn
The Communal Reserve protects the ecosystem of the Cordillera, which is a unique ecosystem. The area features breath-taking landscapes and spectacular geological formations, with unique flora and fauna, the result of the isolated nature of this mountain range. The area is home to at least 300 bird species, 124 mammals, 140 reptiles and 109 types of fish identified to date, although the real numbers are believed to be higher. Volunteers are needed to assist with research at the reserve and help reforesting areas damaged by illegal gold miners and commercial logging. We go camping up to 10 days exploring the reserve.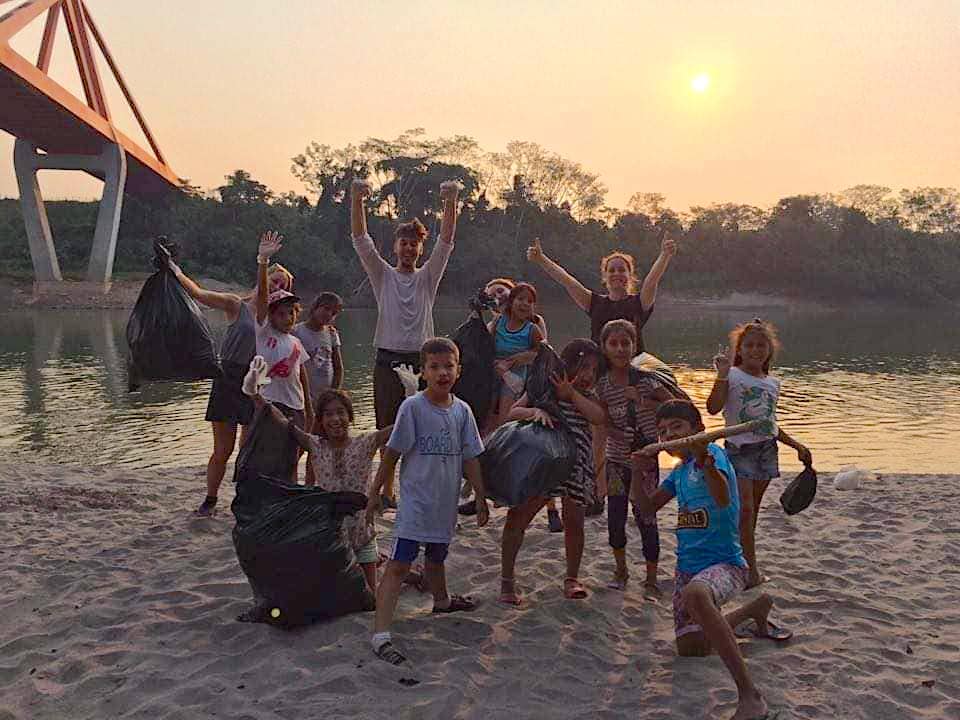 Volunteers with experience and special interest in the field of ecosystem could support our project taking pictures of the flora and fauna during our trips to the reserve as well as cataloging and taking samples.
**We recommend volunteers to bring, fresh clothes, rain coat (poncho), trekking boots, hat, sunglasses, flip flops, flash light, knife, sun blocker, mosquito repellent, water filter, swimming suite. We also recommend volunteers to bring cash because de closest ATM machine is 10 miles form the program.
Programs are open from April 15th to December 15th of each year.
Agriculture & Reforestation Cocoa Plantation (Community Development)
The journey from cocoa tree to chocolate bar is not complex, but it requires several steps, each of which require careful treatment to get the best from the finished product.
We will follow the whole process since visiting local plantations to get the best cocoa fruits until finding the perfect molders for your chocolate.
Volunteers will participate during the 10 steps to make our delicious chocolate.
1. Harvesting
2. Fermenting
3. Drying
4. Roasting
5. Cracking and Winnowing
6. Grinding & Conching
7. Tempering
8. Flavoring
9. Moulding
10. Tasting!l
This will give volunteers an understanding of the multiple steps that is necessary to produce the finished product and of course, they can take an original present home. Local farmers also benefit from this cooperation.
Programs are open from April 15th to December 15th of each year.
Country Info
Are you ready to help people in need, immerse yourself in the sights, sounds and culture of a new country and have the experience of a lifetime? With poverty, disease and a lack of skilled providers putting a strain on important services such as health and childcare in developing countries across the globe, there are many corners of the world which rely on the help of volunteer travelers like yourself.
Volunteer in Peru with A Broader View Volunteers a top rated non-profit charity organization, which works tirelessly to support our wonderful volunteers and serve the local communities where our volunteer programs are located. Placements in Peru are based in the Mayan city of Cusco. Program placements are tailored to the volunteers different interests and skill sets, but still allow volunteers time to explore the Andean local culture and activities during their free time.
The type of programs in Peru vary widely, offering everything from education to health care. Volunteers can choose between seven options in Cusco. International volunteer help is not only appreciated by the local community, it is severely needed by the millions of Peruvians living below the poverty line. With thousands of children living and working on the streets, as is so often the case in developing countries like Peru, our volunteer programs are designed to support the needs of local teens and children in desperate need of assistance.
Many of our volunteer abroad programs cater to underprivileged women and children's care, education and health requirements. Our extensive range of social programs in Cusco, Peru includes: medical, premed/prenurse internships, teaching in primary and secondary schools and volunteering in orphanages and day care centers. To help you settle into your placement, we also provide the opportunity to combine all of our programs with Spanish Immersion Lessons during your time in Peru.
Volunteering in Peru is an incredibly rewarding experience. We welcome volunteers of all ages and from all backgrounds to join us. Whether you're seeking volunteer abroad programs for college students or voluntary work for over 60s, as a trusted non-profit organization which prioritizes the safety of our volunteers, we are the go-to for volunteers across the globe. We also offer customized programs with flexible arrival dates to best suit the needs of the remarkable volunteers we depend on to help us make the world a better place.
If you'd like to volunteer, Peru is just one of the countries we've taken under our wing, supplying a steady flow of volunteers and providing year-round financial support to local projects in Cusco. Wherever you decide to volunteer, A Broader View give you the opportunity to participate in meaningful community service work, learn a foreign language, make lifelong friends and discover that one person really can make a difference. Your search for the best volunteer abroad programs ends here – volunteer in Peru with us and gain A Broader View of the world.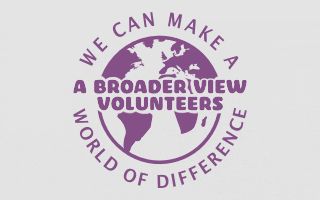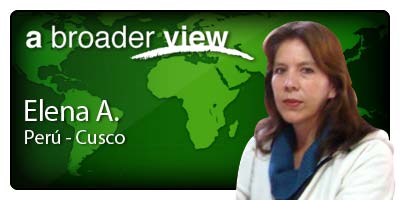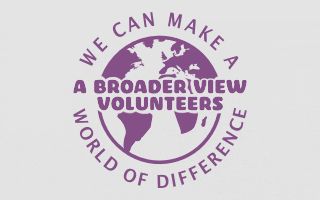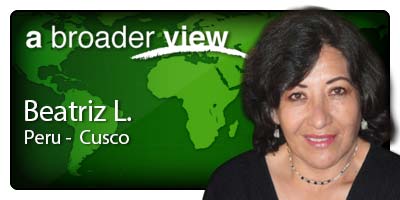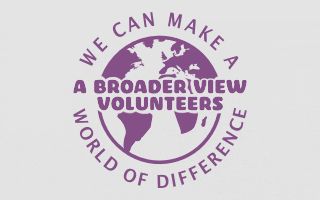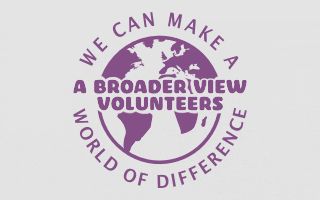 Welcome to Peru 🇵🇪 (Bienvenidos a Peru!). Our Names are Maria Elena and Beatriz and we are your ABV coordinators while you are staying in Peru. Our country has one big city, Lima. But you will be working in Cusco which is a place of 435.000 inhabitants out of over 31 million population. We will be ready for support 24/7 in case you need to contact us urgently. We will introduce you to your volunteer location and staff.
You are most welcome to seek our assistance and don't hesitate to ask us questions while in country.
What's the best time to go to Cusco in Peru? Here are some annual weather facts we collected from our historical climate data:

During the months of September, October, November and December you are most likely to experience good weather with pleasant average temperatures.
Most rainfall (rainy season) is seen in January, February, March and December.
Cusco has dry periods in May, June, July, August and September.
On average, the warmest month is September.
On average, the coolest month is July.
January is the wettest month.
June is the driest month.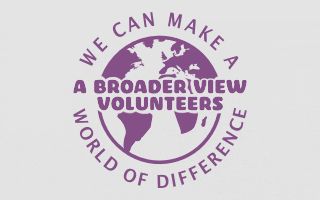 City: Cusco | Population: 435000 | Languages: Spanish
Currency: Peru Sol (PEN) | Time zone: UTC−06:00
Reviews & Multimedia
Reviews
I loved when the kids would know my name and get excited to see. It meant to me that I was making them happy and that alone made me incredibly happy to be there. During the weekdays, I would get up at 8 am and go to volunteer. I would come home for lunch at my host mom's.
This experience as a whole has surpassed my expectations as a volunteer. I am taking way more out of this program that I feel I even put in. The growth that you see yourself is something only time can prove. ABV was the more credible program I found online after many weeks of research.
I think this was a great experience/opportunity for me. I worked at the dental hospital and it was great to see how different they treat their patients and the different accommodations they have to make. Living at Maria Elena´s was very nice.
Prices for Peru
Program Fees
Since A Broader View Volunteers is a 501c(3) charitable organization, You can fundraise (optional) for the expenses of the trip after you get confirmed in our programs. Prices are per person and in US dollars (US$).
Peru - Cusco

| Length of program | Program Fee $USD |
| --- | --- |
| 1 week | $910 |
| 2 weeks | $1025 |
| 3 weeks | $1255 |
| 4 weeks | $1255 |
| 5 weeks | $1485 |
| 6 weeks | $1485 |
| 7 weeks | $1760 |
| 8 weeks | $1760 |
| 9 weeks | $1925 |
| 10 weeks | $2090 |
| 11 weeks | $2255 |
| 12 weeks | $2420 |
Peru - Pto. Inca

| Length of program | Program Fee $USD |
| --- | --- |
| 1 week | $890 |
| 2 weeks | $1.110 |
| 3 weeks | $1.260 |
| 4 weeks | $1380 |
| | |
| Country / weeks | 1 | 2 | 3 | 4 |
| --- | --- | --- | --- | --- |
| Peru Cusco - Language Immersion | $1070 | $1375 | $1735 | $1895 |
| Peru Pto Inca - Language Immersion | $1060 | $1450 | $1740 | $1950 |
Inclusions Cusco
Accommodation: Host Family (Cusco)
Meals: Breakfast, lunch and dinner daily
Arrival: Airport meet and greet by ABV Staff
Orientation: Project Overview and Cusco Tour/Orientation
Support: Pre-departure helpdesk, Local Coordinator and 24hr emergency support
Departure: ABV Staff Escorted Airport Transfer
Extra costs: Flights to Peru. Entry Visa (if applicable). Departure taxes. Vaccinations. Local Transportation. Travel & Health Insurance (approx. us$53). Laundry and Internet (us$15 per load & US$10 per week) paid in advance.
Inclusions Pto. Inca
Accommodation: Host Family
Meals: Breakfast, lunch and dinner daily all week.
Arrival: Airport meet and greet by ABV Staff
Airport: Inca Manco Capac Pto. Inca Airport (JUL)
Orientation: Project Overview and Orientation
Support: Pre-departure helpdesk, Local Coordinator and 24hr emergency support
Departure: ABV Staff Escorted Airport Transfer
Extra costs: Flights to Peru and Pto. Inca. Entry Visa (if applicable, US and CA don't need visa). Check www.ivisa.com. Departure taxes if applicable ask airline. Vaccinations. Local Transportation. Travel & Health Insurance (approx. us$53). Laundry and Internet (us$15 per load & US$10 per week) paid in advance to the accommodation.
Meals & Food
Volunteers are provided breakfast, lunch and dinner at their accommodation during the week and weekends. Breakfast typically consists of toast, fruit, eggs, cereal accompanied with milk, tea or coffee. Dinner usually includes: meat (cow, chicken), potato, rice, vegetables, spaghetti and a variety of western food. Volunteers can be away from their accommodation mid-day so they take a lunch bag or they go back home. We recommend budgeting between US$5 and US$10 per day to purchase lunch if you don't return to the host family, let the host family know if you change the lunch plans. If you have specific dietary requirements, our local teams and home-stays can customize to you but be flexible as well.
Start Dates
Most of our programs run year round, you can start any volunteer/internship program on any day. When you apply you will lets know your start and end dates. Our programs run year round and have volunteers arriving almost every day from many different countries.
Since our programs sometimes depend on the local holiday calendar, there are brief occasions when normal programs work is suspended. For example, schools/daycares often close for long winter/summer vacations. During these times, we arrange for alternative work programs that are similar in substance to our ongoing programs, but address the short-term, direct needs of the local communities.
If you would like to arrange your start and end dates around the local holidays, please call us at 1.866.423.3258 or email us at [email protected].
Money Matters
A Broader View Volunteers work tirelessly year round to support our volunteers, and also to serve the local communities where ABV projects are based. As a tax-exempt 501 c(3) organization A Broader View receive 100% of our funding from volunteer contributions. Through your program fee contribution our non-profit charity organization can operate beneficial humanitarian aid programs which are successful and continuous supported year round.
Local, professional full-time coordinators, placement logistics, airport pick up and departure transportation, arrival orientation, food & local accommodations, are a major part of providing a safe, meaningful volunteer experience. When you join A Broader View, you will receive pre-trip visa and vaccination support, assistance with flights, fundraising planning, through our interactive online volunteer portal. Our local partners not only benefit from volunteers valuable contributions at the project, they benefit financially with year-round monetary support from A Broader View. In the last decade A Broader View has donated over 4.5 million dollars in international aid.
By joining A Broader View you are not only helping to make a difference during your own trip, your impact will last even after you go home.
Extras
Tour and weekend trips
Once in country our local coordinator can help you find the most reliable and safe tour agencies for weekend trips, you can pay in cash or in most locations with a credit card. These tours are not part of the ABV fees.
Machu Picchu Day Trip from Cusco
Spend a day exploring the Inca citadel of Machu Picchu during this all-inclusive day trip leaving from Cusco. Discover this renowned mountaintop Inca site with a guide, learning about its construction, history and what daily life was like for its residents. The trip's relaxed, non-strenuous pace is a great option for first-time visitors, families and solo travelers alike, and features three different train ride options. The trip also includes round-trip hotel transport, transfer from Cusco to Machu Picchu (via train and bus) and the site entrance fee.
Sacred Valley, Pisac and Ollantaytambo
Uncover the fascinating architecture and culture of the ancient Incas during this 8- to 10-hour day trip covering the highlights of Peru's Sacred Valley from Cusco. Check out the market in Pisac, stopping on Sundays to observe its famous mass. You'll also visit the Inca settlement at Ollantaytambo and explore the ruins of its fortress and the Temple of the Sun, a mysterious structure composed of giant 12-foot (3.5-m) stones. Your Sacred Valley tour also includes a guide, lunch, entrance fees and round-trip hotel transport.
Sacsayhuaman Archeological Park and Cusco Sites
Marvel at the architectural and archeological majesty of Cusco on a 4-hour tour of the city's most significant sites. Accompanied by a knowledgeable guide, visit fascinating ruins of Qenco; the sacred temples of Puca Pucara and the ecclesiastical structure of the Cusco Cathedral. Admire exquisite architecture and gain insight into Peru's alluring history on this enriching excursion.
ATV Tour to Moray, Maras and Salt Flat in the Sacred Valley from Cusco
This tour on ATV is designed for families group, friends etc, whose look for adventure visiting Sacred Valley's most interesting sites in Cusco city such as Moray archeological site, Maras village and Salt mines of Maras, Feel the adrenaline of having total control of your Atv.
Rainbow Mountain Full Day Tour from Cusco
Spend a day hiking through Peru's famous candy-striped landscape, Rainbow Mountain, on this guided tour from Cusco. Hike with a guide for 5.5 miles to a viewpoint of the scenic mountainside, and then head down past glacial lagoons and through the dramatic landscape before returning to Cusco.
Humantay Lake Full-Day Hike from Cusco
Get a taste for Peru's high-alpine scenery and ancient Inca customs during this full-day hike to Lake Humantay from Cusco. Ascend to this scenic body of water located at 13,779 feet (4,200 meters), learning about its sacred place in Inca mythology during your climb. An included buffet lunch back at
Festivals and Festivities
"Fiesta de Ollantaytambo" (Ollantaytambo's Feast) - January 6
Ollantaytambo, Feast that celebrates the "Reyes Magos" (Magic Kings), religious processions, great folkloric dances.
"Fiesta de San Sebastián" (San Sebastian's Feast) - January 20
San Sebastian, religious feast of the town's patron, great folkloric dances and invitation of food and fruit.
"Ch'iaraje" - January 20 - Province of Canas, District of Yanaoca (Community of Checa). Cusco
A ritual fight among the people of the communities of Checa and Quehue who struggle against each other in war games to stimulate the fertility of the land. The winning community receives the larger portion of land. The men are armed with slings, leather whips, and sticks and dress in vests decorated with flowers. The women assist by caring for the horses, collecting stones, and cheering for the men with songs.
"Carnavales" (Carnivals) - The festival of Joy - February (variable)
Peruvian carnivals are marked by the festive character of Andean areas, which regularly break with their solemn traditions. Beyond regional variations, a common characteristic of nearly the entire highland chain is the ritual of the yunza, called umisha in the jungle and cortamonte on the coast. It involves artificially planting a tree trunk laden with gifts, around which the guests dance until it is chopped with a machete or an ax. The couple who make the final hack that brings down the tree will then both be in charge of organizing the yunza next year. Peruvians across the country are extremely fond of tossing buckets of water at each other during this festival, so onlookers would be wise to take precautions.
"Toqto Fights" - February 2nd - Province of Chumbivilcas, District of Livitaca (Toctopata) Cusco
These take place in Toqto, a town located between the Districts of Yanaoca and Livitaca. The fights last three days and represent the past when the people fought to receive more land. On the first day, people settle down in the place; the second day, one-on-one fights begin, and later, groups of five to ten men are formed. After eating and drinking, everyone fights on the third day, and when the games end, the wounded are taken care of and the communities perform the qhaswa (a party for both winners and losers)
Lord of the Earthquakes - "Señor de los Temblores" - The Black Christ and the Carmesí flower - 2nd half of March-1st week of April
Ever since 1.650, when the faithful claim that an oil painting of Christ on the Cross held off a devastating earthquake that was rattling the city of Cusco, the locals have been rendering homage to the image of Taitacha Temblores, the Lord of the Earthquakes. The celebration is held on Easter
Monday against the backdrop of Easter Week in the city of Cusco. This celebration is of particular interest because it allows onlookers to get a glimpse of the fusion of Andean religions and Christianity. The Cusco Cathedral, where the image is kept, is built on the foundations of the ancient temple dedicated to the pagan god Apulla Tikse Wiracocha. The image of the Lord of Earthquakes is borne aloft in a procession through the streets of the city just as the Incas used to parade the mummies of their chieftains, high priests and supreme rulers. In the end, the dominating part of the celebration involves the ñucchu flower (salvia esplendes), used as an offering to the ancient gods Kon and Wiracocha. The same flower today is used to weave a crown for the Lord of the Earthquakes. This crimson colored flower, whose petals are scattered by the faithful over the venerated image, symbolizes the blood of Christ. The image used today was donated by King Charles V, and despite centuries of smoke from the candles and incense, no one has dared to restore the blackened painting, that has given the Christ a somber aspect and a dark countenance.
"Qoyllority" - May (variable) - Province of Quispicanchi, District of Ocongate Cusco
A pilgrimage to the summit of MountSinaqara. Along the way, there is a procession, some dancing, musical groups performances, fireworks, and a symbolic alasitas market (works in miniature). This festival unites two traditions – Andean and Catholic – since it celebrates both the image of Christ that appeared on a rock at 4750 masl / 15.584 fasl and the worship of the Apu Ausangate.
"Lord of Torrechayoc" - May (variable) - Province of Urubamba, District of Urubamba Cusco
This festival began in 1860 when an enormous cross was placed in the snow, and the opening of a section of railway (Urubamba-Lares) was celebrated with a mass. Years later, the cross was carried to the city of Urubamba where they began a worship of it. In addition to a mass, the cross is carried in a procession with all its jewels. There are fireworks, parades of dancers, bullfights, and cockfights..
"Cruz Velacuy" - May 2
Religious-pagan feast, takes place in the country during the night, where the crosses in the hills are venerated, during the next morning these crosses are taken to the churches.
"Corpus of Coyllorite" - First week of full moon in June
Religious-pagan festivity, in which the peasant attend with their family and an image of the lord of Coyllorite, joining in a pilgrimage to the snowy mountain "Coyllorite". The men climb to its peak and should return with big pieces of ice blocks over their back in order to receive blessings. Folkloric dances, processions. During the celebration of this feast it is prohibited to drink alcoholic beverages and also to have sexual contact, that is a common characteristic in the festivities of the Andes.
The largest native Indian festival in the Americas. In this mass pilgrimage to the sanctuary of Sinakara, on the day of the Holy Trinity, a group of villagers climbs snow-capped Mount Ausangate (6,362 m.a.s.l.) in search of the Estrella de Nieve (Snow Star) resting in large blocks of ice, that will then be taken by the villagers, on their backs to their communities, to irrigate their land.
"Qoyllur Rit'i" - June / first week"
The largest pilgrimage of all indigenous nations of the Americas. More than 10 thousand people arrive in Sinakara, at the foot of the Ausangate mountain (6362 m.a.s.l. / 20873 f.a.s.l.), to pay homage to a painting of Child Jesus. The ascent of a group of strong Queros to the snow-capped summit to seek the Star of the Snow (Qoyllur Rit'i) in the mountain's heart is full of symbolism. They will take large blocks of ice on their shoulders back to their Quechua communities to water their lands with sacred water..
"Corpus Christi" - June 11
The festival of Corpus Christi has been celebrated all over Peru since colonial times, but reaches a
high point in Cusco. Fifteen saints and virgins from various districts are borne in a procession to the Cathedral where they "greet" the body of Christ embodied in the Sacred Host, kept in a fabulous gold goblet weighing 26 kilos and standing 1,2 meters high. Sixty days after Easter Sunday, the members of each nearby church bear their patron saint in a procession to the chimes of the María Angola, Peru's largest church bell, forged in a copper-gold alloy in the sixteenth century by local artisan Diego Arias de Cerda. At night everyone gathers together, for an overnight vigil, where typical dishes such as chiriuchu (spicy guinea pig), beer, chicha and cornbread are served. At dawn the procession sets off around the main square, bearing the images of five virgins clad in richly embroidered tunics, plus the images of four saints: Sebastian, Blas, Joseph and the Apostle Santiago (Saint James) mounted on a beautiful white horse. Then the saints enter the Cathedral to receive homage, time after which representatives and authorities from various communities of Cusco meet in the main square to discuss local affairs. Finally, the delegations return to the churches amidst hymns and prayers. Participate all the towns and Cusco. Is the most important religious feast, in which all the saints and virgins images are taken from the churches to visit the image of Christ that is in the Cathedral. The processions, the street decorations, the fervor of the citizens are an indescribable show.
"Inti Raymi" - June 24
The most important folkloric expression of Cusco.
"Quillabamba Fests" - July 25th – 29th - Province of La Convencion, District of Santa Ana Cusco
This is the anniversary celebration of the Province of La Convencion whose capital is Quillabamba. Every year, a Coffee Queen or "Miss Quillabamba" is chosen. There are also cockfight tournaments, motocross competitions, and the Cocla Fair, which features a music fest with national and international artists.
"Pachamama Raymi or Earth Mother Day" - August 1st - The entire department. Cusco
On this day, the following festivals takes place: Pachamamaraymi in the District of Ccatca, Wataqallariy in the District of Maras, and Kinturaymi in Huasao in the District of Oropesa. This is an Andean ritual that worships and gives tribute to the Pachamama (Mother Earth) in a special ceremony called "payment to the earth" with offerings of coca leaves, chicha de jora, and huayruro seeds (mystical jungle seeds). The rite marks the beginning of the Andean New Year.
"Lord of Huanca" - September 14th - Province of Calca, District of San Salvador. Cusco
The story of the Lord of Huanca began in 1675 when, it is said, Jesus Christ appeared in a cave to Diego Quispe, an Indian. His vivid story inspired one of the best painters of the time to reproduce the picture on a rock. The worship (recognized in 1779) reaches its climax on 14th September, and believers arrive from all over Peru and Bolivia in search of cures for their physical and spiritual afflictions.
"Feria Tikaranticuy" (Tikaranticuy Fair) - December 23
Cusco, ornamental, medical and wild plants fair a colorful show.
"Feria Santuranticuy" (Santuranticuy Fair) - December 24
A festival dating back to the colonial period, it now ranks as one of the largest handicrafts fairs in Peru. It is held every year in Cusco's Main Square, where the painters of religious images and artisans offer a wide range of Christmas figurines to go with the Nativity scenes found in homes and chapels across Cusco.