Are you looking for an amazing experience that will get you outside of your comfort zone and also give back to a wonderful community? If you are then it's definitely time for you to start looking at different opportunities for travel abroad.
But not just any travel abroad. You should be looking at some of the amazing opportunities that are out there for you to actually travel to an entirely new country and help out in a multitude of different ways. And the great news is, there are more opportunities available than ever.
About A Broader View
A Broader View is a missionary organization that allows men, women, and children of all ages and skill levels to provide support and encouragement for people in all different countries. We provide you with the ability to find a cause that means something to you. Maybe it's education or animal conservation or medical care or environmental conservation. No matter what the cause is that appeals to you, we have a program that will help you to make the most of your passion for helping and in a country where it can make the biggest impact.
We started our company with a strong foundation and 10 guiding principles that we still hold true to this day. We want to make sure that you feel safe and comfortable with every trip you go on, and so, we make sure of each of these things:
A place for women to travel without the need for a travel partner
A safe opportunity for people to travel by joining everyone together as a group
A small group experience for a fun and personal opportunity
A range of different destinations for travel that reflect where travelers want to go
An opportunity for room sharing when travelers are not interested in single room pricing
A travel expert available directly on the trip to offer individualized assistance
An online service with 24/7 access to trip information and all details
A team that's ready and waiting to answer questions via phone or email prior to the trip
A unique, fun, engaging opportunity to make new friends and try new things
So, what is it that we provide to you? Well, there are a number of different things you can get when you work with our team. You're getting a service that provides all of these things that are important to you, but you're getting a whole lot more as well. We guarantee that we'll give you all of these things and more:
All the information you need to make an informed decision about your trip
The exact tour costs without hidden fees or small print
Exactly how many spaces are available on the trip you want to take
Information to contact us whenever you want and a quick response back
Clearly stated policies that are available for you to view online
A staff person you can contact for your trip who will serve as a personal point-of-contact
Consistent and reliable communication leading you up to the trip
Access to fellow travelers who you can introduce yourself to and prepare before the trip
An amazing experience that you will remember for the rest of your life
Why You Want to do a Missionary Trips
If you're thinking about women mission trips you might be uncertain about just what it entails. Well, you're going to absolutely love the opportunity because these trips give you the ability to:
Meet new people
Have an opportunity you'll never forget
Immerse yourself in a new culture
Help an entirely new population of people
Make a huge difference in the world around you
See a new country
Help a cause that means something to you
Other Best Adventure Holidays:
All of these are going to be great reasons for you to jump right in and make that choice to take a trip. But as a woman over 50, you may be uncertain about the way to really make it work for you. So, why should you be working with A Broader View? Because we create amazing trips for women traveling together. That way, you don't have to worry about being entirely on your own. After all, no one likes to travel by themselves, right? You want someone that you can share the experience with and we're going to make sure that you have exactly that.
What's really great is you're going to have the opportunity to travel with other women and women who are in the same age group as you. This gives you even more opportunity to make friends and meet people who have similar interests to you. You'll be able to make a huge difference in the lives of other people as well. That can definitely make it even more fun for you to travel, and you don't have to give up the fun parts of the trip either. That's because on each of these types of trips you're still going to have plenty of time to do what you want to do.
Where you want to Volunteer?
Are you ready to book a trip? Are you looking for a way for women traveling together to have a great experience? Well then, you're going to want to know more about the different trips that are available with A Broader View. You're in luck because we have a whole lot out there for you. We have different locations. We have different Missionary Trips opportunities to give back and we have time frames that are going to work for you and your group. In fact, we have a total of 25 different countries that you're invited to travel to and join in one of the numerous available programs.
Missionary Trips in Central America
Countries in Central America give you all kinds of opportunities to give back to poverty-stricken communities and to aid in any type of program from the social and medical to conservation. It's entirely up to you what you feel most motivated by and which of these amazing countries you want to visit. There are even several different cities within some of these programs that you can take a look at. Throughout Central America you'll see a number of amazing sites that include ancient Mayan cities, beaches, rainforests, an active volcano and even spectacular coral reefs. It's an amazing place to explore, and one that can definitely use everyone's help around the world.
Missionary Trips in South America
When it comes to South America you're going to have a number of amazing opportunities to help out in just about any area that you want and any field. You'll also have plenty of time to check out the different features of the continent and the different countries, like Machu Picchu, Iguazu Falls and of course the national parks and more. Plus, the beauty of the country itself is going to be enough for you to take a closer look and enjoy yourself, without even having to see special sites.
Missionary Trips in Africa
Are you looking for some of the most spectacular sites and views in the entire world? You'll find them in the countries of Africa. This includes Mount Kilimanjaro, the Serengeti and of course the Great Sphinx. Everything you might possibly want to see, including all of the most amazing animals, are right here. You'll be more than happy with the experience and you're going to have plenty of different countries that you can visit. Not only that but you're going to have the ability to really give back to the people who live in each of those countries.
Missionary Trips in Asia
Finally, you're going to have the opportunity to really explore the continent of Asia. In this beautiful place, you can explore the Forbidden Palace, the Great Wall of China, Mount Fuji and a great deal more. It's an amazing opportunity and yet, there are plenty of ways that you can give back to the countries within Asia. Just take a look at the different countries and see which one has the programs that you're most interested in. You might just be surprised at what's actually available out there for you and the people of Asia.
Missionary Trips Programs Available
So, just what could you be doing if you chose to volunteer in any of these countries? Well, you could be getting involved in a number of different issues. It all depends on what you like the most. Do you like to give back to social issues? Do you like to get involved in medical issues? How about helping the environment or the animals within the country? You'll have the opportunity to get involved with any of these when you work with A Broader View. It all depends on what really calls to you.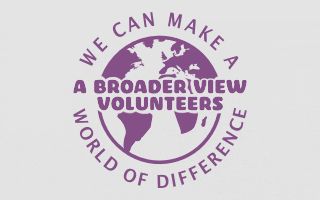 Volunteer Abroad Review Belize Pamela Hicks Orphanage Program
Missionary Social Programs – The social programs available with A Broader View include those that will help the entire community. These are things like community development, which helps with building different structures, whether homes or facilities to aid the people of the community, like hospitals. You will also be able to aid with education, both traditional education for children and education on things like health and general hygiene and care. Those who work in these programs will have a unique opportunity to interact with youth, including street children, or with the elderly who are often incapable of providing for themselves within the community.
Missionary Medical Programs – If you have any type of medical training, whether dental or traditional medicine, you can make a great deal of difference in any and all of these communities. Those with minimal training can work as interns in different countries, providing assistance to full-fledged doctors and dentists. Those with more training or with certifications of their own may be able to work as medical providers within the community. This allows you to health those who suffer from medical conditions common in parts of the world with poor hygiene and poor access to healthy foods. These people are desperately in need of help and anyone who has the medical training to provide it is definitely going to be well regarded and needed.

Missionary Environmental Programs – Are you ready to make a difference for sea turtles? How about sloths? Or the seas? Whatever it is that you feel passionate about you can absolutely have an amazing opportunity and make a huge difference with the environmental programs that are available. These let you choose from amongst dozens of different animals and different programs that are designed to help the environment. You'll be able to really make an impact on the planet and to make a big difference for the people within it. And you can do it in a way that works best for you and the country. Even small changes in the environment can mean a huge impact later on. And with the opportunities and the different parts of the world you can explore at the same time, it's going to be a once in a lifetime chance, except you can keep doing it whenever you want.
What You Need to Know
Overall, you're going to have an amazing experience no matter what type of program you decide to join. No matter how you want to give back or support the people around you, it's going to be an amazing opportunity and experience. You're going to be more than happy with the results and the way that the people truly appreciate everything that you're able to do for them. With A Broader View you're going to see more than just the opportunities that you've heard about in the past. You're going to have the ability to be one of a group of women traveling together and making a difference around the world. There's no reason that you should sit back on the sidelines. Rather, you should be taking a closer look at the opportunities.
The Bottom Line
So what are you waiting for? If you're looking for the ultimate vacation, it's time that you volunteered through ABV. One thing's for sure: you won't regret it!
You can Check Missionary Trips Reviews Here