Volunteering in Sri Lanka is a unique and rewarding experience that allows you to make a real impact while immersing yourself in the rich culture and breathtaking scenery. Why should you volunteer in Sri Lanka? This captivating island nation offers numerous opportunities for personal growth, cultural exchange, and unforgettable adventures. In this article, we'll discuss why volunteering in Sri Lanka is a fantastic choice, provide a list of 10 social programs to get involved with, and showcase 10 must-visit touristic sites to explore during your stay.
Why Should I Volunteer in Sri Lanka?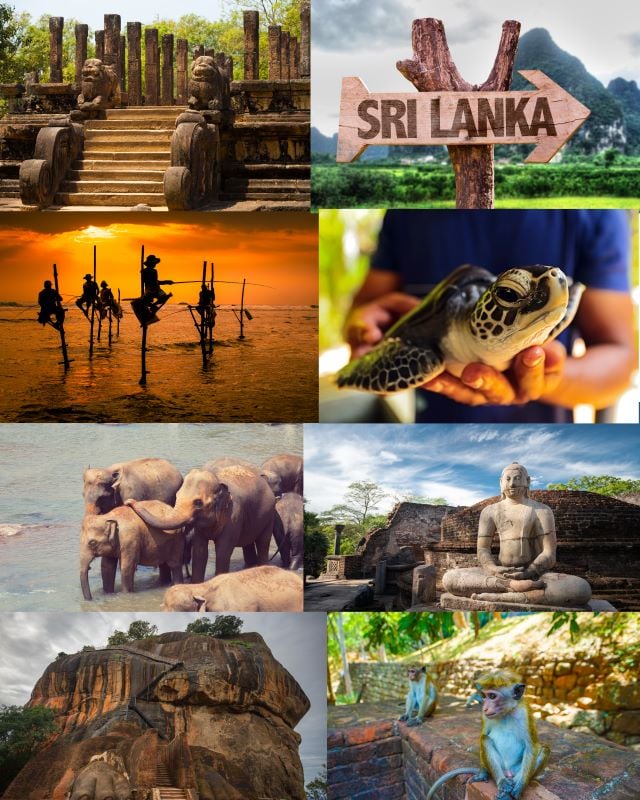 Make a Tangible Impact Volunteering in Sri Lanka allows you to make a meaningful difference in the lives of the local community. By contributing your skills and time, you can help tackle pressing social issues while witnessing the direct impact of your efforts.
Cultural Exchange Immerse yourself in Sri Lankan culture by working alongside locals, learning about their traditions, and gaining a deep understanding of their way of life. This cultural exchange is invaluable for both personal and professional growth.
Personal Development Volunteering in Sri Lanka provides opportunities for personal development, such as improving communication skills, adapting to new environments, and learning to work with diverse groups of people.
A List of 10 Social Programs in Sri Lanka
Education and Teaching Programs: Assist in teaching English, math, or other subjects to children in underprivileged schools.
Wildlife Conservation Programs: Help protect Sri Lanka's diverse wildlife by working in national parks, wildlife sanctuaries, or elephant orphanages.
Healthcare and Medical Programs: Support local medical professionals in clinics and hospitals, providing essential healthcare services to underserved communities.
Community Development Programs: Contribute to projects aimed at improving infrastructure, sanitation, and clean water access for rural communities.
Women Empowerment Programs: Work with local organizations to promote gender equality, provide vocational training, and support female entrepreneurship.
Sustainable Agriculture Programs: Assist in organic farming initiatives, promoting sustainable practices and supporting local farmers.
Youth Development Programs: Mentor and support at-risk youth through sports, arts, and life skills workshops.
Elderly Care Programs: Provide companionship and support for the elderly, assisting with daily tasks and activities.
Disaster Relief Programs: Contribute to ongoing disaster recovery efforts, helping rebuild communities affected by natural disasters.
Cultural Preservation Programs: Assist in preserving Sri Lanka's rich cultural heritage through restoration and documentation of historical sites and traditional art forms.
Volunteer in Sri Lanka Country Page
A List of 10 Touristic Sites to Visit in Sri Lanka
Sigiriya: Explore the ancient rock fortress, a UNESCO World Heritage site known for its impressive frescoes and panoramic views.
Kandy: Discover the Temple of the Sacred Tooth Relic, a revered Buddhist site that houses a tooth believed to belong to the Buddha.
Yala National Park: Embark on a safari in Sri Lanka's most famous national park, home to a diverse range of wildlife, including leopards, elephants, and crocodiles.
Galle: Stroll through the historic Galle Fort, a well-preserved Dutch colonial city with stunning architecture and beautiful ocean views.
Nuwara Eliya: Wander the picturesque tea plantations and lush gardens in Sri Lanka's hill country, known as "Little England."
Polonnaruwa: Explore the ancient city of Polonnaruwa, a UNESCO World Heritage site filled with well-preserved temples, palaces, and statues
Anuradhapura: Visit the sacred city of Anuradhapura, one of the oldest continuously inhabited cities in the world, and marvel at its ancient ruins and impressive dagobas.
Dambulla Cave Temple: Immerse yourself in the history and spirituality of this cave temple complex, adorned with exquisite frescoes and Buddha statues.
Horton Plains National Park: Hike through the stunning landscapes of this highland plateau, home to diverse flora and fauna and the famous World's End viewpoint.
Pinnawala Elephant Orphanage: Witness the daily routines of orphaned and injured elephants, and learn about the important conservation efforts undertaken by this renowned sanctuary.
Volunteer Programs in Sri Lanka
Volunteer Sri Lanka FAQs
What language is spoken in Sri Lanka?
The official languages of Sri Lanka are Sinhala and Tamil. However, English is widely spoken and understood, particularly in urban areas and tourist destinations.
When is the best time to volunteer in Sri Lanka?
The best time to volunteer in Sri Lanka depends on the region you plan to visit. The country experiences two monsoon seasons, with the southwest monsoon from May to September and the northeast monsoon from October to February. Generally, the period between December and March is considered the best time to visit the southwest and hill country, while April to September is more suitable for the east and north.
Do I need a visa to volunteer in Sri Lanka?
Yes, you will need a visa to volunteer in Sri Lanka. Most visitors can obtain an Electronic Travel Authorization (ETA) online, which grants a 30-day tourist visa upon arrival. For longer stays or specific volunteer visas, consult the nearest Sri Lankan embassy or consulate.
Is it safe to travel and volunteer in Sri Lanka?
Sri Lanka is generally a safe country for travelers and volunteers, with friendly locals and a low crime rate. However, it's essential to follow standard safety precautions, such as avoiding unlit areas at night and being mindful of your belongings.
Conclusion: Volunteering in Sri Lanka offers a unique opportunity to make a lasting impact on local communities while experiencing the country's rich cultural heritage and breathtaking natural beauty. With a variety of social programs to choose from and a wealth of touristic sites to explore, you'll create memories that will last a lifetime. So, why not consider volunteering in Sri Lanka and embark on the adventure of a lifetime?
Volunteer Best Blogs to read: