Check-in and airport processing times
To help you prepare for your upcoming flight, we'd like to provide you with guidance for arriving at the airport ahead of your departure. Our goal is to help you have a stress-free experience, and we want to ensure that you arrive at the departure gate with plenty of time to board your flight, get settled and think of the possibilities of your next adventure.
We'll start by providing answers to some important questions:
What are my options for check-in and getting my boarding pass?
When do I need to check in and check my baggage?
How much time do I need to clear security?
When do I need to be at the departure gate?
Check-in options
There are many ways to check in for your flight, depending on where you are in your travel experience.
At 24 hours before departure
Starting 24 hours before your scheduled departure time, you can check in for your flight in the following ways:
Go to the airline website and do the following steps:
Enter your confirmation or eTicket number and last name OR Log in using your airline account information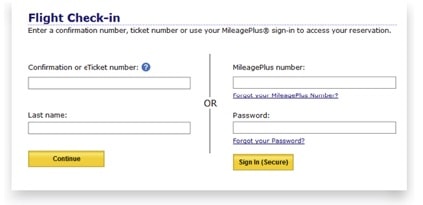 At the departure airport
When you arrive at the departure airport, you can check in for your flight in the following ways: 
Visit a self-service kiosk, where you can print your boarding pass and check baggage
See a representative at the airline check-in counter
At the airport, you can also check your bags by using one of our ticket counter kiosks, visiting an airline representative at the check-in counter or locating curbside skycap (where available).
For travel outside the United States, you can scan your passport by using the airline app or visiting an airport kiosk. If you previously scanned your passport for international travel with the airline, you will be eligible to check in on their website. If your destination country requires a visa, the airline representative at the airport will be required to verify your visa information while checking in.
Minimum required times for check-in and checking baggage
For most flights, travelers will need to abide by the following guidelines:
For most international flights, travelers must check in at least 180 minutes before departure, regardless of whether or not they are checking baggage.
Before you travel, we recommend checking the Important Notices page to see if there are any updates or advisories affecting your departure or arrival airport, so you can plan for extra time if needed.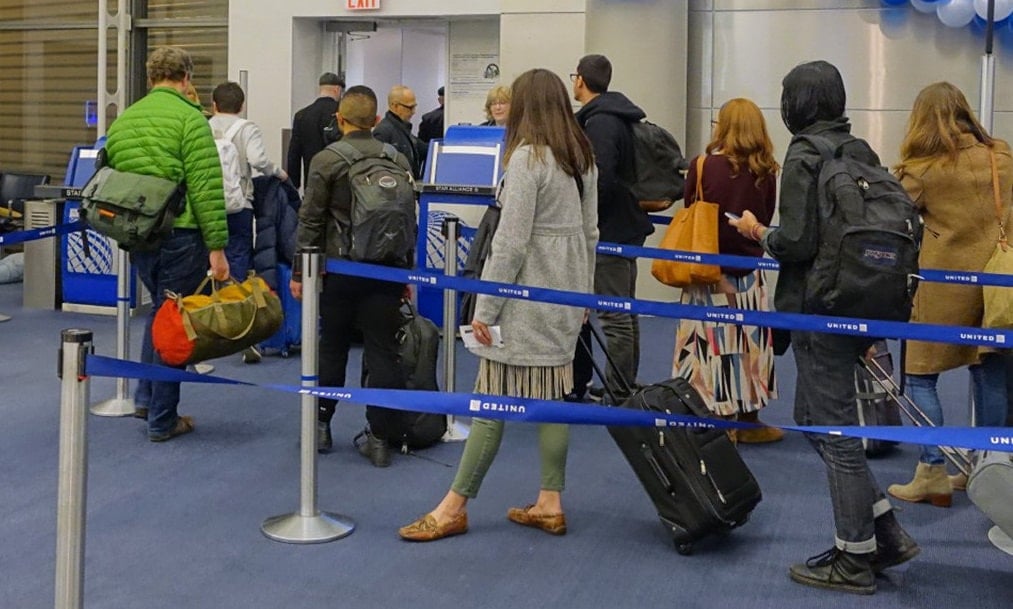 Checked Baggage
Safety notice
Effective January 15, 2018, if you plan to check a smart bag that has charging capabilities, you must remove the lithium battery and carry it with you. For carry-on smart bags, the removable lithium battery must be either powered off or removed before boarding. Smart bags that do not have a removable battery cannot travel on United flights.
Make sure to check your bag in time
Go to the Check-in and Airport Processing Times page to see the cut-off time for checking baggage at your departure airport. Please keep in mind that we can't check your baggage if you do not meet these specified times.
Keep your claim check
You will receive a claim check (a type of receipt) for each checked bag. Please keep these claim checks until you collect all of your checked baggage at the end of your travel.
Review the baggage process for any connecting flights
United checks bags between the origin and destination stated on the ticket.

Baggage dimensions and weights
The maximum exterior dimension (length + width + height) of standard checked baggage is 62 inches (158 cm), including handles and wheels. The maximum weight for checked baggage is based on the class of service and on the traveler's status at the time of check-in. If you qualify for different allowances based on your class of service and your traveler status, the larger of the two allowances will apply. Usually 50lb. Ask the airline if you can bring an extra luggage (another 50 lb bag) as you are bringing donations and volunteering abroad.
Place your name, address and telephone number on the outside and inside of your baggage
Lock your checked baggage with a TSA recognized lock
Review the list of prohibited items shown on the TSA website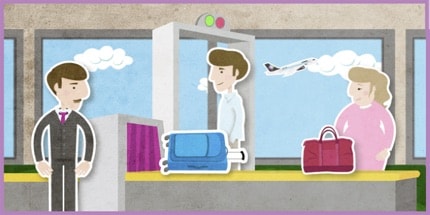 Security processing times
At airports in the U.S., travelers may experience longer lines at Transportation Security Administration (TSA) checkpoints. The TSA advises arriving at the airport two hours before your flight for domestic travel and three hours before for international travel. If you're traveling during peak times like early morning or evening, or during holidays and other events, please plan accordingly and allow for extra time. To help make the security screening process as smooth as possible, please remember that each traveler can bring one carry-on bag and one personal item on board. Visit the TSA's View Security Wait Times page for up-to-date information about your departure airport.
To learn more about the security screening process, acceptable forms of identification and other relevant information, visit the TSA website or read the TSA Security checkpoint guidelines.
Is there a way to expedite security screening?
To help you pass through security more quickly, you may apply for one of two programs offered by the TSA (available at select U.S. airports):
TSA Precheck: For customers who primarily travel within the U.S.
Global Entry: For customers who travel both within the U.S. and internationally.
When do I need to be at the boarding gate?
For flights within the U.S., all customers must be on board the aircraft 15-30 minutes before the scheduled departure time. We recommend being at the boarding gate at least 15-30 minutes before departure to ensure that you're on the aircraft before the doors are closed.
For international flights, we encourage you to be at the gate no later than 30-60 minutes before your scheduled departure. If you are departing from the following airports, please be advised that you are required to be at the gate at a specific time before departure.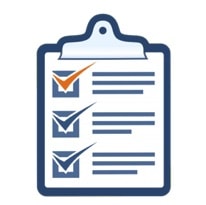 Boarding Process
We want your boarding experience to go smoothly. Below are some tips to help you get ready to board your flight.
Prepare for boarding
Arrive at the gate
You'll want to allow enough time to make your way to the gate, and your boarding pass will tell you when to expect boarding to start and end. To help ensure an on-time flight, all customers must be on board 15 minutes before the scheduled departure time.
Listen for your boarding group number
Take a look at the boarding group number that's listed on your boarding pass, and listen for announcements from your gate agents. They'll let you know when your group may begin boarding.
Find your seat and put your carry-on bags away
You're almost ready to take flight. Once you find your seat, place your larger carry-on baggage in the overhead compartment above your row and your smaller personal item under the seat in front of you, which helps everybody have space to store their bags. Buckle up, and relax.
Arrival Process International Airport
There are really plenty of variations but the main events are: Exiting the plane, leaving the secure terminal area, immigration, baggage claim and customs. The order of the last steps vary by location but it is difficult to go wrong. Signs indicate the way at each step plus doors and guard ensure that passengers do not do the wrong thing accidentally or intentionally. Once you leave an area, you cannot backtrack.
Planes are disembarked roughly following a front-to-back order or sometimes middle to front and back simultaneously. You have to make sure to leave with all your belongings.
A path will lead you from the plane to the terminal. Sometimes you walk outside and airport people will guide you to make sure you stay safe. Most often now, the plane is connected by a movable tunnel called a jet-bridge which gets you into the terminal quickly. Another common method is to wait for a bus to drive you from the plane to the terminal. Again, airport employees are there at all times to ensure safety and that everyone follows instructions.
From the terminal you are to follow the exit signs. Those will pass through the proper steps in sequence according to the airport you are at. Most international airports make you go through immigration first where you are to show your documents, including passport and visa if needed. There will be a number of kiosks, sometimes some are dedicated for nationals and residents, group of nationalities and the rest, so make sure to choose the appropriate one.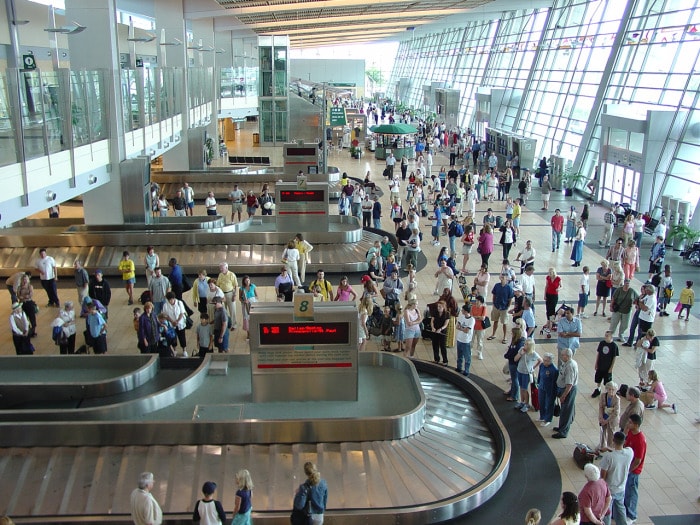 The next step is often baggage claim, although is some places you pick up your luggage before or as you disembark from the plane. In the latter case, you will see people waiting for luggage to be taken out of the plane. This is also the case if you were required to check carry-on items or infant strollers at the gate. In most large airports though, your luggage will be delivered to a carousel as you leave the immigration area. Keep your flight number handy as large airports have a number of carousels and you have to find the right one for your flight. An electronic sign indicates which is the right one. It may also be announced by the flight crew before landing.
There is sometimes but not always also a customs check. In some places it is optional and there will be two paths, one marked Nothing to Declare and another. If you do have nothing to declare, follow the indicated path. You may still have to show your luggage, let it be inspected and even pass it through an X-Ray machine. In some airports this is done systematically, in others it is done randomly, either based on a random light or at the discretion of custom officials.
There are indeed a few steps but they are usually easy to follow because the majority of passengers have to go through the same steps and the order is dictated by the policies of the airport at which you are arriving.
If something goes wrong, notify an official immediately before proceeding the the next area. Should your luggage not arrive, for example, you usually have to fill out a form before proceeding to customs. At customs you will have to mention this to them because you will probably return to collect your stuff once the airport contacts you when your belongings are located. In some cases, they will send them via courier but that is usually the exception.
Once you have cleared all the necessary steps, you will need to locate the A Broader View local coordinator. I recommend two more steps before leaving the airport: Use an ATM to get local currency, Pick up complementary maps and guides to the area.
NOTE:
As comments mention, you will often be supplied the customs form on the plane so you you can fill it in advance, which you should as it saves time later. They will also sometimes give you a different form based on your nationality. Citizens of the arriving country or countries allied with it (EU or Andean for sample) get one form and the rest get another. When there is one form, there will usually be sections to fill out for arriving nationals and tourists, plus common ones.