You probably never thought you would end up in an ancient Mayan city helping people in adverse conditions, did you? Either way, thank you for being interesting in volunteering Guatemala.
A Broader View is a non-profit organization that welcomes anyone from anywhere to travel exactly where they are needed. And in this case, we are looking for people to volunteer Guatemala.
If you are looking for a new travel destination, or doing something meaningful with that free time, you are on the right path.
Starting your Vounteering Guatemala
Currently, we have 12 programs based in Xela, Guatemala. This city, commonly known as Quetzaltenango, is very popular among tourists because it has many natural attractions, friendly people delicious food, stunning landscapes, and has very rich Mayan architectural ruins.
Despite the many beauties and wonders, people from Xela have to endure harsh living conditions like poverty, abandonment, hunger, and high levels of illiteracy.
That's why A Broder View has chosen this city as the main headquarter of our 12 charity programs.
We cover areas like medical and dental health, children and orphans support, therapy, language immersion, animal rescue centers, women empowerment, and teaching.
If you have no experience in any of those areas, that's okay. We work with many volunteers that have no previous working experience.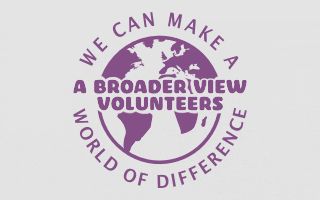 Volunteer Guatemala Xela Review Gabrielle, Rita & Chantalle Woman and Child Shelter
In fact, we welcome people who need to take a break before starting or finishing college, since many enterprises worldwide look for special workers, your volunteering experience with us will make your CV one of the ones on top.
So if you are 17 years old or more, you are more than welcome to submit your application for volunteering Guatemala.
However, since we also understand that experiences like these ones mean a lot for many people, we welcome groups of 5 people or more to join our programs in Xela.
It's a perfect opportunity to travel with friends, coworkers, and family. However, please notice that minors from1 2 to 16 years old must be accompanied by their parents at all times.
To begin with your adventure as a volunteer Guatemala, you should first read all the information we have about this country in our site.
It's a very important task because the more you know about this country, its people, and traditions, the easier will be for you to integrate into the community.
After that, you should go through all our 12 programs. Read what they are about, how's the work dynamic, and choose the one you feel most connect with.
Don't worry about not speaking Spanish, it's not a requirement. However, it is quite an advantage. So if you wish to take extra Spanish lessons, let us now! We offer after work Spanish classes too.
Since all our programs work on specific schedules, you could enjoy the beautiful lagoons, mountains, food, and culture of Guatemala like any other tourist would after volunteering.
Contact us now and let's begin your mission trip Guatemala!
Overview
Project Length: From 1 to 12 weeks
Arrival Airport: Guatemala City (Code:GUA)
Work Schedule: Monday to Friday 6-8 hours per day
Requirements: Police Check/Clearance report
Optional: Spanish Immersion Lesson.. read more
Age Limits: Minimum 17yrs or older for solo travelers.
Minimum Age: 12 to 16 yrs if volunteering with parents.
Airlines: American, United, Delta, Spirit, Avianca, Taca
Vaccinations: Routine Vac, Hep-A and Typhoid wwwnc.cdc.gov
Country Info
Guatemala Introduction
Are you ready to help people in need, immerse yourself in the sights, sounds and culture of a new country and have the experience of a lifetime? With poverty, disease and a lack of skilled providers putting a strain on important services such as health and childcare in developing countries across the globe, there are many corners of the world which rely on the help of volunteer travelers like yourself.
Volunteer in Guatemala with A Broader View Volunteers a top rated non-profit charity organization, which works tirelessly to support our wonderful volunteers and serve the local communities where our volunteer programs are located. Placements in Guatemala are based in the cities of Quetzaltenango, Antigua, Alotenango.. Program placements are tailored to the volunteers different interests and skill sets, but still allow volunteers time to explore the Central America local culture and activities during their free time.
The type of programs in Guatemala vary widely, offering everything from education to health care. Volunteers can choose between 12 program opportunities in Quetzaltenango, Antigua, Alotenango. International volunteer help is not only appreciated by the local community, it is severely needed by the millions of Guatemalans living below the poverty line. With thousands of children living and working on the streets, as is so often the case in developing countries like Guatemala, our volunteer programs are designed to support the needs of local teens and children in desperate need of assistance.
Many of our volunteer abroad programs cater to underprivileged women and children's care, education and health requirements. Our extensive range of social programs in Quetzaltenango, Antigua, Alotenango, Guatemala programs include: Pre Medical, Pre nurses, Pre Dental, animal rescue center, Elderly care, woman support, internships, teaching in primary and secondary schools and volunteering in orphanages and day care centers and many more programs. To help you settle into your placement, we also provide the opportunity to combine all of our programs with Spanish Immersion Lessons during your time in Guatemala.
Volunteering in Guatemala is an incredibly rewarding experience. We welcome volunteers of all ages and from all backgrounds to join us. Whether you're seeking volunteer abroad programs for college students or voluntary work for over 60s, as a trusted non-profit organization which prioritizes the safety of our volunteers, we are the go-to for volunteers across the globe. We also offer customized programs with flexible arrival dates to best suit the needs of the remarkable volunteers we depend on to help us make the world a better place.
If you'd like to volunteer, Guatemala is just one of the countries we've taken under our wing, supplying a steady flow of volunteers and providing year-round financial support to local projects in Quetzaltenango, Antigua, Alotenango. Wherever you decide to volunteer, A Broader View give you the opportunity to participate in meaningful community service work, learn a foreign language, make lifelong friends and discover that one person really can make a difference. Your search for the best volunteer abroad programs ends here – volunteer in Guatemala with us and gain A Broader View of the world.
Coordinator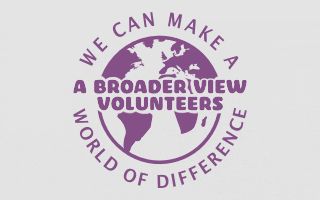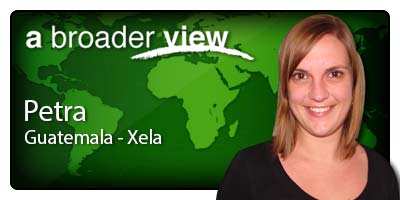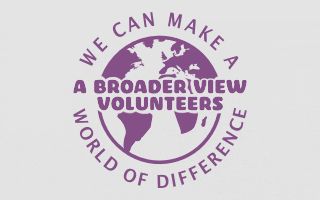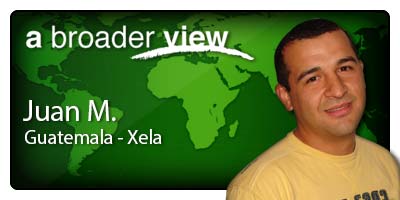 Welcome to Guatemala 🇬🇹. Our Names are Petra and Juan and we are your ABV coordinators while you are staying in Guatemala. Our country has one big city, Guatemala City. You will be working in Quetzaltenango (Xela). We will be ready for support 24/7 in case you need to contact me urgently. We will introduce you to your volunteer location and staff.
You are most welcome to seek our assistance and don't hesitate to ask us questions while in country.
Weather
The temperature and climate varies in Guatemala according to the altitude. The average annual temperature on the coast ranges from 25 degrees Celsius to 30 degrees Celsius (77° to 86° Fahrenheit ). When you get to higher places in the country the temperature is much lower with only 15 degrees Celsius (52° Fahrenheit). The rainy season starts in May and lasts until October inland. At the coast it starts in May and lasts until December.
What's the best time to go to Quetzaltenango in Guatemala? Here are some annual weather facts we collected from our historical climate data:
Most rainfall (rainy season) is seen in May, June, July, August, September and October.
Quetzaltenango has dry periods in January, February, March and December.
On average, the warmest month is .
On average, the coolest month is .
September is the wettest month. This month should be avoided if you don't like too much rain.
December is the driest month.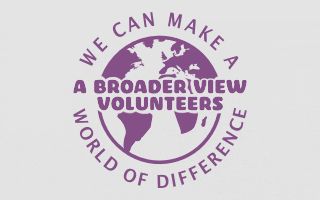 City: Quetzaltenango | Population: 152000 | Languages: Spanish
Currency: Quetzal (GTQ) | Time zone: UTC−06:00
Volunteer Projects in Guatemala Quetzaltenango (Xela)
Volunteer Projects in Guatemala Antigua
Reviews & Multimedia
Reviews
ABV was instrumental in providing me with an experience I will never forget. It was bitter-sweet to see how "the other half" lives. It seems they are satisfied with their lives, even though they don´t have much. I was also glad to have an opportunity to learn Spanish and meet travelers.
Overall it was very good. The online chat persons always seemed to be available and answered all of my questions thoroughly. There is so much to see and do in and around Xela. It´s also relatively easy to get around to the neighboring cities like those around Atitlan and Antigua.
ABV is a great way to get out and make a difference while knowing you are with a reputable organization that will look out for you, prepare you and ensure a great learning experience. The local support was very thorough and responsive to any questions or help I needed.
Prices for Guatemala
Program Fees
Since A Broader View Volunteers is a 501c(3) charitable organization, You can fundraise (optional) for the expenses of the trip after you get confirmed in our programs. Prices are per person and in US dollars (US$).
| Length of program | Program Fee $USD |
| --- | --- |
| 1 week | $895 |
| 2 weeks | $995 |
| 3 weeks | $1195 |
| 4 weeks | $1195 |
| 5 weeks | $1395 |
| 6 weeks | $1395 |
| 7 weeks | $1640 |
| 8 weeks | $1640 |
| 9 weeks | $1790 |
| 10 weeks | $1940 |
| 11 weeks | $2090 |
| 12 weeks | $2240 |
Inclusions
Accommodation: Host Families
Meals: 3 per day M-F, 2 meals Saturday, no meals Sunday
Arrival: Airport meet and greet by ABV Staff
Orientation: Project Overview and Orientation
Support: Pre-trip written guide, In-country ABV staff available 24/7
Departure: ABV Staff Escorted Airport Transfer
Extra costs: Flights to Guatemala. Entry Visa (if applicable). Departure taxes. Vaccinations. Local Transportation. Travel & Health Insurance (approx. us$53). Laundry and Internet (us$10 and us$15).
Meals & Food
Volunteers are provided breakfast, lunch and dinner at their accommodation during the week and weekends. Breakfast typically consists of toast, fruit, eggs, cereal accompanied with milk, tea or coffee. Dinner usually includes: meat (cow, chicken), potato, rice, vegetables, and a variety of tortillas, pupusas, tostadas. Volunteers can be away from their accommodation mid-day so they take a lunch bag or they go back home. We recommend budgeting between US$5 and US$10 per day to purchase lunch if you don't return to the host family, let the host family know if you change the lunch plans. If you have specific dietary requirements, our local teams and home-stays can customize to you but be flexible as well.
Start Dates
Most of our programs run year round, you can start any volunteer/internship program on any day. When you apply you will lets know your start and end dates. Our programs run year round and have volunteers arriving almost every day from many different countries.
Since our programs sometimes depend on the local holiday calendar, there are brief occasions when normal programs work is suspended. For example, schools/daycares often close for long winter/summer vacations. During these times, we arrange for alternative work programs that are similar in substance to our ongoing programs, but address the short-term, direct needs of the local communities.
If you would like to arrange your start and end dates around the local holidays, please call us at 1.866.423.3258 or email us at [email protected].
Money Matters
A Broader View Volunteers work tirelessly year round to support our volunteers, and also to serve the local communities where ABV projects are based. As a tax-exempt 501 c(3) organization A Broader View receive 100% of our funding from volunteer contributions. Through your program fee contribution our non-profit charity organization can operate beneficial humanitarian aid programs which are successful and continuous supported year round.
Local, professional full-time coordinators, placement logistics, airport pick up and departure transportation, arrival orientation, food & local accommodations, are a major part of providing a safe, meaningful volunteer experience. When you join A Broader View, you will receive pre-trip visa and vaccination support, assistance with flights, fundraising planning, through our interactive online volunteer portal. Our local partners not only benefit from volunteers valuable contributions at the project, they benefit financially with year-round monetary support from A Broader View. In the last decade A Broader View has donated over 4.5 million dollars in international aid.
By joining A Broader View you are not only helping to make a difference during your own trip, your impact will last even after you go home.
Extras
Tour and weekend trips
Once in country our local coordinator can help you find the most reliable and safe tour agencies for weekend trips, you can pay in cash or in most locations with a credit card. These tours are not part of the ABV fees.
Fuentes Georginas Hot Springs from Quetzaltenango
Check out the famous hot springs at the Zunil Volcano on this tour of Fuentes Georginas from Quetzaltenango. Relax and indulge in thermal waters that were discovered back in 1902. These communal baths offer up the perfect escape for travelers who want to unwind after epic outdoor hikes or fun-filled city explorations.
Santiaguito Volcano Hiking Tour from Quetzaltenango
Experience spectacular views of Santiaguito — one of the world's most active volcanoes — on a half-day trekking adventure from Quetzaltenango. Alongside your guide, you'll embark on a moderately steep hike that soon transforms into flat terrain replete with diverse flora and fauna. On arrival at an ideal vantage point, you'll be rewarded with views of the Santiaguito volcano erupting. Marvel as molten lava and billowing smoke explode from the volcanic crater to form an incredible spectacle. On this small-group tour, limited to 10 people, you'll receive personalized attention.
Volcano and Lagoon of Chicabal Walking Tour
Spend a day in the fabulous Volcano and Laguna de Chicabal, the most important ceremonial center of the Mam culture. Join a journey through the natural paths of the volcano where you´ll get to know 40 different mayan altars where the most important ceremonies are celebrated on memorable dates their calendar year round.
Quetzaltenango Street Food Tour
Uncover the flavors of Quetzaltenango on this street food tour that showcases the best dishes, treats and snacks of this epic city. Follow your local guide to stands, stalls and shops. Learn about traditional foods and typical dishes as you sample and savor the best of Quetzaltenango.
Festivals and Festivities
New Year's Day (Año Nuevo) January 1
Easter (Semana Santa; Holy Thursday to Easter Sunday inclusive) March/April
Labor Day (Día del Trabajo) May 1
Army Day (Día del Ejército) June 30
Assumption Day (Día de la Asunción) August 15
Independence Day (Día de la Independencia) September 15
Revolution Day (Día de la Revolución) October 20
All Saints' Day (Día de Todos los Santos) November 1
Christmas Eve afternoon (Víspera Navidad) December 24
Christmas Day (Navidad) December 25