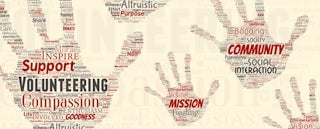 Volunteer Programs
A Broader View Volunteers (ABV) is a non-profit world leader in volunteer and immersive travel since 2007. A Broader View inspires people to travel, volunteer and learn. Our volunteer programs open the mind of our travelers, deepens their understanding of the world around them and introduces them to a new culture. A Broader View Volunteer meaningful service trip is a journey of a lifetime. 
Safe, affordable, customized volunteer abroad programs are available in 27 countries across Central America, South America, Africa and Asia. Our volunteer programs include:
Volunteer Information
Volunteer Schedule
Day One: Our local coordinator/staff will give you an orientation and will accompany you to your program. You will be shown how to manage the commute (bus, taxi, walking). You will be introduced to the site director and discuss your role at the project. Volunteers typically work a morning and an afternoon shift each lasting about 3-5 hours.
Weekdays: A typical volunteer day is as follows:
7:30 AM Breakfast at the volunteer house/homestay.
8:00 AM Volunteers depart, and travel to their project site.
8:30 AM to 13:00 PM Volunteer work and a lunch break.
14:00 PM to 17:00 PM Language lessons or afternoon volunteer work.
18:30-19:30 PM Dinner at the volunteer house/homestay.
Note: This is an example schedule. Volunteer work hours can vary depending on the program and the location.
Evenings: For peace of mind and to ensure the well-being of our volunteers, a nightly curfew of 21:30PM is in place from Sunday to Thursday. Curfew is set at 12:00AM for Friday and Saturday. (All volunteers must comply with their home country's legal drinking age).
Communication While Overseas
Volunteers have several ways to stay in touch with their family/friends back home and with the ABV local staff while they are overseas. All city/urban program locations have access to internet/cyber cafes which typically charge hourly rates ($1-$2). The majority of ABV guesthouses, homestays have WIFI access (fees apply), and have land line telephone numbers. Even rural program locations have mobile phone service, and small towns nearby with internet facilities. All ABV staff use mobile phones to stay in contact with their volunteers.
Before traveling volunteers should contact their mobile phone provider and ask about international call/texting plans. Volunteers should consider buying a portable wifi device (especially in rural locations). If planning on traveling with your own mobile phone volunteers should look at apps like Skype, FaceTime and WhatsApp to stay connected through messenger or short calls home. Volunteers can rent a wireless phone or buy a cheap throwaway phone once they arrive in-country. In some locations you can do that for less than $50. In fact, your regular carrier may even offer overseas rentals. ABV local staff will assist you and show you where to purchase SIM cards.
Once you arrive in-country and settled in, our ABV staff will help you contact home to let someone know you arrived safely. All volunteers are also given an emergency phone number on their Volunteer Guide/summary, which is available 24/7 to contact ABV staff.
When can I travel?
Easy. Choose the dates that work best for you. Although some programs have date restrictions the majority of our volunteer programs are available year round. Volunteers select their own program start date and complete an online application. Once you have been accepted and dates approved, ABV will ask you to confirm your registration by paying a us$120 included in the overall fee.
Safety and Security
The safety of our volunteers is paramount for A Broader View Volunteers. The majority of ABV Volunteers travel and serve without major incident. However, programs are based in some of the least developed countries and in some of the most remote areas in the world, health, safety, and security risks are an unavoidable part of life and international service. To address these concerns and to safeguard the well-being of our program participants, A Broader View has safety protocols and security procedures for all programs: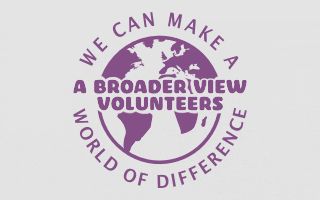 Security: All project sites, local in-country staff and accommodation sites have gone through a rigorous filter and have been hand selected. ABV has spent almost 11 years cultivating and strengthening of our local partnerships & host family relationships. In-country staff visits, daily research of local conditions, as well as weekly checkup of our host families and accommodations are conducted. Site selection is based on criteria including; access to medical, banking, postal, and other essential services; access to communication, transportation, and local markets; availability of adequate housing and living arrangements.
Pre-Departure Guide: Your ABV account will have a detailed volunteer guide. Volunteers are provided country information, packing lists, customs and language information, and much more. ABV also provides information about visa requirements, vaccinations, climate, weather, and safety and security issues specific to the country.
Volunteer Summary: A full month before traveling volunteers are provided a detailed account of their volunteer project (including supply/donation list), arrival procedures, emergency contact information, accommodation details and the full name, phone and email of their local ABV Coordinator.
Overseas Staff and communication: Our local staff support is immeasurable in their professionalism and dedication to the volunteers under their charge. The majority of ABV staff coordinators have been involved since the very start (over 11 years) and are well experienced handling the unexpected such as situations where volunteer students become ill, suffer accidents, are the victims of pick pockets. ABV staff is trained to react in a responsible and levelheaded way when emergencies do arise. They will do whatever is necessary to assure this, whether this means obtaining prompt and appropriate medical attention, embassy intervention or local authorities.
Host Families and accommodations: Our local volunteer guesthouses, onsite project dorms and host families have been hand-picked. A Broader View accommodation have specific standards for the hygiene, cleanliness, location and comfortable living conditions for our volunteers. Telephone access is available 24/7 and most sites have internet access. Volunteers have to follow the curfew of the host accommodation.
Arrival Meeting/Orientation: ABV programs provide a customized arrival plan. We can arrange your arrival/pick up at the airport, bus station or local hotel. Start your program with peace of mind, having the local ABV staff meeting you when you arrive in-country. Volunteers are provided orientation before starting their program. Orientation schedules vary from country to country but will include acclimation tours of the local town/city, accommodation neighborhood, geolocation map description, program location, main interesting points in the city or area. Emergency and medical protocols will be discussed and also address safety and security issues specific to the community volunteers live and work in.
Every staff member of A Broader View is committed to providing volunteers with the support they need to successfully meet the challenges they will face to have a safe, healthy, and productive service. The success of each ABV volunteer is our prime goal. We rely on volunteers to exercise personal responsibility and demonstrate both a keen awareness of the world around them and a willingness to adjust their behavior in a manner that will enhance their safety and well-being. In the end, your efforts will be rewarded with an incredible, unique experience.
The emergency lines are staffed by an A Broader View:
Communicate late/missed/flight connections during travel days
Notify a Volunteer of an emergency (e.g. critical illness or death of a family member)
Respond to family questions about a Volunteer's status (if problem occurring in-country)
ABV in a nut shell
501 (c)3 nonprofit USA based organization – you can tax deduct the program fees.
Available year-round. You choose your own program start and end dates.
27 country locations to choose from. Programs available from 1 week up to 3 months in length.
245 perfectly balanced projects - experience, price, service.
100% cultural immersion including local home-stay and guesthouse accommodations.
Program fees include airport transportation, orientation, housing/meals, 24/7 in-country support.
Suitable options for solo travelers, gap year, honeymooners, families, mature travelers & groups.
Excellent safety record and Platinum rated non-profit organization per Guidestar ABV alumni reviews.
Between 1500-2000 volunteer per year with a high percentage of repeat volunteers.
Giving Matters
A Broader View Volunteers work tirelessly year round to support our volunteers, and also to serve the local communities where ABV projects are based. As a tax-exempt 501 c(3) organization A Broader View receive 100% of our funding from volunteer contributions. Through your program fee contribution our non-profit charity organization can operate beneficial humanitarian aid programs which are successful and continuous supported year round.
Local, professional full-time coordinators, placement logistics, airport pick up and departure transportation, arrival orientation, food & local accommodations, are a major part of providing a safe, meaningful volunteer experience. When you join A Broader View, you will receive pre-trip visa and vaccination support, assistance with flights, fundraising planning, through our interactive online volunteer portal. Our local partners not only benefit from volunteers valuable contributions at the project, they benefit financially with year-round monetary support from A Broader View. In the last decade A Broader View has donated over 3.5 million dollars in international aid.
By joining A Broader View you are not only helping to make a difference during your own trip, your impact will last even after you go home.