2What better way to spend your next holiday than volunteering as a couple? International volunteering provides you and your partner a great way to explore the world and strengthen your bond by impacting the lives of those in need. Different than a regular vacation, these adventure holidays are filled with a strong sense of purpose and truly allow you to impact communities all around the world.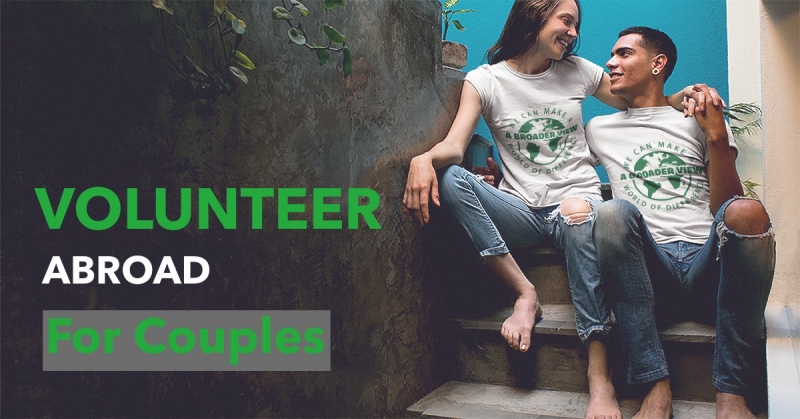 If you're looking to make your next couple holiday extra special, we encourage you to find out more about what we do here at A Broader View (ABV). ABV has helped thousands of individuals embark on the adventure holiday of their dreams, while at the same time changing the lives of disadvantaged citizens around the world. Our comprehensive programs span twenty-five nations and are full of variety so that you can find something that you are passionate about and ready to do.
In this guide, we'd like to introduce you to seven of our best adventure holiday opportunities for couples. Spanning multiple continents, these trips have a little something for everyone and serve as the perfect location for a romantic and enriching experience for couples.
With all this being said, let's jump right in!
Adventure vacations with A Broader View
Experience top-notch volunteering, homestay, and other great adventure vacation for British travellers opportunities with A Broader View! We offer you the ultimate chance to get up close and personal with the culture you wish to see. What's more, our programs and activities are designed to let you interact with the people of your destination country in a meaningful way. If you're looking for a chance to experience the ultimate adventure vacation and work side-by-side with the people who live there, we've got just what you need!
Other Best Adventure Holidays:
So saying, take a look at eight of our top adventure vacation locations for 2019-20! We've got several fantastic options, including:
Best Holiday Vacations
You simply can't go wrong with any of the following destinations for your next adventure holiday! These locations are primed for couple volunteering and feature some of the most stunning sites in the world. Without a doubt, you and your partner will love the time you spend at these destinations, so let's take a deep look and see what they have to offer!
Tanzania
The largest country in East Africa, Tanzania is also a natural wonder. Home to such creatures as the chimpanzee, big game, and other famous African mammals, it's considered one of the jewels of the continent and boasts several incredible safaris such as the Serengeti National Park (which houses the world-famous Ngorongoro Crater), the Mikumi National Park, and the Selous Game Reserve. In addition to this, Tanzania is home to over 120 native tribes, making it one of the most culturally diverse states in Africa.
This incredible natural backdrop qualifies Tanzania as one of the best destinations for your next adventure. A trip to Tanzania with ABV will allow you to help local citizens in and around the city of Arusha develop their communities and position their families for success. We offer a wide array of volunteer activities in the city that you will want to take advantage of. If you and your partner are good with kids, consider working at an orphanage to give disadvantaged children the care they need to succeed. If you've got medical training, you may instead opt to be with any of our medical assistance programs. Still yet, you could participate in any one of our HIV awareness campaigns.
No matter what you choose, you can count on the work you do in Arusha to significantly impact the lives of the men, women, and children who live there. Go to Country
Costa Rica
What makes Costa Rica the perfect location for your next adventure holiday as a couple? It's simple, really. This Central American nation is home to some of the best beaches in the world. You and your partner will be blown away by the stunning clear waters and the incredible eco-diversity in the small nation. In other words, it's the perfect romantic backdrop for any couple adventure holiday!
But more than that, ABV offers a variety of programs in Costa Rica that you'll want to take part in! Most famous are our Sea Turtle conservation projects, which help facilitate proper maintenance of indigenous sea turtle species. This project takes you up and down the Caribbean and Pacific coastlines so that you can interact with and potentially save the lives of important native sea turtles.
Looking for something different? You can also teach English or work in an orphanage. It's really up to you and your partner! On average, our Costa Rica volunteers work anywhere from four to eight hours a day, leaving you tons of time to explore and get to see the land. The best part? Spanish lessons are available for interested coupes! This makes it the perfect chance to learn, grow, and live with your partner abroad! Go to Country
India
If you and your partner are into world culture, you simply cannot leave a trip to India off your bucket list. One of the most accomplished countries in the history of the world, this nation is the birthplace of Hinduism, Buddhism, and other major philosophies that have impacted the lives of billions of people across the world. Rich in heritage and history, India is a must-see nation in Asia that will leave you feeling stunned and inspired.
Now you can explore India during your next adventure holiday with ABV! Our programs are located in Udaipur and Jaipur and allow you to interact with this interesting ancient culture in ways a normal visit wouldn't ever permit! Studies estimate that an astounding forty percent of Indians still live in poverty. With our programs, you'll be able to interact with these individuals and provide better lives for them and their children. ABV programs focus on community development (building and renovation), education (teaching English), and children support, where you can work with disadvantaged children who need your support to learn and grow. For British travellers
Ranging from two to eight weeks, our programs are diverse and fun. Most importantly, they provide you and your partner with a meaningful way to truly improve the lives of those who need help the most. For this reason, make sure to read up more about our India programs today! Go to Country

Kenya
Sometimes called the "jewel of East Africa," Kenya combines natural beauty with incredible ethnic diversity and is the perfect place for your next adventure vacation. If you are your partner are looking for a vacation like no other, you don't want to miss out on a trip to Kenya. Jaw-dropping natural safaris, fantastic nature reserves, and scenic beaches all await in this large and friendly African nation. Combine this with amazing food and diverse traditions from over fifty different local tribes, and you've got the makings of an adventure you won't be forgetting any time soon.
Unfortunately, the people of Kenya have been hit hard by the HIV/AIDS epidemic, which has claimed thousands of lives and impacts people and children of all ages. Through ABV programs, you can do your part to give the people of Kenya the medical assistance, awareness, and education they need to break the cycle of HIV/AIDS and protect themselves from various diseases. Much of the work we do in Kenya is at orphanages, where children abandoned by AIDS re forced to live in abject conditions. If you're ready to do your part to make the nation a safer place for all children, it's time that you checked out our Kenya programs today. Volunteers are expected to work eight hours a day anywhere between one to eight weeks. With all this being said, check our tour program today to see if it's right for you and your partner! Go to Country

Chile
It's this simple: the children in Chile need your help. With some reports estimating that around 60% of the populace lives in poverty, it's important that volunteers like you and your partner do your part to make the country a better place. Because of a lack of resources, Chilean children face poor and inadequate education and are deprived of meaningful development that could help them succeed in the world. In light of this, ABV offers a variety of childcare and education programs in Chile that are designed to get volunteers working with children and prepping them for the challenges that exist in life. Through your work here, you'll be able to help lift these children out of poverty and give them the tools they need to make the future a brighter one.
Of course, there are a variety of reasons why you'd want to vacation in Chile. Not only is it one of the safer countries in South America, but it's home to stunning forests and parks that make the perfect natural vacation spots. With programs ranging from four to eight hours a day, the work is flexible enough to give you and your partner time to explore. This means that you can truly get the best of both worlds by volunteering in Chile through ABV! Go to Country
Belize
You'll be hard-pressed to find another country like Belize. The only Central American nation to have a colonial British past, it's a mix of British, Spanish, and Creole cultures that come together in a one-of-a-kind melting pot that you won't want to miss. With only around a quarter of a million people, the nation is dominated by rainforests and other natural sites that make it ideal for hiking and exploring. It's also located near the second largest barrier reef in the world and is home to some incredible ocean views.
With all this being said, you don't want to miss out on a chance to volunteer through ABV programs in Belize. Our projects there are located mostly in Belize City and revolve around orphanages and childcare institutions for at-need children. There, you will be charged with taking care of children and teaching them skills they need to grow and succeed. Our Belize projects are popular among couples who wish to provide their valuable nursery skills to those who are in need.
Our Belize programs range from one to eight weeks in length (or you can opt for year-round placement) and require you to work between four to eight hours every day. This means that you'll have ample opportunity to visit and explore this unique Central American nation with your partner! Go to Country

Nepal
Nestled in the heart of the Himalayas, Nepal is every adventurer's dream. If you're looking for the ultimate exciting vacation, this mountain-strewn nation should be your first choice. Home to Mount Everest and other towering landmarks, Nepal offers an unmatched array of hiking trails, safaris, and other natural wonders that will have you and your partner busy for hours. To add to this, the country boasts an incredible array of historical sites and is rich in heritage and culture. This means you can check out landmarks over a thousand years old and go river rafting all in the same day!
For all its beauty, however, Nepal is a country plagued by a lack of development and proliferation of poverty. With ABV, you'll work in a rural area and help provide quality education, resources, and guidance to at-need children and communities. We believe that through this work you'll be able to build stronger families and communities throughout the nation that will someday be the backbone for unprecedented growth. Whether you provide English education or HIV testing, the work you do in Nepal could position the nation for higher standards of living and a stronger, more educated populace. For this reason, consider taking your next couple adventure holiday in Nepal! Go to Country
The Bottom Line for British travellers
ABV offers the ultimate couple adventure holiday opportunities with several incredible international volunteering programs that you simply won't want to turn down. We've got programs in a variety of continents and spanning a number of sectors that are designed to bring meaningful change to disadvantaged communities and provide you and your partner with an experience of a lifetime.
If you're looking for an adventure holiday like no other, make sure to check out our full list of projects. With so much variety, you're bound to find something that speaks to you! Don't miss out on this opportunity to do something of true value with your partner. Thousands of couples have gone through ABV's programs and are proud of the work they do to make the world a better place.
So don't wait! Use this time to check out a more comprehensive list of our incredible volunteer opportunities! One thing's for sure: you won't be disappointed!
You can Check Volunteer Reviews Here