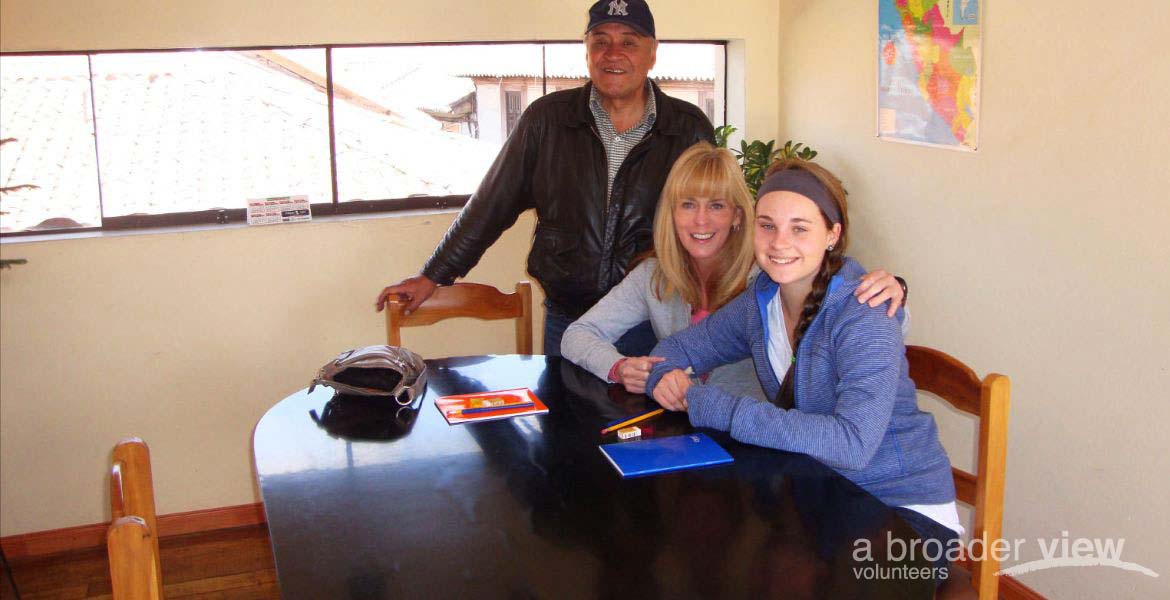 Delve into a new language. This is a great opportunity to take Spanish lessons while being part of a community project in Cusco/Cuzco. Be fully immersed in Peruvian culture, learn Spanish, live with a local host family, all the while contributing to the volunteer project.
A Broader View Volunteers Abroad Gap Year Projects Overseas
Spanish lessons are half day while you volunteer the other half day. Lessons from 1 to 4 weeks, if you need more lessons you can pay locally to our coordinator. Language Immersion classes can be combined with any of the Cusco/Cuzco based volunteer projects: teaching, medical, orphanage support, pre-medical. Language lessons are given by local tutors. Lessons focus on conversation practice, grammar, vocabulary and will be customized based on your Spanish levels.
Volunteer Opportunities Peru Language & Cultural Immersion
Overview
Project length: From 1 week to 4 weeks
Project dates: Year round. Choose any date to arrive.
Arrival airport: Cusco (CUZ)
Accommodation: Local host family
Meals: Breakfast, lunch and dinner
Airlines: Lan Peru, American, Delta, Spirit, Copa, Taca, Iberia
Vaccinations: Routine Vac, Hep-A and Typhoid wwwnc.cdc.gov
Program Schedule
Program starts and ends in Cusco
Airport meet and greet in Cusco. Afternoon city tour and orientation
Morning or afternoon Spanish lessons, 5 days a week for 20 hours (45min each)
Morning or afternoon Volunteer work, 5 days a week for 20 hours
Certificate of completion from Spanish school
Support: Local ABV Director support 24/7 during placement
Departure: ABV Staff Escorted Airport Transfer
Not included:
Flights to Peru. Visas and/or entry-exit fees. Vaccinations. Local Transportation. Travel & Health Insurance. Laundry and Internet
South America / US$
Weeks
1
2
3
4
Peru - Spanish Immersion
1070
1375
1735
1895
Any extra week of "accommodation and meals" will be US$150/week after week 4 until week 12, more Spanish lessons can be paid locally to the coordinator.
A Broader View Volunteer (ABV)  allows every traveler to choose their own program start date. This means you can arrive on any flight, any day of the week. Since ABV program fees are 100% tax deductible* we encourage you to fund raise. ABV offers advice and assistance with flight planning, affordable travel insurance, as well as procuring a visa, if necessary. Our ABV staff is available to any your questions. Contact us by email, through the on-line chat feature on our website or call us toll free at 866-423-3258.
WHAT DO MY FEES PAY FOR?
Volunteer Registration Fee – ongoing support from ABV staff, program marketing costs, information pack, administration costs, ABV donation Fund, travel costs to inspect programs and communication costs with volunteers.
Volunteer Program Fee – ABV donation fund, airport pick-up, orientation, program supervision, accommodation and meals during volunteer program period, in-country 24/7 volunteer support and in-country administration costs. As a US Non-Profit Charity Organization all your fees are tax deductible and you can fundraise from our website to pay for the fees.