A Broader View Volunteers is a nonprofit organization that provides meaningful volunteer experiences and cultural immersion opportunities around the world. Our programs allow volunteer travelers to make a positive impact while also learning about different cultures, gaining valuable skills, and making lifelong connections. A Broader View Volunteers was founded by Sarah and Oliver Ehlers, a husband-and-wife team with a passion for travel, volunteering, and cultural exchange. With more than two decades of experience in the travel industry, they have visited more than 50 countries together.

The summer of 2007 marked a pivotal moment in Sarah and Oliver's lives. They embarked on a journey to Chile, a trip that would alter their perspective forever. During their time in Chile, they encountered people who were warm, generous, and inspiring. Witnessing firsthand the impact of small acts of service on communities in need, Sarah and Oliver felt called to action. They realized that they wanted to create something meaningful and sustainable that would allow others to experience the same transformational journey.
Thus, A Broader View was born - an organization that prioritizes the needs of the communities they serve while providing volunteers with safe and enriching cultural travel experiences. Sarah and Oliver's vision for A Broader View was to make it easier for individuals to engage in service work while immersing themselves in new cultures, broadening their perspectives and becoming more empathetic human beings.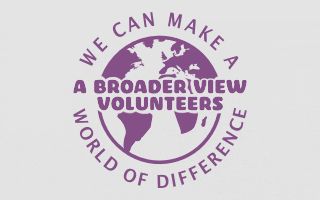 Volunteer Abroad Trips - A Broader View Volunteers
After almost two decades, Sarah and Oliver continue to play an active daily role in the organization, working closely with local partners and volunteers to ensure that each program meets the highest standards of quality and impact. Through their work with A Broader View, Sarah and Oliver hope to inspire a new generation of travelers who are committed to making a positive difference in the world. They believe that by working together, we can create a more just and equitable global community, one volunteer experience at a time.