Volunteer in Ecuador with A Broader View Volunteers, our highly rated non-profit charity organization. Volunteer placements are located throughout Ecuador, the majority located in Quito, and on the Galapagos Islands. Volunteer can choose between 25 programs options available throughout Ecuador and the Galapagos Islands.
A Broader View has hosted faculty led medical missions as well as college and high school student groups in the city of Quito. Family volunteer in the Galapagos Islands is another popular ABV program. If you have a group of 5 or more interested in volunteering together, customized programs can be arranged. A Broader View Volunteers has extensive experience working with students, teachers and families providing tailor-made service trips for small groups.
For such a small country, Ecuador has a lot to offer a traveler, stunning landscapes. The country is divided into four distinct regions; the Amazon, the Highlands, the Coast, and the Galápagos Islands. Volunteer projects are available in Quito from Day Care Centers, Elderly Welfare, Hippo-therapy and a range of health care program, in the Amazon and Coast with Community Development (teaching and construction) also on the Galapagos Islands with Conservation, teaching and child care programs and we also offer Language immersion lessons.
Although Ecuador has a steady tourist infrastructure, millions of people live below the poverty line, mainly children. Growing poverty, lack of education and limited governmental resources further worsen the problem of street children and orphans in Ecuador. Volunteer in Ecuador and help support the work at a local pre-school, day care center, community health clinics, as well as the environment in the Galapagos Island.
Overview
Project Length: From 1 week to 12 weeks (Quito). From 2 to 4 weeks (Galapagos)
Arrival Airport: Quito (UIO)
Work Schedule: Monday to Friday 8 hours per day
Requirements: Police Check/Clearance report
Optional: Spanish Immersion Lesson.. read more
Age Limits: Minimum 17yrs or older for solo travelers.
Minimum Age: 12 to 16 yrs if traveling with parents.
Airlines: Latam, American, United, Delta, Avianca, Taca
Vaccinations: Routine Vac, Hep-A and Typhoid wwwnc.cdc.gov
Country Info
Ecuador Introduction
Are you ready to help people in need, immerse yourself in the sights, sounds and culture of a new country and have the experience of a lifetime? With poverty, disease and a lack of skilled providers putting a strain on important services such as health and childcare in developing countries across the globe, there are many corners of the world which rely on the help of volunteer travelers like yourself.
Volunteer in Ecuador with A Broader View Volunteers a top rated non-profit charity organization, which works tirelessly to support our wonderful volunteers and serve the local communities where our volunteer programs are located. Placements in Ecuador are based in the Colonial city of Quito, Galapagos, the amazons and the coastal areas.  Program placements are tailored to the volunteers different interests and skill sets, but still allow volunteers time to explore the  Andean local culture and activities during their free time.
The type of programs in Ecuador vary widely, offering everything from education to health care. Volunteers can choose between 27 options in Quito.   International volunteer help is not only appreciated by the local community, it is severely needed by the millions of Ecuadorians living below the poverty line.  With thousands of children living and working on the streets, as is so often the case in developing countries like Ecuador, our volunteer programs are designed to support the needs of local teens and children in desperate need of assistance.
Many of our volunteer abroad programs cater to underprivileged women and children's care, education and health requirements. Our extensive range of social programs in Quito, Ecuador includes: medical, premed/prenurse internships, teaching in primary and secondary schools and volunteering in orphanages and day care centers and many more programs. To help you settle into your placement, we also provide the opportunity to combine all of our programs with Spanish Immersion Lessons during your time in Ecuador.
Volunteering in Ecuador is an incredibly rewarding experience.  We welcome volunteers of all ages and from all backgrounds to join us.   Whether you're seeking volunteer abroad programs for college students or voluntary work for over 60s, as a trusted non-profit organization which prioritizes the safety of our volunteers, we are the go-to for volunteers across the globe. We also offer customized programs with flexible arrival dates to best suit the needs of the remarkable volunteers we depend on to help us make the world a better place.
If you'd like to volunteer, Ecuador is just one of the countries we've taken under our wing, supplying a steady flow of volunteers and providing year-round financial support to local projects in Quito.  Wherever you decide to volunteer, A Broader View give you the opportunity to participate in meaningful community service work, learn a foreign language, make lifelong friends and discover that one person really can make a difference. Your search for the best volunteer abroad programs ends here – volunteer in Ecuador with us and gain A Broader View of the world.
Coordinator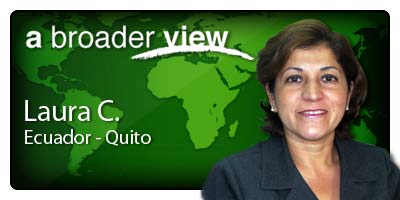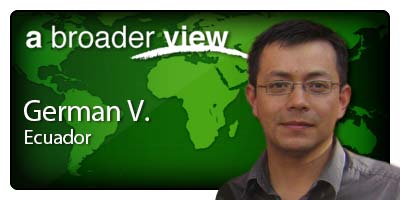 Welcome to Ecuador (Bienvenidos a Ecuador!). Our Names are Laura and German and we are your ABV coordinators while you are staying in Ecuador. Our country has one big city, Quito. You will be working in Quito or Galapagos Island. We will be ready for support 24/7 in case you need to contact me urgently. We will introduce you to your volunteer location and staff.
You are most welcome to seek our assistance and don't hesitate to ask us questions while in country.
Safety and Security
The safety of our volunteers is paramount for A Broader View Volunteers. The majority of ABV Volunteers travel and serve without major incident.  However, programs are based in some of the least developed countries and in some of the most remote areas in the world, health, safety, and security risks are an unavoidable part of life and international service. To address these concerns and to safeguard the well-being of our program participants, A Broader View has safety protocols and security procedures for all programs:
Security: All project sites, local in-country staff and accommodation sites have gone through a rigorous filter and have been hand selected. ABV has spent almost 11 years cultivating and strengthening of our local partnerships & host family relationships. In-country staff visits, daily research of local conditions, as well as weekly checkup of our host families and accommodations are conducted. Site selection is based on criteria including; access to medical, banking, postal, and other essential services; access to communication, transportation, and local markets; availability of adequate housing and living arrangements.
Pre-Departure Guide:Your ABV account will have a detailed volunteer guide. Volunteers are provided country information, packing lists, customs and language information, and much more. ABV also provides information about visa requirements, vaccinations, climate, weather, and safety and security issues specific to the country.
Volunteer Summary: A full month before traveling volunteers are provided a detailed account of their volunteer project (including supply/donation list), arrival procedures, emergency contact information, accommodation details and the full name, phone and email of their local ABV Coordinator.
Overseas Staff and communication:  Our local staff support is immeasurable in their professionalism and dedication to the volunteers under their charge. The majority of ABV staff coordinators have been involved since the very start (over 11 years) and are well experienced handling the unexpected such as situations where volunteer students become ill, suffer accidents, are the victims of pick pockets. ABV staff is trained to react in a responsible and levelheaded way when emergencies do arise. They will do whatever is necessary to assure this, whether this means obtaining prompt and appropriate medical attention, embassy intervention or local authorities.
Host Families and accommodations: Our local volunteer guesthouses, onsite project dorms and host families have been hand-picked. A Broader View accommodation have specific standards for the hygiene, cleanliness, location and comfortable living conditions for our volunteers. Telephone access is available 24/7 and most sites have internet access.
Arrival Meeting/Orientation: ABV programs provide a customized arrival plan.  We can arrange your arrival/pick up at the airport, bus station or local hotel.   Start your program with peace of mind, having the local ABV staff meeting you when you arrive in-country.  Volunteers are provided orientation before starting their program.  Orientation schedules vary from country to country but will include acclimation tours of the local town/city, accommodation neighborhood, geolocation map description, program location, main interesting points in the city or area. Emergency and medical protocols will be discussed and also address safety and security issues specific to the community volunteers live and work in.
Every staff member of A Broader View is committed to providing volunteers with the support they need to successfully meet the challenges they will face to have a safe, healthy, and productive service. The success of each ABV volunteer is our prime goal. We rely on volunteers to exercise personal responsibility and demonstrate both a keen awareness of the world around them and a willingness to adjust their behavior in a manner that will enhance their safety and well-being. In the end, your efforts will be rewarded with an incredible, unique experience.
The emergency lines are staffed by an A Broader View:
Communicate late/missed/flight connections during travel days
Notify a Volunteer of an emergency (e.g. critical illness or death of a family member)
Respond to family questions about a Volunteer's status (if problem occurring in-country)
Weather
The climate in Quito is characterized by a constant temperature year-round. From June till September you will experience less rain, more sunshine and less humidity. This makes this period the perfect time to travel to Quito.
What's the best time to go to Quito in Ecuador? Here are some annual weather facts we collected from our historical climate data:
Most rainfall (rainy season) is seen in February, March, April and October.
On average, the warmest month is January.
On average, the coolest month is July.
April is the wettest month. This month should be avoided if you don't like too much rain.
July is the driest month.

City: Quito | Population: 2270000 | Languages: Spanish
Currency: US Dollar (US$) | Time zone: UTC−06:00
Volunteering Projects in Ecuador Quito-North
Volunteer Programs in Galapagos Islands
Volunteering Programs in Quito
ABV in a nut shell
501 (c)3 nonprofit USA based organization – you can tax deduct the program fees.
Available year-round. You choose your own program start and end dates.
27 country locations to choose from. Programs available from 1 week up to 3 months in length.
245 perfectly balanced projects - experience, price, service.
100% cultural immersion including local home-stay and guesthouse accommodations.
Program fees include airport transportation, orientation, housing/meals, 24/7 in-country support.
Suitable options for solo travelers, gap year, honeymooners, families, mature travelers & groups.
Excellent safety record and Platinum rated non-profit organization per Guidestar ABV alumni reviews.
Between 1500-2000 volunteer per year with a high percentage of repeat volunteers.
Reviews & Multimedia
Reviews
The Santos-Gibboney family of 5, from Apex North Carolina, volunteered in Quito Ecuador for one week. The family was able to work in different projects including the day care center, the health care program, and the elderly care project. Thank you for your support!
This trip was incredible and I don't regret coming for a second. Our trip was a month long and I think that is a perfect amount of time for first time travelers. Changing sheets, cleaning the bed frames, and washing patients will most likely take up all your time.
I could spend my mornings with tortoises or sea lions and my afternoons helping out at a local dive shop. My volunteering was exhausting but extremely rewarding. I will never forget getting to feed baby Galapagos tortoises or getting to hang out with sea lions on the many pristine beaches.
Prices for Ecuador
Program Fees
Since A Broader View Volunteers is a 501c(3) charitable organization, You can fundraise (optional) for the expenses of the trip after you get confirmed in our programs. Prices are per person and in US dollars (US$).
| Length of program | Program Fee $USD |
| --- | --- |
| 1 week | $895 |
| 2 weeks | $1050 |
| 3 weeks | $1340 |
| 4 weeks | $1340 |
| 5 weeks | $1570 |
| 6 weeks | $1570 |
| 7 weeks | $1860 |
| 8 weeks | $1860 |
| 9 weeks | $1920 |
| 10 weeks | $2030 |
| 11 weeks | $2180 |
| 12 weeks | $2330 |
Inclusions
Accommodation: Host family
Meals: Breakfast, lunch and dinner daily
Arrival: Airport meet and greet by ABV Staff
Orientation: Project Overview and Quito Orientation
Support: Pre-trip written guide, In-country ABV staff available 24/7
Departure: ABV Staff Escorted Airport Transfer
Extra costs: Flights to Ecuador. Entry Visa (if applicable). Departure taxes. Vaccinations. Local Transportation. Travel & Health Insurance (approx. us$53). Laundry and Internet (us$10 and us$15).


Meals & Food
Volunteers are provided breakfast, lunch and dinner at their accommodation during the week and weekends. Breakfast typically consists of toast, fruit, eggs, cereal accompanied with milk, tea or coffee. Dinner usually includes: meat (cow, chicken), potato, rice, vegetables, spaghetti and a variety of western food. Volunteers can be away from their accommodation mid-day so they take a lunch bag or they go back home. We recommend budgeting between US$5 and US$10 per day to purchase lunch if you don't return to the host family, let the host family know if you change the lunch plans. If you have specific dietary requirements, our local teams and home-stays can customize to you but be flexible as well.
Start Dates
Most of our programs run year round, you can start any volunteer/internship program on any day. When you apply you will lets know your start and end dates. Our programs run year round and have volunteers arriving almost every day from many different countries.
Since our programs sometimes depend on the local holiday calendar, there are brief occasions when normal programs work is suspended. For example, schools/daycares often close for long winter/summer vacations. During these times, we arrange for alternative work programs that are similar in substance to our ongoing programs, but address the short-term, direct needs of the local communities.
If you would like to arrange your start and end dates around the local holidays, please call us at 1.866.423.3258 or email us at This email address is being protected from spambots. You need JavaScript enabled to view it..
Money Matters
A Broader View Volunteers work tirelessly year round to support our volunteers, and also to serve the local communities where ABV projects are based. As a tax-exempt 501 c(3) organization A Broader View receive 100% of our funding from volunteer contributions. Through your program fee contribution our non-profit charity organization can operate beneficial humanitarian aid programs which are successful and continuous supported year round.
Local, professional full-time coordinators, placement logistics, airport pick up and departure transportation, arrival orientation, food & local accommodations, are a major part of providing a safe, meaningful volunteer experience. When you join A Broader View, you will receive pre-trip visa and vaccination support, assistance with flights, fundraising planning, through our interactive online volunteer portal. Our local partners not only benefit from volunteers valuable contributions at the project, they benefit financially with year-round monetary support from A Broader View. In the last decade A Broader View has donated over 3.5 million dollars in international aid.
By joining A Broader View you are not only helping to make a difference during your own trip, your impact will last even after you go home.
Extras
Tour and weekend trips
Once in country our local coordinator can help you find the most reliable and safe tour agencies for weekend trips, you can pay in cash or in most locations with a credit card. These tours are not part of the ABV fees.
Cotopaxi Volcano Excursion from Quito
Explore the rugged surroundings and stunning scenery of Cotopaxi National Park and Cotopaxi Volcano during this 8-hour day trip. Enjoy a short hike into the Limpiopungo Valley before driving ever-higher into this sky-high region, stopping at the 15,800-foot (4830-meter) Padre Rivas Refuge. If you're feeling up for it, you'll continue to the 16,500-foot (5,050-meter) Cotopaxi Glacier. This Cotopaxi day trip also includes national park fees, a guide, bottled water, round-trip hotel transport and an optional trip upgrade with lunch.
Quito City Tour Including Teleférico and Mitad del Mundo
Get a sense for the architecture, history and culture of Quito during this 9-hour trip visiting the city's top sights. Start with an exploration of the historic city center of this Ecuadorian capital, visiting its main Basilica, Independence Plaza and many more colonial-era sites. Then take a trip aboard the Teleférico to a peak more than 13,000 feet (4,000 meters) above the city for sublime views, finishing your day at 'Mitad del Mundo,' a monument marking where the earth's equator splits the world into north and south. This Quito city trip includes entrance fees at select attractions, a guide and round-trip hotel transport.

Mindo Cloud Forest Day Trip from Quito
Discover the amazingly diverse wildlife and scenic beauty of the cloud forests of Mindo during this 8-hour day trip from Quito. This unique ecological area is known for having one of the highest concentrations of biodiversity anywhere on earth, including numerous exotic species of birds along with a wealth of fun attractions. During your excursion you'll first stop by Quito's 'Middle of the World' monument on the equator before proceeding to Mindo, where you can choose from among a range of optional activities (at your own expense) including a waterfall hike, a visit to a chocolate factory, an orchid garden tour, a bird-watching trip with a local expert and much more.

National Park of Cotopaxi Day Trip from Quito
Combine the best of Ecuador on this one-day National Park of Cotopaxi Day Trip from Quito. Spend a full day with a local guide as you experience the nature, markets and history of this breathtaking country. Enjoy the stunning scenery, check out Cotopaxi, Ecuador's famed active volcano, and stop at the Limpiopungo Lagoon before heading back to Quito.
Quilotoa Day Trip from Quito
Journey to the majestic Quilotoa lagoon, exploring local Andean communities on the way, during this 10-hour day trip from Quito. Discover Ecuador like a local as you visit a range of indigenous communities en route to this famous lagoon. Depending on the day you might visit a local market or sit down and chat with a local Andean family. Then enjoy a 2-hour hiking trek to Quilotoa, eventually reaching the stunning body of water inside the crater of this now-dormant volcano. Your trip also includes a guide, lunch and round-trip transport from Quito.
Festivals and Festivities
Easter Week in Ecuador
As in many predominantly Catholic countries, Easter is one of the largest public holidays in the country. Eye-catching fanfare spans the week leading up to Easter Sunday. This week is called Semana Santa, Spanish for "Holy Week." The date of Easter and its related celebrations depends on when the vernal equinox takes place. Easter Week occurs sometime between March and April.
Palm Sunday, which happens a week before Easter, compels Ecuadorians across the country to parade down the street with palm fronds, making their way to mass. If you're in Quito, stop by the Plaza de San Francisco to see a ceremonial blessing of the palms. Traditional dances and hymns fill the streets, and nearly everyone carries a palm frond.
This week even has its own soup, a dish called fanesca. Salt cod is one of the main ingredients. It's stewed along with a hodgepodge of other traditional ingredients.
Holy (Maundy) Thursday, Good Friday, Holy Saturday, and Easter Sunday
According to Catholic tradition, Holy Thusday commemorates Jesus' Last Supper. On Holy Thursday, Ecuadorians visit graveyards with offerings for departed loved ones. These offerings usually consist of bread that is baked especially for the occasion.
In the evening the churches of Quito open their doors, with the glow of the candle-lit altars reaching the streets. Visitors to Quito should make sure to walk around the historic district on the evening of Holy Thursday.
Good Friday is a solemn holiday, and Ecuadorians take to the streets to perform dramatic tributes to the crucifixion of Christ. Quito has an especially massive parade on Good Friday. Visitors are usually taken aback by the purple, pointed hoods worn by a large number of participants. These hoods are traditionally worn as a sign of penitence, a custom that dates back to the middle ages.
Ecuador's loveliest masses take place on Holy Saturday. Holy Saturday masses take place in the evening, in anticipations of Easter Sunday. Easter Sunday is an intensely religious celebration for Ecuadorians. Easter masses take place all day, and carry on into the evening.
Carnival
Ecuadorians celebrate Carnival in an effort to eat and drink enough to stay satiated throughout the fasting period of Lent. The exact date varies from year to year. It takes place either in February or March, on the weekend closest to the New Moon.
Carnival in Ecuador has its own distinct traditions. Throwing water balloons is one of the most common activities. Strangers (including visitors) are fair game, so wear clothes that you don't mind getting wet!
Independence Day and Simón Bolívar's Birthday
On May 24th 1822, General Antonio José Sucre defeated the Spanish in the Battle of Pichincha. On May 24th, military parades commemorate the decisive battle, which took place just outside Quito.
Ecuadorians also celebrate the birthday of Venezuelan Simón Bolívar to commemorate his role in the liberation of South America from Spanish rule. This holiday is celebrated on July 24th.
All Saints' Day and All Soul's Day
On All Souls' Day, Ecuadorians visit the graves of loved ones with offerings of baked goods, a continuation of the Andean tradition of leaving food for the departed. The souls of the dead are said to return to the earth for 24 hours during the first days of November. Ecuadorian tradition dictates you risk the spirits' displeasure if you don't have a snack ready for them. These holidays are celebrated on November 1st and 2nd.
Do note that you may find food left on graves. Ecuador's poor are welcome to take the food that is left on graves, but visitors are not.
Christmas and New Year's
On Christmas Eve, Ecuadorians celebrate a special mass called the Misa de Gallo, or "Rooster Mass." On December 25th, Ecuadorians go all out with citywide Christmas pageants. This is the day of the Paseo del Niño children's parade. Children dress up as different characters from the Christmas nativity, and march down the street with statues of the baby Jesus. These statues typically have a special place in the family home.