At A Broader View Volunteers Corp, we believe that compelling life lessons can come through hands-on work experience and travel. We know that international volunteering can make a profound impact on one's sense of self and their view of the world. That's why we work tirelessly to offer impactful volunteer programs in over 65 cities across 32 countries, in partnership with local NGOs, orphanages, clinics, and other projects.
We are proud to have maintained our non-profit status since 2007 and to allocate 65% of our revenues directly to charitable causes. Our commitment to our local partners ensures that our volunteers have a rewarding and meaningful experience while making a positive impact in the communities they serve.
Our diverse group of ABV alumni ranges in age from 16 to over 82 years old and comes from nations all over the world. To date, we have had participants from 32 countries! Many of our volunteers have gone on to work in the nonprofit sector, joined the Peace Corps, or returned home and formed their own foundations. We are always proud to see the impact that our programs have on individuals and communities, and we are grateful for the dedication of our volunteers and staff in making this possible.
What Makes ABV Different?
At A Broader View Volunteers, our staff are passionate professionals with years of experience hosting international travelers. We are knowledgeable in every aspect of the country, programs, and extra activities that you will be involved in while overseas. We maintain the highest standards in choosing our local staff, identifying local accommodations for volunteers, and determining project locations. Our relationship with our international partners has been nurtured and strengthened over the last 16 years and is based on mutual trust and respect. We take pride in seeing the benefits that local communities have received with the hard work done by ABV volunteers.
Non-Profit Status
As a 501(c)(3) non-profit organization granted by the US government, US taxpayers may be able to deduct much of the cost of their volunteer program, including airfare. We believe that full transparency is essential, and we are happy to provide access to all ABV financial reports. Should you have any questions, please feel free to ask us.
Benefits of volunteering with a US Non-Profit Organization:
Lower program costs
Tax deduction for part or all of your trip costs.
Fundraising options: All donors are provided a tax/charity receipt.
Transparency and access to all ABV financial reports, unlike with private companies
As the USA based non-profit, ABV complies to tax requirements, service standards, and screening not only with the USA government (IRS), but with independent accreditation websites such as: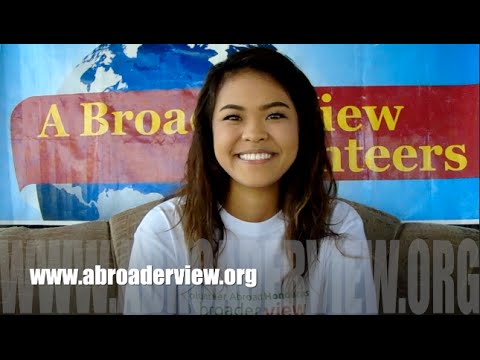 Video Review Volunteer Thu Nguyen Honduras La Ceiba Premed Program with Abroaderview.org