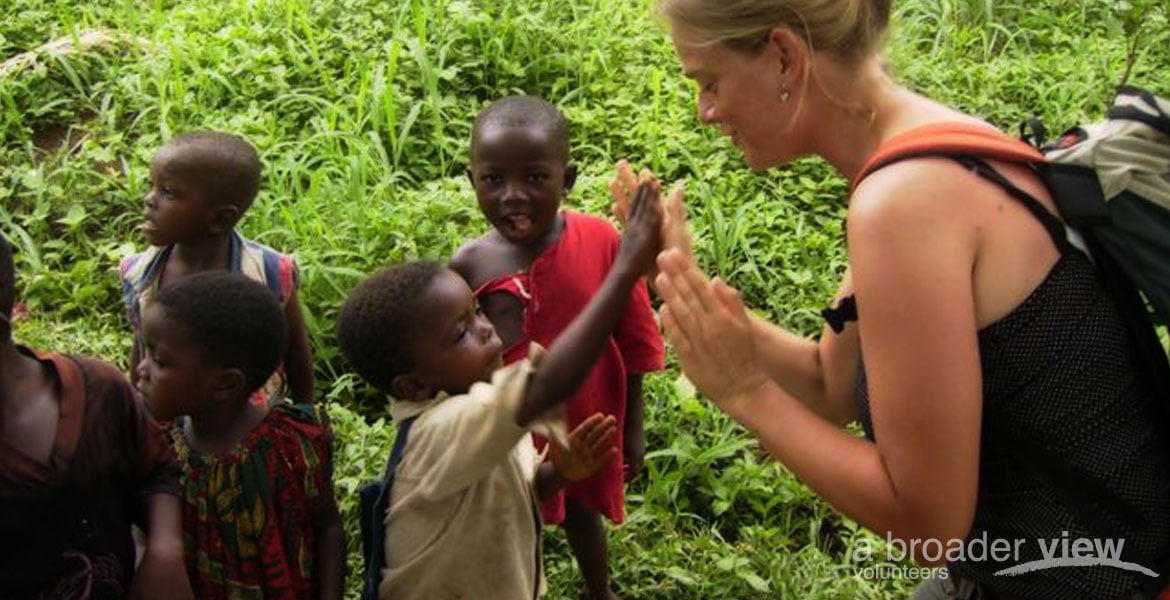 Volunteer Abroad in Cameroon: is a safe Central African Republic bordered to the west by the Gulf of Guinea. One of the most diverse countries in Africa, Cameroon is often referred to as "Africa in miniature". Cameroon has everything you would expect from the African continent; tropical rainforests, deserted golden beaches, great expanses of desert, vast lakes and savannah, and volcanic mountains in-between.
The volunteer program goal is to give international support to local organizations helping needy children and young people throughout south west Cameroon. Our program focus is on community development, health, agriculture, housing, feeding and educating these needy orphans and street children. By implementing sustainable programs and working with the community, our projects work to strengthen the present living conditions to allow all orphans and struggling street kids a chance to survive the crisis of poverty. With our volunteer programs we allow you to discover the wonders of Central Africa, while doing meaningful and rewarding community work.
This is a great opportunity to explore life in rural areas in Cameroon, live and work amongst the locals and realize one person can make a difference.
Overview
Project Length: From 1 week to 12 weeks
Arrival Airport: Douala (Code: DLA)
Work Schedule: Monday to Friday 7-8 hours per day
Requirements: Flexible Start & end date (except school based program)
Age Limits: Minimum 18yrs or older for solo travelers.
Minimum Age: 12 to 17 yrs if traveling with parents.
Airlines: Brussels Air, Royal Air Maroc, Delta, AirFrance
Vaccinations: Yellow Fever, Typhoid, Malaria Medication, Hep A-B wwwnc.cdc.gov
Inclusions
Accommodation: Share Volunteer Housing
Meals: 2 meals per day
Arrival: Airport meet and greet by ABV Staff
Orientation: Project Overview and localOrientation
Support: Pre-trip written guide, In-country ABV staff available 24/7
Departure: ABV Staff Escorted Airport Transfer
Not included:
Flights. Entry Visa. Departure taxes. Vaccinations. Local Transportation. Travel & Health Insurance. Laundry and Internet
Africa / US$
Weeks
1
2
3
4
5
6
7
8
9
10
11
12
Cameroon
820
995
1290
1290
1490
1490
1690
1690
-
-
-
-
A Broader View Volunteer (ABV)  allows every traveler to choose their own program start date. This means you can arrive on any flight, any day of the week. Since ABV program fees are 100% tax deductible* we encourage you to fund raise. ABV offers advice and assistance with flight planning, affordable travel insurance, as well as procuring a visa, if necessary. Our ABV staff is available to any your questions. Contact us by email, through the on-line chat feature on our website or call us toll free at 866-423-3258.
WHAT DO MY FEES PAY FOR?
Volunteer Registration Fee – ongoing support from ABV staff, program marketing costs, information pack, administration costs, ABV donation Fund, travel costs to inspect programs and communication costs with volunteers.
Volunteer Program Fee – ABV donation fund, airport pick-up, orientation, program supervision, accommodation and meals during volunteer program period, in-country 24/7 volunteer support and in-country administration costs. As a US Non-Profit Charity Organization all your fees are tax deductible and you can fundraise from our website to pay for the fees.