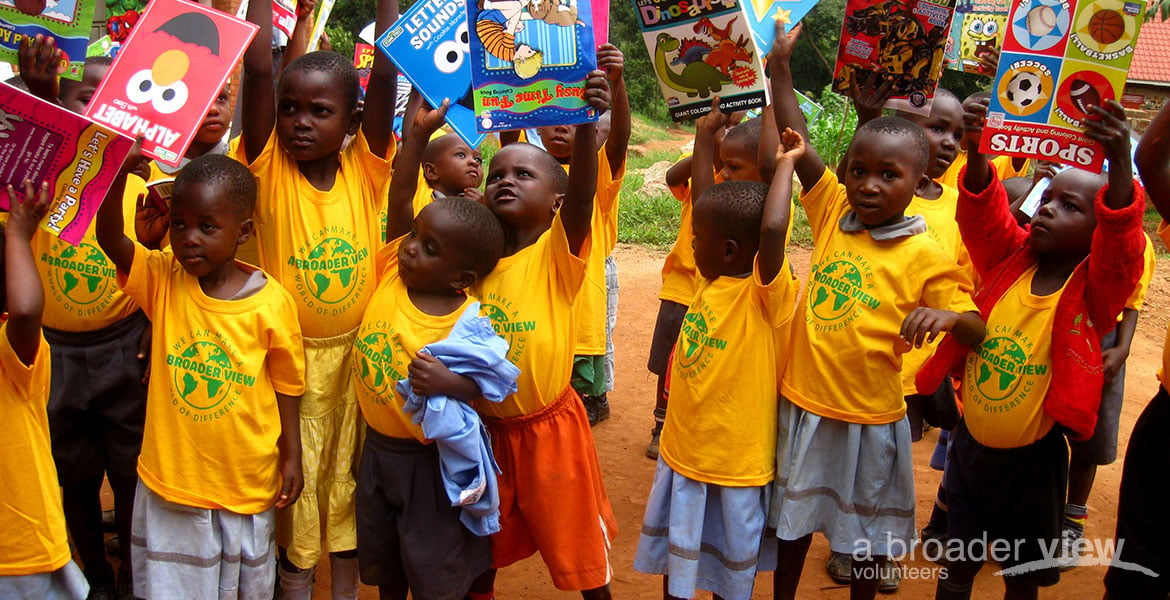 Volunteering Abroad in Uganda: The land of Lake Victoria, is situated in East Africa surrounded by Kenya, Sudan, Democratic Republic of Congo, Tanzania and Rwanda. It has a population of 27 million, over half of which are under 18 years of age. Famously called the "Pearl of Africa" by Winston Churchill, it is home to one of the most diverse and concentrated ranges of African fauna including the highly endangered mountain gorilla and the chimpanzee.
Our volunteer programs are based in Wakiso and Mukono district. In these areas, 98% of its population lives in rural areas, and subsistence agriculture is the major activity. The poverty experienced in this area is not just a lack of money but also the inability to access basic needs, such as health care and health facilities, voluntary HIV counseling and testing, as well as basic affordable education for the children.
Our programs allow you to take part in meaningful community service work, while discovering the people, sights, smells and tastes of rural Uganda. Volunteering in Uganda is a way to totally immerse yourself in East African culture. This is a great opportunity to make life-long friends, learn a new culture from the inside out and discover that one person really can make a difference.
Volunteering opportunities are available in urban cities and rural village around the country.
Volunteer Opportunities: Social Programs
Overview
Project Length: From 1 week to 12 weeks
Arrival Airport: Entebbe (Code: EBB)
Work Schedule: Monday to Friday 8 hours per day
Requirements: Tourist Visa. Expect rural living conditions
Age Limits: Minimum 17yrs or older for solo travelers.
Minimum Age: 12 to 16 yrs if traveling with parents.
Airlines: KLM, Delta, Emirates, British Air, Qatar and United
Vaccinations: Yellow Fever, Malaria, Hep A, typhoid wwwnc.cdc.gov
Inclusions
Accommodation: Share Volunteer House
Meals: Breakfast, lunch and dinner daily
Arrival: Airport meet and greet by ABV Staff
Orientation: Project Overview and Orientation
Support: Pre-trip written guide, In-country ABV staff available 24/7
Departure: ABV Staff Escorted Airport Transfer
Not included:
Flights. Entry Visa. Departure taxes. Vaccinations. Local Transportation. Travel & Health Insurance. Laundry and Internet
Africa / US$
Weeks
1
2
3
4
5
6
7
8
9
10
11
12
Uganda
820
995
1290
1290
1490
1490
1690
1690
1840
1990
2140
2290
A Broader View Volunteer (ABV)  allows every traveler to choose their own program start date. This means you can arrive on any flight, any day of the week. Since ABV program fees are 100% tax deductible* we encourage you to fund raise. ABV offers advice and assistance with flight planning, affordable travel insurance, as well as procuring a visa, if necessary. Our ABV staff is available to any your questions. Contact us by email, through the on-line chat feature on our website or call us toll free at 866-423-3258.
WHAT DO MY FEES PAY FOR?
Volunteer Registration Fee – ongoing support from ABV staff, program marketing costs, information pack, administration costs, ABV donation Fund, travel costs to inspect programs and communication costs with volunteers.
Volunteer Program Fee – ABV donation fund, airport pick-up, orientation, program supervision, accommodation and meals during volunteer program period, in-country 24/7 volunteer support and in-country administration costs. As a US Non-Profit Charity Organization all your fees are tax deductible and you can fundraise from our website to pay for the fees.