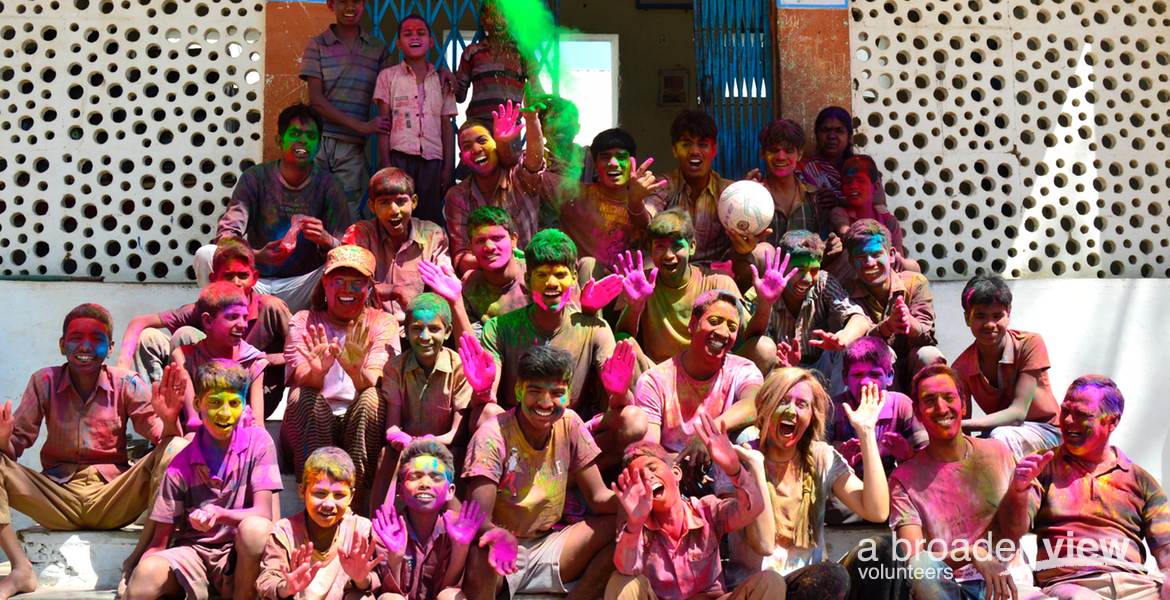 India is an immense country. It is the most populous democracy in the world and well known for its people, fairs and festivals, forts, palaces, architecture, temples, beaches, music, dances and arts. Indian culture is considered to be amongst the worlds oldest, richest and most diverse.
Hindi is the national language but English is commonly used. As within 2820 languages in the whole world, so many as 325 languages are spoken in India alone. It is said that dialect changes every 8-10 kilometer!
However, wide spread poverty remains a fact of life for around 40% of the population. No other country on earth has more people living in slum settlements than India. Our volunteer projects are focused on children support, education and community building.
Volunteer Opportunities: Social programs
Overview
Project length: From 2 weeks to 8 weeks
Arrival Airport: Maharana Pratap (Code: UDR) or Jaipur Airport (Code: JAI)
Work Schedule: Monday to Friday 4 to 6 hours per day
Requirements: Police Check/Clearance report
Age Limits: Minimum 17yrs or older for solo travelers.
Minimum Age: 12 to 16 yrs if traveling with parents.
Airlines: Jet Airways, Indian Airlines, Spice Airlines
Vaccinations: Hep A, typhoid wwwnc.cdc.gov
Inclusions
Accommodation: Share Volunteer House
Meals: Breakfast, lunch box and dinner daily
Arrival: Airport meet and greet by ABV Staff
Orientation: Project Overview and Orientation
Support: Pre-trip written guide, In-country ABV staff available 24/7
Departure: ABV Staff Escorted Airport Transfer
Hindi Lessons: 5 Days included
Optional: Indian Cuisine, Yoga, Henna and Dance lessons (not included)
Not included:
Flights. Entry Visa. Departure taxes. Vaccinations. Local Transportation. Travel & Health Insurance. Laundry and Internet
Asia / US$
Weeks
2
3
4
5
6
7
8
India Jaipur (General Programs)
860
990
1120
1250
1380
1510
1640
Asia / US$
Weeks
2
3
4
5
6
7
8
India Udaipur (General Programs)
860
990
1120
1250
1380
1510
1640
A Broader View Volunteer (ABV)  allows every traveler to choose their own program start date. This means you can arrive on any flight, any day of the week. Since ABV program fees are 100% tax deductible* we encourage you to fund raise. ABV offers advice and assistance with flight planning, affordable travel insurance, as well as procuring a visa, if necessary. Our ABV staff is available to any your questions. Contact us by email, through the on-line chat feature on our website or call us toll free at 866-423-3258.
WHAT DO MY FEES PAY FOR?
Volunteer Registration Fee – ongoing support from ABV staff, program marketing costs, information pack, administration costs, ABV donation Fund, travel costs to inspect programs and communication costs with volunteers.
Volunteer Program Fee – ABV donation fund, airport pick-up, orientation, program supervision, accommodation and meals during volunteer program period, in-country 24/7 volunteer support and in-country administration costs. As a US Non-Profit Charity Organization all your fees are tax deductible and you can fundraise from our website to pay for the fees.