Volunteers in India support in India has helped hundreds of woman and children in Jaipur and Udaipur, where the ABV programs are located. Life changing improvements in the medical centers, increases in funding have helped to save endangered animals through impoverished communities. A Broader View offers programs for college spring break alternatives, university internship requirements and also family volunteering, medical mission work, animal volunteering. Many volunteers travel to India to discover a fascinating culture, while contributing to a community-led program.
If you have a group of 5 or more interested in volunteering together, customized programs can be arranged. A Broader View Volunteers has extensive experience working with students, teachers and families providing tailor-made service trips for small groups.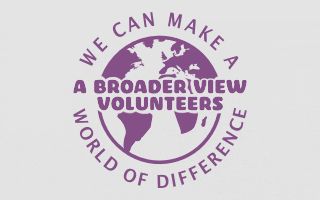 Video Review Volunteer Noelle Picara in India Udaipur teaching program
India is an immense country. It is the most populous democracy in the world and well known for its people, fairs and festivals, forts, palaces, architecture, temples, beaches, music, dances and arts. Indian culture is considered to be amongst the worlds oldest, richest and most diverse.
Hindi is the national language but English is commonly used. As within 2820 languages in the whole world, so many as 325 languages are spoken in India alone. It is said that dialect changes every 8-10 kilometer!
However, wide spread poverty remains a fact of life for around 40% of the population. No other country on earth has more people living in slum settlements than India. Our volunteer projects are focused on children support, education and community building.
Overview
Project length: From 2 weeks to 8 weeks
Arrival Airport: Maharana Pratap (Code: UDR) or Jaipur Airport (Code: JAI) Airport transfers included
Work Schedule: Monday to Friday 4 to 6 hours per day
Requirements: Police Check/Clearance report
Age Limits: Minimum 17yrs or older for solo travelers.
Minimum Age: 12 to 16 yrs if traveling with parents.
Airlines: Jet Airways, Indian Airlines, Spice Airlines
Vaccinations: Hep A, typhoid wwwnc.cdc.gov
Volunteering Projects in India Udaipur
Volunteer Programs in India Jaipur
Country Info
India Introduction
Are you ready to help people in need, immerse yourself in the sights, sounds and culture of a new country and have the experience of a lifetime? With poverty, disease and a lack of skilled providers putting a strain on important services such as health and childcare in developing countries across the globe, there are many corners of the world which rely on the help of volunteer travelers like yourself.
Volunteer in India with A Broader View Volunteers a top rated non-profit charity organization, which works tirelessly to support our wonderful volunteers and serve the local communities where our volunteer programs are located. Placements in India are based in the cities of Jaipur / Udaipur. Program placements are tailored to the volunteers different interests and skill sets, but still allow volunteers time to explore the Asian local culture and activities during their free time.
The type of programs in India vary widely, offering everything from education to health care. Volunteers can choose between 14 program opportunities in the orphanage. International volunteer help is not only appreciated by the local community, it is severely needed by the millions of Indians living below the poverty line. With thousands of children living and working on the streets, as is so often the case in developing countries like India, our volunteer programs are designed to support the needs of local teens and children in desperate need of assistance.
Many of our volunteer abroad programs cater to underprivileged women and children's care, education and health requirements. Our extensive range of social programs near Jaipur / Udaipur, India programs include: Pre Health Students, Elderly Care, Community development, women Empowerment, Animal Rescue, Orphanage Care, Children Education, Elephant sanctuary and many more.
Volunteering in India is an incredibly rewarding experience. We welcome volunteers of all ages and from all backgrounds to join us. Whether you're seeking volunteer abroad programs for college students or voluntary work for over 60s, as a trusted non-profit organization which prioritizes the safety of our volunteers, we are the go-to for volunteers across the globe. We also offer customized programs with flexible arrival dates to best suit the needs of the remarkable volunteers we depend on to help us make the world a better place.
If you'd like to volunteer, India is just one of the countries we've taken under our wing, supplying a steady flow of volunteers and providing year-round financial support to local projects in near India. Wherever you decide to volunteer, A Broader View give you the opportunity to participate in meaningful community service work, learn a foreign language, make lifelong friends and discover that one person really can make a difference. Your search for the best volunteer abroad programs ends here – volunteer in India with us and gain A Broader View of the world.
Coordinator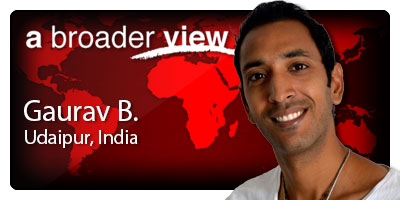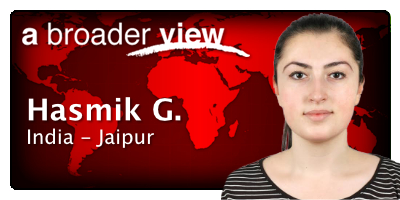 Welcome to India! 🇮🇳. Our Names are Gaurav and Hasmik G. and we are your ABV coordinators while you are staying in Jaipur or Udaipur.. Our country has one big city, New Delhi. But you will be working in Jaipur or Udaipur We will be ready for support 24/7 in case you need to contact us urgently. We will introduce you to your volunteer location and staff. You are most welcome to seek our assistance and don't hesitate to ask us questions while in country.
You are most welcome to seek our assistance and don't hesitate to ask us questions while in country.
Reviews & Multimedia
Reviews
This has been a very eye opening experience for me. I have done so many things that some people could only dream of. I couldn't have had a better experience traveling to a poverty stricken country. The support was good and helped in a lot of ways.
It was an amazing experience. I come back to my home very happy and grateful. I want to come back to continue this great program very soon. It was excellent. I felt like I was at home all the time.
I got exactly what I was hoping for when I booked this trip. I learned a lot about how to help injured and disable animals while also learning about a new culture. It was a whole new adventure everyday and I am already planning a second trip to India.
Prices for India
Program Fees
Since A Broader View Volunteers is a 501c(3) charitable organization, You can fundraise (optional) for the expenses of the trip after you get confirmed in our programs. Prices are per person and in US dollars (US$).
| Length of program | Program Fee $USD |
| --- | --- |
| 1 week | $860 |
| 2 weeks | $990 |
| 3 weeks | $1120 |
| 4 weeks | $1250 |
| 5 weeks | $1380 |
| 6 weeks | $1510 |
| 7 weeks | $1640 |
| 8 weeks | $1790 |
Special Programs
Inclusions
Accommodation: Share Volunteer House
Meals: Breakfast, lunch box and dinner daily
Arrival: Airport meet and greet by ABV Staff
Orientation: Project Overview and Orientation
Support: Pre-trip written guide, In-country ABV staff available 24/7
Departure: ABV Staff Escorted Airport Transfer
Departure: ABV Staff Escorted Airport Transfer
Hindi Lessons: 5 Days included
Optional: Indian Cuisine, Yoga, Henna and Dance lessons (not included)
Extra costs: Flights to India. Entry Visa. Vaccinations. Local Transportation. Travel & Health Insurance. Laundry and Internet


Start Dates
Most of our programs run year round, you can start any volunteer/internship program on any day. When you apply you will lets know your start and end dates. Our programs run year round and have volunteers arriving almost every day from many different countries.
Since our programs sometimes depend on the local holiday calendar, there are brief occasions when normal programs work is suspended. For example, schools/daycares often close for long winter/summer vacations. During these times, we arrange for alternative work programs that are similar in substance to our ongoing programs, but address the short-term, direct needs of the local communities.
If you would like to arrange your start and end dates around the local holidays, please call us at 1.866.423.3258 or email us at [email protected].
Extras
Day Trips
Once in country our local coordinator can help you find the most reliable and safe tour agencies for weekend trips, you can pay in cash or in most locations with a credit card. These tours are not part of the ABV fees.
Private Day-Trip To Agra Including The Taj Mahal From Jaipur By Train
For anybody visiting India, the Taj Mahal is a must-see attraction. Experience the UNESCO World Heritage site and New7Wonder of the World in luxury on a private 15-hour day-trip to the Taj Mahal and Agra Fort from Jaipur. Travel by deluxe express train from Jaipur in order to arrive hours faster than by car, freshen up at a 5-star hotel, take a guided tour of the monuments, and enjoy free time in Agra. Lunch, dinner, and hotel pickup and drop-off are included.
Private Full-Day Tour of Jaipur
Experience a private 8 hour tour of Jaipur! In the morning, there will be a 9am pickup from your hotel by your guide. You will be driven in a private air-conditioned vehicle to the outskirts of Jaipur to visit the Amber Fort, a World Heritage Site, Jai Mandir Temple, Temple and the hall of mirrors, the Rajput-style Jal Mahal (Water Palace) which sits in Man Sagar Lake, the Hawa Mahal (Palace of Winds) and much more. The palace also contains a museum with a superb collection of Rajasthani clothing. Lunch will be provided and the tour will conclude with a ride back to your hotel.
Private Day Trip: Samode Village including Camel Ride and Royal Lunch at Samode Palace
Experience rural life and royalty in India on a private full-day tour from Jaipur to Samode village. Explore the village and its surroundings on a camel safari, then tour the Samode Palace and have lunch in its elegant restaurant. Includes private guide and driver, lunch, camel ride, and hotel pickup and drop-off.
Festivals and Festivities
IMPORTANT FESTIVALS IN JAIPUR
Festivals in India plays a vital role in portraying the typical Indian traditions which are not only important part but rather they share a deep meaning in the Hindu mythology and are considered priority for every Indian family. Every state of India shares a special and unique traditions and customs. We will discuss about ten most important festivals in Jaipur, the capital city of Rajasthan.
Gangaur Festival
This festival is mainly for the women and girls who pray for the well bwing and long life for their husbands or future husbands. The festival is celebrated in Chaitra between the month of March and April according to the hindu calender in the name of goddess Parvati and god Shiv.
Teej Festival
On this festival, women and girls wear colourful new Indian apparels and enjoy their day, by singing and dancing together. On this day, women pours mehndi on their hand and do a fast for a day for their husband and break the fast after watching the glimpse of the moon. They perform a special pooja of Goddess Parvati and take blessings from her.
Kite Festival
Maker Sanskrit is celebrate on January 14th of every year, where everyone in Jaipur fly kites in the high sky and enjoy their day with joy and lively feeling. The families meet up together and celebrate this festival together by sharing sweets and flying colorful kites.
Elephant Festivals
On the day of full moon phalgun purnima, the elephant festival is celebrated which includes the Pujan of elephants and amazing activities associated with them like elephants racing, decorating elephants and many more. Elephants have always played an important role in the hindu Myhtology.
Sitla Mata Fair
In the village seel-ki-dungri of Jaipur, this fair is celebrated with great joy and happiness dedicated to the sitla goddess when people in Jaipur take blessing from the almighty and performs many art forms to impress the goddess and fulfill their wishes. This festival is celebrated in the month of march-april. Sitla mata let all the troubles to shoot on her and bless the people for happy life.
Donkey Festival
This festival is an interesting moment of joy and happiness where the donkeys are gathered at one place with their pet parents and many types of fair are performed which includes decorating donkey, donkey racing and many more. This festival is one interesting festival that is only celebrated in the region of Jaipur.
Kajli Teej Festival
Followed by the same rituals which are shared in the festival of teej, women celebrate this festival by engaging themselves in dancing, singing and performing such arts. This festival plays an important role in the state Rajasthan because of its significance and meaningful purpose.
Diwali
Diwali is one important festival in India which is celebrated to share the victory of Lord Ram against Ravan and his return to the home back. This festival is initiated with the Pooja and then is celebrated by blowing many crackers so as to realize the joy ans happiness of the festival which is full of light and blessings.
Raksha bandhan
Raksha bandhan plas an important part in the Hindu rituals that explains the love of a sister towards her brother. Sister ties a rakhi on her brother's wrist and ask for the lifetie protection by his brother.
Dusshera
Dusshera was a day when the evil raven was killed by the lord ram. This day signify the lesson of truth winning on the lie and betrayal. This festival in Jaipur is celerated by burning the puppet of raven and performing different dance forms and arts on this day.