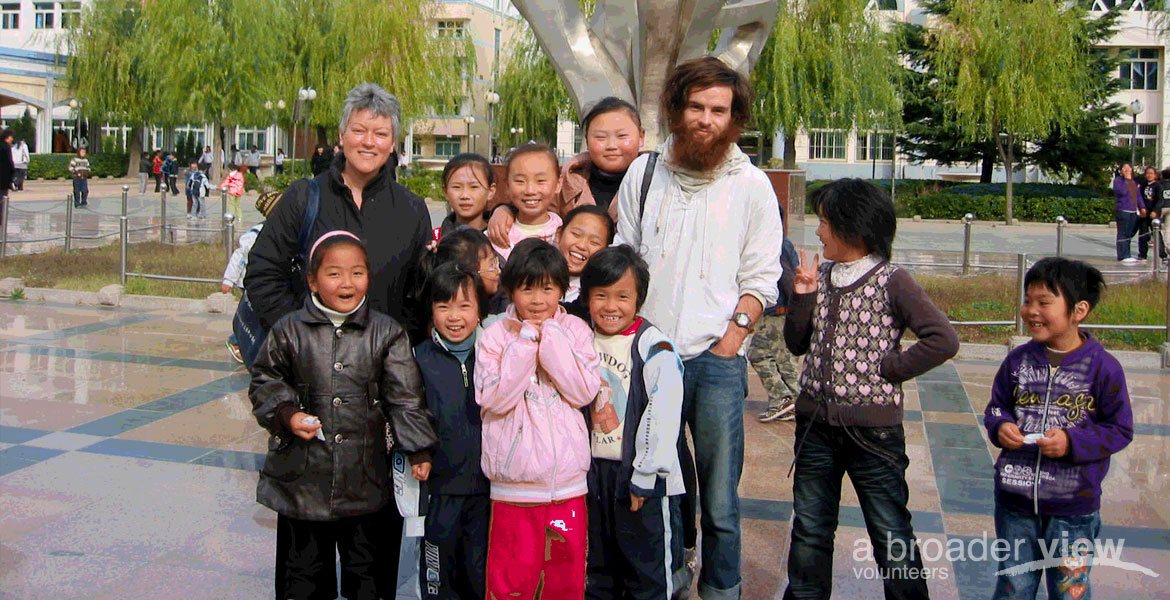 China is the cultural center of East Asia: its social riches and 5,000 years of turbulent history place it among the world's greatest travel destinations. The Great Wall, X'ian's Terracotta Army, the Forbidden Palace and Tiananmen Square: the very names ring of history and legend.
The Shandong province, where are volunteer projects are based, is located on the eastern edge of the North China Plain. The Shandong peninsula is home to some of China's best ports, located along the peninsula's rocky, indented coast. The hilly countryside produces an abundant amount of fruit while fishing is the most important industry along the coast. With a history of more than 5,000 years, Shandong is considered one of the birthplaces of Chinese civilization. Shandong has also been the home of a large number of historical figures, including Confucius, the great thinker and educator from China.
Shandong Province is also considered the birthplace of China's pottery, porcelain and silk. Throughout the province the tourist can find traditional items like the clocks and watches of Yantai, the porcelain of Zibo, the kites of Weifang, the shell-carving and beer of Qingdao – host of the 2008 Olympics sailing events.
Volunteering in China is a way to immerse yourself in a new culture, while discovering one person can make a real difference in the life of a child's education
Holidays/Program Closed:
The Chinese Lunar New Year February 4 to 19
The China National Holidays from Oct 1 to 7
International Labour Day Holidays from May 1 to 3
Overview
Project length: From 1 week to 8 Weeks
Arrival Airport: Yantai (YNT)
Work Schedule: Monday to Friday 4-5 hours per day
Requirements: Tourist Visa, native English speaker
Age Limits: Minimum 18yrs or older for solo travelers.
Airlines: Air China, Delta, United, China Souther, Korean Air, Cathay Pacific
Vaccinations: Typhoid and Hep A wwwnc.cdc.gov
Inclusions
Accommodation: Private dorm room with bathroom
Meals: 3 Meals
Arrival: Airport meet and greet by ABV Staff
Orientation: Project Overview and Orientation
Support: Pre-trip written guide, In-country ABV staff available 24/7
Departure: ABV Staff Escorted Airport Transfer
Not included:
Flights. Entry Visa. Departure taxes. Vaccinations. Local Transportation. Travel & Health Insurance. Laundry and Internet
Asia / US$
Weeks
2
3
4
5
6
7
8
China
900
1050
1050
1200
1200
1350
1350
Asia / US$
Weeks
2
3
4
5
6
7
8
China - Mandarin Immersion
1390
1890
2290
2790
3290
3790
4290
A Broader View Volunteer (ABV)  allows every traveler to choose their own program start date. This means you can arrive on any flight, any day of the week. Since ABV program fees are 100% tax deductible* we encourage you to fund raise. ABV offers advice and assistance with flight planning, affordable travel insurance, as well as procuring a visa, if necessary. Our ABV staff is available to any your questions. Contact us by email, through the on-line chat feature on our website or call us toll free at 866-423-3258.
WHAT DO MY FEES PAY FOR?
Volunteer Registration Fee – ongoing support from ABV staff, program marketing costs, information pack, administration costs, ABV donation Fund, travel costs to inspect programs and communication costs with volunteers.
Volunteer Program Fee – ABV donation fund, airport pick-up, orientation, program supervision, accommodation and meals during volunteer program period, in-country 24/7 volunteer support and in-country administration costs. As a US Non-Profit Charity Organization all your fees are tax deductible and you can fundraise from our website to pay for the fees.