Volunteer in China is the cultural center of East Asia: its social riches and 5,000 years of turbulent history place it among the world's greatest travel destinations. The Great Wall, X'ian's Terracotta Army, the Forbidden Palace and Tiananmen Square: the very names ring of history and legend.
The Shandong province, where are volunteer projects are based, is located on the eastern edge of the North China Plain. The Shandong peninsula is home to some of China's best ports, located along the peninsula's rocky, indented coast. The hilly countryside produces an abundant amount of fruit while fishing is the most important industry along the coast. With a history of more than 5,000 years, Shandong is considered one of the birthplaces of Chinese civilization. Shandong has also been the home of a large number of historical figures, including Confucius, the great thinker and educator from China.
Shandong Province is also considered the birthplace of China's pottery, porcelain and silk. Throughout the province the tourist can find traditional items like the clocks and watches of Yantai, the porcelain of Zibo, the kites of Weifang, the shell-carving and beer of Qingdao – host of the 2008 Olympics sailing events.
Volunteering in China is a way to immerse yourself in a new culture, while discovering one person can make a real difference in the life of a child's education
Holidays/Program Closed:
The Chinese Lunar New Year February 4 to 19
The China National Holidays from Oct 1 to 7
International Labour Day Holidays from May 1 to 3
Volunteering Projects in China Yantai
Teaching / Education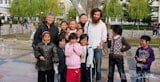 Volunteers China needed to teach conversational English in the local schools in and around Yantai. Placement are available in kindergartens, primary schools, high schools and colleges throughout the city. Teacher assistants are supported by the local teacher, and will focus on language comprehension and speaking. The teachers and students are eager to learn English, so volunteers are very welcome at the schools.
Class sizes vary from 20-30 students per class. Volunteers assist the local (bi-lingual) teacher, and will be provided guidance and instructions. The classes are Monday –Friday and volunteers should be prepared to teach 20-25 hours per week (3-4 classes a day). Volunteers are teaching conversation English, using songs, books, teaching aids and any other ideas that you can come up with. *Limited arrivals in May and October due to National holidays.
Spring Semester: March through mid June
Fall Semester: September through mid December
Holidays/Program Closed:
The Chinese Lunar New Year February 4 to 19
The China National Holidays from Oct 1 to 7
International Labour Day Holidays from May 1 to 3
Overview
Project length: From 1 week to 8 Weeks
Arrival Airport: Yantai (YNT)
Work Schedule: Monday to Friday 4-5 hours per day
Requirements: Tourist Visa, native English speaker
Age Limits: Minimum 18yrs or older for solo travelers.
Airlines: Air China, Delta, United, China Souther, Korean Air, Cathay Pacific
Vaccinations: Typhoid and Hep A wwwnc.cdc.gov
Inclusions
Accommodation: Private dorm room with bathroom
Meals: 3 Meals
Arrival: Airport meet and greet by ABV Staff
Orientation: Project Overview and Orientation
Support: Pre-trip written guide, In-country ABV staff available 24/7
Departure: ABV Staff Escorted Airport Transfer
Language Lessons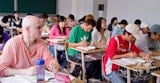 The Program provides international volunteers with opportunities to study not only the Mandarin language and Chinese culture, but also its history and modern society as well through daily cultural immersion activities and the organized events in the local communities in the typical traditional Chinese city mixed with modern life.
The unique program is designed to immerse volunteer candidates in learning Mandarin language through class instruction, social visits and experience to any cultural events, language exchange activities with native Mandarin speakers, and optional electives. The immersion programs integrate all aspects of the language: reading, writing, speaking, listening, grammar, phonetics, and vocabulary. The immersion project will be closely connected with local charity events and volunteer service work in the local community by using the language and culture and customs, the program and course will include and involve any volunteering work and providing the help in local orphanage schools, the health care centers, the conversation sites and the animal adoption park etc. The volunteers could use their own knowledge and expertise to mobilize the local Chinese volunteers to handle the environmental awareness and health care issues etc.
We offer courses at different levels depending on your language skills from absolute beginner to advanced level.
Holidays/Program Closed:
The Chinese Lunar New Year February 4 to 19
The China National Holidays from Oct 1 to 7
International Labour Day Holidays from May 1 to 3

Inclusions
Tuition, all textbooks and notebooks,
Accommodation: Two volunteers share one standard youth hostel room with comfortable living facilities such as the bathroom, all beddings and sheets, furniture, air-conditioning facilities, phone with internet access, TV and hostel security and cleaning service
Internet cost in the room
Three meals per day for 7 days a week in the cafeteria on campus;
Free access to use of library and sports facilities on campus;
Local traffic/transportation in Yantai;
Airport pick-up, landing service and support during the whole program;
Assistance in opening any banking account if required with translation/interpretation service;
Program support and logistics service throughout the program such as orientation and coordination;
Assistance in organizing and planning tours and bookings for travels around China;
Visit to museums and city tours around and partaking in any service in charities and local NGOs.
Certificate of Completion of Program;
Arrangements of credits transfer back to home schools;
Help in case of any emergency and need.
Welcome dinner and farewell party;
Airport departure service at Yantai.
Volunteering Projects in China Chengdu
Animal Rescue Center: Giant Panda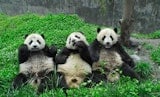 Animal lovers, adventure seekers, professionals and families are welcome to join us and make a difference by volunteering with animals. Come and meet new people, be part of a meaningful work project and learn about the fascinating culture of Pandas.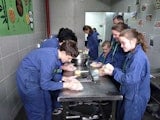 In Chengdu, Sichuan the hometown of the giant pandas, volunteers provide support to the survival of the Giant Panda species, China's national treasure. Based in the Sichuan province, which is said to be the birthplace of Chinese Taoism, volunteers can spend one week or two at a natural reserve which is focused on habitat restoration, rehabilitation and veterinary care for captive and wild pandas. The basecamp includes a panda hospital, medical lab, panda kitchen, educational center, staff housing and 40 enclosures. The camp is spread over 130 acres complete with a vast bamboo forest and scenic green surroundings. The six areas of focus include rescue/quarantine areas, disease control/prevention and research, rehabilitation/training area, public education reception area, natural vegetation area and the main offices.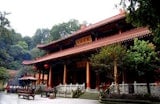 The center provides rescue and quarantine services on pandas rescued from the wild who are sick or injured so they can receive medical care and rehabilitation. At this project there is a major focus on senior and disabled pandas. Essentially, it serves as a panda "nursing home" where they receive special care and attention.
Volunteer tasks include:
Cleaning panda areas and enclosures
Cleaning general areas of the centers
Preparing food for the pandas including apples, carrots, nutritional biscuits
Carrying lots of bamboo/cracking bamboo
Making intelligence toys for the panda
Planting new bamboo for the pandas
Observing behavior for research and analysis
Overview
Project length: one or two weeks
Arrival Airport: Chengdu Shuangliu Airport (code CTU)
Work Schedule: 6-8 hours per day
Requirements: Tour visa, medical exam within 90 days of arrival.
Age Limits: 12-70 years old (under 18 must be accompanied)
Accommodations: 1-night Chengdu hotel/ 6 or 13 nights on-site at basecamp
Meals: 3 per day
Schedule
Day One: Airport pick up and overnight in Chengdu. Health/Safety briefing with staff
Day Two: Chengdu city tour (Jinsha Museum), transportation to panda center. Welcome dinner
Day Three: Orientation with staff: project work explained, tasks assigned
Day Four: Full day with the pandas
Day Five: Full day with the pandas
Day Six: Full day with the pandas
Day Seven: Transfer back to Chengdu Airport.
Inclusions
Airport pick up in Chengdu Airport by local staff
Full time staff with you throughout the program
1st night in Chengdu hotel
Transportation and entrance fees on city tour
6- or 13-nights' accommodations on-site
3 meals per day
Laundry and internet
Departure transfer at the end of the program
Overview Yantai
Project length: From 1 week to 8 Weeks
Arrival Airport: Yantai (YNT)
Work Schedule: Monday to Friday 4-5 hours per day
Requirements: Tourist Visa, native English speaker
Age Limits: Minimum 18yrs or older for solo travelers.
Airlines: Air China, Delta, United, China Souther, Korean Air, Cathay Pacific
Vaccinations: Typhoid and Hep A wwwnc.cdc.gov
Inclusions Yantai
Accommodation: Private dorm room with bathroom
Meals: 3 Meals
Arrival: Airport meet and greet by ABV Staff
Orientation: Project Overview and Orientation
Support: Pre-trip written guide, In-country ABV staff available 24/7
Departure: ABV Staff Escorted Airport Transfer
Not included:
Flights. Entry Visa. Departure taxes. Vaccinations. Local Transportation. Travel & Health Insurance. Laundry and Internet