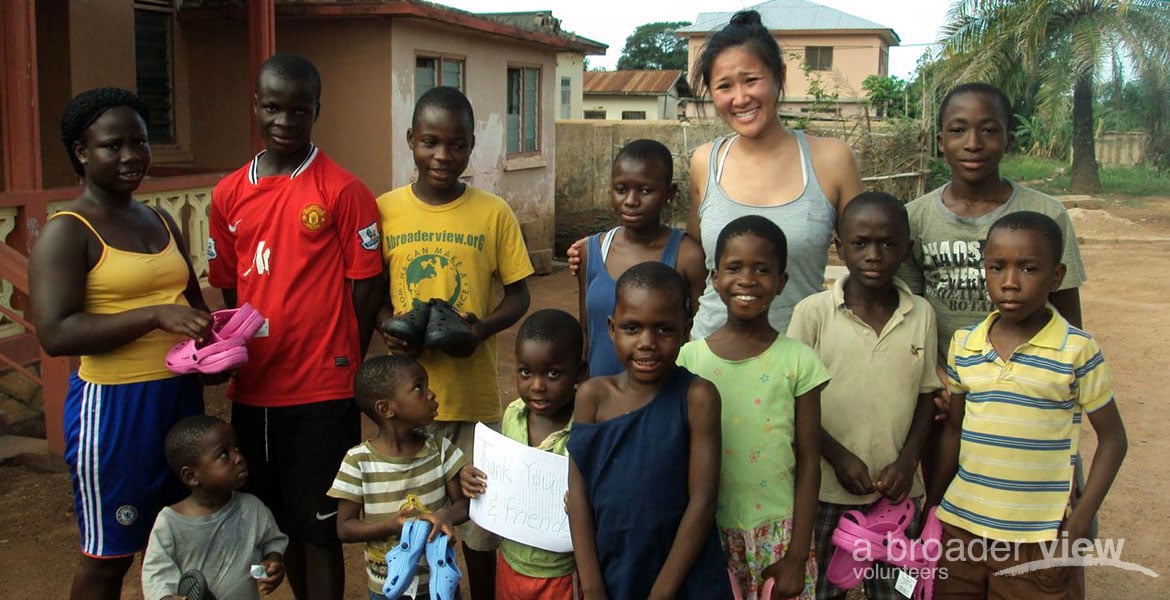 Ghana is a safe, stable West African nation know to have the friendliest people in Africa!
Vibrant traditional festivals full of pomp and pageantry can still be seen and heard throughout the country. Traditional open markets provide the sounds and sights of the African bazaar. has a diverse natural heritage which is rich in dense tropical rainforests, unique eco-systems, crocodile ponds, coastal wetlands, botanical gardens and the world largest manmade lake, Lake Volta.
Volunteer placements are located through the Volta Region in small towns and villages. In these districts, 95% of its population lives in rural areas, and subsistence agriculture is the major activity. The poverty experienced in these rural areas is not just a lack of money but also the inability to access basic needs, such as health care and health facilities as well as voluntary HIV counseling and testing. Despite having a lack of such basic needs, the Ghanaian people are world-renowned for their friendliness. Most volunteers are humbled by the everyday happy attitudes of the local people.
Our programs allow you to take part in meaningful community service work, while discovering the people, sights, smells and tastes of Ghana.
Volunteer opportunities: Social programs
Overview
Project Length: From 1 week to 8 weeks
Arrival Airport: Accra (Code: ACC)
Work Schedule: Monday to Friday 8 hours per day
Requirements: Tourist Visa. Expect rural living conditions
Age Limits: Minimum 17yrs or older for solo travelers.
Minimum Age: 12 to 16 yrs if traveling with parents.
Airlines: British Air, Delta, United, KLM, Lufthansa
Vaccinations: Yellow Fever, Malaria, Hep A, typhoid wwwnc.cdc.gov
Inclusions
Accommodation: Home Stay or onsite in Orphanage
Meals: Breakfast, lunch and dinner daily
Arrival: Airport meet and greet by ABV Staff
Orientation: Project Overview and Orientation
Support: Pre-trip written guide, In-country ABV staff available 24/7
Departure: ABV Staff Escorted Airport Transfer
Not included:
Flights to Ghana. Entry Visa. Vaccinations. Local Transportation. Travel & Health Insurance. Laundry and Internet
Africa / US$
Weeks
1
2
3
4
5
6
7
8
9
10
11
12
Ghana
820
995
1290
1290
1490
1490
1690
1690
1840
1990
2140
2290
A Broader View Volunteer (ABV)  allows every traveler to choose their own program start date. This means you can arrive on any flight, any day of the week. Since ABV program fees are 100% tax deductible* we encourage you to fund raise. ABV offers advice and assistance with flight planning, affordable travel insurance, as well as procuring a visa, if necessary. Our ABV staff is available to any your questions. Contact us by email, through the on-line chat feature on our website or call us toll free at 866-423-3258.
WHAT DO MY FEES PAY FOR?
Volunteer Registration Fee – ongoing support from ABV staff, program marketing costs, information pack, administration costs, ABV donation Fund, travel costs to inspect programs and communication costs with volunteers.
Volunteer Program Fee – ABV donation fund, airport pick-up, orientation, program supervision, accommodation and meals during volunteer program period, in-country 24/7 volunteer support and in-country administration costs. As a US Non-Profit Charity Organization all your fees are tax deductible and you can fundraise from our website to pay for the fees.