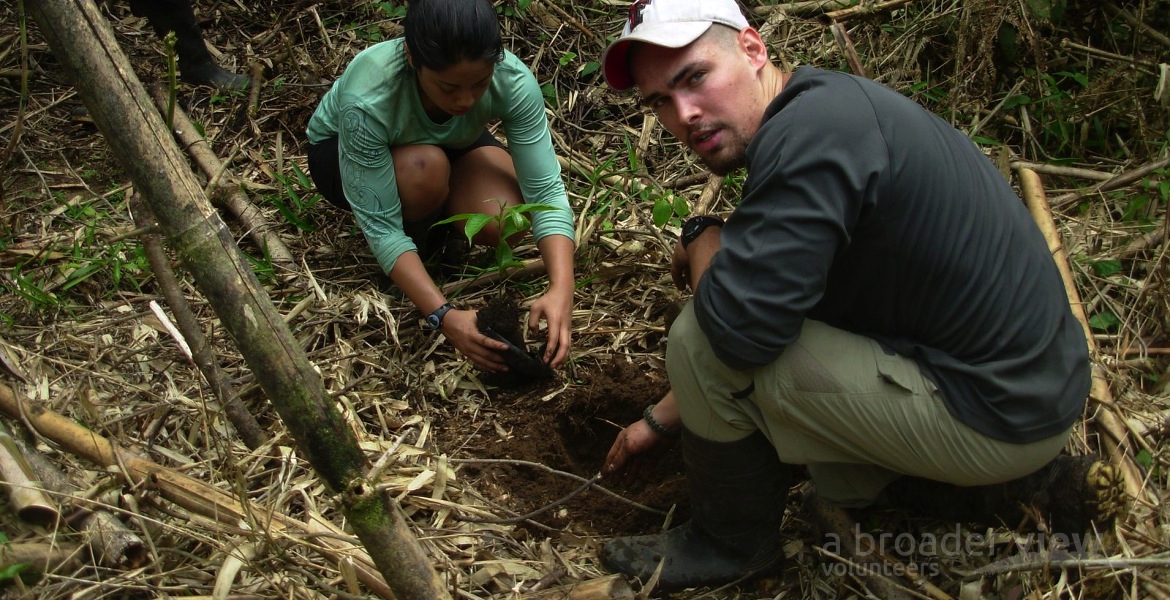 This program is ideal for those interested working and living in nature. You will live and volunteer in the largest national park in Peru, staying in bungalows located in the Madre de Dios region. The volunteer project supports the ongoing community effort of tree reforestation mainly, education of the locals on organic farming when available, medicinal plants and the importance of sustainable growth in the Amazonian rainforest.
Volunteers tasks may include research projects about plant life, flower inventory, transporting and replanting as needed, clearing paths, digging holes for new trees to be planted. Some work may be with rescued animals, building cages etc. Spanish is not required, although helpful especially when visiting the local community on education outreach projects when possible.
ABV Orientation guide includes a comprehensive list of required supplies to bring with you.
February is rainy season and should be avoided since roads to the project can be closed.
No transportation to the National Park on Sundays
We recommend volunteers to arrive on the week (Monday to Friday)
Volunteer Opportunities Peru: Conservation Environmental
Overview
Project length: From 1 week to 12 weeks
Project dates: Year round. Choose any date to arrive.
Arrival airport: Cusco (CUZ)
Accommodation: Open-air cabana, shared housing
Meals: Breakfast, lunch and dinner
Airlines: Lan Peru, American, Delta, Spirit, Copa, Taca, Iberia
Vaccinations: Routine Vac, Hep-A and Typhoid wwwnc.cdc.gov
Program Schedule
Program starts and ends in Cusco
First and last night of program includes hostel stay in Cusco
Orientation in Cusco before departing for the national park.
8 hour bus ride to the project site, tickets are included
Support: Local staff support 24/7 at the project site
Departure: ABV Staff Escorted Airport Transfer
Not included:
Flights to Peru. Visas and/or entry-exit fees. Vaccinations. Local Transportation. Travel & Health Insurance. Laundry and Internet
A Broader View Volunteer (ABV)  allows every traveler to choose their own program start date. This means you can arrive on any flight, any day of the week. Since ABV program fees are 100% tax deductible* we encourage you to fund raise. ABV offers advice and assistance with flight planning, affordable travel insurance, as well as procuring a visa, if necessary. Our ABV staff is available to any your questions. Contact us by email, through the on-line chat feature on our website or call us toll free at 866-423-3258.
WHAT DO MY FEES PAY FOR?
Volunteer Registration Fee – ongoing support from ABV staff, program marketing costs, information pack, administration costs, ABV donation Fund, travel costs to inspect programs and communication costs with volunteers.
Volunteer Program Fee – ABV donation fund, airport pick-up, orientation, program supervision, accommodation and meals during volunteer program period, in-country 24/7 volunteer support and in-country administration costs. As a US Non-Profit Charity Organization all your fees are tax deductible and you can fundraise from our website to pay for the fees.