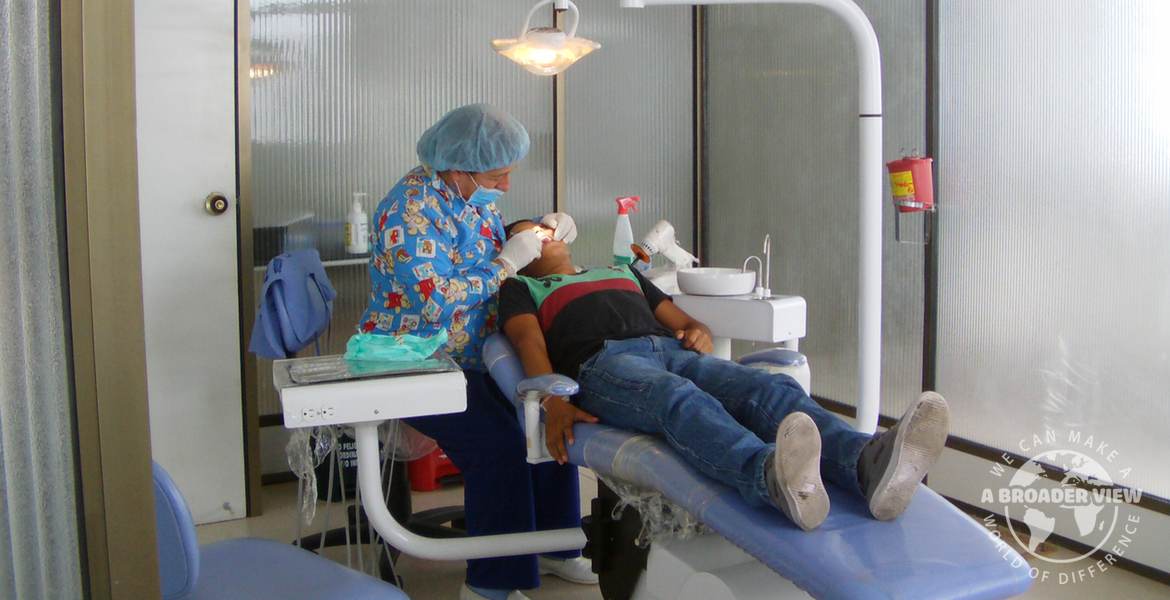 You will have the opportunity to assess, participate, and have your hands on different procedures under the supervision of a dental professional. The dental department at this hospital carry on procedures in operative, endodontics, extraction, cleaning prophylaxis, oral hygienist, education on promotion and prevention in oral health, root canals, tooth extraction, accompanying maxillofacial professionals and orthodontists in operation rooms. The average number of patients per professional per day is 27, organized more campaigns in oral health and thus improve oral status of the population.
Program requirement:
Must be enrolled in dental course in your home country. Pre-dental students are welcome to come and shadow and offer non evasive procedure support.
2 white scrubs required, white comfortable shoes or white sneakers and bring basic dental tools, mask and gloves.
Dental volunteers required to pay US$100 for each month they volunteer, for administrative fee for the La Mesa hospital/clinic. This extra fee is collected by ABV during the final payment this is for all health related placements.
Volunteer Colombia opportunities: Dental program
Overview
Project Duration: From 1 week up to 8 weeks
Project Dates: Year Round. Arrival/Departures weekends
Arrival airport: El Dorado, Bogota City Airport (BOG)
Requirements: Advance Spanish, medical credentials/enrollment
Accommodations: Local Host Family
Meals: Week 3 meals, 2 meals Saturday, no meals Sunday
Airlines: American, United, Delta, Spirit, Avianca, Taca, Air France, Iberia.
Immunizations: Routine Vac, Hep - A and typhoid www.nc.cdc.gov
Program Schedule
Orientation: Project Overview On-Site
Work Schedule: Monday to Friday. 30-40 hours a week
Support: Pre-trip written guide, In-country ABV staff available 24/7.
Departure: Transfer to El Dorado Airport Bogota.
Not included:
Flights to Colombia. Roundtrip transfer cost from airport to project location. Visa and/or airport entry fees and exit. Vaccinations. Local Transport. Travel & Medical Insurance. Laundry and internet connection.
South America / US$
Weeks
1
2
3
4
Colombia - Spanish Immersion
995
1290
1530
1790
Any extra week of "accommodation and meals" will be US$150/week after week 4 until week 12, more Spanish lessons can be paid locally to the coordinator.
South America / US$
Weeks
1
2
3
4
5
6
7
8
9
10
11
12
Colombia
895
995
1195
1195
1395
1395
1640
1640
-
-
-
-
The volunteer prices and the immersion prices are not combined, you choose from one or the other price.
A Broader View Volunteer (ABV)  allows every traveler to choose their own program start date. This means you can arrive on any flight, any day of the week. Since ABV program fees are 100% tax deductible* we encourage you to fund raise. ABV offers advice and assistance with flight planning, affordable travel insurance, as well as procuring a visa, if necessary. Our ABV staff is available to any your questions. Contact us by email, through the on-line chat feature on our website or call us toll free at 866-423-3258.
WHAT DO MY FEES PAY FOR?
Volunteer Registration Fee – ongoing support from ABV staff, program marketing costs, information pack, administration costs, ABV donation Fund, travel costs to inspect programs and communication costs with volunteers.
Volunteer Program Fee – ABV donation fund, airport pick-up, orientation, program supervision, accommodation and meals during volunteer program period, in-country 24/7 volunteer support and in-country administration costs. As a US Non-Profit Charity Organization all your fees are tax deductible and you can fundraise from our website to pay for the fees.