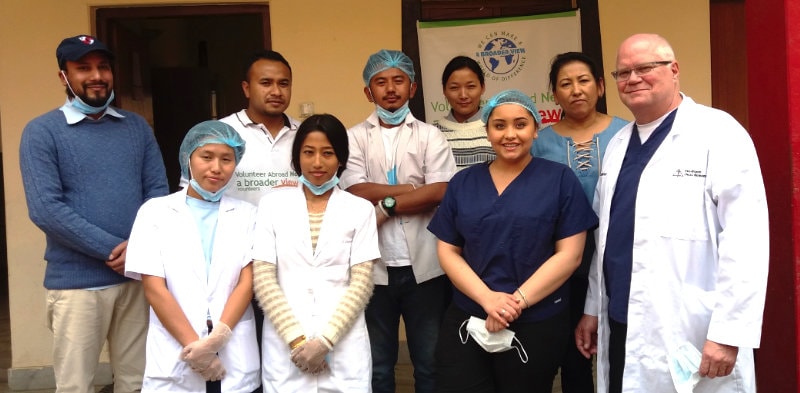 Volunteer in Nepal, if you are an undergraduate studying biology, chemistry or any of the sciences and are considering a career in medicine this is the ideal program for you. This program is as much about learning about universal health care, as it is to offer hands on assistance to the local medical staff who you will be working with Kathmandu. Having this experience is a great way to strengthen your resume and application to medical/nursing/PA school.
You will be able to rotate through departments at a busy orthopedic hospital. For in-patient care there are 75 beds, including 6 beds for post-operative patients. Out-patient department sees about 100 patients daily. Volunteers may have the chance to scrub in and observe surgery. The most common being general trauma surgery, pediatric clubfoot surgery, spinal surgeries, arthroscopy, and hand, foot and ankle surgeries which are done routinely by the surgical team.
Pre-medical volunteers required to pay US$100 monthly administrative fee for the Nepal hospital. This extra fee is collected by ABV during the final payment.  White medical scrubs are recommended for all volunteers.
Volunteer Opportunities: PreMed programs
Overview
Project Length: From 1 week to 12 weeks
Project dates: Year round. Choose any date to arrive.
Arrival airport: Kathmandu (KTM)
Accommodation: Homestay/Shared Guesthouse
Meals: Breakfast and dinner daily
Airlines: Qatar, Air India, Jet Airways, Thai Air, Ethiad
Vaccinations: Typhoid and Hep A wwwnc.cdc.gov
Program Schedule
Program starts and ends in Kathmandu
Airport meet and greet in Kathmandu. Afternoon city tour and orientation
Monday to Friday volunteering. 35-40 hours per week
Weekends free to sightseeing
Typical shift work: 4 hours in morning, 4 hours in the afternoon
Support: Local ABV Director support 24/7 during placement
Departure: ABV Staff Escorted Airport Transfer
Not included:
Flights to Nepal.  Entry Visa. Departure taxes. Vaccinations. Local Transportation. Travel & Health Insurance. Laundry and Internet