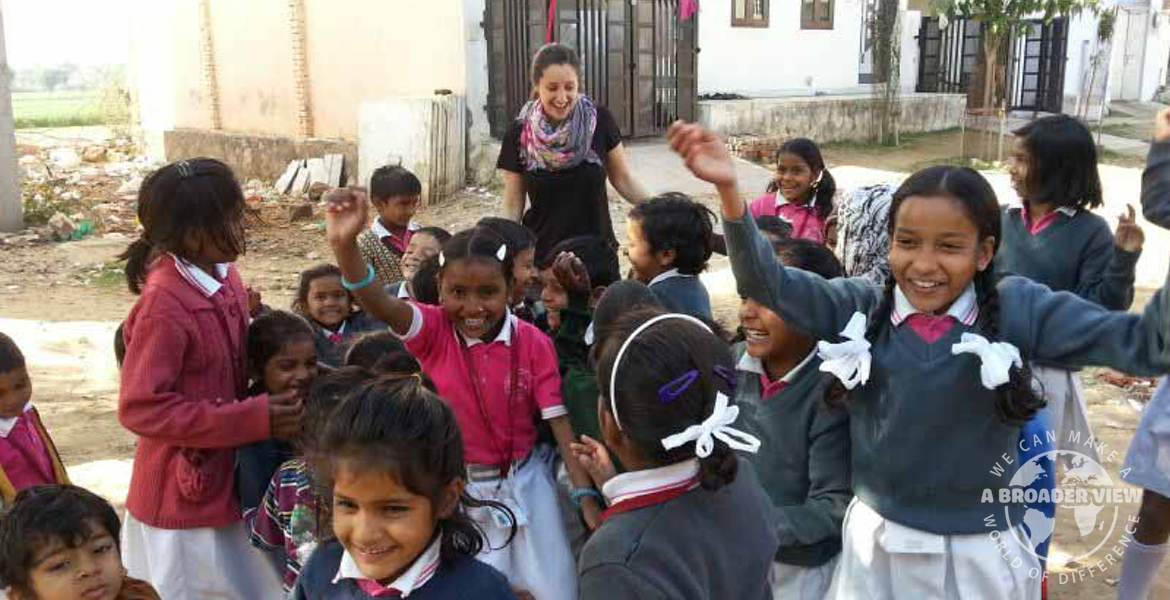 Thousands of children in India end up living on city streets struggling to find food or shelter. An uneven proportion of these children are female since India society still struggles with gender inequality and female-foeticide. Because of this there is an increasing number of abandoned baby girls on streets or orphanages. In Jaipur the orphanage homes we support are female dominated for this reason. The orphanage homes struggle to provide millions of children with a roof over their head, food, education, healthcare and many more other things to bring them to better level.
Volunteers help the children in different ways: they became a teacher, a counsellor, a confidant to the kids they work with. Volunteers have to play a very important role on this project because the children are far from understanding the structure of family and relatives. Volunteer tasks are to spend quality time with the kids, teach them proper hygiene and health lessons, teaching English and help with reading. Also chores like cleaning the orphanage, food preparation, and planning fun activities like games and sports ideas are helpful.
*Imp: The transportation in not included to the program. The transportation cost is around US$2 - 4 a day by Tuk-tuk (motorcycle ride) can be divided between 2 - 3 volunteers (6 to 10km ride).
Volunteer Opportunities: Children Care programs
Overview
Project length: From 2 week to 8 weeks
Project dates: Year round. Choose any date to arrive.
Arrival airport: Jaipur International Airport (JAI)
Accommodation: Local host family/Shared volunteer House
Meals: 3 per day (Breakfast, Lunch & Dinner)
Airlines: Jet airways, Spice jet, Etihad, Indigo, Go Air, Air India etc.
Vaccinations: Routine Vac, Hep A, typhoid wwwnc.cdc.gov
Program schedule
Program starts and ends in Jaipur City
Monday to Friday volunteering. 25-40 hours per week
Weekends free to sightseeing, camel safari, elephant safari, Taj Mahal etc.
Typical shift work can be: 11:00am - 6:30pm
Support: Local ABV Director support 24/7 during placement
Included:
Pick-up from Jaipur Airport
A detailed orientation about India, ABV projects, facts about India, cultural responsibility and things to remember in India
Accommodation with local host family or in shared volunteer house. Expect shared rooms (double/triple accommodations)
All meals (Authentic Indian meals) Breakfast, Lunch & Dinner
Project visit with supervisor
Resource materials to use on project
Weekly market visit to shop for your necessities
One party & dinner out to experience the new India
Sessions on India about the India in reality v/s India in news
Airport drop at Jaipur airport
Emergency support
Not included:
Airfare, visa, Insurance, local transportation, vaccinations, local sightseeing and all personal expenses. Cultural classes like Hindi class, Indian dress workshop, Yoga class, cooking class only for the volunteers who stays in ABV house (Fees Apply)
Asia / US$
Weeks
2
3
4
5
6
7
8
India Jaipur (General Programs)
860
990
1120
1250
1380
1510
1640
A Broader View Volunteer (ABV)  allows every traveler to choose their own program start date. This means you can arrive on any flight, any day of the week. Since ABV program fees are 100% tax deductible* we encourage you to fund raise. ABV offers advice and assistance with flight planning, affordable travel insurance, as well as procuring a visa, if necessary. Our ABV staff is available to any your questions. Contact us by email, through the on-line chat feature on our website or call us toll free at 866-423-3258.
WHAT DO MY FEES PAY FOR?
Volunteer Registration Fee – ongoing support from ABV staff, program marketing costs, information pack, administration costs, ABV donation Fund, travel costs to inspect programs and communication costs with volunteers.
Volunteer Program Fee – ABV donation fund, airport pick-up, orientation, program supervision, accommodation and meals during volunteer program period, in-country 24/7 volunteer support and in-country administration costs. As a US Non-Profit Charity Organization all your fees are tax deductible and you can fundraise from our website to pay for the fees.