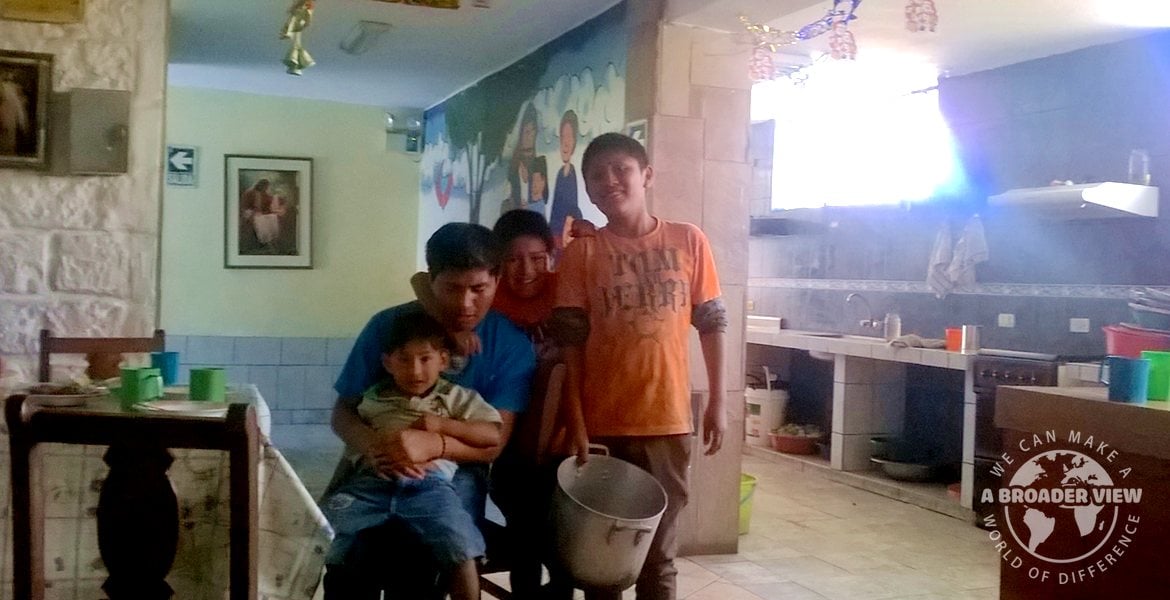 This Home Care is located on the outskirts of Arequipa and it hosts 25 boys between 4 years old to 18 years old. The mission of the Home Care is to improve and enrich the lives of this boys who have been negatively affected by social exclusion and who have not been given the basic types of attention that they need, such as; care, security, food, education and health. All of the children have either experienced moral and material abandonment or were judged to be at social risk from their parents who may be prostitutes, alcoholics, drug addicts or thieves. The Home aims to guarantee the harmonious development of the children with particular attention to protection, care, nutrition, education, health, and mental, physical, artistic and spiritual development.
Working in the Home as a volunteer, is both a touching and educational experience. As a volunteer you will have the unique experience of working intimately within a new culture, and will surely develop  close relationships with the boys and the staff.  Some daily tasks include cleaning the bedrooms, washing clothes, fixing old clothes, going to the market, helping in the kitchen, serving the food, cleaning of the kitchen and helping the kids with their homework. This program is only for male volunteers.
*Imp: The transportation in not included to the program. The transportation (round trip) cost is around US$1 by bus or US$8 by taxi can be divided between 2 - 3 volunteers (35 min ride approx 2 miles).
(***Arrival to Arequipa must be done between 7am and 7pm local time***)
Overview
Project length: From 1 weeks to 12 weeks
Project dates: 30 February to 01 December
Arrival airport: Arequipa (AQP) via Lima connection
Accommodation: Local host family
Requirements: Basic Spanish or Spanish Immersion lessons while in country. Only male volunteers for this program
Program donation: US$50 payable with the program fees.
Meals: Breakfast, lunch and dinner
Airlines: Lan Peru, Taca (Avianca), Peruvian, LCPeru
Vaccinations: Routine Vac, Hep-A and Typhoid wwwnc.cdc.gov
Inclusions
Program starts and ends in Arequipa.
Airport meet and greet in Arequipa. Next day  city tour and orientation
Monday to Friday volunteering. 35 hours per week.
Weekends free to sightseeing and afternoons free to explore the city
Typical shift work hours are 10 am  – 5 p.m.
Support: Local ABV Director support 24/7 during placement
Departure: ABV Staff Escorted Airport Transfer
Not included:
Flights to Peru. Visas and/or entry-exit fees. Vaccinations. Local Transportation. Travel & Health Insurance. Laundry and Internet
South America / US$
Weeks
1
2
3
4
Peru - Spanish Immersion
1070
1375
1735
1895
Any extra week of "accommodation and meals" will be US$150/week after week 4 until week 12, more Spanish lessons can be paid locally to the coordinator.
South America / US$
Weeks
1
2
3
4
5
6
7
8
9
10
11
12
Peru
910
1025
1255
1255
1485
1485
1760
1760
1925
2090
2255
2420
The volunteer prices and the immersion prices are not combined, you choose from one or the other  price.
A Broader View Volunteer (ABV)  allows every traveler to choose their own program start date. This means you can arrive on any flight, any day of the week. Since ABV program fees are 100% tax deductible* we encourage you to fund raise. ABV offers advice and assistance with flight planning, affordable travel insurance, as well as procuring a visa, if necessary. Our ABV staff is available to any your questions. Contact us by email, through the on-line chat feature on our website or call us toll free at 866-423-3258.
WHAT DO MY FEES PAY FOR?
Volunteer Registration Fee – ongoing support from ABV staff, program marketing costs, information pack, administration costs, ABV donation Fund, travel costs to inspect programs and communication costs with volunteers.
Volunteer Program Fee – ABV donation fund, airport pick-up, orientation, program supervision, accommodation and meals during volunteer program period, in-country 24/7 volunteer support and in-country administration costs. As a US Non-Profit Charity Organization all your fees are tax deductible and you can fundraise from our website to pay for the fees.