Peru - Ayacucho: Street Boys' Orphanage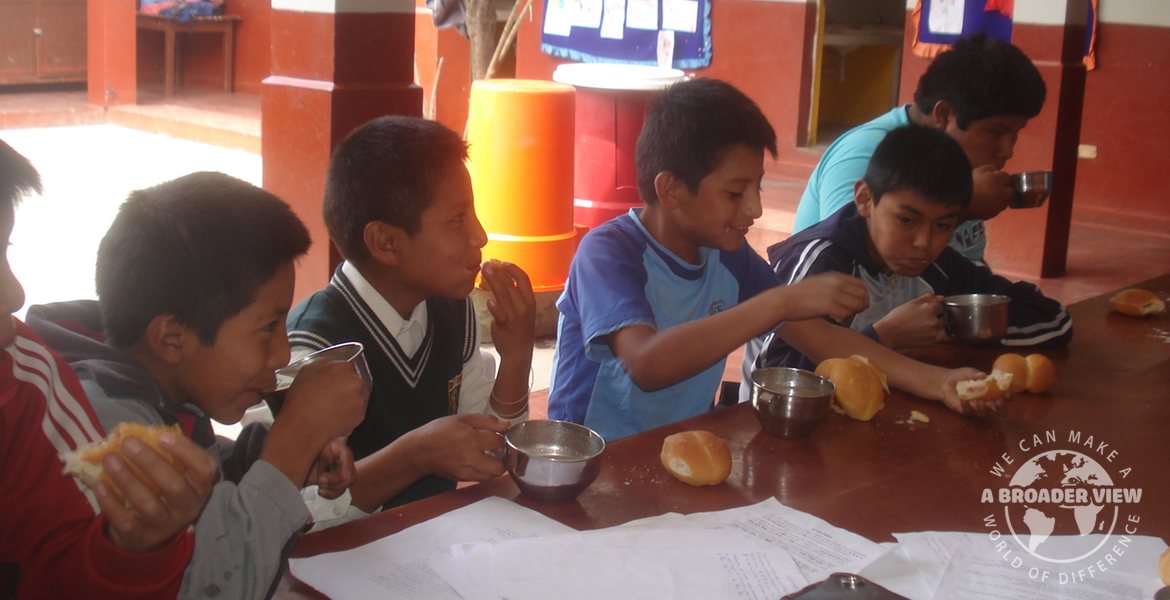 It is a public institution to give shelter, food and education to abandoned and orphan children from 7 to 17 years old. There are around 40 children, living together with their tutors or teachers. In the mornings or in the afternoons they go to school, so either in the morning or in the afternoon they have free time to do their homework or play. The volunteers can help them in these activities, even more, these kids lack of attention from someone else will be very happy to play with the volunteers and the volunteer will be a great emotional support for them.
The boys spend most of the time in the orphanage building, having much time for themselves. The volunteer can help the boy in having a less boring life, they can play football or any sport, the kids are eager to learn new things. Only male volunteers for this program.
Donations: Games, soccer balls, cards, bed blankets, birthday parties, coloring book, dictionary English-spanish, building paint, jackets, sweaters, shoes.
Overview
Project length: From 1 week to 12 weeks
Project dates: March to December
Arrival airport: Ayacucho (AYA) via Lima connection
Accommodation: Local host family
Requirements: Male Volunteers. Basic Spanish or local Spanish lessons available
Program donation: US$50 payable with the program fees.
Meals: Breakfast, lunch and dinner
Airlines: Lan Peru, LC Perú, Star Perú
Vaccinations: Routine Vac, Hep-A and Typhoid wwwnc.cdc.gov
Inclusions
Program starts and ends in Ayacucho
Airport meet and greet in Ayacucho. Afternoon city tour and orientation
Monday to Friday volunteering. Approx. 30 hours per week
Weekends free to sightseeing and afternoons free to explore the city
Typical shift work hours are 7am - 1pm
Support: Local ABV Director support 24/7 during placement
Departure: ABV Staff Escorted Airport Transfer
Not included:
Flights to Peru. Visas and/or entry-exit fees. Vaccinations. Local Transportation. Travel & Health Insurance. Laundry and Internet. Also, the city tour, the tours to the Quinua Village and the Wari Ruins, the tours to the Nazca Lines, Machu Picchu, the Ayacucho's Amazon Forest (the Coca Valley) or to the Vilcas Huamán Inca Ruins
South America / US$
Weeks
1
2
3
4
Peru - Spanish Immersion
1070
1375
1735
1895
Any extra week of "accommodation and meals" will be US$150/week after week 4 until week 12, more Spanish lessons can be paid locally to the coordinator.
South America / US$
Weeks
1
2
3
4
5
6
7
8
9
10
11
12
Peru
910
1025
1255
1255
1485
1485
1760
1760
1925
2090
2255
2420
The volunteer prices and the immersion prices are not combined, you choose from one or the other  price.
A Broader View Volunteer (ABV)  allows every traveler to choose their own program start date. This means you can arrive on any flight, any day of the week. Since ABV program fees are 100% tax deductible* we encourage you to fund raise. ABV offers advice and assistance with flight planning, affordable travel insurance, as well as procuring a visa, if necessary. Our ABV staff is available to any your questions. Contact us by email, through the on-line chat feature on our website or call us toll free at 866-423-3258.
WHAT DO MY FEES PAY FOR?
Volunteer Registration Fee – ongoing support from ABV staff, program marketing costs, information pack, administration costs, ABV donation Fund, travel costs to inspect programs and communication costs with volunteers.
Volunteer Program Fee – ABV donation fund, airport pick-up, orientation, program supervision, accommodation and meals during volunteer program period, in-country 24/7 volunteer support and in-country administration costs. As a US Non-Profit Charity Organization all your fees are tax deductible and you can fundraise from our website to pay for the fees.