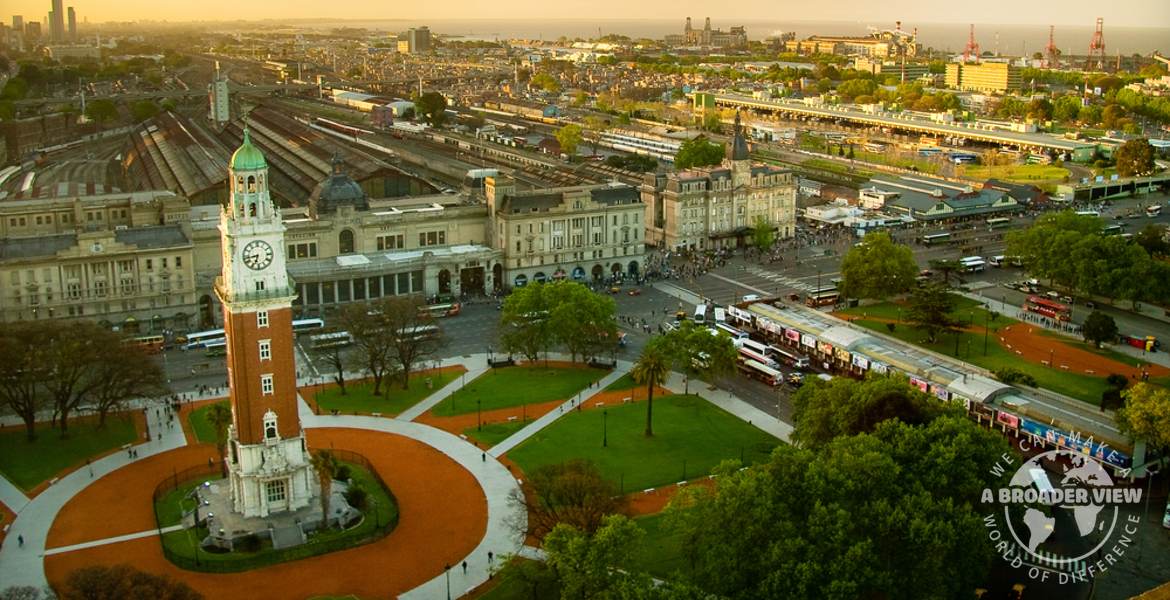 Argentina is the last country in South America, with a length of 3800km and almost 45 million inhabitants. It borders Uruguay, Paraguay, Brazil, Chile and Bolivia and the Atlantic Ocean to the east. It is divided into 24 provinces, each having its particular characteristics.
It has many special features that can be heard from visitors. Among its features we can talk about their people, so friendly and fun and its gastronomy characterized by "asado" and "mate", of course we cannot forget to mention its typical regional products like "dulce de leche" and "alfajores". Folklore and Tango are their main dances that still can see on the streets of the cities. If we talk about soccer, Boca and River dispute the fanaticism of the people that all weekends generate a party in the city. It is very nice to feel the Spanish and Italian roots that still persist in the people who inhabit this wonderful country.
It is a very attractive country for volunteerism, as there is plenty to explore from South to North. Among its highlights are the Iguazu Falls, Salta and its mountains, Mendoza and its wines, in Patagonia are glaciers, penguins, whales and sea lions. You can also visit Bariloche, El Valle de la Luna, among others. This makes it very interesting for tourists, who are always welcome to visit the country.
We have a wide variety of programs; some are teaching, social work, work with animals, medicine and journalism. We believe that the participant during his stay in Argentina can live a unique experience, learning the lifestyle and culture of Argentina, together with the many activities that the country offers.
Volunteer Opportunities: Argentina
Overview
Project Length: From 1 week to 8 weeks
Arrival Airport: Córdoba (COR)
Work Schedule: Monday to Friday 6-8 Hours per day
Age Limits: Minimum 18 yrs or older for solo travellers
Minimum Age: 12 to 18 yrs if travelling with parents
Airlines: American Airlines, Lan , Tam, Gol, KLM, AirFrance , Aerolineas Argentinas, Etihad, Copa Airlines
Vaccinations: Routine Vaccinations, Hepatitis-A and Typhoid wwwnc.cdc.gov
Inclusions
Accommodation: Host Family
Meals: Breakfast, lunch and dinner daily
Arrival: Airport meet and greet by ABV Staff
Orientation: Project Overview On-Site
Support: Pre-trip written guide, In-country ABV staff available 24/7
Departure: ABV Staff Escorted Airport Transfer
Not included:
Flights to Argentina. Entry Visa. Departure taxes. Vaccinations. Local Transportation. Travel & Health Insurance. Laundry and Internet.
South America / US$
Weeks
1
2
3
4
5
6
7
8
Argentina
895
1050
1295
1295
1395
1395
1730
1730
The volunteer prices and the immersion prices are not combined, you choose from one or the other price.
South America / US$
Weeks
1
2
3
4
5
6
7
8
Argentina (Conservation / Environmental)
895
1015
1175
1330
1490
1645
1800
1965
The volunteer prices and the immersion prices are not combined, you choose from one or the other price.
South America / US$
Weeks
1
2
3
4
Argentina - Spanish Immersion
1070
1375
1685
1995
Any extra week of "accommodation and meals" will be US$150/week after week 4 until week 8, more Spanish lessons can be paid locally to the coordinator.
A Broader View Volunteer (ABV)  allows every traveler to choose their own program start date. This means you can arrive on any flight, any day of the week. Since ABV program fees are 100% tax deductible* we encourage you to fund raise. ABV offers advice and assistance with flight planning, affordable travel insurance, as well as procuring a visa, if necessary. Our ABV staff is available to any your questions. Contact us by email, through the on-line chat feature on our website or call us toll free at 866-423-3258.
WHAT DO MY FEES PAY FOR?
Volunteer Registration Fee – ongoing support from ABV staff, program marketing costs, information pack, administration costs, ABV donation Fund, travel costs to inspect programs and communication costs with volunteers.
Volunteer Program Fee – ABV donation fund, airport pick-up, orientation, program supervision, accommodation and meals during volunteer program period, in-country 24/7 volunteer support and in-country administration costs. As a US Non-Profit Charity Organization all your fees are tax deductible and you can fundraise from our website to pay for the fees.