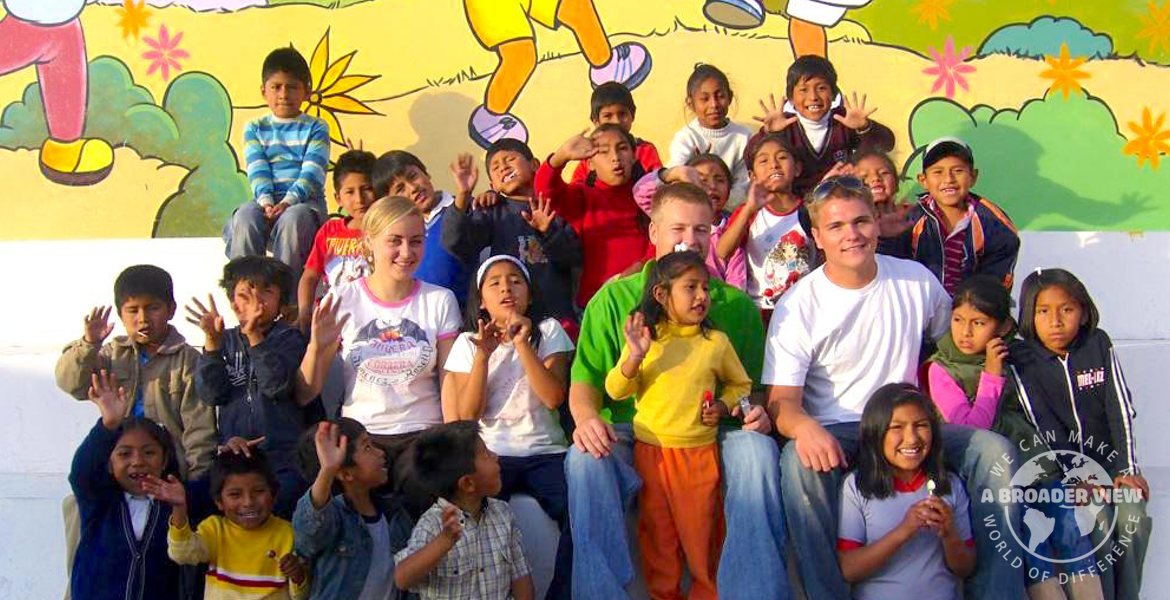 Welcome to the beautiful city of Arequipa, the White city of Peru. It's called the 'white city' because its historic buildings are made from 'ashlar' which is a volcanic rock, and can be seen in all the churches, houses, streets and alleys of the historic centre of the city. The city is located at an altitude of 2.325 meters above sea level; and is built at the base of three beautiful volcanos: Misti, Chachani and Pichu Pichu, Quechan words meaning Mr, colorful.
Misti is like a symbol for the city, and it's possible to go up to the top of this volcano where you can appreciate all of the city and even the Pacific Ocean.
Arequipa is considered an emerging city, meaning that a lot of families of the rural areas of the country choose it as their destination to improve their life conditions and get out of poverty. These families settle on the outskirts of the city, and are called 'Young People'.
Through our volunteer programs, not only do you contribute to bettering the lives of these people, mainly their most vulnerable members, women, children and the elderly, but also the retribution and personal satisfaction that you get in exchange will be grand, it will enrich your life and change your way of thinking, feeling and acting in a positive way.
We invite you to take on this social commitment and enjoy Arequipa, with its radiant sun, it's amazing gastronomy, visit its traditional towns and of course become acquainted with the tourist attractions like the Cathedral in the main square, the Santa Catalina Monastery, Colca Canyon, Titicaca Lake and the islands.
Overview
Project length: From 1 week to 12 weeks
Arrival airport: to Arequipa (AQP) via Lima connection.
Work schedule: Monday to Friday 6 to 8 hours per day
Requirements: Basic in Spanish or Spanish Immersion Lessons
Age limits: Minimum 17yrs or older for solo travelers.
Minimum Age: 12 to 16 yrs if traveling with parents.
Airlines: Lan Peru, American, Delta, Spirit, Copa, Taca, Iberia
Vaccinations: Routine Vac, Hep-A and Typhoid wwwnc.cdc.gov
Inclusions
Accommodation: Middle Class Host Family
Meals: Breakfast, lunch and dinner daily
Arrival: Airport meet and greet by ABV Staff
Orientation: Project Overview and Arequipa Orientation
Support: Pre-departure helpdesk, Local Coordinator and 24hr emergency support
Departure: ABV Staff Escorted Airport Transfe
Not included:
Flights to Peru. Entry-exit fees. Vaccinations. Local Transportation. Travel & Health Insurance. Laundry and Internet
South America / US$
Weeks
1
2
3
4
Peru - Spanish Immersion
1070
1375
1735
1895
Any extra week of "accommodation and meals" will be US$150/week after week 4 until week 12, more Spanish lessons can be paid locally to the coordinator.
South America / US$
Weeks
1
2
3
4
5
6
7
8
9
10
11
12
Peru
910
1025
1255
1255
1485
1485
1760
1760
1925
2090
2255
2420
The volunteer prices and the immersion prices are not combined, you choose from one or the other  price.
A Broader View Volunteer (ABV)  allows every traveler to choose their own program start date. This means you can arrive on any flight, any day of the week. Since ABV program fees are 100% tax deductible* we encourage you to fund raise. ABV offers advice and assistance with flight planning, affordable travel insurance, as well as procuring a visa, if necessary. Our ABV staff is available to any your questions. Contact us by email, through the on-line chat feature on our website or call us toll free at 866-423-3258.
WHAT DO MY FEES PAY FOR?
Volunteer Registration Fee – ongoing support from ABV staff, program marketing costs, information pack, administration costs, ABV donation Fund, travel costs to inspect programs and communication costs with volunteers.
Volunteer Program Fee – ABV donation fund, airport pick-up, orientation, program supervision, accommodation and meals during volunteer program period, in-country 24/7 volunteer support and in-country administration costs. As a US Non-Profit Charity Organization all your fees are tax deductible and you can fundraise from our website to pay for the fees.