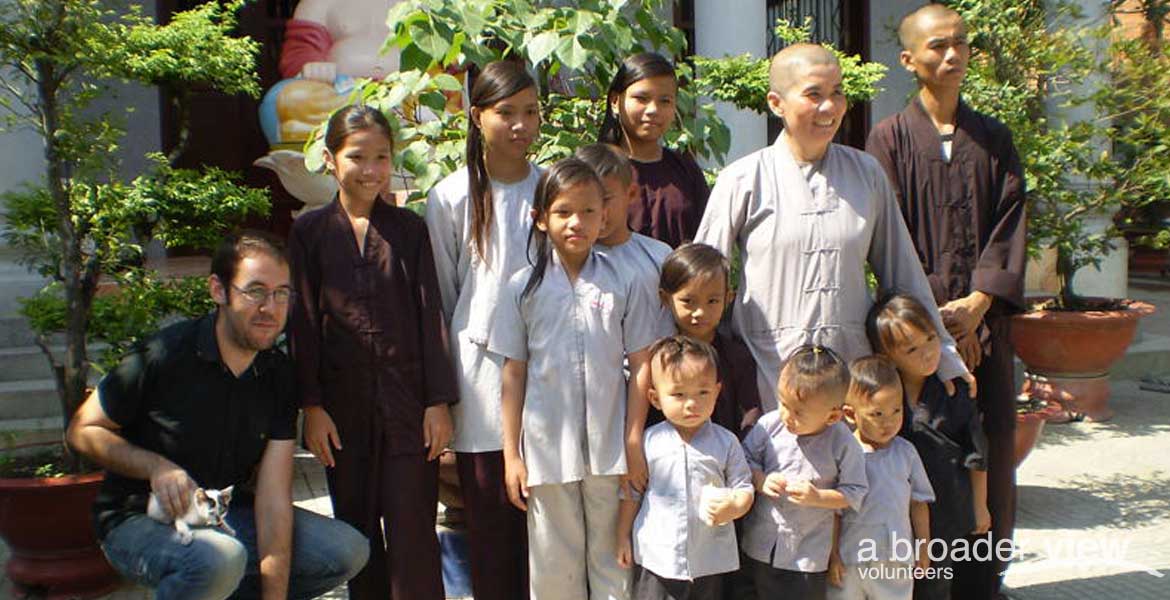 At this center the children range in age from 2yrs to 16yrs. The pagoda is located on the outskirts of Ho Chi Minh City so any volunteer who ventures here will have a truly Cultural experience. The center's director is a Buddhist Monk and the center protects, supports and gives opportunities to the most needy. The center supports almost 300 orphaned children, some of which have sight impairment, disabled, HIV and rescued street kids.
The Monks are very willing to impart their knowledge of the Vietnamese language and the Buddhist way of life. This program will provide a truly wonderful experience to any volunteer who has an interest in this type of monastic lifestyle. The Buddhist way is one of giving and sharing, and life at the Pagoda is an enriching experience.
Activities: Teaching Basic English to the Monks and local children. Feeding babies, working in the gardens, creating activities for the young adults. Volunteers are also encouraged to lend a hand with work tasks around the Pagoda, basically just giving assistance when it is required. Local guesthouse accommodations provided.
Overview
Project length: From 2 week to 8 weeks
Arrival Airport: Ho Chi Minh (code: SGN)
Work Schedule: Monday to Friday 5-8 hours per day
Requirements: Tourist Visa
Age Limits: Minimum 18 yrs or older for solo travelers.
Minimum Age: 12 to 16 yrs if traveling with parents
Program Schedule
Program starts and ends in Ho Chi Minh City

Meals: 2 Meals a day (stipend)

Airport meet and greet in HCMC airport. Afternoon city tour and orientation

Monday to Friday volunteering. 40 hours per week

Weekends free to sightseeing

Typical shift work 2-3 hours in morning and afternoon

Support: Local ABV Coordinator Support 24/7 during placement

Departure: ABV Staff Escorted Airport Transfer
Not included:
Flights to Vietnam. Entry Visa. Departure taxes. Vaccinations. Local Transportation. Travel & Health Insurance. Laundry and Internet
Asia / US$
Weeks
1
2
3
4
5
6
7
8
9
10
11
12
Vietnam
-
1180
1380
1380
1580
1580
1780
1780
-
-
-
-
A Broader View Volunteer (ABV)  allows every traveler to choose their own program start date. This means you can arrive on any flight, any day of the week. Since ABV program fees are 100% tax deductible* we encourage you to fund raise. ABV offers advice and assistance with flight planning, affordable travel insurance, as well as procuring a visa, if necessary. Our ABV staff is available to any your questions. Contact us by email, through the on-line chat feature on our website or call us toll free at 866-423-3258.
WHAT DO MY FEES PAY FOR?
Volunteer Registration Fee – ongoing support from ABV staff, program marketing costs, information pack, administration costs, ABV donation Fund, travel costs to inspect programs and communication costs with volunteers.
Volunteer Program Fee – ABV donation fund, airport pick-up, orientation, program supervision, accommodation and meals during volunteer program period, in-country 24/7 volunteer support and in-country administration costs. As a US Non-Profit Charity Organization all your fees are tax deductible and you can fundraise from our website to pay for the fees.