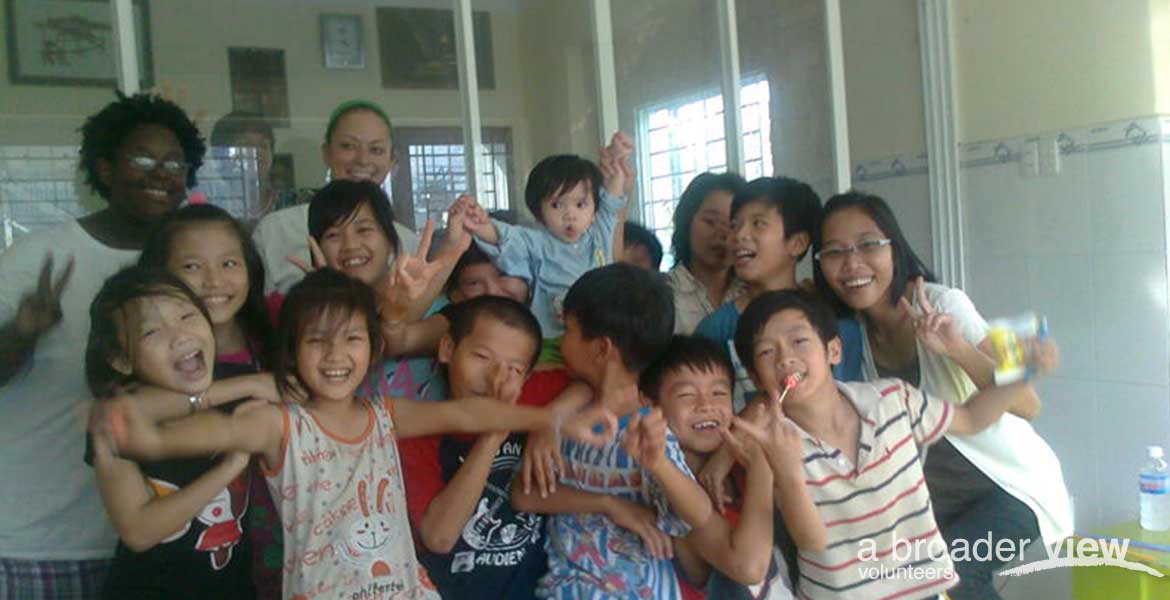 This village is based about 6-7 miles outside of Hanoi. The village provides medical care, physical therapy, education and vocational training for 100-120 children with a variety of mental and physical conditions. There are nine family-style residences providing housing for girls and boys and their housemothers as well as special housing for severely disabled children. Other buildings house administrative offices, a medical clinic, a kitchen and dining hall, vocational studios, and educational facilities including a computer classroom. There are organic fruit and vegetable gardens, a medicinal herb garden, fishponds and farm animals.
Activities: Volunteers will have opportunities to teach English and will be mainly be engaged in helping the children with other activities that the children have the ability to carry out, such as craft, art, embroidery, computer skills, and assisting the children their movements and rehabilitation. There is also a very large organic farm at the village that provides up to 60% of the center's produce. Volunteers will be given the opportunity to work in the garden and to assist in other physical activities if the volunteer has the capacity to do so. Local guesthouse accommodation, or on-site dorm room options.
Overview
Project length: From 2 week to 8 weeks
Arrival Airport: Hanoi (Code: HAN)
Work Schedule: Monday to Friday 5-8 hours per day
Requirements: Tourist Visa
Age Limits: Minimum 18 yrs or older for solo travelers.
Minimum Age: 12 to 16 yrs if traveling with parents
Airlines: United, Korean Air, China Airlines, Delyta, Qatar, Air France, Qantas
Vaccinations: Typhoid and Hep A wwwnc.cdc.gov
Program Schedule
Program starts and ends in Hanoi

Meals: 2 Meals a day (stipend)

Airport meet and greet in Hanoi. Afternoon city tour and orientation
Monday to Friday volunteering. 40 hours per week
Weekends free to sightseeing
Typical shift work 2-3 hours in morning and afternoon
Support: Local ABV Coordinator support 24/7 during placement
Departure: ABV Staff Escorted Airport Transfer
Not included:
§

Flights to Vietnam. Entry Visa. Departure taxes. Vaccinations. Local Transportation. Travel & Health Insurance. Laundry and Internet
Asia / US$
Weeks
1
2
3
4
5
6
7
8
9
10
11
12
Vietnam
-
1180
1380
1380
1580
1580
1780
1780
-
-
-
-
A Broader View Volunteer (ABV)  allows every traveler to choose their own program start date. This means you can arrive on any flight, any day of the week. Since ABV program fees are 100% tax deductible* we encourage you to fund raise. ABV offers advice and assistance with flight planning, affordable travel insurance, as well as procuring a visa, if necessary. Our ABV staff is available to any your questions. Contact us by email, through the on-line chat feature on our website or call us toll free at 866-423-3258.
WHAT DO MY FEES PAY FOR?
Volunteer Registration Fee – ongoing support from ABV staff, program marketing costs, information pack, administration costs, ABV donation Fund, travel costs to inspect programs and communication costs with volunteers.
Volunteer Program Fee – ABV donation fund, airport pick-up, orientation, program supervision, accommodation and meals during volunteer program period, in-country 24/7 volunteer support and in-country administration costs. As a US Non-Profit Charity Organization all your fees are tax deductible and you can fundraise from our website to pay for the fees.