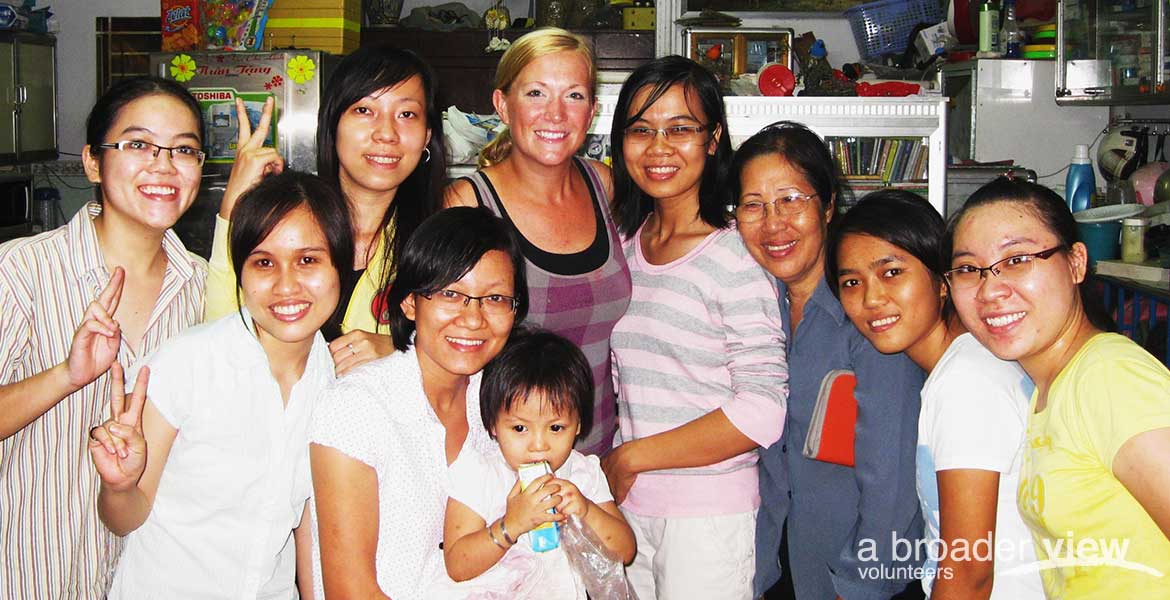 The residential center cares for 320 children that have Cerebral Palsy, Brady Genesis & Mental Disabilities. Most of the children were left in hospitals and on the streets, 60% of the children here have cerebral palsy so many of them can't walk or take care of themselves. There is simply not enough staff to care for the amount of children with such severe disabilities. On the day shift in each room there is usually 4 to 6 people taking care of 32 to 40 children on average. On night shift there is usually only 1 to 3 people working in each room.
Volunteers interested in a medical/nursing career are welcome at this center. Caretakers and volunteers feed the children, clean and take care of the children's personal hygiene, teach the children to use utensils, use the toilets, change their clothing, and try to teach them self-reliant skills. Thanks to the staffs' great efforts, the children and the rooms are clean and neat.
* This is a challenging yet rewarding program. Volunteers should be mentally prepared to work with special needs kids, help with therapy, and accept the children as they are. Most are orphans and crave and thrive on personal attention.
Activities: Volunteers would normally come to the centre between the hours of 8.00am – 10.30am and 2.00pm – 4.00pm. We would encourage ABV volunteers to go the extra mile and help with cooking and feeding time, this is emotionally difficult and is at the discretion of volunteers and management. Activities include playing and talking with the children, taking them to the playground area and generally just having fun with them, these beautiful children just need to know that someone cares. Volunteers may also help with rehabilitation; again this depends upon the volunteer's skill level and the centre management approval.
Overview
Project length: From 2 week to 8 weeks
Arrival Airport: Ho Chi Minh (code: SGN)
Work Schedule: Monday to Friday 5-8 hours per day
Requirements: Tourist Visa
Age Limits: Minimum 18 yrs or older for solo travelers.
Airlines: United, Korean Air, China Airlines, Delyta, Qatar, Air France, Qantas
Vaccinations: Typhoid and Hep A wwwnc.cdc.gov
Program Schedule
Program starts and ends in Ho Chi Minh City

Meals: 2 Meals a day (stipend)

Airport meet and greet in HCMC airport. Afternoon city tour and orientation

Monday to Friday volunteering. 40 hours per week

Weekends free to sightseeing

Typical shift work 2-3 hours in morning and afternoon

Support: Local ABV Coordinator Support 24/7 during placement

Departure: ABV Staff Escorted Airport Transfer
Not included:
Flights. Entry Visa. Departure taxes. Vaccinations. Local Transportation. Travel & Health Insurance. Laundry and Internet
Asia / US$
Weeks
1
2
3
4
5
6
7
8
9
10
11
12
Vietnam
-
1180
1380
1380
1580
1580
1780
1780
-
-
-
-
A Broader View Volunteer (ABV)  allows every traveler to choose their own program start date. This means you can arrive on any flight, any day of the week. Since ABV program fees are 100% tax deductible* we encourage you to fund raise. ABV offers advice and assistance with flight planning, affordable travel insurance, as well as procuring a visa, if necessary. Our ABV staff is available to any your questions. Contact us by email, through the on-line chat feature on our website or call us toll free at 866-423-3258.
WHAT DO MY FEES PAY FOR?
Volunteer Registration Fee – ongoing support from ABV staff, program marketing costs, information pack, administration costs, ABV donation Fund, travel costs to inspect programs and communication costs with volunteers.
Volunteer Program Fee – ABV donation fund, airport pick-up, orientation, program supervision, accommodation and meals during volunteer program period, in-country 24/7 volunteer support and in-country administration costs. As a US Non-Profit Charity Organization all your fees are tax deductible and you can fundraise from our website to pay for the fees.