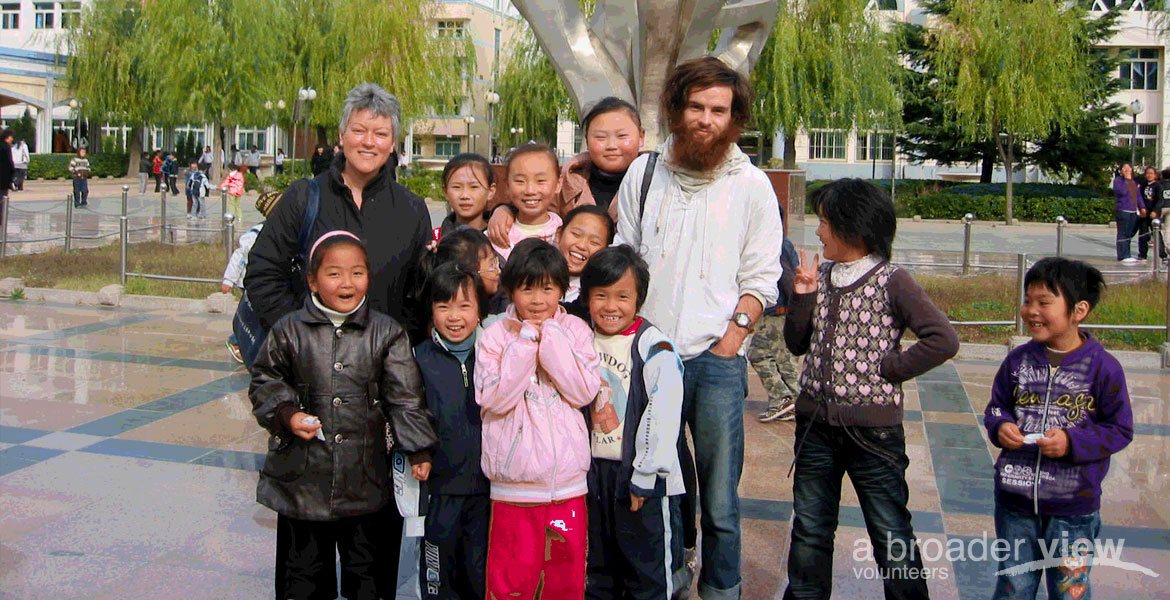 Volunteers needed to teach conversational English in the local schools in and around Yantai. Placement are available in kindergartens, primary schools, high schools and colleges throughout the city. Teacher assistants are supported by the local teacher, and will focus on language comprehension and speaking. The teachers and students are eager to learn English, so volunteers are very welcome at the schools.
Class sizes vary from 20-30 students per class. Volunteers assist the local (bi-lingual) teacher, and will be provided guidance and instructions. The classes are Monday –Friday and volunteers should be prepared to teach 20-25 hours per week (3-4 classes a day). Volunteers are teaching conversation English, using songs, books, teaching aids and any other ideas that you can come up with. *Limited arrivals in May and October due to National holidays.
Spring Semester: March through mid June
Fall Semester: September through mid December
Holidays/Program Closed:
The Chinese Lunar New Year February 4 to 19
The China National Holidays from Oct 1 to 7
International Labour Day Holidays from May 1 to 3
Overview
Project length: From 1 week to 8 Weeks
Arrival Airport: Yantai (YNT)
Work Schedule: Monday to Friday 4-5 hours per day
Requirements: Tourist Visa, native English speaker
Age Limits: Minimum 18yrs or older for solo travelers.
Airlines: Air China, Delta, United, China Souther, Korean Air, Cathay Pacific
Vaccinations: Typhoid and Hep A wwwnc.cdc.gov
Inclusions
Accommodation: Private dorm room with bathroom
Meals: 3 Meals
Arrival: Airport meet and greet by ABV Staff
Orientation: Project Overview and Orientation
Support: Pre-trip written guide, In-country ABV staff available 24/7
Departure: ABV Staff Escorted Airport Transfer
Not included:
Flights. Entry Visa. Departure taxes. Vaccinations. Local Transportation. Travel & Health Insurance. Laundry and Internet
Asia / US$
Weeks
2
3
4
5
6
7
8
China
900
1050
1050
1200
1200
1350
1350
A Broader View Volunteer (ABV)  allows every traveler to choose their own program start date. This means you can arrive on any flight, any day of the week. Since ABV program fees are 100% tax deductible* we encourage you to fund raise. ABV offers advice and assistance with flight planning, affordable travel insurance, as well as procuring a visa, if necessary. Our ABV staff is available to any your questions. Contact us by email, through the on-line chat feature on our website or call us toll free at 866-423-3258.
WHAT DO MY FEES PAY FOR?
Volunteer Registration Fee – ongoing support from ABV staff, program marketing costs, information pack, administration costs, ABV donation Fund, travel costs to inspect programs and communication costs with volunteers.
Volunteer Program Fee – ABV donation fund, airport pick-up, orientation, program supervision, accommodation and meals during volunteer program period, in-country 24/7 volunteer support and in-country administration costs. As a US Non-Profit Charity Organization all your fees are tax deductible and you can fundraise from our website to pay for the fees.