Volunteer in Guatemala is an experience that you should add to your bucket list. Known for its vibrant, rich culture, Guatemala offers an unforgettable experience to all who volunteer.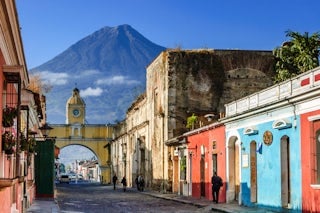 Volunteer in Guatemala is an experience that you should add to your bucket list. Known for its vibrant, rich culture, Guatemala offers an unforgettable experience to all who volunteer.
At A Broader View, we offer a number of international volunteering programs. By joining us, you can assist communities in need across the globe.
And our program in Quetzaltenango, Guatemala is one that you shouldn't miss out on. With four-to-twelve-week programs available, we offer the opportunity to enjoy a volunteering experience unlike any other.
Still not convinced that volunteering in Quetzaltenango, Guatemala is right for you? We bet we can change your mind!
Below, we've put together ten of the best reasons why you should start volunteering in Guatemala.
Top Ten Reasons to Volunteer in Guatemala
With so many reasons to volunteer in Guatemala, it was difficult to pick just ten! That being said, we're confident that the ten reasons below are the best around!
There's So Much Need
Unfortunately, Guatemala boasts one of the highest poverty rates in the region. This has left thousands of men, women, and children in need.
At A Broader View, we offer comprehensive volunteer services to help touch lives throughout multiple communities in Quetzaltenango. With services geared to helping everyone from children to the elderly, we team up with our volunteers to help make a real difference.
By volunteering in Guatemala, you can help be part of the solution to one of the worst poverty problems in Central America. We're confident that our programs will give you the opportunities you need to find the personal fulfillment garnered from helping others.
With so many people in need, you'll gain a new sense of importance by learning how much of a difference you can make. What's more, you'll be able to kindle a new passion for volunteering—or, if you already have one, you'll deepen your interests.
So just how bad is the poverty rate in Guatemala? Some estimates have more than 60% of the population living below the poverty line. Even more telling, as much as 1% of the entire population has left the country looking for asylum in the United States in the past year alone.
By joining us, you can do your part to help restore hope into these impoverished communities.
Other Volunteering Abroad Opportunities:
The Scenery Is Amazing
But that's not all. Guatemala is also home to incredible natural scenery that will leave you breathless.
The good news is that despite having a busy volunteer schedule, you'll have plenty of time to take in the natural and local landscapes. That's right—we offer all of our volunteers ample free time to do the things that are important to you.
This means that you'll have time to go hiking through the natural landscape. Trust us: going outdoors in Guatemala is something that you're going to want to do.
Full of lush trees, beautiful mountains, lakes, and even a volcano, Guatemala is a type of paradise on Earth. Best of all, the air and natural landscape remain mostly untouched, giving you a one-of-a-kind experience.
Here, you'll be able to enjoy nature as it was meant to be seen. And trust us: you'll likely encounter more than one sight that will just leave you breathless.
Take this opportunity to get off the beaten path and really connect with yourself. By escaping into the wonderful wilderness, you can get much-needed personal time after spending hours helping others.
The Culture Is Rich and Diverse
But it's not just the outside landscape that will attract you. The people of Guatemala are really something special—and you'll notice that the moment you step foot in the country.
The local population is largely welcoming—making you feel right at home even if you've never been to the country before. Even more intriguing is the fact that the local population comes from several different cultures—providing an experience quite unlike any other.
That's right—learning Spanish likely won't be enough to help you connect with every local. That's because the different cultures found in Guatemala split from the Mayans into several different groups. In fact, some estimates put the number of different cultures in Guatemala at more than twenty.
As you can see, this means that you'll never get bored exploring everything this rich country has to offer. With a vibrant culture and people, you can expect to encounter a number of interesting things and have a number of amazing experiences.
What's more, you'll have the opportunity to work up-close-and-personal with individuals of a variety of different cultures. This will help increase your cultural perspective and give you rich insight into one of the most interesting countries in Latin America.
You'll Love the Food
And with a diverse culture comes diverse food. With so much to offer, Guatemala is sure to add a new dish to your list of favorites.
That being said, you can likely expect to eat a number of classic Latin American favorites while in Guatemala. And, yes, this will likely include a lot of carbs. The good news is that you'll have access to fresh, non-processed food.
What's more, you'll be able to enjoy a number of classic Western favorites while with your homestay family. Our programs include three meals a day—with a safe, local homestay family that will help make sure that you're well taken care of.
But if you are looking for local favorites, you'll have a number of great options available. From tacos to nachos, you'll experience all the best of authentic Guatemalan food.
Believe us—this food is so good that you'll almost be sad when it's time to go back. You might even want to take a few of these delicious recipes home with you.
Best of all, local restaurants provide cheap, good food that you can get quickly while out. This means only one thing: while in Guatemala, you never have to worry about going hungry.
To Get Active
There's only problem with having so much good food available.
You'll start to gain weight. Especially if you're packing your diet with carbs.
If you're watching your weight, however, you don't have to worry. Not only will you have ample chance to eat fresh produce, but you'll also be able to use the wonderful natural landscape to your advantage.
In other words, you'll have ample opportunity to start getting more outdoor exercise. With the landscape being as beautiful as it is, you'll want to spend more time outdoors—even if you think you're more of an inside person.
You'll be able to find a number of guided tours that will wind you through the scenery. You'll also have access to incredible hiking trails and other workout opportunities.
Who would have thought that you could start to get in the best shape of your life while volunteering abroad? While you're in Guatemala, be sure not to miss out on any opportunity to get out and enjoy the scenery and weather.
To Change Your Perspective
It's hard to confront extreme poverty and not have a change of perspective. For those who have had a comfortable upbringing, in particular, volunteering in Guatemala can be a true eye-opener.
And though this may reveal more than a few uncomfortable truths about the state of the world, it can lead one to grow in a number of key ways.
For starters, by seeing how the "other side" lives, you can get a better appreciation for your own lot in life. The truth is that even those who come from poverty in the Western world likely haven't experienced the levels of extreme poverty found in Guatemala. With much of the population lacking necessities that we take for granted, spending time in Guatemala reveals the stark need of assistance in communities across the globe.
Though this can be a shock at first, the resulting sense of gratitude and personal fulfillment can often lead to alleviated feelings of depression and a greater sense of purpose in a number of individuals.
To Jumpstart a Volunteering Career
Naturally, this leads many to start an entire career in volunteering. By seeing the importance of making a difference in someone's life, many people find a drive to do it for a living.
This has a net positive benefit for people in need all across the globe. By using your newfound understanding and volunteer experience, you can start to put your skills to work helping people in other communities.
This is true for those both at home and abroad. Many who volunteer with A Broader View find that they try different programs across the world. Others continue their efforts by helping those closer to home.
No matter what you choose to do, we're sure of one thing. After your experience volunteering in Guatemala, you'll be bound to continue helping others.
To See Cultural Landmarks
Don't forget that during your time volunteering in Guatemala, you'll have ample opportunity to explore the country.
This means that you'll have more than enough time to visit some of the country's most famous landmarks. Don't know where to start?
Let us help you out.
During your stay, consider visiting these incredible sights!
Lake Atitlan
This famed lake has often been said to be the most beautiful in the world. But that's not the only record it holds.
Lake Atitlan holds the title of being the deepest lake in all of Central America—but that's not even the coolest part. What really sets Lake Atitlan apart is that it is surrounded by three volcanoes, making it one of the most picturesque sights in the country.
Antigua
This famed UNESCO World Heritage Site is one that you're not going to want to miss. A well-preserved 16th century town, Antigua is a site that you just can't find anywhere else.
Quirigua
Do you want to see the birthplace of the Mayan calendar? Make sure that you take a trip to Quirigua during your stay in Guatemala. This incredible site is another one that's on the UNESCO World Heritage list—and it's one that you should add to your itinerary.
To Change the Future
It can be easy to think of your volunteer work in Guatemala as being evanescent. After all, you can't stay and help forever, right?
That may be true, but that doesn't mean that you can't establish a legacy that will last. By helping individuals within these communities, you'll be able to set them up for longer-lasting success.
Specifically, by working with children throughout Quetzaltenango, Guatemala, you'll be able to teach them the skills that they need to succeed.
And as they say—children are the future. Now, you have a chance to shape the future of Guatemala by helping children who are in need.
To Have Fun
Finally, volunteering in Guatemala offers one final benefit: having fun.
Though your primary focus will be volunteer work, you can rest assured that you'll have more than your fair share of fun while in this great Central American country.
And trust us: it will be even more fun knowing that you're making a real difference in the country. During your time in Guatemala, keep an open mind. By experiencing the rich culture of the area and by seeing everything the country has to offer you'll be in for an experience that you're not soon to forget.
The Bottom Line
As you can see, volunteering in Guatemala is something that you should add to your bucket list.
And with A Broader View, you can take your volunteer experience to the next level. Our powerful and safe programs give you the platform needed to make a real difference in communities in need.
But they don't stop there. We value our volunteers and work to make sure that you have the time needed to get a real feel for the country. This free time ensures that you have a fun and rewarding experience during your stay.
So what are you waiting for? See how you can start volunteering today!
Read Some Volunteer Reviews