You can Volunteer in Belize with A Broader View Volunteers, our highly rated non-profit charity organization. The volunteer program is based in a residential area located 25 minutes from downtown Belize City. Volunteers can work at the orphanage support project year-round, and placement last between 1 o 8 weeks in length.
With housing available up to 20 volunteers, A Broader View has hosted hundreds of high school student groups, teens and family volunteer programs in our Belize volunteer program. For many high school students their service in Belize accounts for academic or community service credit through their school. Teenage volunteers (16-19) programs are popular over Spring and Winter Break, and for summer volunteer abroad projects. If you have a group of 5 or more interested in volunteering together, customized programs can be arranged. A Broader View Volunteers has extensive experience working with students and teachers providing tailor-made service trips for small groups.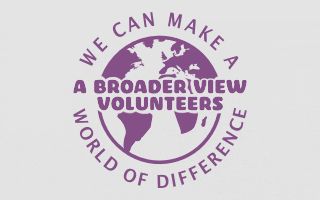 Volunteer in BELIZE Orphanage Child Care Program ✈ Volunteer Belize
Volunteer in Belize, offer an unparalleled opportunity to discover one of the most fascinating lands of Central America. Belize is a stable, democratic country that lies on the eastern Central American coast; nestled between Mexico, Guatemala and the Caribbean Sea.
Belize is culturally unique among Central American nations. It is the only nation in Central America with a British colonial heritage. The country is a sovereign, democratic state, and Her Majesty Queen Elizabeth II is the constitutional Head of State In Belize over half of the tiny country is covered by tropical rainforest whilst offshore the second largest barrier reef in the world can be found as well as over 200 cayes (islands). The official language of this multi ethnic, multi lingual country is English although the Creole dialect and Spanish are widely spoken. Belize has a population of just 266,440 with nearly 50% of this population under 18 years of age.
Volunteering in Belize will provide you the chance of a lifetime to explore this mysterious country while giving back to the community. Our volunteer projects allow you to support local children, at the orphanages program and the onsite nursery school. Volunteering with us and Gain a Broader View of the World.
Overview
Project length: From 1 week to 8 weeks
Arrival airport: Belize City (BZE)
Work schedule: 5 days a week, 6-7 hours per day
Requirements: Police Check/Clearance report, parent notary authorization to travel alone for volunteer under 17 yrs.
Age limits: Minimum 16yrs or older for solo travelers.

Minimum Age: 10 to 15 yrs if traveling with parents.
Airlines: American, United, Delta, US Airways
Vaccinations: Routine Vac, Hep-A and Typhoid wwwnc.cdc.gov/
Volunteer Opportunities in Belize
Orphanage Assistance
There are currently 44 children residing at the orphanage. The children range in age between 4 years and 17 years old. Our volunteers support the staff in terms of their daily routines, and also offer outside input for activities and recreational ideas. During the school term volunteer will help with the children's breakfast, and escorting them to school. A Daycare / Headstart project is open in the orphanages pre-school. Volunteers can help with assisting with baby/toddler care and pre-school activities with the little ones. Work tasks at this center include: farming, gardening, animal care, cooking, laundry, cleaning. After school activities with the children including reading, helping with homework, arts and crafts, playing in the ball fields, and being present and available to the children.
This is a lively facility and our volunteers must be an upbeat, happy individual in order to thrive! Expect to be hot, working outside, playing with the kids, enjoying the humidity and making a difference.
The role of an ABV volunteer at a children's home should be a mentor, friend, gardener, farmer, camp counselor and advocate all rolled into one.
Note: Arrivals only during the week, avoid weekends.
Program Schedule
Airport meet and greet in BZE (Belize City). Orientation with ABV Staff
Monday to Friday volunteering, occasion weekend as needed
Two free days a week for sightseeing
Typical shift work hours are 7am-11am and 2-6pm as needed
Support: Local ABV Director support 24/7 during placement
Departure: ABV Staff Escorted Airport Transfer
Country Info
Belize Introduction
Are you ready to help people in need, immerse yourself in the sights, sounds and culture of a new country and have the experience of a lifetime? With poverty, disease and a lack of skilled providers putting a strain on important services such as health and childcare in developing countries across the globe, there are many corners of the world which rely on the help of volunteer travelers like yourself.
Volunteer in Belize with A Broader View Volunteers a top rated non-profit charity organization, which works tirelessly to support our wonderful volunteers and serve the local communities where our volunteer programs are located. Placements in Belize are based in the city near Belize City. Program placements are tailored to the volunteers different interests and skill sets, but still allow volunteers time to explore the Central America local culture and activities during their free time.
The type of programs in Belize vary widely, offering everything from education to health care. Volunteers can choose between 2 program opportunities in the orphanage. International volunteer help is not only appreciated by the local community, it is severely needed by the millions of Belizeans living below the poverty line. With thousands of children living and working on the streets, as is so often the case in developing countries like Belize, our volunteer programs are designed to support the needs of local teens and children in desperate need of assistance.
Many of our volunteer abroad programs cater to underprivileged women and children's care, education and health requirements. Our extensive range of social programs near Belize City, Belize programs include: orphanage Care, teaching, green house/animal care. To help you settle into your placement.
Volunteering in Belize is an incredibly rewarding experience. We welcome volunteers of all ages and from all backgrounds to join us. Whether you're seeking volunteer abroad programs for college students or voluntary work for over 60s, as a trusted non-profit organization which prioritizes the safety of our volunteers, we are the go-to for volunteers across the globe. We also offer customized programs with flexible arrival dates to best suit the needs of the remarkable volunteers we depend on to help us make the world a better place.
If you'd like to volunteer, Belize is just one of the countries we've taken under our wing, supplying a steady flow of volunteers and providing year-round financial support to local projects in near Belize City. Wherever you decide to volunteer, A Broader View give you the opportunity to participate in meaningful community service work, learn a foreign language, make lifelong friends and discover that one person really can make a difference. Your search for the best volunteer abroad programs ends here – volunteer in Belize with us and gain A Broader View of the world.
Coordinator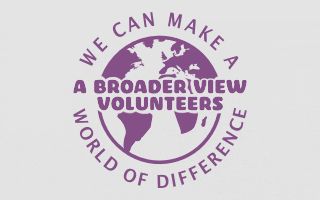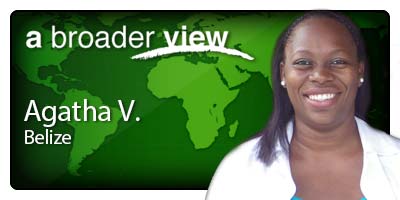 Welcome to Belize!. Our Names are Agatha and Gerla and we are your ABV coordinators while you are staying in Belize 🇧🇿. Our country has one big city, Belize City. You will be working in Near Belize City. We will be ready for support 24/7 in case you need to contact me urgently. We will introduce you to your volunteer location and staff.
You are most welcome to seek our assistance and don't hesitate to ask us questions while in country.
Weather
What's the best time to go to Belize City in Belize? Here are some annual weather facts we collected from our historical climate data:
On average, the temperatures are always high.
A lot of rain (rainy season) falls in the months of: January, May, June, July, August, September, October, November and December.
On average, the warmest month is May.
On average, the coolest month is January.
September is the wettest month. This month should be avoided if you don't like too much rain.
April is the driest month.

Reviews & Multimedia
Reviews
I just wanted to thank everyone for this incredible experience. I will never forget the love that I was shown this week it was unforgettable. This volunteer trip has confirmed my passion for working with kids and helping others.
Seeing the children's faces when they saw photos of themselves in the video we made. I was surprised that…. The Children are so happy almost all the time (despite the usual spats). My best received lesson……… How little one needs to be satisfied.
The program was great. Our students rally had a great time and it was awesome to see them bond with the kids here. The staff was super friendly and accommodates us well. The kids- hanging out with the kids from the home, helping them with home work etc.
Prices for Belize
Program Fees
Since A Broader View Volunteers is a 501c(3) charitable organization, You can fundraise (optional) for the expenses of the trip after you get confirmed in our programs. Prices are per person and in US dollars (US$).
| Length of program | Program Fee $USD |
| --- | --- |
| 1 week | $895 |
| 2 weeks | $ 995 |
| 3 weeks | $1195 |
| 4 weeks | $1195 |
| 5 weeks | $1395 |
| 6 weeks | $1395 |
| 7 weeks | $1640 |
| 8 weeks | $1640 |
Inclusions
Accommodation: On-site shared volunteer quarters
Meals: Breakfast, lunch and dinner daily
Arrival: Airport meet and greet by ABV Staff
Orientation: Project Overview On-Site
Support: Pre-trip written guide, In-country ABV staff available 24/7
Departure: ABV Staff Escorted Airport Transfer
Extra costs: Flights. Entry Visa. Departure taxes. Vaccinations. Local Transportation. Travel & Health Insurance. Laundry and Internet.
Meals & Food
Tamales
The tamales in Belize probably do not taste like you've eaten elsewhere. There are no corn husks wrapped in salty ingredients. Instead, banana leaves are used. You may already know that Belize's tamales recipes often satisfy regional tastes, so menus can refer to these varieties: collado, torteado or buns.
Tamalitos
Tamalitos or ducunu deliver the mestizo flavor that is not found in the aforementioned tamales. These mini are made from corn husks with toasted corn baked with coconut milk, salt, sugar and butter before the tamalitos are steamed to perfection. Whether we call them tamalitos or ducunu, they are also called the most delicious.
Cow Foot Soup
Beef Soup There is no mysterious source of meat in this hearty soup that is cooked slowly so that ingredients like potatoes, onions, okra and carrots absorb the flavors of cilantro and black pepper as they get married. It is usually served with corn tortillas, white rice and habanero chile sauce for more heat, this is an emblematic dish of Belize.
Pibil
Look for dishes like Cochinita Pibil in the menus of the restaurants and they will treat you with pork that has been marinated, wrapped in leaves and buried to cook slowly, just as the Mayans prepared this succulent dish thousands of years ago. Served with tortillas, use them to keep the meat filling for quick delivery to the mouth.
Sere
Dry. This fish soup owes its flavor to a mixture of fried fish, coconut milk, banana and cassava. Sere resembles hudut, a dish from southern Belize that is representative of Garifuna cuisine. Here is the turn: the hudut is prepared by cooking bananas until they are tender, combining it with fish and spices and serving it with a dip of coconut milk.
Rice & Beans
No visit to Belize is complete without tasting the basic food of Belize, but do not be surprised if it hardly resembles the rice and beans that you tried elsewhere, because in Belize, it is Creole cooked style, and you will always find it in the Cahal Pech Resort menu.
Start Dates
Most of our programs run year round, you can start any volunteer/internship program on any day. When you apply you will lets know your start and end dates. Our programs run year round and have volunteers arriving almost every day from many different countries.
Since our programs sometimes depend on the local holiday calendar, there are brief occasions when normal programs work is suspended. For example, schools/daycares often close for long winter/summer vacations. During these times, we arrange for alternative work programs that are similar in substance to our ongoing programs, but address the short-term, direct needs of the local communities.
If you would like to arrange your start and end dates around the local holidays, please call us at 1.866.423.3258 or email us at [email protected].
Money Matters
A Broader View Volunteers work tirelessly year round to support our volunteers, and also to serve the local communities where ABV projects are based. As a tax-exempt 501 c(3) organization A Broader View receive 100% of our funding from volunteer contributions. Through your program fee contribution our non-profit charity organization can operate beneficial humanitarian aid programs which are successful and continuous supported year round.
Local, professional full-time coordinators, placement logistics, airport pick up and departure transportation, arrival orientation, food & local accommodations, are a major part of providing a safe, meaningful volunteer experience. When you join A Broader View, you will receive pre-trip visa and vaccination support, assistance with flights, fundraising planning, through our interactive online volunteer portal. Our local partners not only benefit from volunteers valuable contributions at the project, they benefit financially with year-round monetary support from A Broader View. In the last decade A Broader View has donated over 4.5 million dollars in international aid.
By joining A Broader View you are not only helping to make a difference during your own trip, your impact will last even after you go home.
Extras
Tour and weekend trips
Once in country our local coordinator can help you find the most reliable and safe tour agencies for weekend trips, you can pay in cash or in most locations with a credit card. These tours are not part of the ABV fees.
Private Altun Ha And Cave Tubing from Belize City
Discover a ruined Maya city and float through a series of flooded caves with a 6-hour private tour from Belize City to Altun Ha and the Caves Branch River. Explore broad plazas and towering pyramids as you visit the archeological site with your guide, and see the precious treasures excavated from the Temple of the Green Tomb. Hike through a lush forest to the Caves Branch River, then go tubing through soaring caverns as your headlight illuminates cave walls that glint with crystal formations and stalactites.
Cave Tubing and Zip line Adventure from Belize City
Satisfy your appetite for adrenaline on a full-day tubing and zip line adventure from Belize City. Designed for travelers craving thrills, this experience takes you through a cave network replete with stalactites and stalagmites, and over the lush canopy of the rainforest. Float on underground rivers in a tube, conquer seven vertiginous zip lines, and enjoy hotel pickup and drop-off.
Howler Monkey Sanctuary Shore Excursion from Belize City
Observe Belize's rowdy black howler monkeys in their native habitat with a shore excursion from Belize City to the Community Baboon Sanctuary, a unique conservation area that combines jungle, villages, and pasture. As you hike along forested trails with a guide, learn about the lifestyle and endangerment of the black howler monkey and how the sanctuary is helping protect these amazing animals in Belize, one of the few places in the world where they can be viewed in such a setting.

Belize Zoo and Baboon Sanctuary Tour from Belize City
In this tour you will visit the Belize Zoo and the Baboon sanctuary, getting close to an incredible array of wildlife. Both attractions are located just a short drive from Belize City.
Hol Chan and Turtle Garden Snorkeling Tour
Hol Chan Marine Reserve is located off the southern tip of Ambergris Caye. Mayan for "little channel", Hol Chan Marine Reserve is doubtfully one of the most popular dive sites in the Caribbean, and indeed in Belize. The entire reserve focuses on a cut through the reef (called a quebrada) which is little more than 25 yards wide and 30 feet deep about 4 miles southeast of San Pedro. Hol Chan has burgeoned into a unique refuge, with vigorous coral formations and a richness of marine life. We will then head to the neighboring Turtle Garden, where you will snorkel or dive and be able to get up close and personal with ecstatic Sea Turtle and Southern Sting Rays. When you arrive, you will see the surface often boiling with rolling sharks and sting ray as they compete for the scraps. These creatures have a great tolerance for divers and snorkelers.
Festivals and Festivities
Baron Bliss Day Parade and Annual Boat Regatta – March 9
An Englishman named Baron Henry Edward Ernest Victor Bliss had a soft spot for Belize's Caribbean Coast. He left the Belizean government a large amount of money in his will. Belize honors him every year with a festival of fishing and sailing.
Easter–Lent, Carnival, and Semana Santa
Belize is no different from other Latin American countries – Easter is a huge deal. Easter weekend is an extremely festive and colorful celebration. Benque Viejo del Carmen is a particularly devout city, and holds a weeklong party from Palm Sunday to Good Friday.
Ambergris Caye and Belize City are both good destinations for Carnival parades. While the parades are not as large as those in Brazil, the exuberance and penchant for giant, feathery costumes are the same.
St. George's Caye Day – September 10
On September 10, 1798, the battle at St. George's Caye finally drove the Spanish away from Belize. Spain wanted to add Belize to its collection of Central American colonies. Settlers from Great Britain had settled on the coast in order to harvest the trees for lumber. The Spanish objected to the British presence on the coast, and attempted to drive them away repeatedly. At the Battle of St. George's Caye, British settlers ensured that Belize would never be a Spanish colony. As a result, Belize City celebrates this anniversary with music, cooking, and drinking.
Belize Independence Day – September 21
September is a busy time of year for Belizeans, especially Belizeans who like to party. The span of time between St. George's Caye Day and Independence Day is known as Belize's most festive time of year. Belizeans mark their independence day with noisy parades and raucous concerts.
After Belize gained its independence from Great Britain in 1981, the country maintained friendly relations with Great Britain and became a member of the British Commonwealth. To this day, the Queen is on the Belizean currency.
Belize City Carnival – Mid-September
Wild floats crowd the streets during Belize City's Carnival. This festival is the largest demonstration of Caribbean spirit in Belize. Men and women don elaborate costumes – some resemble large birds, and will remind you of Brazilian Carnival costumes. But the music here is distinctly Belizean, played with gusto at seaside concerts that last long into the night.
November 19 – Garífuna Settlement Day
This day commemorates the Garifuna's arrival in Belize in 1823. Supposedly they migrated to Belize after getting shipwrecked on St. Vincent Island, arriving in dugout canoes called dorys. This festival is celebrated in Punta Gorda, Belize City, Dangriga, and Hopkins.
The Garífuna's musical tradition includes lots of fast-paced drumming. Dancing accompanies the music, as does traditional food and drink.
Boxing Day (Day after Christmas)
The day after Christmas is called Boxing Day, a British holiday that is also widely celebrated in the Caribbean. On Boxing Day, slaves in British colonies were allowed a day to celebrate amongst themselves.
In Belize (and other Caribbean countries) this holiday means a Junkanu parade. Participants wear masks with pink skin and bright red lips. The masks and choreography were developed as a way to mock the European slave owners. Historians aren't sure where the term "Junkanu" comes from – all we know is that the celebrations originated as a way to briefly experience respite from a life of oppression and toil.