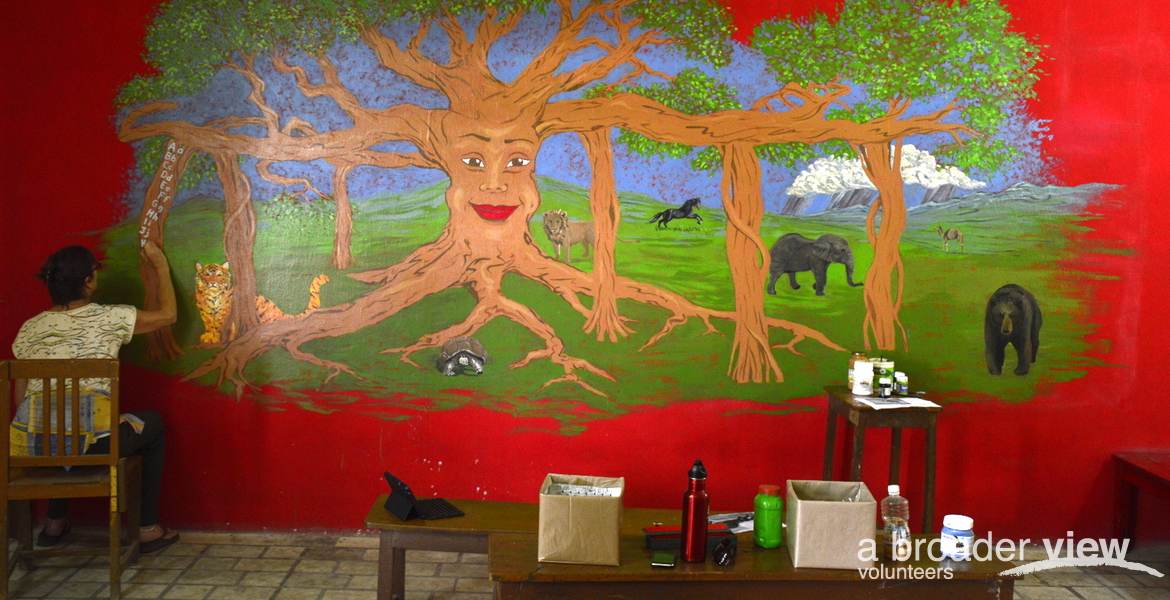 By choosing our renovation and community awareness placement in Rajasthan you will be provided with a fruitful interaction between yourself and the community in which you are working to provide a more positive and healthy environment. You will be working through physical labor on development and renovation work as well as our social awareness campaigns helping to involve the local people by bringing them ownership of their village, its facilities and social issues.
You will spend your time engaging with community development work as well as focusing on social development should you wish to work in both areas. For our development work you will be involved with the painting, repairing and beautification of schools, day care centers, gardens or homes which are below the poverty line. This manual work may also include an element of motivating and creating teams of village children to help clean up litter on the streets or help to plants trees depending on where your project is based. You may also get involved with our dustbin construction initiative where you will be working to create hygiene awareness amongst children.
All our work sites are located in and around Udaipur. Our priority renovation projects are as follows:
Restoration and decoration of health care centers
Restoration and decoration of primary or middle schools, children homes etc.
Artistic decoration of school interiors (artists welcome!)
Preparing sports facilities
Landscaping
Repairing houses for families that need urgent support
Developing garbage and recycling facilities
Available dates for this program:
February 1st to February 28th
May 17th to June 28th
August 9th to September 6th

If you can get a group over 5 volunteers then we can plan for your dates, we can customize the project.
Volunteer Opportunities: community programs
Overview
Project length: From 2 week to 4 weeks
Arrival Airport: Maharana Pratap (Code: UDR), going through New Delhi
Work Schedule: Monday to Friday 4 to 6 hours per day
Requirements: Police Check/Clearance report
Age Limits: Minimum 17yrs or older for solo travelers.
Minimum Age: 12 to 16 yrs if traveling with parents.
Airlines: Jet Airways, Indian Airlines, Spice Airlines
Vaccinations: Hep A, typhoid wwwnc.cdc.gov
Inclusions
Accommodation: Share Volunteer House
Meals: Breakfast, lunch box and dinner daily
Arrival: Airport meet and greet by ABV Staff
Orientation: Project Overview and Orientation
Support: Pre-trip written guide, In-country ABV staff available 24/7
Departure: ABV Staff Escorted Airport Transfer
Hindi Lessons: 5 Days included
Optional: Indian Cuisine, Yoga, Henna and Dance lessons (not included)
Not included:
Flights. Entry Visa. Departure taxes. Vaccinations. Local Transportation. Travel & Health Insurance. Laundry and Internet
Asia / US$
Weeks
2
3
4
India Udaipur (Community Development / Building)
1020
1230
1440
A Broader View Volunteer (ABV)  allows every traveler to choose their own program start date. This means you can arrive on any flight, any day of the week. Since ABV program fees are 100% tax deductible* we encourage you to fund raise. ABV offers advice and assistance with flight planning, affordable travel insurance, as well as procuring a visa, if necessary. Our ABV staff is available to any your questions. Contact us by email, through the on-line chat feature on our website or call us toll free at 866-423-3258.
WHAT DO MY FEES PAY FOR?
Volunteer Registration Fee – ongoing support from ABV staff, program marketing costs, information pack, administration costs, ABV donation Fund, travel costs to inspect programs and communication costs with volunteers.
Volunteer Program Fee – ABV donation fund, airport pick-up, orientation, program supervision, accommodation and meals during volunteer program period, in-country 24/7 volunteer support and in-country administration costs. As a US Non-Profit Charity Organization all your fees are tax deductible and you can fundraise from our website to pay for the fees.