I know what you're thinking: you? Adventure? Please—between your work, studying, and other responsibilities, you hardly have time for an adventure. At your age, it's more important to focus on your responsibilities than it is to travel willy-nilly, right?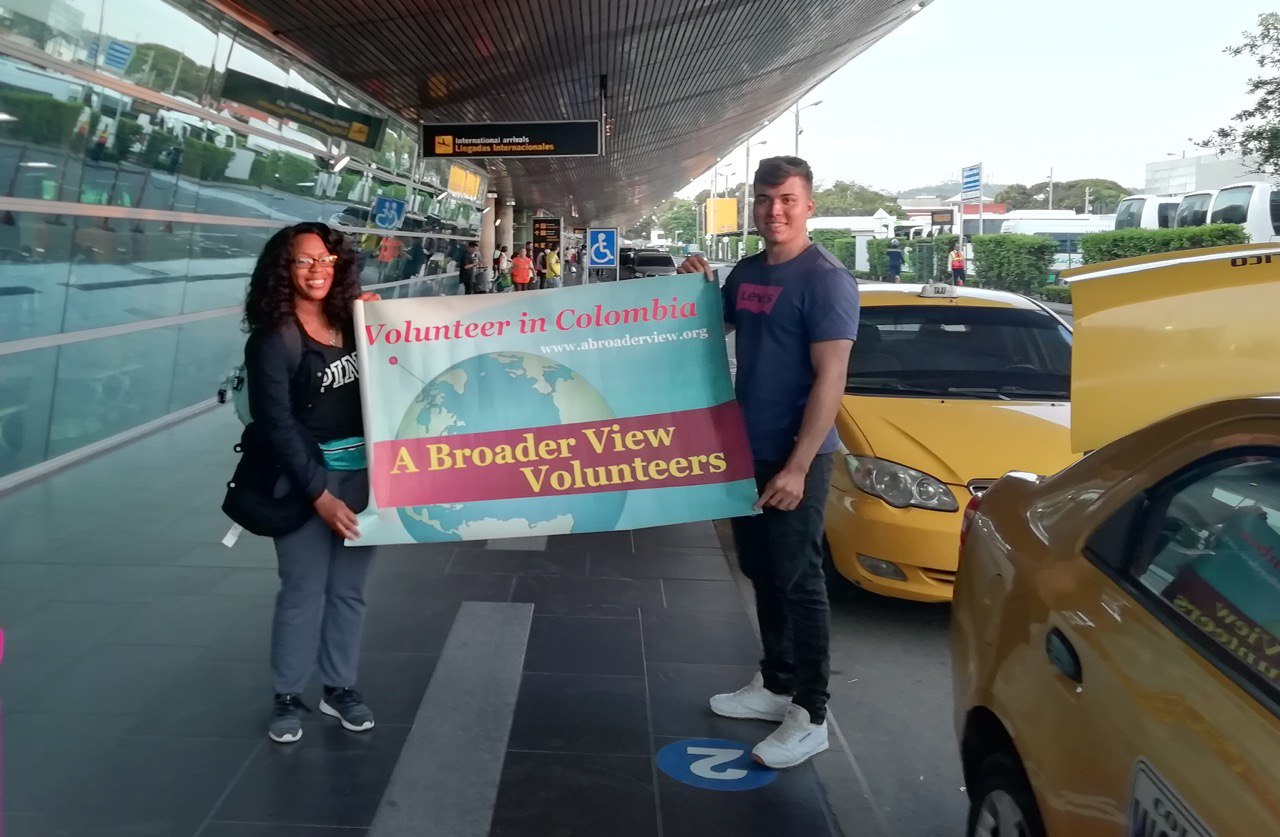 a.- Volunteer Introduction – Colombia Trip
Your next great adventure could be just around the corner.
I know what you're thinking: you? Adventure? Please—between your work, studying, and other responsibilities, you hardly have time for an adventure. At your age, it's more important to focus on your responsibilities than it is to travel willy-nilly, right?
That's what I thought, too. Still, I wasn't happy with the daily humdrum of work life, and so I began looking for ways out. All it took was a quick Internet search to find what I had been looking for all along. There on my screen, in black and white, were the words, "Volunteer in Colombia! Make a difference today!"
Intrigued, I clicked on the website and was taken to a landing page for A Broader View (ABV). The organization, a 501 c(3) nonprofit, advertised immersive volunteer opportunities to Colombia, offering me the chance to visit this far-flung South American nation while also doing something of high responsibility.
I was thrilled. It took only a few minutes to apply and only a few weeks until my trip was set up. After months of solid working and feeling trapped in the confines of my boring life, I was off to what would ultimately become the greatest adventure of my life.
In this piece, I'd like to tell you a bit about my time with ABV and show you in great detail why my volunteer experience in Colombia was without a doubt the best trip of my life. Keep reading to find out why you might love to take part in this trip, too!
b.- About Abroaderview Volunteers:
Before we jump into why I loved my time with ABV, let me first give you a bit of background on who ABV is and what they stand for. Started in 2007, the organization is a nonprofit charity that works in a plethora of nations worldwide to help bring about rising standards of living and facilitate more opportunities for disadvantaged men, women, and children around the world.
Since its inception, ABV has helped raise over 3.5 million dollars for disadvantaged individuals worldwide. As such, it has been consistently ranked as one of the top volunteer organizations in the world. I was instantly attracted to ABV's mission to help raise up the poor and provide long-term solutions to real problems that hold down individuals in the second and third worlds.
ABV works with volunteers from around the world to make sure that those in need get the help that they deserve. I, for one, am proud that I was able to join the ABV team and help leave my mark on the world. If you're interested in doing the same, make sure to check out why I loved working with ABV in Colombia below. In doing so, you'll find out why ABV is by far your best option for international volunteering!
c.- Why I Loved ABV in Colombia
With all this being said, let's cut straight to the chase. There are a number of reasons why I loved my time in Colombia with ABV. Let's take a brief look at just a few of these reasons so that you can know better what to expect if you ever decide to volunteer in Cartagena with the ABV program:
1.- Volunteer Training and Orientation
This one's huge. Whenever you go abroad—especially to do work of any kind—you want to make sure you know what you're doing. Working in a foreign nation can be tense at first, and, if you're like most people, perhaps a bit nerve-wracking. That's why it's important that you have some type of training orientation so that you get a feel for the place you'll be working and a good understanding of the job you will do.
Fortunately, I found the A Broader View team to be among the best I've ever worked with. Before I ever left the United States, I was sent a packet of information regarding my upcoming Colombia Trip. The packet allowed me to get a feel for the type of day I would experience and some of the things I could expect working with ABV.
Once I arrived in Colombia, I was met by my wonderful coordinators, who picked me up from the airport and brought me to the place where I would be doing my homestay. They also showed me how to call back home so that I could let my family know I was safe. The next day, I followed them to an orientation period, where they showed me around Cartagena, gave me a tour of my workplace, introduced me to my fellow volunteers, and patiently showed me the type of work I would be doing. This orientation period truly helped me get a feel for my job and made me feel more than prepared.
2.- Quality, friendly Accommodation
My accommodations were also great. As an ABV volunteer, I had the option of doing a homestay with a local family or living with other volunteers at a guest house. I chose the former and had a truly amazing time. The host family I stayed with was nothing short of fantastic, helping me learn more about the customs of Colombia and introducing me to a number of traditional foods that I wouldn't have otherwise been able to try.
My accommodations were very close to my worksite, which meant I could travel quickly and safely to and from work every day. This allowed me to save time commuting and really maximize both the tie I had to help local citizens and explore the city in my free time. It also meant that I didn't have to shell out tons of money in transportation fees (and instead could save the money I had collected for what I really wanted).
As an ABV volunteer, you can be sure that you will be placed in quality accommodations that will make your time in Colombia even more special! If you're worried about this (as I was) I can guarantee you, there's absolutely nothing to stress over when it comes to your living situation with ABV.
3.- Spanish Language Immersion
Here's something I never really expected: with ABV, you will receive language immersion classes so that you can better understand the native language of your destination country. As someone who had learned a bit of Spanish in high school but had never really pursued it seriously, I was slightly worried that I wouldn't be able to communicate well with individuals once I got to Cartagena. Fortunately, I was able to enroll in language immersion classes, which are offered every day and are designed for both beginner and intermediate students alike.
Through these classes, I was able to regain a basic understanding of Spanish and actually take my ability to a level it had never really been. Of course, this made my volunteer work easier. Though I'm still not an expert, I am functionally fluent thanks to ABV's dedication to train their volunteers and my own persistence to put this knowledge to the test while volunteering.
If you don't want to take these classes, keep in mind that language immersion is optional. If you already know Spanish or simply wish to channel your energies elsewhere, you can certainly do that. One of the best things about ABV is the freedom it allows you to make your trip customized to you.
4.- Convenient Volunteering Hours
Another thing I loved were the convenient work hours offered by ABV. Though I came to Cartagena to volunteer, I ended up with several free hours where I was able to explore the city, meet new people, and really enjoy my vacation. On a typical day, I worked from 8:30 AM to 2:00 PM and took language classes/did afternoon volunteer work until 5:00 PM. This left tons of time for me to actually go out and see what Colombia was all about.
What this means is that volunteering with ABV provides you with the ultimate work-life balance. Of course, you will spend a lot of time volunteering and helping children and individuals in the local community, but you'll be surprised at just how much free time you have to explore the city and see true Colombian life firsthand. In other words, it's not all work and no play. Think of it as a more rewarding and (more fun!) vacation.
With the work hours provided by ABV, you'll have time to do your own thing. What's more, you won't be monitored constantly, meaning you'll have time to get out and see what you really want to see. I was impressed by how flexible the program was, and I'm sure you will be too! The only thing you'll want to keep in mind is that you'll be expected to follow a Sunday-Thursday 9:30 PM curfew and a Friday-Saturday 12 AM curfew. Even if you don't like the sound of curfews, take it from someone who's been there: it's more time than you think!
5.- 24/7 Constant Support
Whether you're going for one week or eight, you can count on the A Broader View staff to give you constant support. Coordinators Milena S. and Library M. are always available on call to answer any questions that you may have. In other words, there's never any reason to feel worried or stressed out. On top of this, you'll have a volunteer staff nearby who ae ready to help you with any issues you may encounter as you work in Cartagena.
With A Broader View, you'll have 24/7 telephone access so that you can make calls at any time, even in times of emergency. What's more, you'll have the comfort of Internet access just about anywhere you go. For this reason, you will find it easy to keep in contact with your coordinators, local staff, other volunteers, and your family back home.
Whenever I encountered a problem during my stay in Colombia (which, fortunately, was not too often), I felt secure knowing that the local staff could certainly take care of it. The staff in Colombia is well-versed on a variety of needs and are patient and positive in helping volunteers like you and me with anything we might need. Because of their tireless dedication, you will be able to enjoy your trip to the utmost!
6.- Cartagena, Colombia
Where to begin with Cartagena? The city might not be the capital of Colombia, but don't let that fool you: there's plenty to do! Without a doubt my favorite part of the city were the amazing beaches that are located just minutes from downtown. Enjoy all your favorite water activities, such as swimming, snorkeling, diving, and more! As a kind of beach fanatic, I admit I probably spent a little too much time at the beach. Still, I made time to check out some other Cartagena staples that you'll definitely want to check out, too!
Do you consider yourself a history buff? Make sure to check out Castillo de San Felipe de Barajas, a 15th-century castle that still towers above a stunning Cartagena landscape. Tours are available depending on your schedule, but even seeing this landmark from a distance is enough to give you chills. You'll also want to check out the Palace of Inquisition. Built in 1770, this iconic landmark now serves as an historical museum that houses some of the nation's most important historical artifacts.
Want to do something really special? Take a boat out and visit nearby islands. While you're at it, look at some of the amazing natural coral reefs that have stood for centuries and serve as a testament to the natural beauty surrounding Cartagena. Whatever you choose to do in your free time, you're absolutely guaranteed to love the sights and sounds of Cartagena! The city boasts some of the best landmarks, sights, and food in the region, so one thing is for sure: you won't ever be bored (and you most likely won't ever want to leave!).
7.- Rewarding Opportunities
It's this simple: I count my time volunteering with A Broader View as one of the things I'm most proud of in my life. Why? Because I witnessed firsthand the faces of the children I helped light up as I and my fellow volunteers helped them. I can truly say that my time with A Broader View was unlike any other vacation I've ever taken part in. During my time in Cartagena, I taught in a large orphanage and had the privilege of helping out some of the sweetest children I've ever met. Working with these children taught me the importance of helping out the disadvantaged and giving to those who are less fortunate.
In other words, I loved my time in Colombia because it gave me the opportunity to truly make a difference in the world. For this reason, I'd be happy to do the program again and am certainly considering other A Broader View volunteer programs for the future. By working with A Broader View, I'm sure that you will also experience this sense of pride at having helped make a true difference in the world. Make your next vacation noble by joining with one of the world's most successful charities in helping disadvantaged women and children find solutions to their problems and giving them a way to move more confidently into the future.
8.- Friendships while Abroad
I walked into my volunteer experience with A Broader View excited but slightly nervous. After all, I was going to a foreign country where I knew no one and only spoke a bit of the native language. In most cases, that's not exactly a recipe for success, but with the great friendships I made with the local volunteer staff and children at the Cartagena orphanage where I worked, I soon felt more at home than I ever could have imagined. It didn't take long to bond with my fellow volunteers, as we spent a lot of time together after work. Soon, we began to feel like old friends.
Your fellow volunteers make the ultimate travel buddies! If you're nervous about experiencing life in a foreign country or just don't want to travel alone, you can bet that you your fellow volunteers will be there to make your experience ten times better. Truly, one of the most bittersweet moments of having to leave Cartagena was leaving behind my coworkers, who had become in a short space of time some of the dearest friends I've ever met.
By coming into your volunteer opportunity with the right mindset, you'll be able to make life-long friendships that won't just make your time in Colombia easier but will also give you long-term meaningful relationships that will enrich your life even after you've left Cartagena.
9.- Gap Year Security
During orientation and throughout my trip in Colombia Cartagena, I never felt unsafe. Though many of ABV's programs operate in disadvantaged areas, I never had the sense that I was in danger. That's because ABV programs are strategically located in safe zones where you can enjoy higher levels of security during your stay. What's more, with constant phone and Wi-Fi access, you'll be able to contact your staff or any local authorities in case of an emergency. In other words, you can expect to remain safe and sound during your ABV adventure.
A key part of this is sticking to the curfew that your program gives you. By doing so, you can help ensure your safety. For my part, I was able to enjoy my time in Cartagena without any incident. If you're also looking to check out this amazing port city, you're in luck! The region is a hub for travelers, making it one of the safest spots in Colombia Cartagena. With A Broader View, you can maintain even more confidence in your security. So don't hesitate about signing up and enjoying the volunteer experience of your life!
10.- How to Volunteer?
ABV makes international volunteering easy. In order to start, simply visit the ABV website and click on the program of your choice. You'll have the option to choose from a variety of programs in a variety of countries. Once you find something interesting, you simply sign up for it and wait for instructions.
Depending on where you're headed, you may be required to obtain a special type of visa. Your ABV coordinator will let you know specifically which documents you must submit and what fees you will be required to pay. With constant support throughout, you'll have everything you need to start your program in no time! Your coordinator will take care of all the logistics so all you have to do is focus on y our upcoming trip.
Because you will build a relationship with your coordinator, you'll find that the application process is smooth, easy, and simple. With that being said, there's no reason not to start your own ABV adventure today! Like I am, you'll be glad that you did!
11.- The Bottom Line
I'll never forget my time in Cartagena, Colombia with A Broader View. During my eight weeks with the program, I was able to make a noticeable impact on the lives of disadvantaged children, form long-term friendships, and get an intimate picture of one of the most beautiful port cities in the world. If you're looking to break the humdrum of your life and do something meaningful with your existence, I cannot recommend A Broader View enough. The organization is one of the top leaders in providing safe and memorable volunteer trips abroad.
My time with A Broader View changed my perspective and helped foster a giving spirit I keep with me today. If you're looking to experience this as well and make a difference in the lives of women and children who need your help, it's time that you also signed up with A Broader View. I can guarantee that you'll love your experience just as much as I did! And when it's all over, you'll find yourself wanting to go back again… and again.
So don't wait! Sign up with A Broader View today to start your next journey!