Volunteer Name: Mattie Webb
Project Location: La Serena, Chile
Volunteered at: Jardin Infantil y Sala Cuna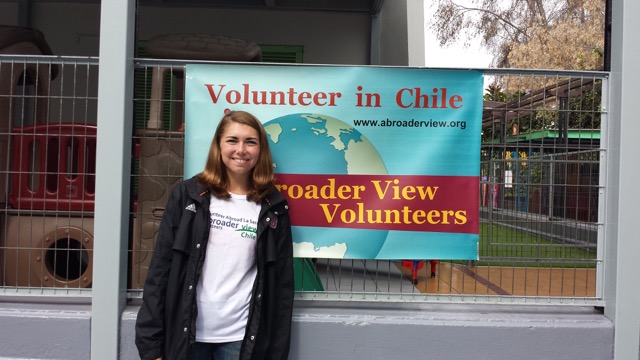 1- How was the local ABV Coordinator/staff and the support provided in country?
The support was great. The coordinator was my host mother, Vilma. She had the challenging job of fulfilling coordinator and host responsibilities and did so exceptionally.  Upon arrival, Vilma and my Spanish teacher, Tania, greeted me at the La Serena airport. From there on out they both provided support and went out of their way to make me feel comfortable. Vilma only speaks Spanish but does so with great patience and makes it very comprehensive for a non-native speaker. I really appreciated her patience.
2- What was the most surprising thing you experienced?
Program: My co-workers were surprisingly flexible. I thought that I would have to do very specific and ordered lesson plans but instead I was able to create my own.  The walk to work was quite a far walk; however, I enjoyed getting up and exploring the town every morning.   
Host Family: The house was really cold. I did not expect there to be no heat. I do understand, however, that this is a cultural norm and that it would be financially absurd to have a heating system in La Serena.  This is less of a complaint and more of an overall shock to the system.  On the other hand, I was pleasantly surprised at how comfortable the home was. Vilma kept it spotless!    
Country: Very few speak English. I was especially shocked to find street dogs. Many were without an owner. While this may be a norm for Chile, it was alarming to me.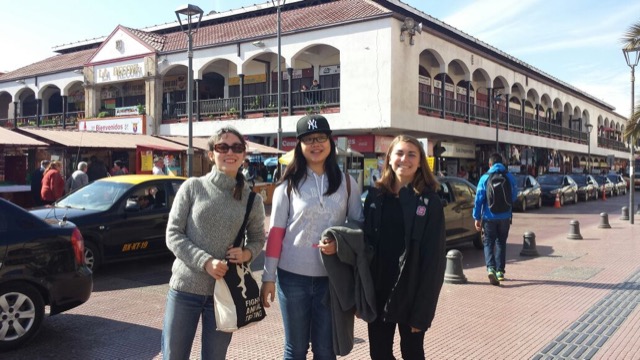 3-What was the most challenging thing you experienced?
Program: There were a number of challenges but I really enjoyed tackling them. The children knew very little English and my co-workers knew even less. In order to effectively teach, I had to make sure I had a strong grasp of the Spanish language. Making English and Spanish comprehensive for a young group of 3-5 year olds was challenging but I learned so much because of it.   
Host family: The language barrier was a challenge because my Spanish speaking skills were not in great shape when I arrived. However, with practice and immersion in the language, my Spanish improved greatly! I really enjoyed the practice and being forced to find out how to communicate effectively. I am thankful for the language barrier but it was certainly the greatest challenge.
Country: I am an avid runner and collegiate athlete. It was hard (at first) to find places to run.  However, by the second week I had found reliable and safe places to run. Another challenge was in basic communication at different stores, etc. The different dialects were hard for me to comprehend but this made the immersion experience much better!
4-Any tips for future volunteers…. (Clothing, travel, personal items, donations)
- The weather predicted for each day on weather apps is nearly always wrong. It usually did not get as warm as it said it would. I did not pack enough winter clothes. The majority of buildings do not have heating so it is actually quite cold at night. I would be sure to pack a hat, scarf, and gloves.
-The Santiago airport is very confusing and hard to navigate if you are not fluent in Spanish. There are not a lot of signs. If you need Wi-Fi go to the Starbucks (past security) and ask for the password.
-If you are from the US, your plug-in electronics will not work here. You will need an adaptor. My host family had one so I was okay but it is something to be cognizant of. In the orientation guide in your ABV account it explains this issue with the adaptor and you should buy one before going to Chile.
-The host family charges money for laundry service as stated in the orientation guide. Although they have a washer/dryer unit in-house, they will expect you to pay 2,000 mil for a load (3-4US$). Therefore, I would recommend packing a lot of clothes so that you only have to do laundry sparingly.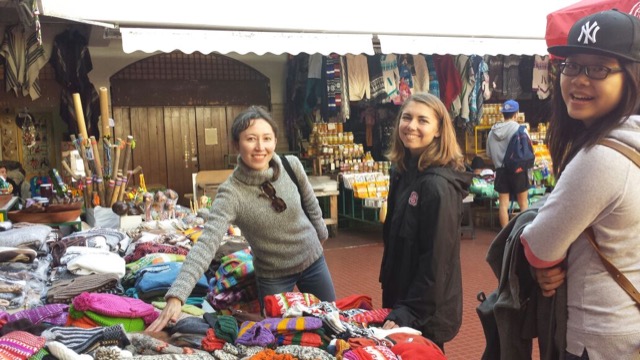 5.1- Other things volunteers should know before coming here: (that's not in the orientation guide)
a. Once you arrive in Santiago you will need to get in line to get your passport stamped. This can take a while. After that you need to find your checked baggage and bring it, along with your carry-ons, through customs. This, again, can take a long time. You may have to print your boarding pass to La Serena. Once you get all of that taken care of, you get in line (again…) to go through airport security. This process took me a good two hours. I would make sure that your flight to La Serena is at least three hours after you land in Santiago, if not more.
b. Be aware that street dogs are very common and line the streets.
c. Santiago is a fun and worthwhile weekend trip. I would highly recommend it for future volunteers because it is a great compliment to the small-town vibe of La Serena.
d.You will need money for meals on the weekends if you choose to travel. Additionally, bus fares can be a heavy cost. I would bring more than what the orientation guide recommends IF you plan to go on weekend excursions. Some other additional costs not mentioned on the guide include: laundry (host families will charge you), groceries (if you so desire additional food), and weekend excursion costs (e.g. hostel/hotel fees, bus fares, meals, tours).
ABV: all this information is stated in our website and in the orientation guide.
6. Personal paragraph about the experience (ABV Program Testimonial):
This was my first trip abroad and Abroaderview helped make it a memorable experience. Vilma, my host mother, did all that she could to make sure that I was safe and secure, enjoying my stay, and learning about the beautiful language and culture of Chile. Spanish immersion is a challenge but it forces you to truly learn and appreciate another's culture. My language skills improved more in two weeks in La Serena than they did in five years of school in the US. The country is beautiful and the opportunity to teach and make a huge difference in the lives of others cannot be traded. It takes some sacrifice but the reward of touching others makes it incredibly worthwhile. I made the most of my trip by exploring every caveat of La Serena and Santiago. I left little to be discovered. Upon doing so, I realized just how much I have taken for granted in my own life. Early in the trip I was nervous to go on runs around town. Once I got comfortable I took it upon myself to use running as an outlet to truly see the town and to interact with others as I passed, always offering a smile or wave. While a trip abroad is always an enriching experience, a trip that involves cultural immersion, intensive language training, and rewarding volunteer work in addition to exotic sightseeing is the best possible experience available. I will highly recommend this program to my fellow colleagues. My advice would be to enjoy every minute and truly embrace the opportunity to learn about another culture and lifestyle.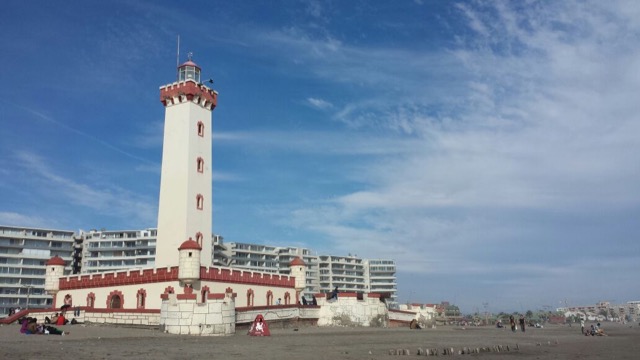 7. How would you describe your accommodation, meals, security, friendliness, and quality to others?
The accommodation was very comfortable. Vilma always prepared meals for us. She had breakfast ready every morning, packed our lunches, and cooked an authentic Chilean dinner every night. The friendliness of Vilma and the host family deserves five stars.  In general, Chilenos are sometimes friendly but can be a little impatient when you cannot speak Spanish well. It really just depends on the person. The home is very secure and seems to be in a safe neighborhood. It is up on a hill that overlooks the city. This provides a nice and quite escape.
8. What was you favorite memory of this trip?
Program: The children were absolutely phenomenal! My final day was very bittersweet. I enjoyed seeing the priceless reactions of my children when I gave them cards for "Dia de los Niño's." However, I was so sad to hug and kiss them goodbye. The reward of teaching them is truly unquantifiable. I really hope I can stay in touch with the class and my children.  
Host family: Vilma took us to Santiago one weekend. It was a great experience for all of us! Although my Spanish is not advanced, I talked to her for a good majority of the time. It was great to see how language barriers can be broken and how much one can learn about another's culture. Vilma was an amazing tour guide and showed us all that Santiago has to offer. It was great to be able to bond with my host family while exploring a major cosmopolitan area.
Country: This is a very unique and diverse country. When traveling on the six-hour bus ride to Santiago, I had the pleasure of sitting on the second level, where I could really absorb the beauty of the landscape. In such a small amount of time, I captured photos of dessert, rocky seashores, and bustling cities. It was truly remarkable and a true testament to the diversity of this country. I enjoyed La Serena but really fell in love with Santiago. The vibrant culture and history is remarkable!
9-How was the ABV USA support prior to traveling? (Who helped you, emails, phone calls, chat, how fast did you get an answer? Did you get all of you answers?)
I used the online chat quite frequently. Lori answered all of my questions in rapid fashion. I would have liked to have more follow-up emails between the time when I paid my full dues (approx. 45 days out) and my day of departure for the trip. 
ABV: we send in total 10 emails when you apply until the day you travel, and 2 after you pay the balance of the trip and one email each week while you are in country, volunteers have all the options to communicate with us, and on the chat online as well.
9.1. What do you think about the reservation system online?
I found that it was quite simple. I would have liked to know more about program specifics prior to paying my deposit.  It would also be nice if you can view whether or not other students are registered for your program before you fully sign up and pay. I had someone on my trip but I would prefer to not go alone.
ABV: volunteers can ask any details they want of our programs, read the reviews of our website, we have over 400 pages on our website with details of the programs.
9.2. How did you find Abroaderview website (keywords, search engine, word of mouth, recommended by)
It was recommended to me by a close colleague who works for the Morehead-Cain Foundation at the University of North Carolina at Chapel Hill, Kathleen Hagerty. She informed me that many Morehead-Cain Scholars do a summer trip through A Broader View and found it to be a rewarding experience.
10. Are you willing to speak to other potential ABV volunteers?
Yes


Check more Volunteer Reviews here