Volunteer Name: Kristen Hunter
Project Location: San José Costa Rica
Volunteered at: Orphanage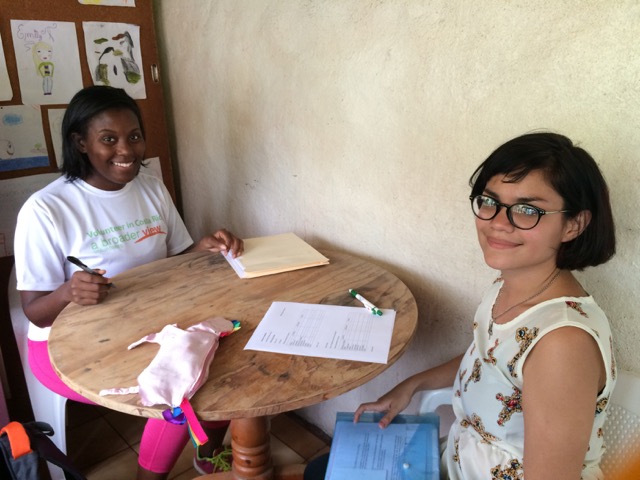 1- How was the local ABV Coordinator/staff and the support provided in-country?
I have gotten a lot of Support from Alexander from advise on local customs, to assistance with tours and advise on how to improve my experience with the service project. Alexander helped me book tours for my time off and provided me transportation to and from the pick-up points. I REALLY appreciated that because I didn't decided what I wanted to do in advance I wanted to speak to the locals and take their suggestions of what to do.  I have been very fortunate to have someone willing to discuss progress at the orphanage and encourage me to share my ideas. Alexander also assisted me with speaking to my host family about my food likes and dislikes. He has also introduced me to many other ABV volunteers, which has helped me make friends to travel with on the weekend.
2- What was the most surprising thing you experienced?
Program: I was very surprised by the level of discipline initially- children would hit, kick or push one another and not received consequences. In my previous experience working with children, you would always punish a child for physical aggression. After my first week I understand a little more that these children may have been modeled aggressive behavior and that the staff picks their battles and they do receive punishment for aggressive behavior but not all the time. It seems they don't give consequences evenly because some are more difficult to deal with (throw tantrums or cry when punished). I was also surprised at how much the children (big and small) crave attention- they typically try to get it in a positive way first – by saying hello or giving a hug but if they are not satisfied with the level of attention on engagement they will act out in a negative way. For example I was feeding one of the babies when the oldest boy came in from school and he came to me and said hello and gave a high-five. I greeted him and continued to feed the baby and he immediately went and chocked one of the younger boys to get my attention. Once I intervened he laughed and started to do it to another boy until I stopped it- the entire time he was laughing- it was a game to him. He achieved his goal of getting my attention regardless of whether it was for a positive or negative reason.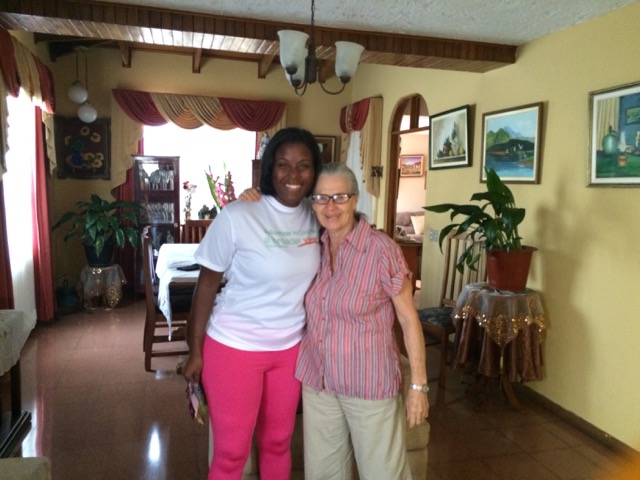 Host Family:
I was surprised at how interested my host family was in where I live. Usually when I travel, people are so eager to tell me about their country and what I should do while I am there that they never ask me about where I live much. They seem to genuinely want to make a connection, which is really nice even though my limited Spanish can make conversation hard they try to engage me. I was surprised that their children live across the street – it isn't very common to see that in the US. We see them at least once a day to say hi.
Country:
I was surprised about the confusion about drinking the water. Initially before I got here everything said never drink the water. My host, Alexander and the other volunteers all say drink the water it is safe. I understand the reason A Broader View recommends airing on the side of caution but I think my host thought I was crazy when I said I couldn't drink the water. Additionally I didn't read anything about not putting toilet tissue in the toilet in Costa Rica. In the orphanage and other buildings I have visited there are a lot of signs saying not to put the toilet tissue in the toilet- to put it in the trashcan. It is a small culture shock coming from the US.
ABV: there was no confusion, we tell all our volunteers not to drink tap water from any of our countries, even if they say its safe, for some people it may be safe for others its not. So be safe and just drink bottle water. Also the CDC recommends not to drink tap water in Costa Rica. And the toilet paper situation we don't find that to be relevant to be added in the program summary.
3- What was the most challenging thing you experienced?
Program: balancing feeling sorry for the children's experiences and making sure they behave well. I don't want to allow them to misbehave- especially for attention but I have grown sympathetic to their quest for attention. I have tried to use positive reinforcement when possible but I get the staff involved with aggressive behavior because I won't tolerate the children hurting each other.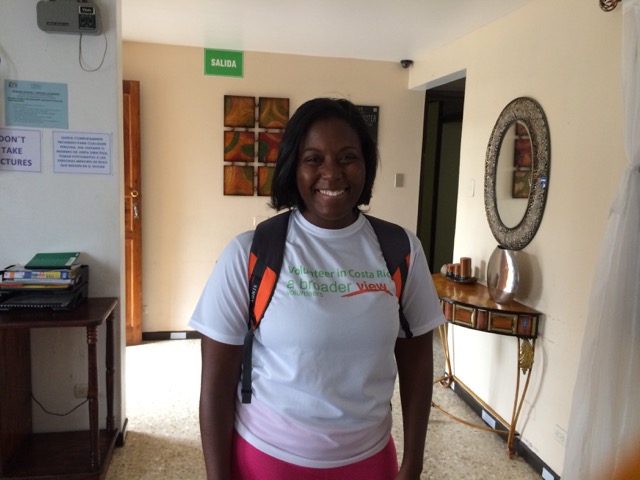 Host Family: not wanting to offend when you don't like the food or making special request. I am not a picky eater and I really expected traditional Costa Rican food but my family has been hosting volunteers a lot and so they make a lot of American food. I don't eat beef and initially they made a lot of beef so I got my coordinator's advise and discussed my likes and dislikes with my host. It has gotten much better. Also not having freedom. I don't have a key to the house and I think they worry about me going out alone so I basically go to work and go back home. No social time in the evenings outside of the house. I was expecting it to be easier to meet up with volunteers in the evening and experience San Jose.
ABV: the coordinator introduced you to other ABV volunteers, the key situation is for safety of the accommodation as well, but all volunteers are allow to go out until the 10pm curfew.
Country: My Spanish is limited. If you had asked me before the trip what my level of Spanish was I would have said intermediate. Coming to Costa Rica has made me feel like a beginner. There are so many words I don't know and it is hard to connect with people when you are struggling for words. I can see that my ability to hear and respond in Spanish has improved in only one week but I am still hoping to be better at expressing myself in Spanish.
4- Any tips for future volunteers… (clothing, travel, personal items, donations)
1. Pack a variety of layers- in the rainy season it goes from hot to cold in moments.  Carry a jacket and an umbrella,
Pack dry shampoo. We have hot water but very low water pressure when using hot water so you might choose to shampoo your hair less frequently. Also my house doesn't have a 3-prong outlet so my blow dryer wouldn't have worked if I brought it.
ABV: electric outlet information is in the orientation guide.
Vitamins – in my facility a lot of the children have a cold and the hygiene instruction is lacking so they don't cover their mouth when they cough and I wipe a lot of dirty noises so I'd suggest making sure to protect yourself from a cold.
Pack study materials for immersion classes. In my imagination I thought we'd be working from some sort of book or guide but we mostly just talk so I suggest a notebook and flashcards so you can study. Also a dictionary¡ I have one on my phone but it is hard to use when there is no Wi-Fi.
ABV: we also recommend volunteers to practice Spanish prior arrival, we also have a course in the ABV account where they can learn basic Spanish. ("Useful links tab")
5.1-Other things volunteers should know before coming here: (that's not in the orientation guide)
a. Don't put toilet paper in the toilet use the trash can
b. The water faucets in the shower are backwards compared to the US- the water is hottest when you first turn it and the more you turn it the colder the water is (in my house)
c. Study the words and phrases related to your work before you come- that'd help the transition. I knew a lot of commands but I found on day one I didn't know how to say 'don't hit' 'don't kick' 'that isn't nice' 'please don't do that' etc. I feel like I would have been more affective immediately knowing some additional phrases and toys names in advance. Most importantly RELAX- I have met many volunteers and all have had challenges with Spanish and not knowing the right words or having difficulty fully expressing themselves. I have been told this is normal. Relax and just try to describe what you are trying to say in other words you know. Everyone has been incredibly patient with me and willing to teach me.
d. For other African American volunteers – negrita does not mean nigger or any offensive term. It is a nice way to say black person. I was not offended by the use but I just thought you might want to tell others just incase they don't know or don't fully understand the context of the use.
6- Personal Paragraph about the experience (ABV Program Testimonial):
I wanted to come volunteer in Costa Rica because I wanted to mix my love for travel with my desire to help people. I wanted an opportunity to learn more about the culture of a country and really experience everyday life and hone my Spanish skills. This experience has really exceeded my expectations. I have met so many wonderful people from all over the world and had lots of opportunity to learn about Costa Rican culture and history. Most importantly, my heart has really been captured by the children we have in the orphanage. They have a fantastic staff and incredible dedication to the children. Once you look past some of the behavior issues you find some of the sweetest children that crave attention and love. Having volunteers in the facility gives the children an opportunity to have one-on-one attention that they would likely have if they were with their family. Additionally it relieves the staff so they can clean and take a breath- I don't know how they can commit 24 hours a day because I am exhausted after working for like 6-7 hours. This has been a great experience for me. While my Spanish isn't as good as I would have hoped YET (I am only one week into a 2 week stay) but I see a real improvement. I feel blessed to have this experience.
7- How would you describe your accommodation, meals, security, friendliness, quality others:
Costa Rica is very safe. I don't feel afraid to walk anywhere. People are friendly and helpful. Sometimes people are nervous to talk too much to me because my Spanish is limited but if I try to communicate it is reciprocated 100% people are very patient and understanding with my limited Spanish. One thing to note is that hot water in my home and in the orphanage (and the daycare I take Spanish lessons at) is only in the showers. So when you wash your hands or dishes it is with cold or tepid water. I know coming from the USA that can be a bit of a culture shock.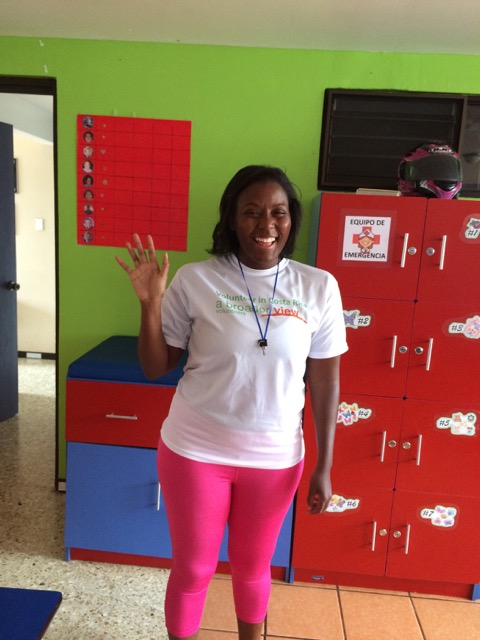 As far as my accommodations I have my own room with a full size bed and a desk. There is a lot of closet space and a large window that ventilates the room. There is no air conditioning but the house is typically cool. There are 3 other bedrooms upstairs. One has its own bathroom and I share a hallway bathroom with the other 3 rooms. The house has a total of 5 bedrooms and is very spacious.  I have Wi-Fi access in my room but not in the rest of the house (it is from the son's house across the street). A difference from the USA is the garage is in the house and the ceiling is not enclosed.
I am given 3 meals a day. Typically I am offered a variety of sides that are starches. For example today for lunch there was salad, rice, pasta, chicken, and pork. Typically there are not 2 meats but many more carbs than I am used to and a lot less vegetables. I find myself asking for fruit and vegetables. I am also offered a coffee or dessert after lunch and dinner. 
8- What was your favorite memory of this trip?
Program: when I was leaving the orphanage last Friday I went to say goodbye to the children and one of them grabbed my legs and said don't go. It was so sweet¡
Host Family: My host's son put together a little party for me on my first Friday in Costa Rica. He bought beer, served a typical snack, played music and sang karaoke.
Country: I got the opportunity to go to the Baldi Springs on the weekend and got the best massage ever¡ very relaxing and enjoyable.
9- How was the ABV USA support prior traveling?
Sarah answered all my emails. I traveled on short notice because I needed my company to approve a vacation roll over. Everyone was great to let me know what was needed and answer my questions quickly.  Sometimes the response was so quick I'd get 2 emails one from Lynn and one from Sarah. Great support. The only issue was the host family in my profile was not the one I am staying with. I printed the information a couple of weeks before my trip so I am not sure if it was changed in my profile but the printout and my current family is not a match. Also the email I received the day before I left said I was staying in a hostel the first night but I went directly to my host.
ABV: the hostel for the first night is just in case volunteers arrive late in the night, this way we don't bother the host families and then you go next day to your final accommodations, if you arrive early in the day you go directly to the host family. the coordinator moved your host family at the last moment, so you could stay closer to the program.
9.1- Who did you find Abroaderview website
My friend Tiara Britton went on a trip to Africa earlier this year and she recommended the organization.
10 – Are you willing to speak to other potential ABV volunteers?
YES. I'd be happy to share my experience.