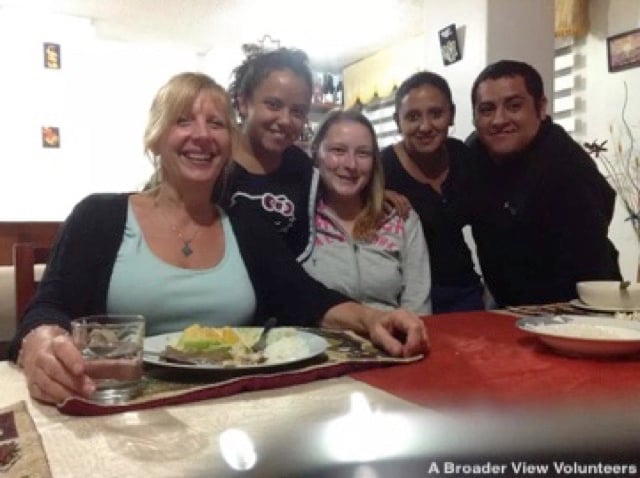 1- How was the local ABV Coordinator/staff and the support provided in-country?
German was at the airport to greet me, and has been available every step of the way since.  I had a problem with my back and he was there to help.  He helped me with my phone.  He accompanied us up to the project and showed us how to get there.  He took me to the immigration police to register.  Almost every time he sees us, he reminds us we can call him at any time should we need anything.  Monika provided the orientation and has held a volunteer meeting.  The support and the activities provided have been stupendous.
2- What was the most surprising thing you experienced?
Name 2 Program: The climb up the hill to the day care center!  How many activities there are at the school.
Host Family: How incredibly welcoming they have been. How many cousins they have! :)
Country: The exquisite beauty. How the grocery stores in Quito have almost everything you could want.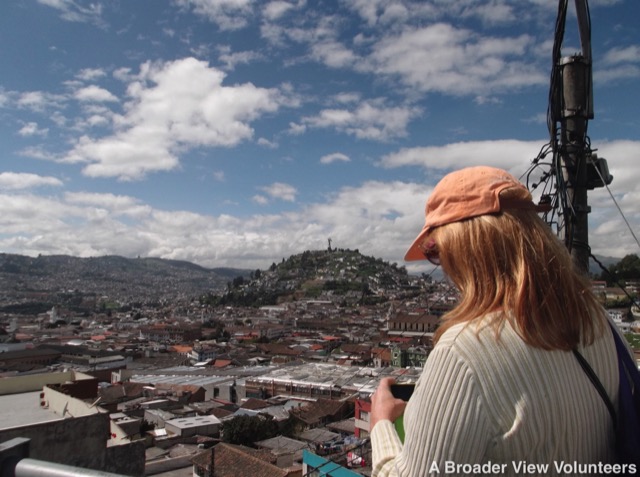 3- What was the most challenging thing you experienced?
Program: Seeing the conditions the children live in.  I knew the poverty would be hard to see -- and it is -- but the center provides an invaluable service.
Host Family: It was difficult telling them that I wasn't sleeping because my back was so sore from the mattress.  I didn't want to insult what they were offering but I knew I had to tell them because I was in such pain.  My "host mother" was wonderful about it and she helped me solve the problem.  But it was surprisingly difficult to be totally honest for fear of hurting or insulting such a fabulous family.
Country: The pollution from the trucks and buses in Quito. The black exhaust envelopes you and settles on and in your body.
4- Any tips for future volunteers… (clothing, travel, personal items, donations)
All this is for Quito.  I don't know what it's like elsewhere:
1. To avoid extra weight in your luggage, do not bring shampoo, etc. (other than 1 travel size).  They have it ALL.  It's a little more expensive than in the States and continental Europe -- but it will save lots of weight.
2. If you normally wear skirts (NOT mini-skirts!), bring a couple.  You will miss not having them for after volunteer hours.
3. Definitely bring layers of clothing. LIGHT layers.
4. Consider at least one light-colored pair of pants.  The sun gets REALLY hot as it burns through black or blue jeans.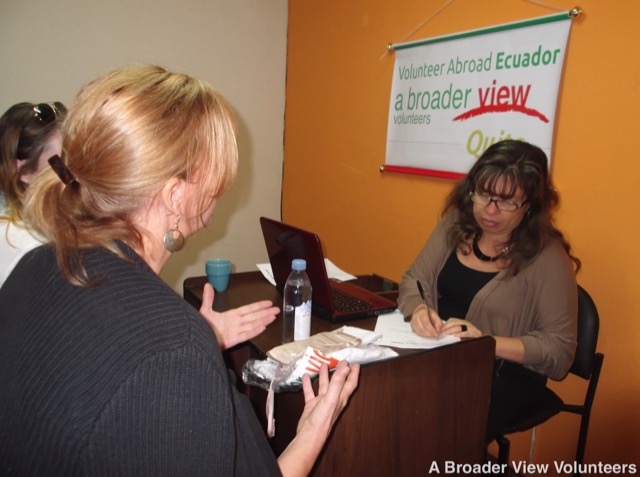 5.1-Other things volunteers should know before coming here: (thats not in the orientation guide)
a. Your iPhone may work with an Ecuadorian SIM card, but it constantly sucks money even when you don't use it.  As it says in the manual, get one from the office here.
b. The pollution from the buses and the trucks in Quito is truly surprising. For BOTH men and women, bring a light cotton or gauze scarf or bandana to cover your nose and mouth when they go by you on the street.  You will thank me.
6- Personal Paragraph about the experience (ABV Program Testimonial):
This will not be one paragraph!!
This has been a wonderful experience so far.  Before coming to Ecuador, I had traveled extensively and lived 25 years in foreign countries.  Culture shock still hit me here (and, no coincidence, it came with my getting sick).  I knew what it was; I recognized it; and I still couldn't escape it, but had to work through it.  The support from the organization here is excellent and knowing it was there, helped significantly. 

My host family is incredibly welcoming, understanding and fun.  I am included in the family, and they make a real effort to help me with my Spanish.  There is a young French volunteer in the same family.  She, too, is wonderful.  It's wonderful having another volunteer here.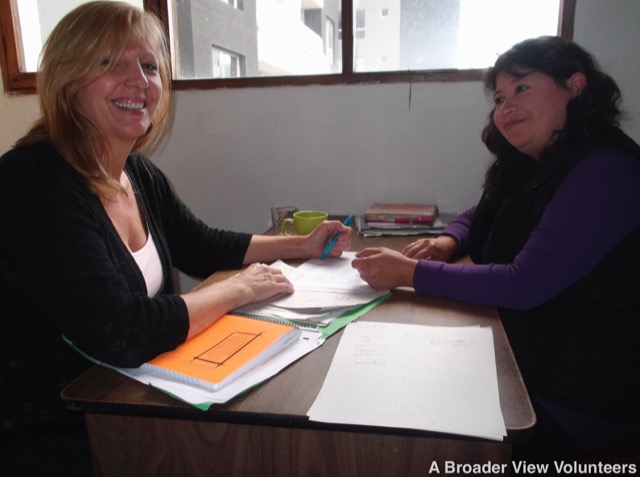 The volunteer project is, I won't lie, challenging (isn't that part of the reason I came? 
Yes), AND rewarding. I work with the 2 year olds. The women who take care of the children are very good with them, and are teaching them as well as playing with them. What is challenging is seeing the conditions in which many of them live, knowing many are receiving help from social workers for everything from what to feed their children to non-violent ways to discipline them -- and the fact that they ARE receiving help is the good news.  

And what makes it wonderful?  The children!  They are adorable!  When I am leaving, and they are just going down for their nap, and I say, "Chao, niños!  Hasta mañana!"  And 8-11 hands start waiving from their beds, and they all say, "Chao, Bálbala! Ciao, Bálbala!" (they can't pronounce their r's yet, thus the heart-warming pronunciation of my name).

My Spanish teacher Sandra is outstanding.  I love the way she teaches, and my Spanish has improved a lot in just 3 1/2 weeks.  She is patient as I destroy her native language, and as my eyes cross from exhaustion (physical, from volunteering every morning; mental, from the 6 new verb tenses we've gone over! :) ).  She pushes me, but only in an encouraging way.  Many of the other students I know feel the same way about their teachers.

The activities at the school are fun, informative, and affordable.  I look forward to at least one activity every week (there are several, but I don't always have the energy to participate!).
7- How would you describe your accommodation, meals, security, friendliness, quality others:
The apartment where I live is more than adequate, and it's a warm, welcoming place.  It's not far from school (15 minute walk); the bus for the volunteer project stops right by it; it's safe.  The apartment is neat and has the necessary amenities (hot water, shower, wifi!) .  I have my own room, as does the other volunteer who lives here, too.  We are served 3 solid meals a day.  We all eat dinner together which I love.  It helps our Spanish too!  The food here is somewhat different than I'm used to, but again it's part of the experience.  Our host "mother" is a really good cook!  "Mother" is in quotes because she is over 20 years my junior.  The family makes the stay here truly wonderful.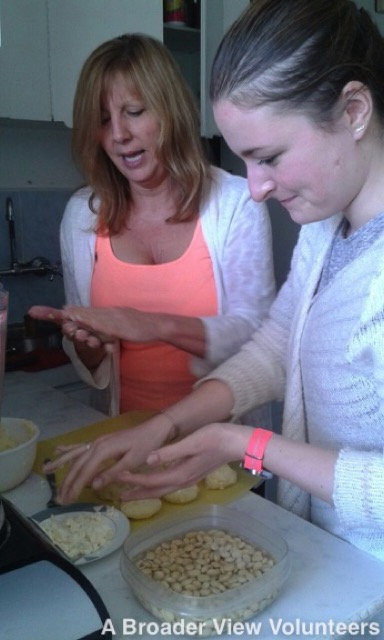 8- What was your favorite memory of this trip?: SO FAR!
Program:  The children at the program waiving to me as I leave the center, saying, "Chao, Bálbala!"  My wonderful Spanish teacher Sandra.
Host Family: Sitting around the dinner table, with everyone laughing at my attempts at Spanish (including me)! :)
Country: Otavalo -- the charm of the town, the stunning surroundings, the incredible wares at the market, the beauty of the indigenous people there, the crispness and cleanness of the air, the colors.
9- How was the ABV USA support prior traveling? (who helped you, emails, phone calls, chat online, how fast did you got an answer, did you got all your answers)

FABULOUS!!!
Sarah was FANTASTIC!  She, like German here in Ecuador, always got back to me within hours of an inquiry; she reassured me when I would get anxious over something totally unnecessary to get anxious about; she was informative and always helpful.  I can't say enough about both Sarah in the US and German here in Quito!
9.1- What do you think about the reservation system online?
I spoke so much with Sarah at ABV, that I don't remember the online reservation service.  :-/  I'm sure it was fine since I don't remember it being a problem! :)
9.2- How did you locate the Abroaderview website (keywords, search engine, word mouth to mouth, recommended by .., other)
I googled "Volunteering in Latin America" and after searching for a bit came upon a site that rated the different volunteer organizations (http://www.abroadreviews.com/).  I knew I was looking for a non-profit volunteer organization with programs in Latin America, offering Spanish and homestays.  I wanted transparency, flexibility (of both arrival and departure dates, program length and volunteer projects), exemplary customer service both before departure and during the program.  ABV and one other organization I was interested in, had top scores on that site by a large margin (ABV had 9.8 out of 10 points with 200 reviews).  ABV was the more reasonable in price of those two, and I got a better feeling about it when reading both the website and the reviews.  I absolutely made the right choice by choosing ABV!
10 – Are you willing to speak to other potential ABV volunteers?
Yes!


Check more Volunteer Reviews here