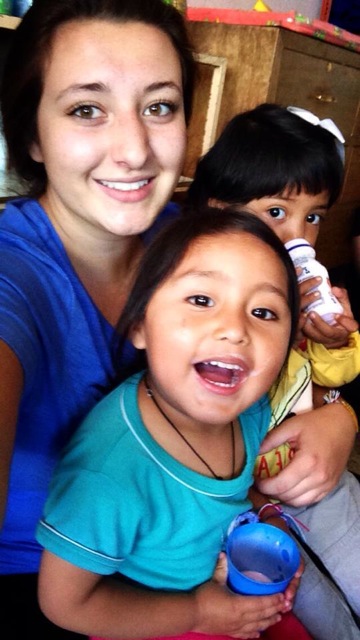 1- How was the local ABV Coordinator and the support provided in-country?
Laura is an incredible woman. As the local coordinator in Quito for A Broader View, she sends volunteers all over the city to different projects as well as being a host mom and having two teenage children. Not only is she extremely pleasant and sweet, she is also very patient and knowledgeable about volunteer work and is accustomed to having people from all over the world at all different levels of Spanish!
2- What was the most surprising thing you experienced?
There have been a few! The first of which I would have to say is the wifi in my host home. The packet prepared me to be internet-free for my entire stay but I am very glad that it wasn't so. I have been able to Skype with my friends and family during this life-changing experience. The second most surprising thing I would have to say was how quickly I picked up the language. Although I had taken a few classes in school, I was nowhere near fluent or where I am now. Immersion really is the best way to learn! And having a host family that doesn't mind my struggling every now and then made it that much easier.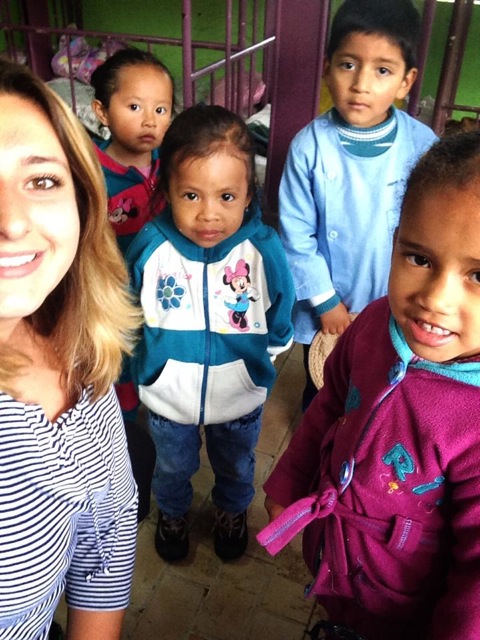 3- What was most difficult to experience?
The most difficult thing I experienced here was the change in culture. Not only did I have to be cautious about where I was at what time and who I was with, but I also experienced the aggressiveness of Ecuadorean men first hand. Driving style is also very different, everything is cheaper, and the project I worked at utilized child-disciplining tactics that I was not accustomed to. It was difficult at times not to question the methods used by locals but it got easier as the trip went on.
4- Any tips for future volunteers… (Clothing, travel, personal items, donations)
It is always a good idea to fundraise. I used a website called GoFundMe.com and it was very easy and simple, sending all the money right into my bank account! Absolutely bring a bathing suit and normal day clothes because I ended up doing more trips than I anticipated and I wished I had brought more things with me!!
5.1-Other things volunteers should know:
a. Travel. You don't work on the weekends so research what fun things there are to do around where you're staying and do some touristy things! Make this trip memorable and worth your while.
b. TOILET PAPER. Most public bathrooms either don't have it or require that you pay for it so as strange as it sounds… carry some with you at all times. Also, most plumbing can't take toilet paper so there will usually be a garbage for you to dispose of any toilet paper.
c. Bring excessive amounts of coins. It costs $0.25 to ride the bus and around $2-3 for a 10-15 minute taxi ride. You will never have enough change!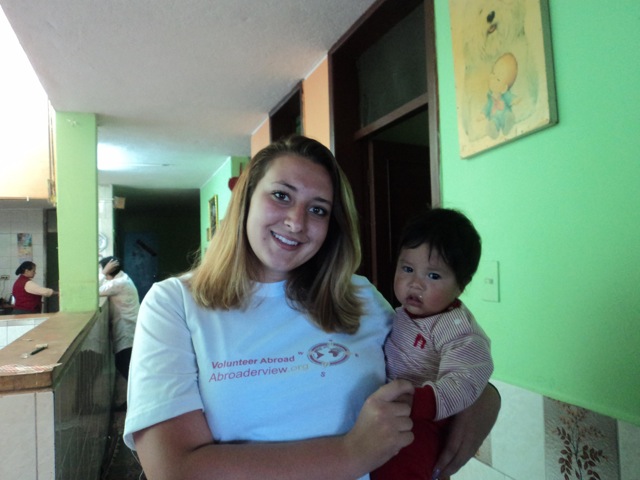 6- Personal Paragraph (ABV Program Testimonial):
After spending six short weeks living with a host family and working at a child care center, my life has been significantly changed by this incredible program. A Broader View made my experience easy, enjoyable, and allowed me to have a significant say in what I did here in Ecuador. After bonding with my host family and making memories that will enlighten me for a lifetime, I can wholeheartedly say that this program is more than incredible. I will be forever thankful for such an enriching experience, and hope that everyone thinking about utilizing this program will recognize how magnificent it was to make a difference in this world.
7- How would you describe your accommodation, meals, security (e: host family, on-site, shared)
My accommodation was more than incredible. I stayed in a very safe apartment with 6 bedrooms and a splendid family with 2 children. We also had a maid/cook who came every weekday to cook, clean, do laundry, etc. She quickly learned what I liked and didn't like to eat, what portions I want and how frequently I wanted my laundry done. Needless to say, my experience was spectacular.
8- What was your favorite memory of this trip?
I would have to say that my favorite memory of this trip would have to be a weekend trip I took with my host family and 4 other volunteers to Quilotoa. We took a family bus and drove for 3 hours to the volcano where we met up with members of the Assembly of Ecuador and proceeded to have lunch in an indigenous town. We then made the short hike to a viewpoint of a volcano that erupted hundreds of years ago and now sported a lagoon in its crate. It is an understatement to say that it literally took my breath away. We went for another hike around part of the lagoon before returning to the car and going for coffee and pastries, yum!
9- How was the ABV USA support prior traveling?
The USA support was very helpful.  The  28-page packet I received significantly helped me prepare. It was very informative and really gave me an accurate idea of what to expect. I had a mix up with my bank and one of my payments didn't go through on time, but the ABV staff was extremely amiable and understanding. Great job!
10 – Are you willing to speak to other potential ABV volunteers?
Absolutely, I would love to help other potential volunteers decide what they want to do and ease their anxieties about volunteering abroad!!


Check more Volunteer Reviews here