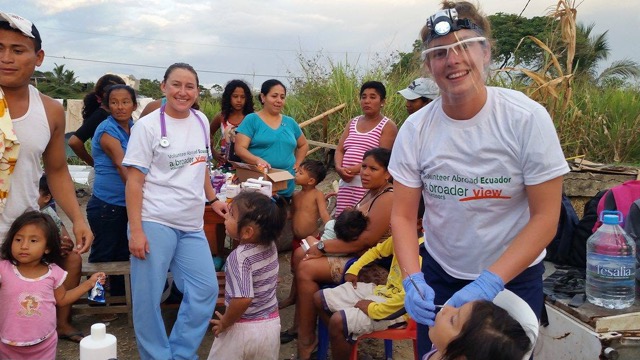 Volunteer Survey A Broader View  -  Ecuador
1- How was the local ABV Coordinator and the support provided in-country?

Good, they gave us an introduction talk with information about the country that was really useful. They also gave us some back ground information about the host family which was interesting to know.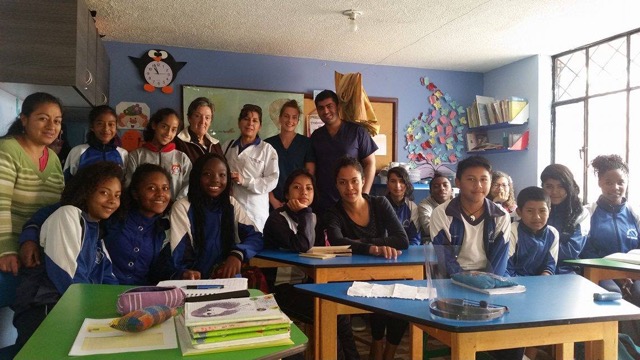 2- What was the most surprising thing you experienced?

There is a lot of poverty in some areas of Ecuador, but I didn't ealise quite how poor they are until I arrived here. Also the lack of access to medical and dental treatment that some people in Ecuador have. Also the size of the Quito amazed me; there are so many high points in the city so you can see the city stretching into the horizon in all directions.


3- What was most difficult to experience?

I visited the epicenter of a recent earthquake. It was really sad to see so many people still living in tents and who had lost everything in the earthquake. Also all of the hospitals and dental clinics had been destroyed in the earthquake so the people could not seek medical and dental attention.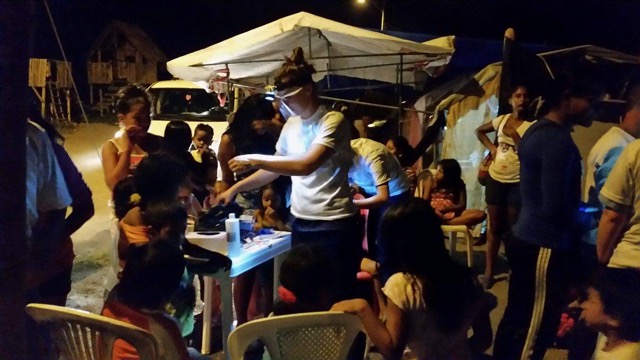 4- Any tips for future volunteers… (Clothing, travel, personal items, donations)

Bring warmer clothes, I expected Ecuador to be quite warn but Quito is so high up the it can actually be quite cold.



5.1-Other things volunteers should know:

a. The host family is so welcoming and really makes you feel at home
b. It is extremely useful to be able to speak Spanish well
c. some people get altitude sickness because Quito is so high up
6- Personal Paragraph (ABV Program Testimonial):

I came here to help people less fortunate than myself and provide dental treatment for them. During stay I went to 2 different schools to teach them how to do oral hygiene and also did a dental screen to see if they had any caries or needed to visit the dentist. I also attended a clinic in a poorer community an hour bus ride from the host family's house. At this clinic I treated patients under the supervision of a qualified dentist. The pateints had a lot of caries at this clinic so there was a lot of endodontic treatments needed. On the Saturday we went to an indigenous community about 2 hours away.  Here again we did oral hygiene and dental screening. Unfortunately we didn't have any dental instruments or a supervising dentist so we could only tell them if they needed to go to the dentist. On the Sunday we got up very early and went to the coast. First of all we stopped at a community to give oral hygiene instruction and dental screening. We then went to one of the towns that was at the epicenter of the earthquake. Here we handed out supplies we had brought with us as many of the people had lost all of their belongings in the earthquake and were living in tents. We also did dental screening and oral hygiene instruction too. A lot of people here were in desperate need of dental treatment but again unfortunately we didn't have the supplies of supervision to carry out any treatment.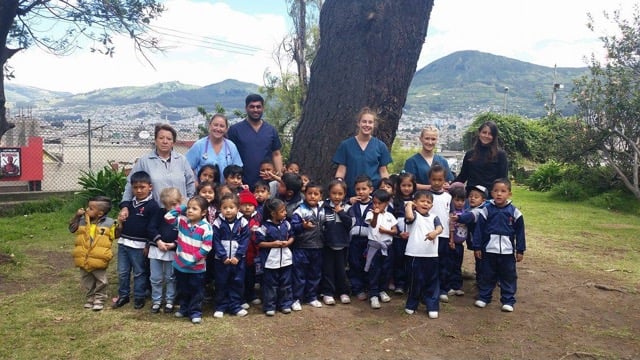 7- How would you describe your accommodation, meals, security (e: host family, on-site, shared)

the meals are good and the apartments feels really safe.

8- What was your favorite memory of this trip?

Going up the Telefonica was my favorite memory. I really like the outdoors and so going up the volcano was amazing. The view of Quito is definitely worth the trip up they cable car. It is quite cold up the top so it was good we dressed warmly.



9- How was the ABV USA support prior traveling?
They were really helpful and answered responses very quickly.
10 – Are you willing to speak to other potential ABV volunteers?

Yes!