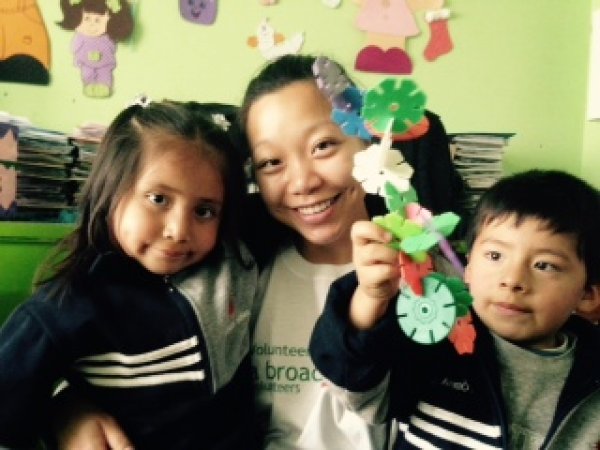 1- How was the local ABV Coordinator and the support provided in-country?
The local ABV Coordinator was more than excellent. She picked me up from the airport, brought me to my orientation along with the school on my first day of work at the project. She made sure I had everything I needed. Her entire family was welcoming and friendly. I always felt safe and prepared for my stay in Ecuador.
2- What was the most surprising thing you experienced?
The most surprising thing I experienced was the weather. When the sun was out it was very hot however it rained a portion of each day. Also, at night it was very cold.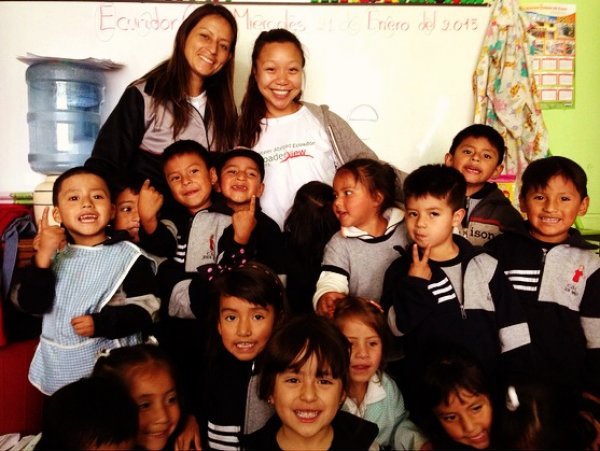 3- What was most difficult to experience?
My first couple of days the most difficult thing to experience was the high altitude. I felt light headed for two days but recovered very quickly after some rest. Aside from the altitude, it was difficult to experience seeing parts of the city that displayed poverty. Many elderly people continue to work very hard for little money.
4- Any tips for future volunteers… (Clothing, travel, personal items, donations)
If you are travelling to Quito I would suggest bringing many layers, an umbrella was one of the essential items I used every day. Also bring a bag to carry around the city with zippers as to keep your personal belongings safe. Make sure to have lots of small change as well. Bring a map of the bus route just in case and bring a handbook for beginners Spanish if you do not know any! Donations are needed at the schools, bring classroom utensils (pencil crayons, pencils, markers, erasers) from home or buy them at local stores.
5- Personal Paragraph (ABV Program Testimonial):
a. If you are visiting Quito the Teleferico is a must see! The gondola brings you up to the top of a mountain where you can see the beautiful city. b. At night there may often be noise, (ie. Dogs barking or car alarms) so if you are a light sleeper bring ear plugs. c. Don't forget to bring reading material for bus rides.
6- How would you describe your accommodation, meals, security (e: host family, on-site, shared)
Thank you ABV for allowing me this memorial experience. I have learned a lot about the Ecuadorian culture. I wish I could have stayed longer however my personal obligations only allowed me one week. I'd also like to thank ABV for being so flexible with the dates in which I flew in and out of the country. Laura, her family and the other volunteers helped me feel like I was at home. I was always comfortable and had everything I needed.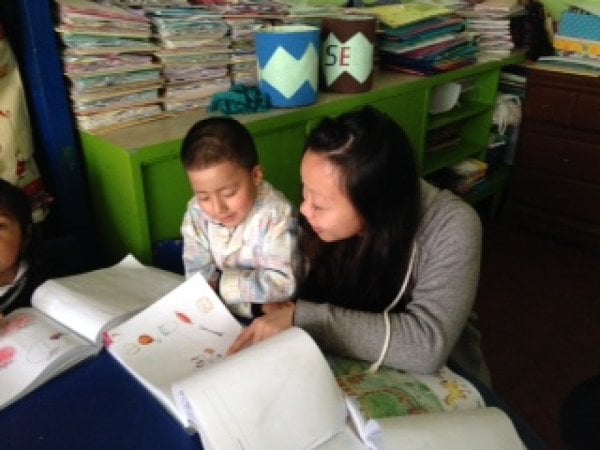 7- What was your favorite memory of this trip?
My accommodations exceeding what I expected by far. The meals included rice, beans, chicken/beef, salad and much more. My apartment had two rooms with two beds in each room. At the time there were no other volunteers staying in that apartment so I had it all to myself. I felt very safe as the building had a concierge and a fob key was needed to go up the elevator. The ABV coordinator, her family and three other volunteers were staying right below me on the third floor.
8- How was the ABV USA support prior traveling?
My favorite memory of the trip were the children. Although I did not know much Spanish, I still succeeded in forming strong relationships with them. They are all so fun loving and adorable. Helping the teacher handle 30 students was tough at times but I looked forward to coming back to the school every day. During those hours I would help them learn how to write out numbers, letters, coloring and singing songs.
9 – Are you willing to speak to other potential ABV volunteers?
ABV USA support prior to traveling was very helpful. They often emailed me with reminders and helpful traveling tips. When I emailed them with questions their response time was very quick. I had also called before my travel date and someone was available over the phone to speak to me immediately.
10 – Are you willing to speak to other potential ABV volunteers?
Absolutely!