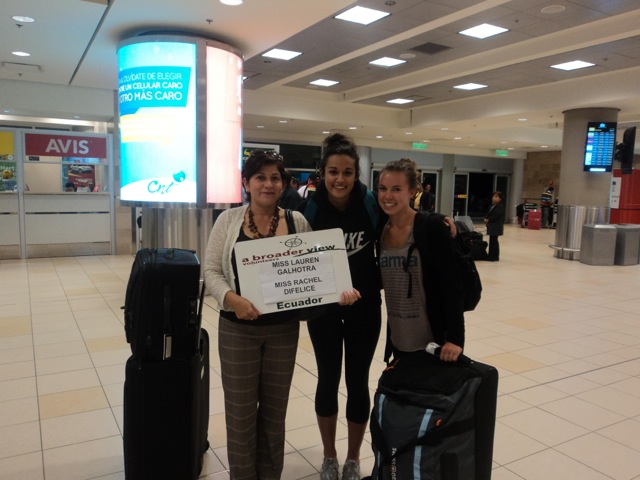 1- How was the local ABV Coordinator and the support provided in-country?

The coordinator was fantastic! We were given directions, shown where the clinic was and what was expected of us.  We had no problem getting to and from the airport.  Safety precautions were explained.  Any needs were always taken care of.
2- What was the most surprising thing you experienced?

I was shocked by the difficulty that the children at the clinic faced.  Special needs children are more difficult to work with than regular children, but it is extremely rewarding.  I was also shocked by how modern Quito was.  It is still a culture shock, but it has more to offer that I initially anticipated.
3- What was most difficult to experience?

The most difficult was seeing and working with the special needs children.  It is difficult to watch the struggle that they face in doing simple tasks.  It really set me back and made me appreciate being able to help.  The children were beautiful and fun to be around.  They need much more help and guidance than other children.

4- Any tips for future volunteers… (Clothing, travel, personal items, donations)
For Quito, pack short sleeves and jeans for your travels.  I found that a cross body bag felt the safest as I travelled.  Scrubs worked perfectly when working with children. 
5.1-Other things volunteers should know:
a. Be prepared to be out of your comfort zone.
b. Have a general background of Spanish.
c. Be open to new things and new customs, things are a little different in Quito.
6- Personal Paragraph (ABV Program Testimonial):
The trip to Quito and volunteering at the clinic was eye opening.  I am so blessed to have had the opportunity to visit a different culture and meet new people.  The clinic and the children touched my heart.  Seeing the everyday struggles that the special needs children face allows for true appreciation for life.  The children were beautiful and lively.   My host family treated me as one and I became good friends with the fellow volunteers.  I travelled Ecuador and saw many beautiful sites such as the equator and the Amazon.  It was a beautiful experience.
7- How would you describe your accommodation, meals, security (e: host family, on-site, shared)
Housing was more than I could have asked for.  Meals were always sufficient and provided for breakfast, lunch, and dinner.  The apartment was safe and secure and I never felt in harms way.  The host family was extremely inviting and warm.  The host family made me feel a part of their family and allowed for a bond to develop.

8- What was your favorite memory of this trip?

My favorite memory was travelling to the Amazon with the other volunteers on the trip.  Six of us went to Banos and had a wonderful weekend together. 

9- How was the ABV USA support prior traveling?
The ABV support was sufficient.  They answered my emails promptly. The steps were easy to follow and changes were made when necessary.  ABV is a wonderful organization to travel through.
10 – Are you willing to speak to other potential ABV volunteers? 

Yes, I am willing.