Volunteer Name & Age: Amelia Crespo Age 24
Current level of education/or profession: BSN, RN
Volunteer Location: Ghana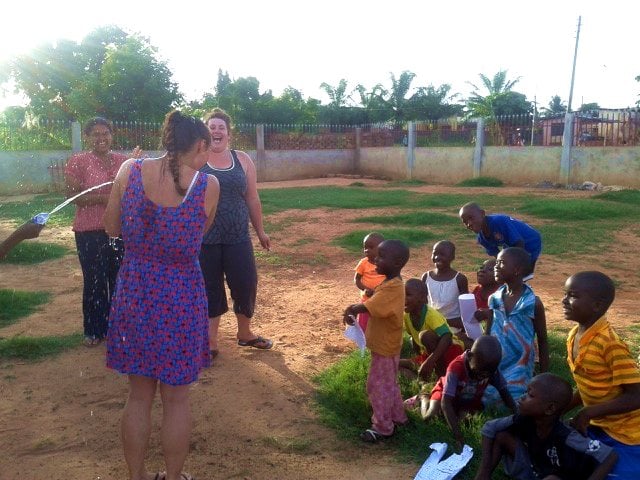 Before Traveling:
Since many of our volunteer are first time travelers to their chosen location please provide your personal  insight into your trip planning process:
1) Which airline did you travel on? Delta
2) How did you book your flight, or which website did you use? Expedia
3) Did you do any online fundraising before traveling? If so, what website did you use? I used the ABV website to fundraise money to donate to the projects I was working on
4) Did you feel anything was missing from the Orientation Guide provided by ABV?  What would you add? I think it would be nice to mention that in Kpando where you are located, you have access to everything you might need. I went crazy buying water purifying tablets, water bottles, oral rehydration salts, etc. Pure water is so readily available and if you need anything while you are there, you can find it somewhere. There is also a lot of supplies that other volunteers have left behind. I might also mention bringing bathing wipes. Those were awesome and so useful.
During the Program:
Volunteering experiences vary project to project, location to location. Please elaborate about your overall experience abroad:
1) What city/area did you volunteer in? Kpando
2) When did you travel & how long did you volunteer for? From August 29-October 10, 6 weeks
3) What was the weather/climate like that time of year? It was the end of the rainy season so it was cooler than usual for them but still very hot and humid for us. The days definitely started to get very hot by the time I was leaving as it was turning into their dry season which is essentially their summer.
4) What was a typical day like at your project?  I would do wound care for several people at 6am until about 7:30am. I would then have breakfast and head to either the hospital or to a community to give education on Ebola and Cholera. Lunch was at noon and then we usually had free time until 3:30pm when we headed to the children's home to play with the kids and help them with homework. We would leave around 5/5:30pm and then have dinner at 6 and then free time the remainder of the night.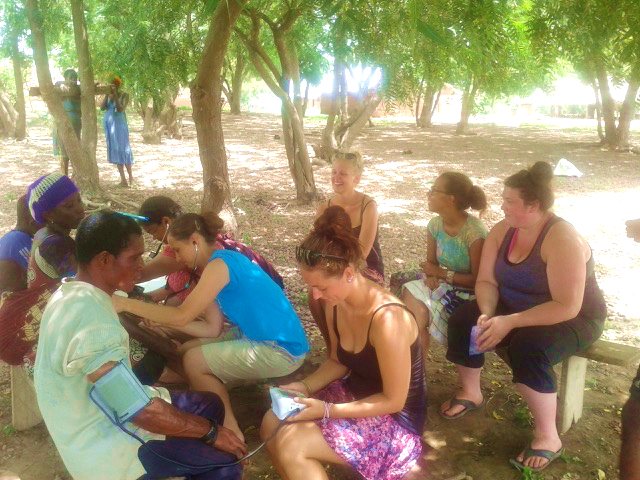 a. What were your work hours each week? 
Extremely varied. Usually 5:30am until 5pm but with several long breaks in between. It was very inconsistent.
5) For your specific project what donation/supplies are most needed?
Nonstick adhesive bandages for large venous ulcers would be most helpful as well as good tape. They also need wound cleansers such as iodine or normal saline and gloves.
a. What should future volunteers consider bringing as a donation?
I would personally recommend donating money to Edem and Jessy. Once you are there they will ask you what you want to use it for. There were a few kids that Edem and Jessy took into their care that needed emergency medical help due their family's inability to pay for the necessary healthcare. I would also bring bags of candies and large quantities of little gifts from your country. Everywhere you go people expect gifts (especially if you go away for a weekend and return it is custom to bring something to the people you left behind) and the kids LOVE it. I would also bring gloves for yourself and to give to the hospitals.
6) How far was your daily commute?
I would ride my bike to the 2 neighboring towns which was about 15-20 minutes to get to. The hospital is a 8-10 minute cab ride that you will be expected to pay for each day.
a. How much money did you spend each week in local transportation? Probably around 40 cedi which is about 10 dollars. It definitely varied though. To get to the Hospital it is 4-5 cedi round trip.
7) How would you describe your local accommodation & meals provide? The accommodation was very good. I stayed in Edem's parents house. We didn't need mosquito nets and the rooms were fairly cool with the fan. The room I was in had two sets of bunk beds and one shelving unit but it was very spacious. The kitchen area and bathroom were right near by. The toilet is flushed with a bucket but was definitely a step up after using the outhouse for the first week. There is no sink so you use the purified water to brush your teeth and then to shower you fill up a bucket and go to a shower area to wash yourself. It is a stall with no door that you walk in and throw your towel over to show that it is occupied. No one will bother you. The meals were excellent. Mary is an amazing cook and there is always enough food to satisfy everyone.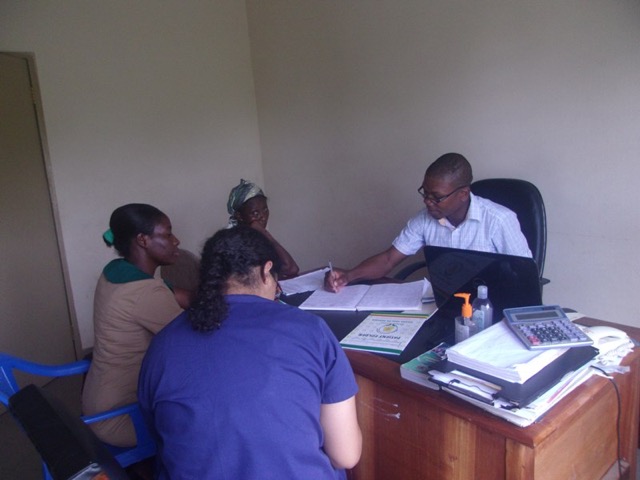 8) Did you have any security/safety issues while abroad?
No I felt very safe.
9) Was the support provided by your ABV Coordinator sufficient? 
The coordinator is a great person who is doing amazing things over there, but he is involved in so many projects that the volunteers rarely saw him. He wasn't very involved in our daily projects. His wife Jessy was definitely a lot more accessible but she often relied on the coordinator to give us information. Edem was extremely difficult to get a hold of most of the time.
10) What are some local sightseeing trips/highlights that you recommend for future volunteers?
We all LOVED our visit to Cape Coast for an extended weekend. We stayed at the Stumble Inn and it was so nice and relaxing. The waterfalls were a nice day hike. We also went to Ho for a music festival which was a lot of fun. Galaxy Gardens night club was always a good time as well.
a. How much money did you budget for sightseeing?  Was it enough?
The most expensive outings were to Accra and Cape Coast. I would budget about 250 cedi (about $67).
After Thoughts:
In as much we want every volunteer to have a meaningful experience, we rely on you to provide feed back, project evaluations and recommendations to better the program.
1) What was the most difficult part of the experience for you?
The lack of structure and communication within Ghana.
2) What was the most surprising thing you learned or experienced in the program?
I think I was most surprised with how insanely nice everyone is. The people of Ghana are ridiculously friendly and outgoing. Everyone would constantly smile at me and greet me which was a huge change from NYC.
3) What tips or insight would you tell a volunteer considering this program?
I would say to come with an open mind and positive attitude. Along with the various other cultural differences, Ghana has a very relaxed atmosphere which means that you have to be very patient as waiting for things will be inevitable.  I would also say to communicate with Edem and Jessy prior to figure out what exactly you want to be doing. They have a lot of projects they are working on that will require you to do your research prior to coming if you actually want to be of any use.
4) What was your favorite part of the volunteer program?
Spending the afternoons with the children of the Home. They were all amazing and so much fun to be around.
5) Are you willing to be an ABV alumni and communicate with potential volunteers?
Absolutely.

Check more Volunteer Reviews here