Volunteer Name: Rebecca Tanner
Project Location: Ghana, Africa
Volunteered At: Orphanage 
What was your favorite memory of this trip? I have so many! I met many other volunteers who were in the same area as me, and we would go out and take trips together. We went to Kokrobite Beach for a weekend, and it was so beautiful. White sand, beautiful ocean. I even got to ride horse-back on the beach! Also, of course all of the special moments I got to have with the children. Having them run to say good morning to me every morning was truly special.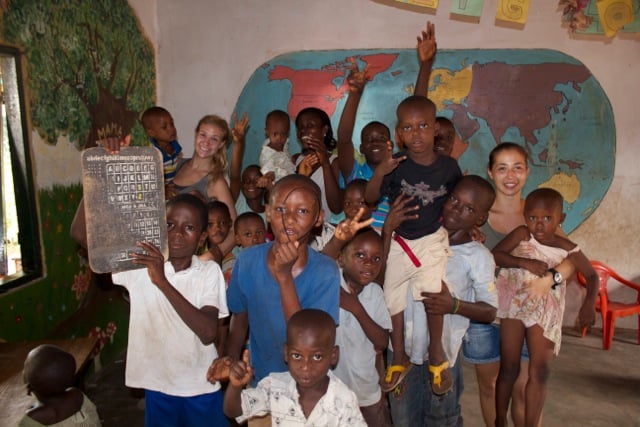 What was the most difficult thing you experienced? On one of my last days there, one of my favorite little boys got really sick. He was feverish and lethargic. He just wasn't himself, and I could tell he felt awful. It was painful not to be able to just give him the medicine I have in my cabinet at home to make him feel better. 
What was the one thing you wished you were better prepared for? The heat! I packed lightly, with mostly longer pants and capris. I didn't expect for it to be okay to wear modest shorts, but I think it would have been okay, and I was sweating so much the whole month!
Any tips for future volunteers… (clothing, travel, personal items, donations, sightseeing etc) Light t-shirts and tank tops, long shorts for the girls! I would bring a smaller "weekend" bag if you want to travel. Expect a lot of unpleasant tro-tro rides, but it's the best way to get around so suffer through it! I would bring your own body wash and shampoos, it can be hard to find that kind of stuff in town! I would definitely make a trip to Kokrobite, and Cape Coast! Those were the best places that I visited. 
How would you describe/rate your experience working with the ABV staff in the USA? I appreciated the opportunity they gave me, and how easy they made it for me to make my dream a reality. I would have liked to receive more phone calls, however, especially when it came closer to my actual departure date.
How was the local ABV Director and the support provided in-country? They were true Ghanaians- very laid back, but extremely friendly. They didn't "hold my hand" throughout the experience though. They set me up and helped me in the beginning, but left me to experience things on my own for the most part after that-occasionally checking in on me.
Personal Paragraph (ABV Program Testimonial): I would like to thank ABV for allowing me to get to travel to Africa in a safe and reliable way. I have an amazing experience and wouldn't trade it for the world. It was hard to adjust back to my "American" lifestyle because it is so much more fast-paced and I feel like I have been a little behind ever since I returned! But in a good way, because I have really stopped to appreciate all that I have. I will never forget the amazing people I met. The beautiful children, and the wonderful volunteers that I got to share my experience with will always be in my heart.
Are you willing to speak to other potential ABV volunteers? Of course!