Volunteer Name: Elizabeth Racine
Project Location: La Ceiba
Volunteered at: Clinic, hospital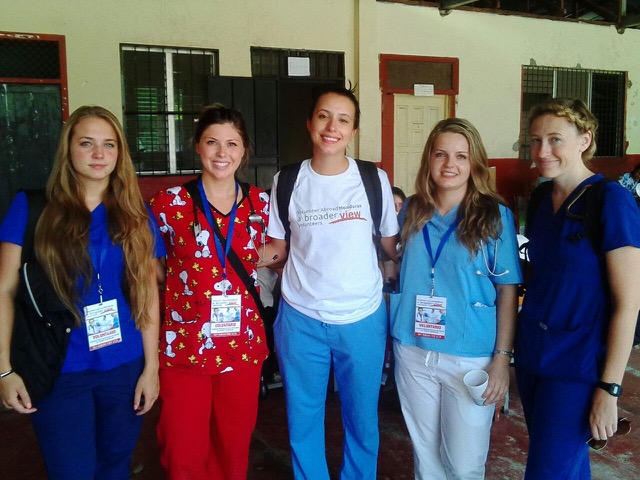 1.-How was the local ABV Coordinator and the support provided in-country?
Rafael has been so great; so accommodating and helpful. He has made me feel very welcomed in his home, in the program and in this beautiful city. Although he can be late, I really appreciate all the rides he has given us as its not included in the program.
2- What was the most surprising thing you experienced
At the program: I am very surprised at the conditions the doctors work in and the limited supplies they have. Although I was warned and I came here expecting so, it was still shocking to see it first-hand. It was a big eye opener and the kind of experience you can´t get anywhere else.
At the accommodation: I have been surprised by a few things. I was shocked that there was wifi, the cold showers were a pleasant surprise and I was impressed with the delicious food. All in all I was so very happy with my accommodation and my host family. 
About the country:  I was very surprised to see burger king, Subway, Little Caesars and awesome shopping here.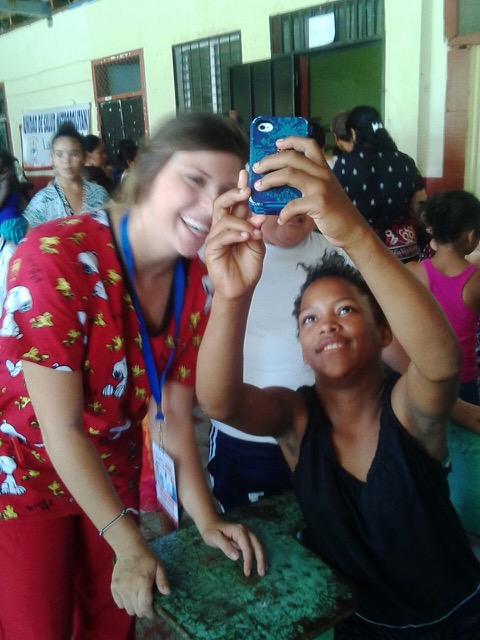 3- What was most difficult to experience?
At the program:  My language barrier was the hardest obstacle to overcome. The opportunities are much more limited when there is a communication barrier. However with the help of the other volunteers and Maynor (the translator), I was able to understand the doctors and ask them questions.
At the accommodation: The most difficult part of living like a local is living like a local. As in trying not to care about the cockroaches and other insects hiding in the cracks of my room. My host mom was very nice and would kill them whenever I asked, and even sprayed my room with a pesticide spray. 
The country: The heat! I have traveled to many hot countries; however this country is so very humid and hot. We do not have AC in the houses or the clinic, therefore the heat is very draining.
4- Any tips for future volunteers…
Clothing:  Bring a lot of baggy thin clothing. Cute clothes because there is great night life here. Bathing suits as a lot of excursions are on the water. A lot of scrubs (6-8), as you need to bring two pairs a day to the hospital. Bring a little school bag to bring to the hospital with you every day.
Donations: I brought a lot of donations and they came a long way! Definitely a lot of gauze, tape and other wound care dressings. I brought polysporin and other antibacterial creams for the patients. You see a lot of patients that can´t afford to change their catheters or to buy lubrication. Any medical donation will come a long way! I really wish I would have brought my own disinfectant wipes (Cavi wipes) to clean the clinic.
Weather: Bug spray, sun screen, sun glasses and after bite.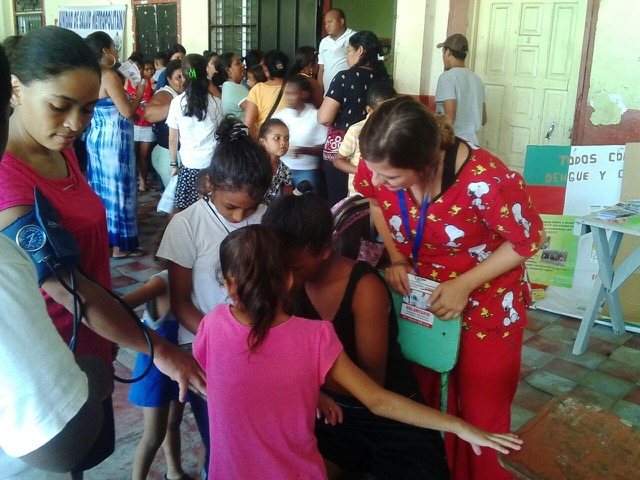 4.1-Other things volunteers should know:
a.- The patients that come into the clinic are responsible for their own supplies If someone comes in to removed sutures, they need to purchase their own gauze. The clinic would often run out of scalpel blades, suture thread and sterile gauze.
b.- The night life here is so much fun! Bring some cute going out clothes and a clutch.
c.- I was worried about what kind of age group the volunteers would be. In the month that I´ve been here I have seen volunteers from the age of 19-33.
d.- There are so many fun excursions to do! And Henry, the trip coordinator, is the absolute best. The main trips go from 15-40USD. My two favorites were white water rafting and Ria Maria.
e- bring a refillable water bottle!
5- Personal Paragraph (ABV Program Testimonial), don't leave blank:
I am happy to have chosen this Non-Profit Organization and this location. I have gained so much hands on experience and have seen so many medical cases during my pre-med program. The doctors were more than happy to show me how to do sutures, catheters, vaccines and more. I have seen cases and diseases I could only read about at home. At the hospital, I got to watch so many surgeries, deliveries and met so many different types of doctors. It is amazing how well they do what they can with such little and limited resources. We also gave pets vaccinations and went to schools to educated people with an outreach healthcare program.
I am so very thankful for the opportunities and all that I have learnt. I could never have gotten this kind of experience at home (Canada), and this truly reinforced my path in the medical field.
The Spanish lessons were good and very helpful.
The neighborhood we live in is very safe. There are two security guards that are circulating in the neighborhood 24/7. We are located near the mall and a taxi anywhere in town is only 25lps (1.50USD).
I have met so many amazing ABV volunteers from all over the world during my stay. I cannot believe that my 4 week journey is already over. I really wish I could stay longer! In my opinion 6 weeks would have been the perfect length.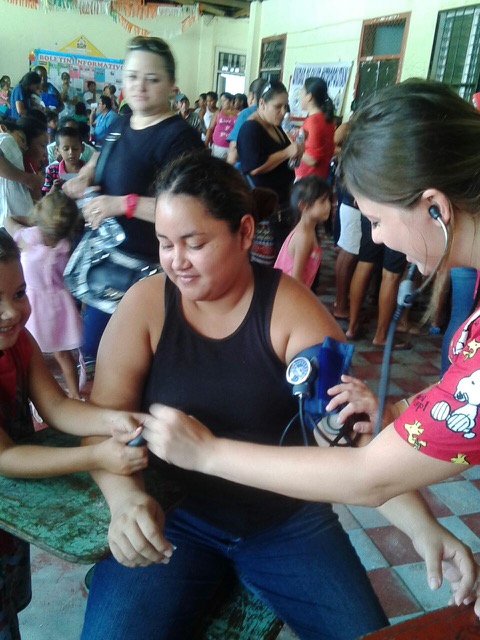 6- How would you describe your accommodation, meals and security:
I lived with Dennise, her son and 3 other host members. She cooked us amazing food, would always note what I liked or didn´t like and made sure I never went hungry. The meals here are very heavy and carb loaded – but delicious. It was very hot in my house and only had a small fan. But my room was spacious and I had shelves to spread my stuff. The power goes out pretty often (in the entire city), so I would recommend a head lamp or at least a flashlight.
This neighborhood is very safe. I walked home at night from Rafaels and never had any problems.
7- What was your favorite memory of this trip?
Program: Shadowing Dr. Perez , the neurologist, in his assessment appointments and  very cool surgeries. Such as removal of a HUGE tumor on someone's spinal cord.
Country: spending the day with all the ABV volunteers.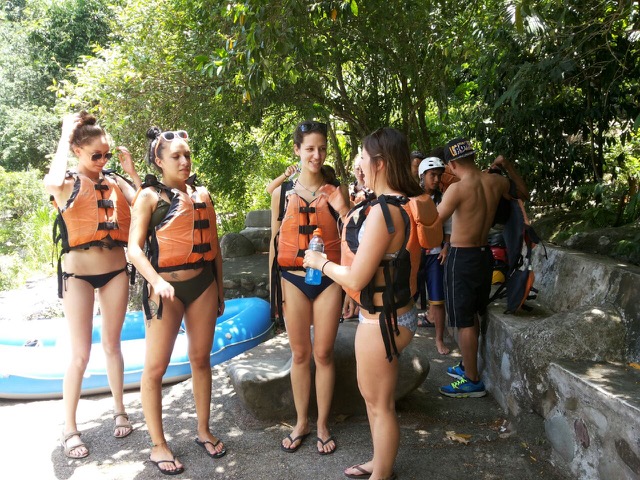 8.- How was the ABV USA support prior traveling?
From the very first day ABV has communicated with me in a timely manner. They were always replying to my emails and answering all of my questions.
Website Information: The website is good. It is important to bring a lot of scrubs, your own stethoscope, blood pressure cuff, gloves, shoe covers and supplies such as gauze and tape. You can also buy supplies out here!
9 – Are you willing to speak to other potential ABV volunteers?
Yes!