Volunteer review Millie Dasher in Honduras La Ceiba Premed Program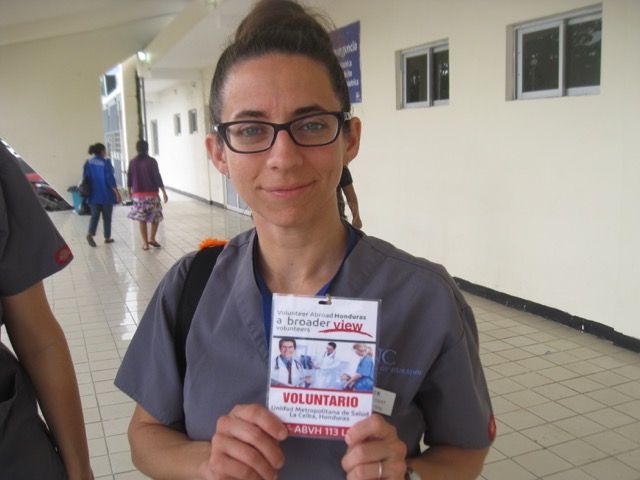 1.-How was the local ABV Coordinator and the support provided in- country?
The local ABV Coordinator, Rafael Linares, was great. He opened his home to us, providing us with a secure "home base," which we greatly appreciated. Rafael's communication was fluid and our trip was well-organized. I appreciated the support, both professional and personal, as I got to know Honduras and began work at the hospital and clinic. Rafael and ABV worked to provide us with translation services and appropriate assignments. I appreciated the tour we took on our first full day in-country, and was grateful for the help figuring out ways to take trips on our days off and little outings to experience the culture of La Ceiba.
2- What was the most surprising thing you experienced?
At the program: Nursing is different in Honduras than it is in the US. At the clinic, we used skills that we've been trained to use in the US: wound care, removing stitches, taking vital signs, and administering medication. There weren't as many opportunities for us to work in the hospital; however, we learned a lot from observation and talking with the nurses.
At the accommodation: I admit that I was a little apprehensive about living with a host family. I didn't know what to expect! What I found, however, was a wonderful family who welcomed me into their home.
About the country: It wasn't surprising, but the Honduran people are warm and welcoming. The country is beautiful, and if you're anything like me, you'll be anxious to take trips to the beach and mountains. Be ready to meet warm, friendly people who love to laugh, and to explore the beauty of Honduras!
3- What was most difficult to experience?
At the program: It wasn't always easy to know what to do at the hospital. It's a teaching hospital, so there are plenty of physicians and nurses to take care of patients. However, being flexible and willing to learn made even the slow days interesting. The hospital staff have plenty to teach us, and it was fascinating to learn more about healthcare in Honduras.
With a background in labor and delivery, working with women in childbirth was challenging. The women are alone with no support persons or personal items. It was difficult to witness.
At the accommodation: It was noisier than I was used to! There are roosters, dogs, music, and car horns late at night or in the early morning. However, I quickly found myself tired out enough from busy days that I barely even noticed the sounds.
4- Any tips for future volunteers...
Clothing: bring sturdy sandals for times you're not working. It's great fun to walk around La Ceiba, but you want to make sure your footwear is appropriate and protective for uneven sidewalks and paths.
Donations: the hospital and clinic seemed to have a greater need for non-disposable items. Scissors, pen lights, blood pressure cuffs, and pulse ox monitors are harder to come by than gloves and gauze. (Although they appreciate the gloves and gauze, too!)
Weather: it's hot and sunny, even in the rainy season! Bring light clothes, and be prepared to change during the day. Flip-flops for around the house are a good idea. Sunglasses and a hat are helpful. And if you'll be using sunscreen, bring it -- it's very expensive to buy here.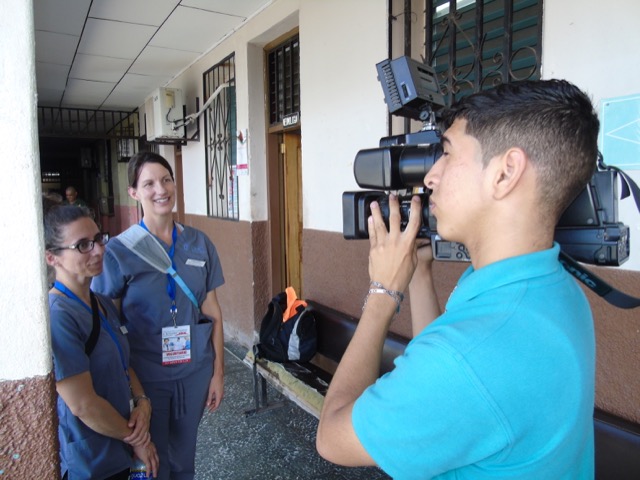 4.1-Other things volunteers should know:
a.- Bring gloves a size up from what you normally wear! It's hot, and your
hands will sweat and / or swell. It makes it difficult to get the gloves on, and makes them more likely to tear.
b.- The more Spanish you know, the more you can do, and the more you can learn. If you don't
know Spanish well, it's 100% worth hiring a translator to work with you -- even if some staff know
English, very few of the patients will.
c.- Not everyone wears gloves, including for things that we've been trained require gloves. Don't be
afraid to maintain the safety precautions you've been trained to maintain. Go ahead and put on
gloves, even if you're the only one in the room wearing them. And bring gloves to donate and for your time there.
d.- Bring cleaning items that don't require water: antibacterial gel and baby wipes are great to have
in your bag. And bring a cooling towel!
5- Personal Paragraph (ABV Program Testimonial), don't leave blank:
A Broader View was so easy to work with. I did my part and submitted the required documents, and they made it very easy for me to make the trip. Communication was quick and very helpful, both on the American and Honduran sides! I am very grateful for the trip and experience I had, and feel that ABV has done a wonderful job of setting up opportunities for people like me to work out-of-country.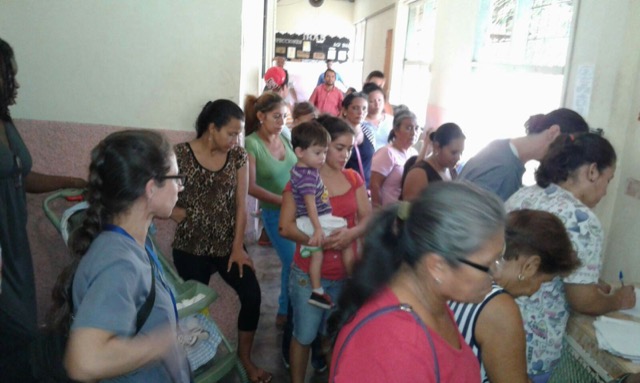 6- How would you describe your accommodation, meals and security:
The accommodation was comfortable, and we felt very welcomed! Meals were fantastic. Food in Honduras is so good, and we always had more than we needed. Our in-country coordinator was very diligent about security and made sure that wherever we went, we had a local escort to help us navigate our surroundings.
7- What was your favorite memory of this trip?
Program: One day, I was assigned to work in labor and delivery. A young woman was enduring her third day of labor, and was exhausted, alone, and afraid. Although no one was offering much in the way of emotional support, I could see her trying to rub her own back. I offered a massage, which she accepted gratefully, and I spent several hours supporting her as she labored. She told me that when I touched her, she felt like her mother was there with her. She told me she would never forget the support she received from me. It was so moving and meaningful.
Country: It's just so beautiful here. Waking up to the mountains, birds, and foliage is beautiful every day. I loved the exploring I was able to do, from hiking and visiting the beach to exploring the markets and restaurants. I hope to return to Honduras some day.
8.- How was the ABV USA support prior traveling?
Communication (Phone/emails/Online chat): Excellent! Communication was prompt and thorough.
Website Information: I appreciated the information provided on the ABV website. Coordinating the trip was so smooth and simple -- I worked my way through the checklist online, and next thing I knew, I was here!
9 – Are you willing to speak to other potential ABV volunteers?
Yes, of course!
10 – Can you tell us how did you find or know about A Broader View?
My friend Caroline told me about her plans to travel with ABV, and I signed up