My experience with A Broader View was great. It is so well organized and very affordable. You can find cheaper alternatives but you will be sacrificing this level of organization and the chance to do so much in the actual program. Not only did I gain a ridiculous amount of medical experience in just 2 weeks, I learned so much about Honduran culture and the way of life.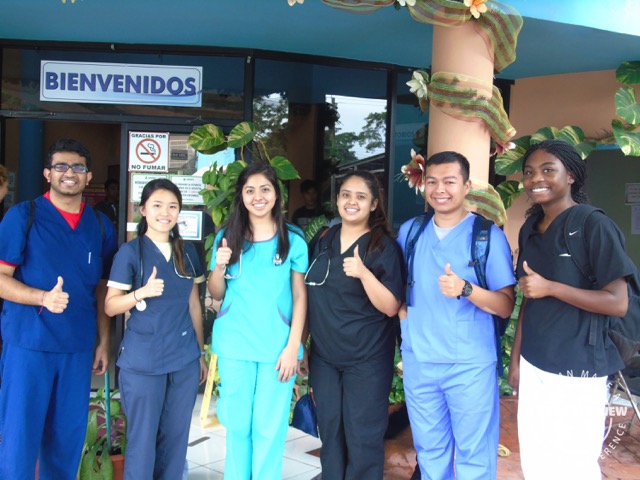 1. How was the local ABV Coordinator and the support provided in-country?
Our A Broader View coordinator Rafael was great. He always went out of his way to make our stay in Honduras safe, easy and stress free. He tried to find the best opportunities in the hospital where the volunteers would actually learn and get some hands-on interaction. He checked up on us at the hospitals every day. If we had a less than great day, he would try to reorganize the logistics so the following day would be a better experience. Something I'm really thankful for is that he would provide transportation to the hospitals whenever he had a chance. That is not something he HAD to do but it shows just how involved he was in making our stay here easy and safe.
2- What was the most surprising thing you experienced?
In regards to the program, I was pleasantly surprised at how much we were able to do and learn in the short 2-week period. From the first day at the hospitals we were put to work which honestly showed how organized A Broader View is. The hospital staff welcomed us with open arms. I've had experiences with other programs before where we show up at the program sites and no one knows we're coming or what we're there to do. The hospital staff understood that we were pre-med students, ready to help and learn.
In regards to the accommodations, Rafael's home is really modern.  I was pleasantly surprised to learn that we had access to wifi at home. I shared a room with one of the other volunteers in my group and we even had our own restroom.
About the country: La Ceiba is beautiful. Really tropical with beautiful scenery of mountains and the Caribbean sea just down the street.
3- What was most difficult to experience?
The most difficult thing about the experience at the program was the high volume of patients. The waiting rooms are PACKED. Patients have to arrive to the hospital before like 6am if they want to be seen that day. Once a certain number of patients check in, the doctors are booked for the day. So if you think about it, visiting the doctor here is a full day event. Patients wait several hours before they even have a chance to see the doctor. With such a high volume of patients, comes a high volume of stress for you as a volunteer but mostly for the hospital staff. You really have to be a quick learner to avoid getting on people's nerves. Remember you are here to help not to make the hospital staff's jobs harder.
The most difficult thing about the accommodations is probably the cold showers (its hot here). You get used to it after a few minutes but it's a painful experience every time ;) . Also I hope you like rice and beans because the diet here is mostly composed of that. Luckily its really good rice and beans so its not too bad.
I really don't think I have any complaints about the country. It is so beautiful here. And a lot safer than one is led to believe. As always, just be aware of your surroundings. Don't tell everyone you meet your whole life story and try not to flash your cellphones around or whip out all the cash you have at once. Driving here is bizzare so be careful when crossing the streets and what not.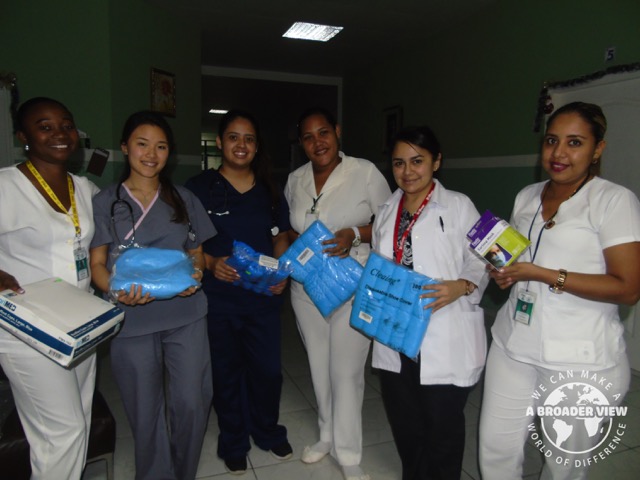 4- Any tips for future volunteers…
Clothing: Don't forget shower shoes or bath towels! Its really hot here so you'll mostly want to pack shorts and tshirts. With that being said, its really hot at bedtime, but sometimes it gets cold in the middle of the night so maybe bring a blanket or something (ask the coordinator). You have like a flat bed sheet to cover up with but during most nights when it got cold, that wasn't enough.
Donations: The hospitals here are short on lots of really basic medical supplies. If you can, bring boxes of gloves, face masks, thermometers and things of that nature. You can buy medical supplies here to donate but in my experience, they're significantly more expensive here than they would be if you bought them in the states. Actually, even non-medical supply donations would benefit the hospital. Things as basic as pens and pencils would help out. Bed sheets in a twin size would be really helpful too! I saw a lot of patient beds with no sheets. In some hospitals, if the patient doesn't want to lie down on a peeling worn out mattress, they have to bring their own bedding.
Weather: Tips in regards to weather, its really hot and humid here. I think it's even more noticeable because you have to walk if you need to go somewhere. So you know, dress appropriately. Don't forget sunglasses! When it wasn't hot and humid, we had pretty heavy rain. Don't forget to check the forecast for the days you'll be in country. Bring a raincoat or an umbrella. And since you'll mostly be walking to get from point A to point B, maybe even bring some rain boots. There aren't a lot of paved sidewalks so your shoes are going to get muddy.
4.1-Other things volunteers should know:
a.- Come prepared with medications for yourself just in case you get sick. I got a really bad allergic reaction to who knows what at the beginning of my second week here. Really wish I had brought some Benadryl. Some of the other members came down with slight colds, so yeah just come prepared.
b.- Be ready to work. Volunteer days are long. You'll work at least 8 hours a day with really early mornings. Make sure to get your sleep but have fun at the same time. Make the most of your trip.
c.- Bring money for trips and tourist excursions. I brought $200 and that was just about enough maybe bring $250 for 2 weeks. Honduras is beautiful. We visited Cayos Cochinos and Pico Bonito and I definitely recommend going out to see these places.
d.- Okay the most important thing to know would be that you really get out what you put in. Ask questions. Take initiative and throw yourself in there. The doctors are really willing to teach but you have to initiate the learning.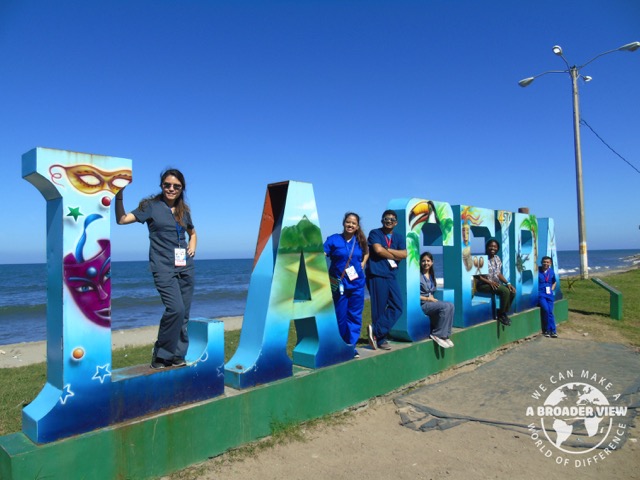 5- Personal Paragraph (ABV Program Testimonial):
My experience with A Broader View was great. It is so well organized and very affordable. You can find cheaper alternatives but you will be sacrificing this level of organization and the chance to do so much in the actual program. Not only did I gain a ridiculous amount of medical experience in just 2 weeks, I learned so much about Honduran culture and the way of life.
6- How would you describe your accommodation, meals and security:
Okay a little more about the accommodations, meals, and security. The rooms are very comfortable. Like I said, it's a shared room with one other person but everyone has their own beds and there are plenty of restrooms. The plumbing is really good so you don't have to worry about flushing or whatever. Do not however, throw toilet paper in the toilet!! You will back up the toilet and have to deal with that.
Meals, again, lots of rice and beans. Lots of bananas and plantains too. It was all really good, but you definitely have to be open minded about the food. Lunch is the biggest meal of the day. Plan accordingly if you feel like the portion sizes are too small. Theres plenty of chain restaurants out here like Popeyes and Pizza Hut if you're ever missing American fast food.
Security: Again it's a lot safer than reports lead you to believe. At least here in La Ceiba. There were no incidents during our two week stay here. One of the girls accidentally left her purse behind at the beach for a solid 10 minutes and we were able to drive back and pick it up from where she left it with nothing missing. Don't do that though. Keep up with your things.
Rafael gives you a key to your room so you can lock it when you leave the house if you wish. You also get a key to the house so you can come and leave as you please. Guards in the neighborhood
7- What was your favorite memory of this trip?
Program: My favorite memory of this program was definitely being in the delivery room for a natural birth. The human body is amazing. And just having that experience of seeing life come into the world was exhilarating. After the baby was cleaned up I got to hang out with him and feed him his first bottle. I really really enjoyed that.
Country: My favorite memory of this country would have to be the impromptu hiking we did at Pico Bonito. It was by far the most dangerous but exhilarating thing I've ever done. We crossed a whole river and hiked up a "trail" until we found this natural pool in the middle of the mountain. The water was so cold but it was so beautiful. We did all of this for about $1 US Dollar and no guide of course. It was phenomenal.
8.- How was the ABV USA support prior traveling?
Communication (Phone/emails/Online chat): The A Broader View USA support prior to traveling was really great. They answer any questions you have in a timely manner and definitely want to get everything planned out before your travel date.