Volunteer Name: Olivia Esser
Project Location: Lusaka, Zambia
Volunteered At: Youth Human Rights Program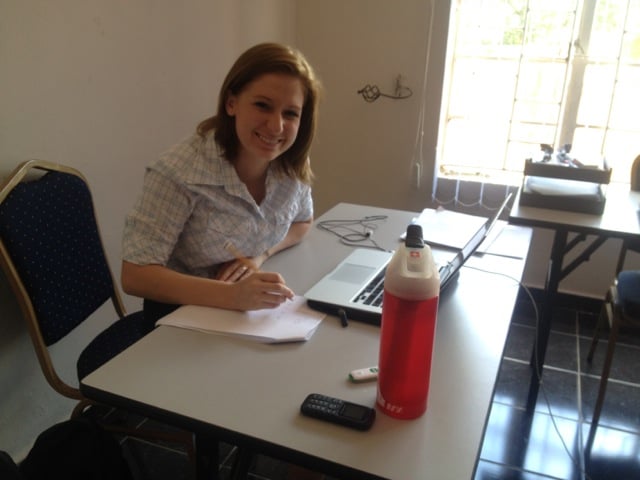 What was your favorite memory of this trip?
My favorite memory from this trip was actually with my host family.
The two girls, ages 6 & 2, would come into my room almost every night
to put on a little "concert". They would sing me their favorite songs,
which I would record on my phone & play back for them. They loved
being rock stars& I loved the time I got to spend with them!
What was the most difficult thing you experienced?
The most difficult thing I experienced was adjusting to the pace of
life in Zambia. Which means that really the most difficult thing about
working here is learning to relax! I wish I could more easily speak
the native languages, but the ease with which most people here speak
English made this little more than an inconvenience. Although if you
are good with languages, the people here would love to teach you!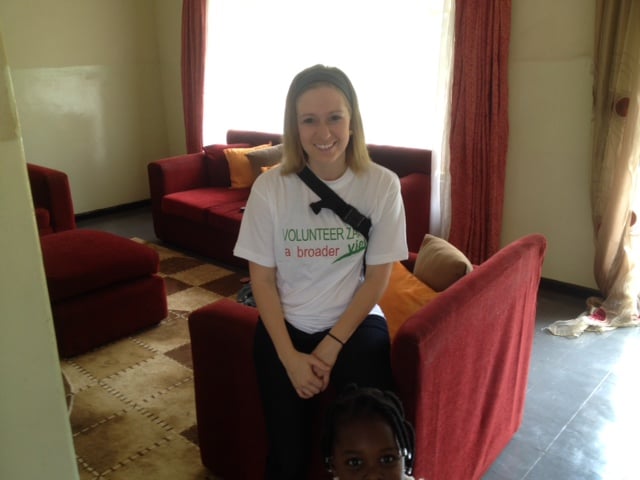 What was the one thing you wished you were better prepared for?
I wish I was better prepared for the Visa situation. When traveling to
Zambia, it is best to travel on a visitors visa (not a business one-
don't mention you're volunteering while you're here!) which is much
more easily renewed. We had a few problems with getting a business
visa renewed which could have been solved if I had said I was a
visitor from the get go.
(ABV answer: this was explained in detail in the travel guide and also is posted in our website, the visa you are required to get at the airport (Tourist Visa).
Any tips for future volunteers... (clothing, travel, personal items, donations, sightseeing etc)
My tips would be to plan enough time to go sightseeing on the
weekends! Livingstone & Victoria Falls are of course a must see, as
well as the Lilayi elephant orphanage here in Lusaka. One tip for the
elephant orphanage- wear comfortable walking shoes! The bus stop is
actually 5.9km from where the site is. It's a beautiful walk, and well
worth it- but comfy shoes are a must. I only wish I had more time to
visit in this amazingly beautiful country! Additionally, for those
working in the main office, business dress is very similar to western
cultures. While thinking conservative is always a plus, remember to
dress appropriately for the weather. Skirts right at or above the knee
and shirts that are not spaghetti straps are appropriate office wear.
Lastly, wearing heals is extremely common here. If you have a little
extra room in your suitcase, you might want to think about packing a
pair.
 How would you describe/rate your experience working with the ABV staff  in the USA?
The ABV Staff, especially Sarah, does an amazing job of staying in
contact, answering any questions you might have, and being patient
with first time volunteers. I would rate them 10/10 in customer
service any day!
 How was the local ABV Director and the support provided in-country?
The unique part about the Youth Human Rights Program in Zambia is that your director, host, and boss are all the same person.
It is comforting to have someone who is so readily available and has
vast experience with volunteers always around. Josephat was always
available to answer questions about culture, work, or even the
best/cheapest places to grab food.
 Personal Paragraph (ABV Program Testimonial):
Traveling to Zambia I had little idea of what to expect. What I
couldn't have guessed is that in 5 short weeks I would make such great
connections with people and so many memories. The people you get to
work with within the main office and phenomenal, talented, and driven.
Lusaka itself is a bustling, traffic filled modern city with Zambian
culture on every corner. While they have western-style malls &
shopping areas, the ideal of the true market is still very much alive
in Zambia. If you get a chance to, spend a little time negotiating
downtown & enjoy the experience, although understand the currency here
beforehand! People here are incredibly kind & will go out of their way
to help you. Trust me, if you get lost, it is easy to find someone who
will point you in the right direction or even walk you to your
intended destination. I'm speaking from very personal experience, as I
managed to always be incorrect by one or two bus stops off when I
adventured off by myself. And I found I met incredibly interesting
people off the beaten path, especially when traveling in Livingstone.
The other volunteers you run into all have amazing stories &
experience you can learn from. Additionally, I found my conversations
with Olivia, Josephat, their family, and my peers in the office were
the most revealing about the similarities and differences in culture,
everyday life, and expectations. I really felt like a friend in their
home by the time I left, instead of some stranger who had appeared on
their doorstep 5 weeks before.
It's amazing to give freely of your time & any expertise to people who
are so welcoming. Additionally, the offices and departments we worked
with were incredibly forthcoming and receptive to change. When meeting
with prison officials, community members, or even government
representatives the underlying feeling was that everyone was
contributing to make everyone's, even the sometimes forgotten
prisoners, a little bit better. It was a refreshing way to look at
change!  I don't know if the work I did while I was in Zambia will be
able a significant contribution, but I know I loved getting the chance
to experience their culture. I know the country, the people; even the
calmness has truly touched my life. I wouldn't trade my experience for
anything, and I am so thankful to A Broader View for giving me the chance
to be in Zambia!
 Are you willing to speak to other potential ABV volunteers?
Definitely!